1990-1999 Tributes For Police And Military K9 Handlers
Note : Some of these tributes are for those that were not line of duty deaths.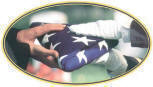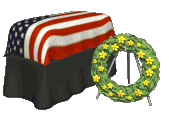 Flashing star on both sides of officer name indicates both officer and K9 were killed in line of duty



Deputy Sheriff James R. Kenney

November 16, 1999 - Clay County, Kansas - Age 62


Deputy Sheriff James R. "Monk" Kenney, 62, was shot and killed on November 16, 1999 at approximately 4:00 p.m. as he and other officers were attempting to arrest 22-year-old Jeffery F. Hebert at his home in Morganville who was a jail escapee.

At the time of his escape, Hebert was being held on a bench warrant for a probation violation for possession of marijuana and drunken driving. Also escaping with Hebert was Thomas E. Smith Jr., 22 of Clyde, and Russell T. Britt, 19, of Concordia. Smith and Britt were captured and arrested soon after. Smith was arrested at a friend's home, and Britt was arrested while trying to get to a relative's house in Clyde. Rupert said both were charged with aggravated escape from custody and aggravated assault on a corrections officer. The three inmates escaped by overpowering a corrections officer and breaking out of the jail's main window, falling 10 feet to the ground. Rupert said the three suffered minor scrapes, while the officer had minor injuries. Smith was being held on charges of aggravated criminal sodomy and aggravated indecent liberties with a child. Britt was being held for violation of probation for burglary. The defendant testified that after he escaped he originally intended to hide out and live in the woods. Soon after the escape, the defendant became separated from the other escapees and the plan began to fall apart. After many miles of walking and hitchhiking, the defendant returned to his house in Morganville during the early morning hours of November 16, 1999. He drank a couple of beers, packed a duffel bag full of clothes, and gathered his .12 gauge shotgun, his .22 caliber rifle, and his .20 gauge sawed-off shotgun. The defendant testified that he intended to use the guns to hunt animals in the woods for food. He explained that he always kept his guns loaded with the safeties off because he was the only one who handled them. Around 7 a.m. the defendant called a friend, Buddy Butler, intending to ask for a ride, but changed his mind because he did not want to get Butler involved. Soon after calling Butler, the defendant fell asleep on his couch. While the defendant was sleeping, Detective Kelly Kemp of the Clay County Sheriff's Department was gathering information from people who knew the defendant. Detective Kemp discovered the defendant's location when speaking with Butler, and he relayed this information to Sheriff Caldwell. Sheriff Caldwell instructed Detective Kemp to obtain a search warrant for the defendant's residence. While waiting for the search warrant, Sheriff Caldwell called the defendant's home telephone number three times and knocked on the defendant's door, but heard no response. Sheriff Caldwell called Deputy Kenney and asked him to come to the defendant's house with his police dog, a Belgian malinois. Deputy Kenney and Copper arrived at the house approx. 2:30 p.m. Meanwhile, inside the house, the defendant had just woken up. He finished packing his duffel bag and, according to the defendant, he was about to go outside to go live in the woods when he looked out the window and saw Sheriff Caldwell's vehicle parked outside. For reasons he is not able to explain, the defendant decided to take a shower. After getting out of the shower, the defendant again looked out the window, hoping one of the officers would move from their position long enough for him to escape. After waiting a couple of minutes and receiving no response, Detective Kemp forced open the back door. Sheriff Caldwell, Under Sheriff Chuck Dunn, Detective Kemp, Deputy Kenney, and Copper entered the house. When the defendant heard Sheriff Caldwell knocking, he gathered his three guns and went upstairs to the attic. The defendant still hoped to escape but saw a highway patrol officer was stationed outside near the window he planned to use in his escape. The defendant sat in the corner of the darkened attic and laid his guns down on the floor. When Sheriff Caldwell and his team finished conducting a sweep of the first floor, Deputy Kenney and Copper, followed by Sheriff Caldwell, headed up the stairs to the attic. Deputy Kenney stopped four or five steps from the top of the stairs and released Copper's leash, allowing him to search the attic. The defendant saw Copper come into the attic and he grabbed his .12 gauge shotgun. Copper briefly walked around the attic but did not notice the defendant in the corner. Copper walked back to Deputy Kenney, who was hidden from the defendant's view. Deputy Kenney grabbed Copper and told him to lie down in a voice audible to the defendant. The defendant testified that he then saw one hand come into view to pet the top of the dog's head. When the defendant saw the bill of a cap and the end of what he thought was a gun come out from behind the corner, he raised his gun and fired. After the shot was fired, the dog began running toward the defendant. The defendant shot the dog once with his shotgun, but the dog continued to run toward him, so he shot him a second time and killed him. The bullet fired at Deputy Kenney passed through a light switch and the plywood wall. The bullet and various smaller projectiles from the light switch and wall hit Deputy Kenney on the right side of his head, causing loss of consciousness immediately. The shot threw Deputy Kenney backwards into Sheriff Caldwell, causing both of them to fall down the stairs. The fall caused Sheriff Caldwell to suffer cuts to his nose and his hand, the latter requiring three to four stitches. Sheriff Caldwell dragged Deputy Kenney out to the back porch, where a first responder, Arnold Knoettgen, soon arrived and began treating him. Sheriff Caldwell returned to the house and instructed Detective Kemp to shoot teargas rounds through the upstairs windows to force the defendant out. Four rounds of teargas were fired into the attic. Sheriff Caldwell and the other officers began yelling to the defendant, telling him that if he came down they would guarantee his safety. After a few minutes, the defendant walked down the steps and was arrested. Deputy Kenney was still alive at this point but had shallow breathing and a weak pulse. Pam Kemp, Director of Emergency Medical Services at the Clay Center Hospital, soon arrived on the scene. Deputy Kenney was rushed to the emergency room of Clay County Medical Center where unsuccessful attempts were made to save his life. Dr. Timothy Penner pronounced Deputy Kenney dead at 4:50 p.m. The official cause of death was a shotgun injury to the head which caused "interruption of the brain" and loss of blood. There is evidence supporting Kemp's contention that Kenney did not have his gun drawn. The evidence custody receipt which listed the items found on Deputy Kenney's person at the time of his death, included his Beretta .40 caliber handgun. Sheriff Caldwell also testified that as a former police dog handler, he knew that it was common procedure for a dog handler who has backup to leave his or her weapon in the holster. Examination of the circumstances in this case demonstrates that the defendant used the most powerful gun he owned, a .12 gauge shotgun loaded with the most powerful ammunition he owned, a slug round. The defendant's actions before and after the killing also provide evidence of premeditation. He admitted to grabbing the guns on his way upstairs after seeing the officers outside his house and then seeing them come into his residence. All three guns were found loaded and ready to fire. The defendant admitted that he did not want to go back to jail and that he knew the officers were coming to arrest him. After shooting Deputy Kenney, the defendant shot the police dog twice, and he did not give himself up until after tear gas rounds were fired into the attic. Deputy Kenney had been in law enforcement for 15 years with Clay County Sheriffs in Kansas. Deputy Kenney is survived by his wife Shirley Thompson; son Robert Kenney; daughters Julie Page and Suzanne Shields; stepson Dennis Pickering; and stepdaughters Christi Sanders, Cathy Weaver, and Wendi Holt.

After Hebert's court appearance, Hebert was transferred to the Geary County Jail in Junction City, where he was held in lieu of $750,000 bond. Jeffery F. Hebert was found guilty on all counts January 16, 2004. He waived his right to contest a sentence below the statutory maximum and stipulated to the aggravating factors for the purposes of a hard 50 sentence. The jury was unable to reach a unanimous decision in the sentencing phase of the trial. The trial court found that the defendant "knowingly created a great risk of death to more than one person" and that the defendant "committed the crime in order to avoid or prevent a lawful arrest." Based on these aggravating circumstances, the trial court sentenced the defendant to life in prison without the possibility of parole for 50 years on the capital murder charge.

Lt. Larry Sherwood Kolb
October 2,1999 – Kendall County,Texas - Age 40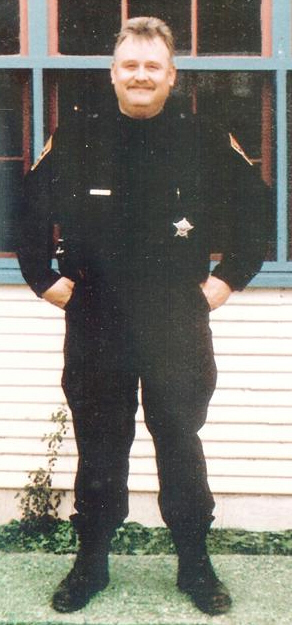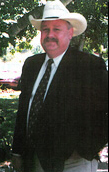 Kendall County Sheriff's Department Lt. Larry Sherwood Kolb, 40, was shot and killed on Oct. 2, 1999. An hour after his shift had ended, Sheriff's Department Lt. Larry Kolb was driving home on Interstate 10 toward San Antonio shortly before 5 p.m. Oct. 2, 1999, when he heard the dispatcher call for officers to respond to a disturbance and report of shots fired at the Shady Rest Mobile Home Park on Cascade Caverns Road at Interstate 10. Having just left the scene of a major accident in Comfort, he knew the two on-duty officers were still working that scene some 20 miles away, and since he was so close, he volunteered to take the call. Kolb was the first officer on the scene and Constable Precinct 3 Forres Meadows responded to Kolb's call for back-up at 5:15 p.m. Residents of the mobile home park said they pointed out the trailer where Jose Gil "Cowboy" Ramos, 30, had been drinking most of the day, despondent over a breakup with his girlfriend. They said they warned Kolb that Ramos was armed. Several witnesses said Ramos had shot what looked like an assault rifle into the air and into the ground of the trailer yard several times. A 15-year-old boy said Ramos pointed the weapon at him. Identifying himself by saying "Sheriff's Department," Kolb approached the trailer with Meadows behind him. As Kolb walked onto the porch, Ramos jerked open the door and fired the assault rifle, striking Kolb at point blank range at 5:45 p.m. The bullet that killed Kolb passed through the frame of the door and struck a padlock hasp, shattering into fragments that hit Kolb in the chest and neck. Before he collapsed, Kolb called out to Meadows that he had been shot. As Meadows reported an officer down, called for backup and tried to reach Kolb, Ramos left the trailer on foot. Then-Sheriff Henry Hodge, deputies, Boerne Police, Fair Oaks Ranch Police, Constable Don White and DPS troopers arrived within minutes, surrounded the trailer and closed off the area. EMS personnel attempted to revive Kolb as officers searched for the suspect. Officers spotted Ramos underneath another trailer and saw him reloading the assault rifle. After he ignored orders to throw out the weapon, shots were exchanged and Ramos was wounded at 5:55 p.m. The EMS personnel who could not save Kolb. EMS transported Ramos to University Hospital in San Antonio, where he died of his injuries at 7:38 p.m. Ramos fired four shots at officers before he was struck by one shotgun slug and four shotgun pellets. Because shotguns don't leave distinctive ballistic markings, it was never known whether the pellet that killed Ramos was fired by Hodge, White or DPS officer Darome West. The assault rifle Ramos fired was a modified MAK-90 sporter. The weapon had been reported missing from another residence in the mobile home park. Ramos, identified as a Honduran national who had entered the country legally, worked in construction and landscaping. Ramos had previously been charged with public intoxication, driving while intoxicated and driving with a suspended license but officers had never known him to be violent and nothing indicated he could be dangerous. Investigators could not pinpoint a motive for his violent actions other than he was despondent over the failure of his efforts to reconcile with his girlfriend. Officials said Kolb was not wearing a bullet-proof vest at the time of the shooting. However, given the point-blank range and the type of weapon, the vest may not have prevented the fatal wounds. A 13-year veteran in law enforcement, Kolb joined the Kendall County Sheriff's Department in 1997 and quickly rose to the rank of lieutenant overseeing narcotics investigations. He was an experienced canine officer and worked with a drug-sniffing dog in anti-drug enforcement operations. Before joining the KCSO, he worked with the Lago Vista Police Department, the Hutto Police Department, Austin school district, Northside School District and Bexar County Precinct 5 constable's office. Kolb was survived by his wife, Leslie, two sons, Jacob Barnes, 13, and Patrick Kolb, 5. More than 1,000 people from throughout the state came to pay their respects and conduct full law enforcement honors at Kolb's funeral. Participating in the funeral services and honors was Kolb's canine partner, Arno, one of several drug-detection trained dogs he had worked with during his 13 years in law enforcement . The narcotics detection-trained dog died five months later.

After attempts to find relatives in Honduras failed, Bexar County morgue officials made arrangements for a pauper's burial for Ramos.

Officer John Michael Richardson
April 29, 1999 - Nashville, Tennessee - Age 26


On April 28, 1999, Officer Michael Richardson, 26, was involved in a serious traffic accident while driving with his K-9 Tossy in their police vehicle while heading home when he struck a bridge on interstate 40. Officer Richardson succumbed from accident related injuries the following day, April 29, 1999. Tossy only received minor injuries. Officer Richardson was a 3 1/2 year veteran of the department in Nashville Tennessee. Prior to working for the Nashville International Airport Department of Public Safety, Officer Richardson was employed by the So. Carthage, TN Police Department. His service with the airport included police, airport rescue fire fighting and emergency medical treatment. In January 1998 Officer Richardson was selected as the department's first K-9 Handler under a joint program with the Federal Aviation Administration. Mike quickly established a standard of performance that is renowned in the industry. Mike Richardson was a friend to everyone with a special love for dogs and horses. He is survived by his wife Tammy and two young daughters. An Officer Mike Richardson Memorial Fund is being established to erect a permanent memorial at the entrance of the Nashville International Airport Department of Public Safety. Donations will be received by the department at 921 Airport Service Road, Nashville, TN 37214.

Chief Richard Leon Duncan
August 13, 1998 - Decatur, Arkansas - Age 56


Chief of Police Duncan, 56, was killed in a head-on collision on August 13, 1998 while driving his canine unit. His canine loyally stayed with him until rescue units arrived. He had been in law enforcement for 28 years. He served with the Decatur Police Department in Arizona.

Deputy Sheriff Mike J. Metroka
December 15, 1997 - Broward County, Florida - Age 39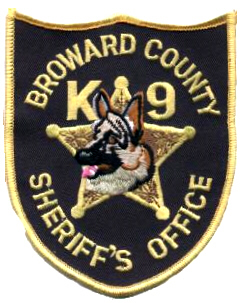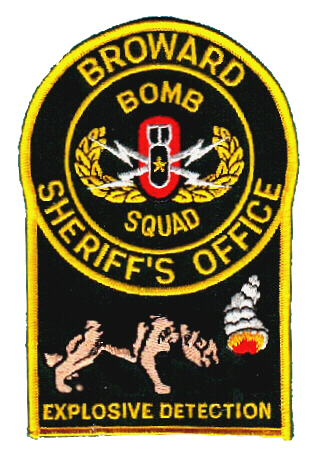 Deputy Michael Metroka, 39, served Broward Sheriff's Office in Florida for 10 years. In 1996 he became a K-9 deputy. While on duty on November 29, 1997, Deputy Metroka was struck in his vehicle by a hit and run driver using a rented 1997 Mercury Sable driven by Michael Lee Brown, 26, who slammed into his 1994 Ford Explorer near Pompano Beach at 12:14 a.m. His canine partner "Woedon", a Belgian Malinois, was with him when the crash occurred. Metroka's Explorer struck a curb and overturned near Copans Road and Northeast First Avenue. The dog survived the impact and remained at Deputy Metroka's side until he could be extracted from the wreckage. The suspect, a convicted felon, got out of his vehicle and approached the cruiser before fleeing the scene after removing a gun from his wrecked rental car. K9 Woedon, Deputy Metroka's partner, exited the vehicle and chased the suspect before returning to stay with him until rescue crews arrived. Deputy Metroka succumbed to his injuries fourteen days later on December 15, 1997 at 2:00 p.m. Approximately 300 people attended his funeral. K9 "Woeden" was then retired and given to his surviving wife Donna.
Michael Lee Brown, 26, was captured a short time later and was charged with a hit-and-run and faces manslaughter charges and possession of a firearm by a convicted felon. In a seperate incident on March 27, 1998, four months after the accident killing Deputy Metroka, Brown was arrested again as he bicycled, then ran, away from a bank that had just been robbed. Witnesses identified him as the man who robbed the Metro Bank at 2820 N Federal highway of about $4,200. He had been out of jail six days he told the officers. On March 15, 1999 a jury convicted Michael Lee Brown of leaving the scene of an accident involving the death of Deputy Metroka, along with the other charges against him. On March 27, 1999, Judge Paul Backman sentenced Brown to thirty years.

Officer Frank Balzano
November 14, 1997 - Chicago, Illinois - Age 65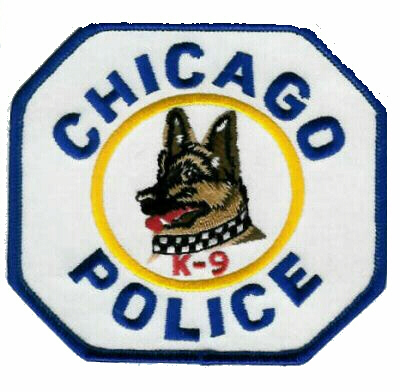 Officer Frank Balzano, 65, was working at
Harlem Irving Plaza , on November 13, 1997, when he was assaulted and died the next day from his injuries. Officer Balzano fell during an altercation with several suspects, striking his head. Officer Balzano tried to break up an argument between Amy Landers and another girl and was trying to usher out the

violent, combative teenage girl when she began screaming for her boyfriend to punch him

.

Without saying a word, Zbigniew Krzeczkowski punched Balzano on the right side of Officer Balzano's face. Officer Balzano was knocked out and fell backwards, striking his head and never regaining consciousness."

Amy Landers, 17, and her boyfriend, Zbigniew Krzeckowski, 16, both of Chicago, were indicted on multiple charges which include: first-degree murder, aggravated battery, battery, reckless conduct, mob action and disorderly conduct. Zbigniew Krzeckowski was charged as an adult. Both pleaded not guilty to first-degree murder charges.

Officer Balzano had served with the Chicago Police Department for 39 years and was planning on retiring in six weeks. The last six years Officer Balzano and his K9 partner "Max",
a yellow Labrador retriever,

worked

in the bomb detection unit at O'Hare International Airport. Officer Balzano had been a K9 officer for 25 years. Mr. Balzano had received 43 commendations in his police career. Mr. Balzano was an Army veteran of the Korean War.

His K9 "Max" attended his funeral

and then went to live with Balzano's family.

Approximately

400 mourners attended services for Balzano

.

Mr. Balzano was an Army veteran of the Korean War.

He was survived by his wife Jean, sons Frank Jr., Dan and daughter Cathy Zak.
On March 9, 2000 a mistrial was declared because of comments Judge Earl Hoffenberg made before the trial ended when he made faces and lashed out at Amy Landers and Zbigniew Krzeckowski. On June 12 a new judge, John J. Scotillo, heard guilty pleas from Amy Landers and Zbigniew Krzeckowski to involuntary manslaughter which was less than the original charge of first degree murder. Zbigniew Krzeckowski was sentenced to four years in prison. Amy Landers was sentenced to 30 months probation and must complete 130 hours of community service plus attend anger management classes.

Sergeant William Earl Godwin
May 22, 1997 - Morrisville, North Carolina - Age 32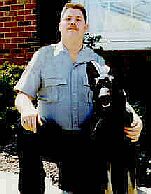 Sergeant Godwin, 32, was killed May 22, 1997 in an accident while responding to a call involving a disgruntled employee with a gun at a limousine service company. This call was the second time officers had been dispatched to the scene. While en route with his unmarked Range Rover he collided with
a Honda driven by Patricia Ettson of Apex. The
police vehicle rolled over at the intersection killing Sergeant Goodwin.

Ettson

was not injured. The crash occurred as Ettson pulled into the intersection of McCrimmon Parkway and Church Street in Morrisville. Ettson told authorities she had come to a complete stop before proceeding north on McCrimmon. Police said Godwin was driving west on Church Street. She said she heard no siren and saw no flashing lights, even thought the Range Rover was equipped lights and siren. Construction workers near the scene of the accident said they heard no siren before the car and Range Rover collided.

His canine partner, Gray, survived the accident.

Godwin's canine partner was not injured and the dog jumped out of Godwin's vehicle and ran back to the town police station.

Sergeant Godwin had served with the Morrisville Police Department in North Carolina for 9 years. Approximately forty canine officers and their K9'S attended the funeral service. Sergeant Goddwin's K-9 Partner Gray retired shortly after the accident and went to live with the Godwin family. He is survived by his wife Allison and his 8-month-old daughter Mercedes.
North Carolina Highway Patrol investigated and announced there will be no criminal charges filed in the incident.

Deputy David Michael Demos
January 25, 1997 - Milwaukee, Wisconsin - Age 45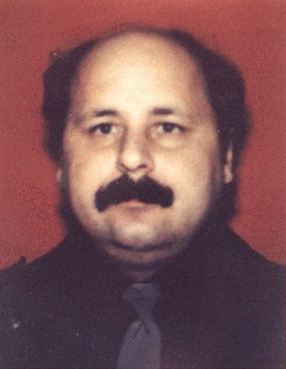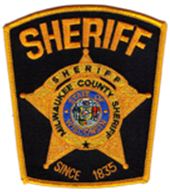 Deputy Demos, 45, was struck and killed on 1/25/97 at 5:19 p.m. by a drunk driver, Robert Thomas Urbanec, 38, while assisting a disabled motorist, Youzadik Aziz, on the edge of I-94. Youzadik Aziz was lost and trying to find Potawatomi Bingo Casino and asked Deputy Demos for help. After Deputy Demos Gave Directions, Aziz said he disappeared. Aziz got out of his car to find Deputy Demos on the pavement in front of his cruiser. Deputy Demos was killed instantly from massive head, chest and pelvic injuries. Aziz then called for help. The 37 year old suspect, Robert Thomas Urbanec, then fled the scene but was followed by Charles Mather, who kept in contact with a 911 dispatcher. Mather observed Urbanec just prior to the accident swerving from the right lane into the distress lane and then into the center lane. Mather decided to "get around Urbanec's vehicle in case something happened." As Mather went around Urbanec's truck, he noticed that Urbanec appeared to be sleeping behind the wheel. Mather said that he "continued southbound watching in his rear view mirror, and he noticed the vehicle swerving in the distress lane again." Upon observing this erratic driving , Mather used his cellular phone to call 9-1-1. Mather within moments of contacting the 9-1-1 dispatcher, he noticed Urbanec's pickup truck in the right lane ahead of him and then witnessed Urbanec swerve a third time into the distress lane and hit Deputy Demos, causing him to "cartwheel over the squad car and hit the pavement." Mather proceeded to follow Urbanec while maintaining contact with the 9-1-1 dispatcher. Mather said that Urbanec drove south on I-94 and then headed west on I-894. Urbanec exited at 60th Street, drove south on 60th Street, and immediately re-entered I-894 in the eastbound lanes. Shortly thereafter, City of Greenfield police apprehended Urbanec near the 27th Street exit. When police arrested him miles from the scene in his damaged pickup truck, he told them he did not even know he had been in an accident. At 7:30 p.m. two hours after the accident, Urbanec had a blood alcohol content of 0.17%. Prior to law enforcement Deputy Demos served in the Air Force. Deputy Demos is survived by Vivian, his wife of 25 years, his daughter Michelle, 23, and his son, Christopher, 18.
Robert Thomas Urbanec, a mail carrier, from Arlington Heights, Illinois, was convicted of homicide by intoxicated use of a motor vehicle. Urbanec said he had five beers in twenty five minutes or less at his brothers house. Judge Timothy Dugan sentenced Robert Thomas Urbanec to ten years in prison and five years probation after a jury found him guilty after a week long trial. The judge told Urbanec that he will have to attend Alcoholics Annonymous meetings for one year, give $150 monthly contributions to a scholarship fund in Demo's name and must make annual visits to Deputy Demo's grave. He also lost his driving privilages during parole and probation, have his children undergo evaluation for their risks to become problem drinkers, have no contact with the Demo's family, perform 500 hours of community service, speak quarterly to youths about alcoholism and undergo alcohol treatment.
On June 30, 2008, Around 4:45 p.m., sheriff's deputies respond to a domestic violence complaint at the Manitowoc home Urbanec now shares with his fiancée, Kendy Haese. They are told Urbanec may be drunk, is leaving the home and would be driving a green pickup. A Wisconsin state trooper stops Urbanec near the home. Urbanec fails a field sobriety test and is arrested for operating under the influence. It is a clear violation of his probation, and Urbanec is placed on a probation hold at the Manitowoc County Jail. Two days later, his probation officer and her supervisor drop the hold. On July 2, Urbanec walks out of jail a free man.

Officer David A. Seamens
October 20, 1996 - Lowell, Massachusetts - Age 47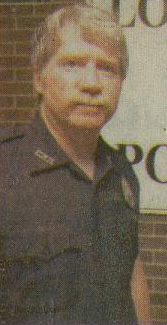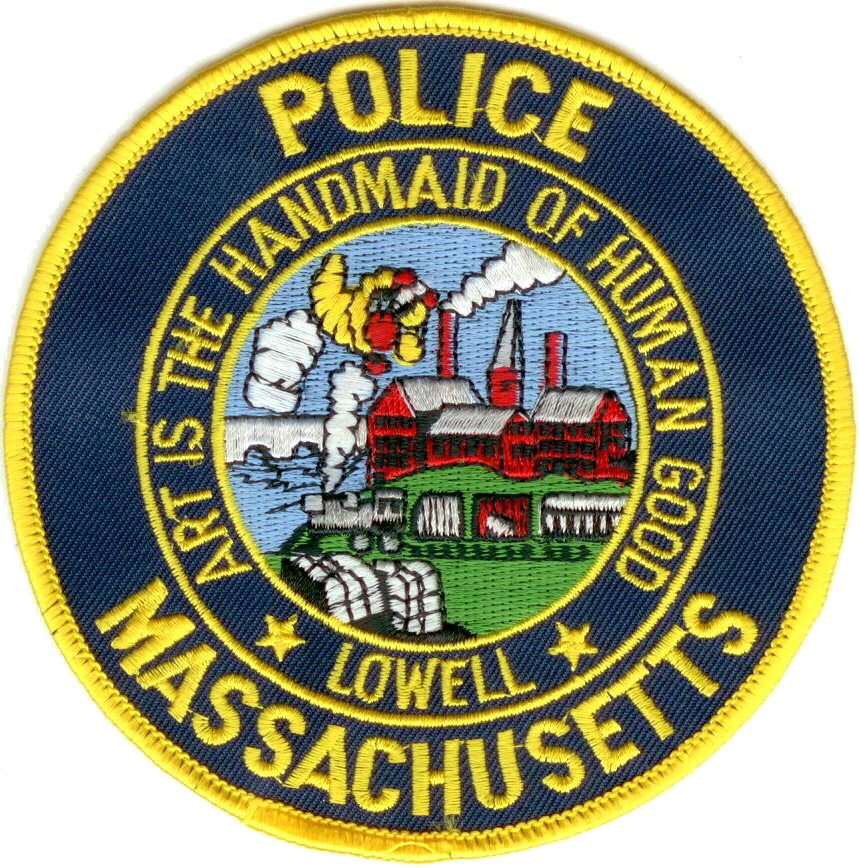 Canine Officer David Seamens, 47, of Dracut and a member of the Lowell Police Department died October 20, 1996 along seven other people who died in a plane crash. Others on board the plane from North Reading Police Department in Massachusetts was another canine officer Robert Marchionda, and Lowell Police Department officers Lieut. Steven Smith,40, Donald Brill, 41, and retired Sgt. John Sullivan, 65, who just retired four months earlier and three other men. The pilot, Michael Burns, 39, of Waterville Maine, father and son John Gaffney, 54, and Bart Gaffney, 34. The pilot left Anticosti Island in a twin – engine Piper Navajo with his passengers that were returning from a deer hunting trip. The pilot was heading to Bangor Maine when he radioed the plane was having mechanical trouble. The plane crashed just before noon narrowly missing homes at Eel River Crossing in a New Brunswick field and became a fiery explosion. The pilot was trying to make it to Charlo airport which was only a few miles away. The plane was a charter with Telford Aviation Inc. based in Waterville, but with operations in Bangor. Officer Seamens was a Lowell Police Officer for twenty years. He leaves behind a wife and his son Michael.

Officer Robert M. Marchionda
October 20, 1996 - North Reading, Massachusetts - Age 39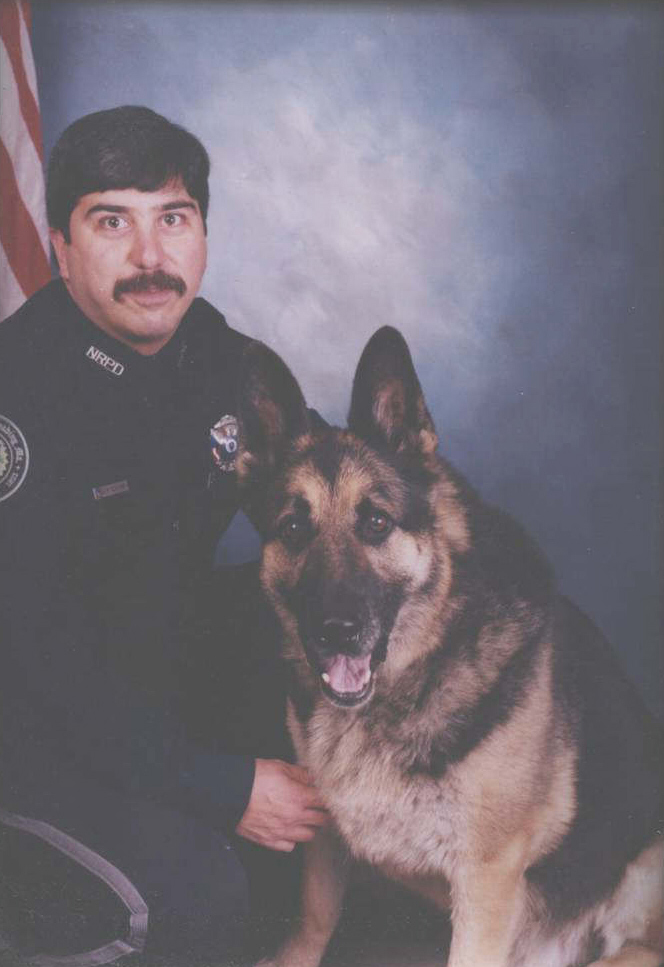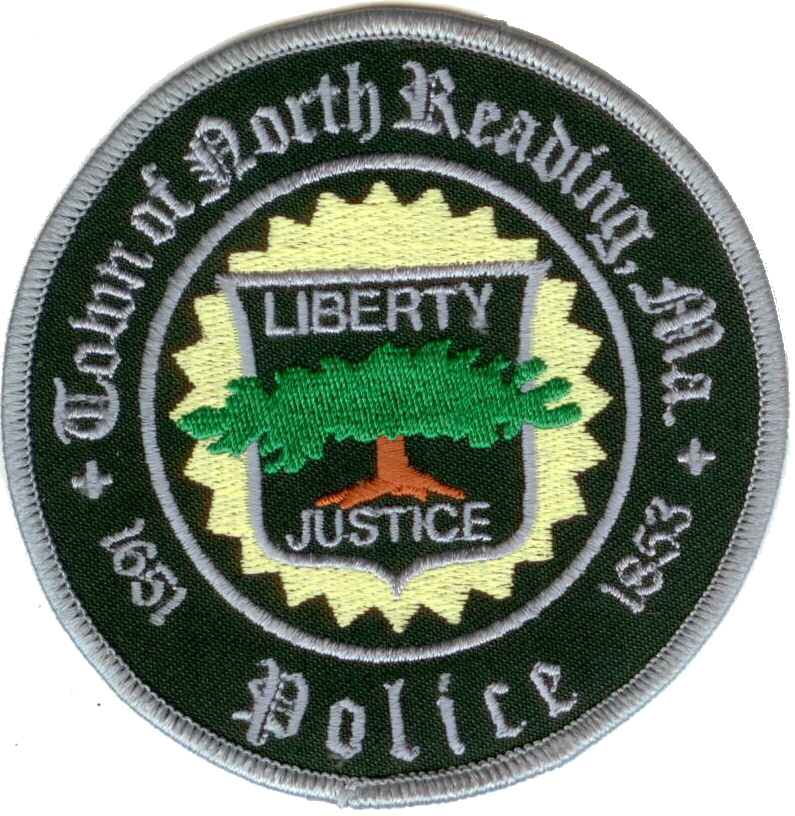 Canine Officer Robert Marchionda, 39, of Dracut served with the North Reading Police Department and died October 20, 1996 along with seven other people who died in a plane crash. Others on board the plane were Lowell police officers, canine officer David Seamens, 47, Lt. Steve Smith, 40, Officer Donald Brill, 41,and retired Sgt. John Sullivan, 65, who just retired four months earlier and three other men. The pilot, Michael Burns, 39, of Waterville Maine, father and son John Gaffney, 54, and Bart Gaffney, 34. The pilot left Anticosti Island in a twin – engine Piper Navajo with his passengers and were returning from a deer hunting trip. The pilot was heading to Bangor Maine when he radioed the plane was having mechanical trouble. The plane crashed just before noon narrowly missing homes at Eel River Crossing in a New Brunswick field and became a fiery explosion. The pilot was trying to make it to Charlo airport which was only a few miles away. The plane was a charter with Telford Aviation Inc. based in Waterville, but with operations in Bangor. From 1977 to 1982 officer Marchionda served on the North Reading police force. He moved to the Miami Beach Police Department from 1982 to 1986. Officer Marchionda then returned to the North Reading police, serving as the canine officer. He is survived by his wife and son.

Senior Patrol Officer Dick Vernon Hobson Jr.
June 10, 1996 - Tulsa, Oklahoma - Age 45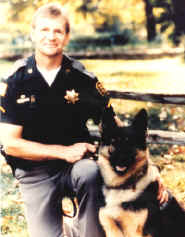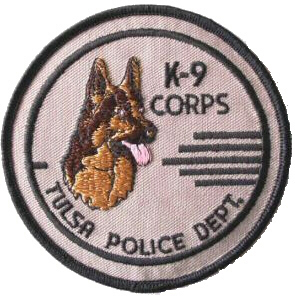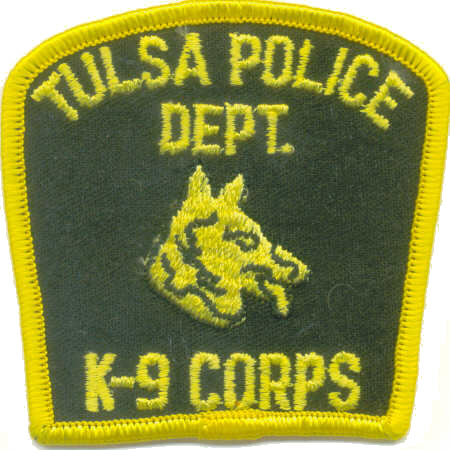 Officer Hobson, 45, was shot and killed June 10, 1996 and another officer was shot and wounded in the leg after responding to the scene of a robbery. At 2135 hours three men robbed a fast food restaurant at 1400 South Peoria. Shortly after the three robbers fled, a stolen white Mitsubishi was wrecked on I-44 near the scene of the robbery. A man was seen running from the wrecked car with a rifle. When Canine Officer Hobson and Steve Downie, 38, responded to the scene and couldn't find the suspect they exited the vehicle and entered an alley on foot with their K-9. As they searched, the suspect jumped out from behind a bush and shot at the officers with a 20 gauge shotgun. Officer Hobson was shot in the chest and killed and Officer Downie was struck in the leg and recovered from his wounds. Three other officers at the scene returned fire and killed the robbery suspect, Steven Michael Williams, 21. Dino, Officer Hobson's canine, was not injured and was retired and given to Officer Hobson's family. Officer Hobson was not wearing his vest at the time of the incident. Officer Hobson, served Tulsa Police Department in Oklahoma for 18 years. He is survived by his wife, son & daughter.


Trooper James Andrew Griffith
April 16, 1996 - Maine State Police - Age 34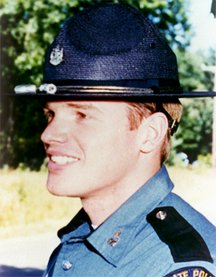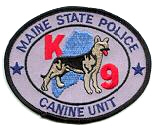 Trooper Griffith, 34 was killed on April 16,1996 heading south on Route 1 when his cruiser was struck by a F.J. O'Hara Co ice truck. Trooper Griffith was making a U-turn on a two lane road in pursuit of a speeding vehicle and did not see the truck which struck his cruiser on the driver side door. The driver of the ice truuck, Donald Tabbott, 24, was carrying a full truck load of ice when he struck Trooper Griffith's cruiser. He was pronounced dead at the scene.

Griffith apparently noticed a vehicle approaching him pull out and pass the Saab, which was operated by Peter Robison, 40. When Griffith braked his cruiser and U-turned to pursue that vehicle, the crash occurred. Witnesses didn't know the make or color of the other vehicle, but they believe a female was driving

. Trooper Griffith was a canine officer whose dog was slightly injured in the accident.

Griffith was a judo expert and had just returned to active duty April 1 after an knee injury sustained during a judo demonstration disabled him for several months.

Trooper Griffith was with the Maine State Police for 10 years. Approximately one thousand people attended his funeral. Trooper Griffith was cremated after the service. Trooper Griffith was survived by his wife,

Kate Braestrup, who is a well noted author

and four children.


Officer Lee E. Barta
August 3, 1995 - Binghamton, New York - Age 29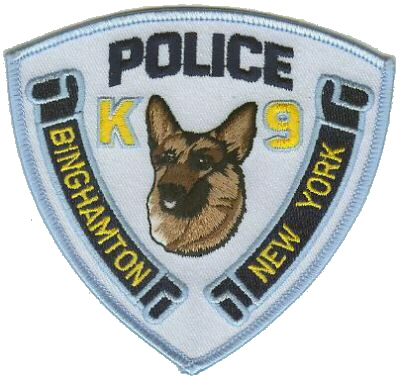 K9 Officer Barta, 29, was shot and killed August 3, 1995 while searching for a work release suspect. The suspect Edmond E. Travis III, 18 committed suicide by shooting himself hours later in a house surrounded by officers as they closed in near the shooting site. Officer Barta's K-9 partner, Ben, attended the funeral service along with over 3,000 mourners. Officer Barta served with the Binghamton police Department in New York. Patrolman Barta is survived by his expectant wife Mary, son Daniel, and daughter Kellie. His second son was born eight months after his murder.

Agent Louis Pompei
June 9, 1995 - San Dimas, California - Age 30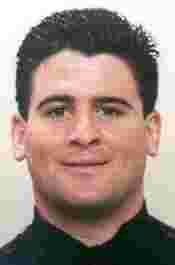 Agent Louis Pompei, 30, was shot and killed on June 9th 1995 while entering a supermarket, Vons, in San Dimas, while off duty at 2030 hours to cash his paycheck and pick up dog food for his K9 "Dios" in his home city. Agent Pompei while in the checkout line attempted to stop a robbery by taking action when the suspects began to threaten the life of a mentally-disabled employee boy who was being pistol whipped. When he tried to help, two robbers shot him in the chest, leg and abdomen, as he traded fire, wounding both who were later arrested at Queen of the Valley Hospital in West Covina. Pompei hobbled to a pay phone and called 911. Emergency personnel found him crumpled beneath the phone when they arrived minutes later. Pompei died two hours later at San Dimas Community Hospital. Agent Louis Pompei started the Glendora Police Department's first canine unit. Born and raised in Pennsylvania, Pompei graduated from Mahanoy City High School in 1982. He went on to earn a Bachelor of Arts degree in criminal justice administration from Mansfield University of Pennsylvania in 1986. He was hired as a police officer trainee by the Glendora Police Department in 1987 and attended the Los Angeles County Sheriffs Academy, graduating on March 4, 1988. He was appointed to the rank of agent in 1995. A memorial to Pompei was erected near the spot where he was killed. Pompei's funeral service drew 2,000 people and he received a 21 gun salute from the state police. Also at the funeral was a bag-piper and bugler. Agent Pompei had been with the agency for eight years and was survived by his fiancée Tracey Taylor-Careaga.
The two robbers, ages 16 and 17 at the time of the crime, were sentenced to life in prison without parole and the getaway driver, Daniel Hernandez, 19, was sentenced to 26 years to life.

Officer John Paul "Bo" Marcellus January 15,1995 – Fort Worth, Texas - Age 44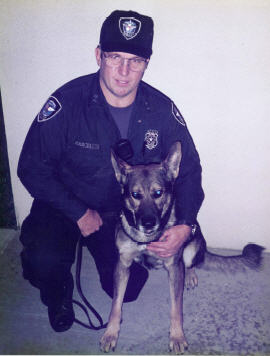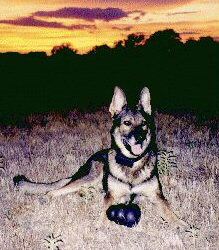 Officer John Paul Marcellus, 44, of Azle was killed approximately 7:00 p.m. in a vehicle accident on January 15, 1995 while off duty in North Richland Hills, Texas. Officer Marcellus, a Fort Worth police officer, was on his way home from watching the Dallas Cowboys game with his son who he left with his grandmother before leaving in his red Volkswagen which was struck by a truck and run off the road as he drove west on the Northeast Loop of Interstate 820 near Rufe Snow Road. Jimmy Lewis White, 29, a plumber, was arrested when he returned to the scene minutes later after running into two more vehicles. Jimmy White of Gainesville was charged at the time with intoxication manslaughter for suspected of drunken driving in the traffic death of officer Marcellus. Jimmy Lewis White had a previous DWI conviction. And test results indicate that Jimmy Lewis White's blood-alcohol content was 0.25, more than twice the legal level, when the accident occurred with Officer Marcellus. Officer Marcellus was in law enforcement for twenty years. Officer Marcellus leaves behind his wife Rose Mary Marcellus, his son 11 year old son Justin, his daughter Regina Marcellus and his K9 partner "Argo". His K9 partner was then given to Officer Brad Thompson.

On October 1, 1998, three years after K9 Argo was given to his new handler Brad Thompson an incident unfolded. A Texas State Trooper, Earl Dub Gillum, was on routine patrol at approximately 8:35 p.m. when he spotted a white Ford pickup truck speeding 83 mph in a 55 mph zone. The truck was also weaving in and out of traffic recklessly. As Trooper Gillum approached the vehicle he had just stopped and was within eight feet of the drivers door, the driver, Charlie Edward Cook, 23, rolled down his window and asked the trooper what was wrong and he then fired ten shots from a 22 caliber pistol within three seconds at Trooper Gillum. The first shot struck Trooper Gillum's hat just above his forehead. The second shot pierced Trooper Gillum's temple damaging both his eyes. The third, fourth and fifth rounds struck Trooper Gillum's left forearm, flashlight and clip board. The sixth and seventh rounds hit Trooper Gillum's left hip and the eighth, ninth and tenth rounds struck him in the back in his vest. As Trooper Gillum stumbled and fell on the roadway, vehicles swerved to avoid hitting him and the suspect drove off. A passerby stopped and used Trooper Gillum's radio to call for help at 8:37 p.m. Trooper Gillum spent two weeks in Harris Methodist Hospital in Fort Worth and the next 14 months at home. He had six eye surgeries to save and repair his eyesight. He is legally blind in his right eye and his left eye has 20/50 vision. K9 Argo was later tracking the wanted felon, Charlie Cook, in a heavily wooded area when Cook fired three shots, the first shot hitting K9 Argo in the throat. The second and third shots hit Officer Thompson in the thigh and chest. Officer Thompson returned fire striking Charlie Cook. Cook was rushed to a hospital where he died approximately 10:00 p.m. Officer Thompson rushed K9 Argo to the vet where he died the next morning on October 3, 1998. Canine Argo was nine years old and scheduled to be retired in October.

Argo is credited with saving the lives of the other officers that were on the scene. Because of his actions, Argo was awarded the Police Cross and the Medal of Valor. Charlie Cook had previous warrants in Tarrant County for aggravated robbery with a firearm, aggravated assault on a public servant, and possession of a prohibited weapon. Cook was also involved in two police car chases, one being over one hour long when a gas station was robbed.

On February 17, 1995 the wife and daughter of officer Marcellus filed suit against Jimmy Lewis White involved in the crash and the club they say served him liquor and were seeking unspecified damages against Jimmy Lewis White and owners of the Bronco's Sports Bar & Grill at the time. On August 10, 1995, Jimmy Lewis White testified that faulty brakes on his pickup, not alcohol, caused the accident when he testified for more than an hour before a 12-member Tarrant County jury. Jimmy Lewis White said he was not intoxicated when he left a Bedford sports bar and got into an accident that killed officer Marcellus. He testified he drank eight or nine beers in about seven hours Jan. 15, the day of the accident. Kathryn Wyatt, 18, testified that she was driving 68 mph when Jimmy Lewis blew by her and struck three cars. Jimmy Lewis's attorney Robert Rose argued White was not drunk and a day before the verdict, he brought in an expert who gave testimony that test-tube fermentation - not beer drinking - caused his high blood-alcohol level. Defense expert witness John T. Castle told jurors that blood taken from White after the accident surely had been infiltrated by airborne yeast floating in the atmosphere. Yeast, of course, causes sugar to ferment, and that's what it did to the sugar naturally present in White's blood sample. The alcohol found in White's blood, the expert testified, actually grew there after the blood was drawn from White's body. He testified that airborne yeast contaminated Jimmy Lewis White's blood sample, which measured more than twice the legal limit. In closing arguments, Rose told the jury the test must have been flawed. It would take at least 28 beers for White's blood alcohol to register at .25, he claimed; with that much beer in him, White would have been a staggering drunk. Yet the police had reported only a relatively slight appearance of intoxication. The accident, the speeding, the weaving in and out of traffic and the three cars White hit with his truck, Rose argued were all caused by faulty brakes. Jurors acquitted Jimmy Lewis White on August 11, 1995, in a decision that stunned both sides, a jury acquitted Jimmy Lewis White of intoxication manslaughter in the death of Officer Marcellus after four hours of deliberations. On November 8, 1996, in a civil trial, the jury of 10 women and two men concluded after ten hours of deliberations that Jimmy Lewis White - not a Bedford sports bar that served him liquor - was responsible for a car accident that killed Officer Marcellus. They awarded more than $12 million in damages to the officer's mother and daughter. Jurors absolved Bronco Sports Bar & Grill of responsibility in the accident - just minutes after the bar reached an out-of-court settlement in the lawsuit. Jimmy White was ordered to pay $2 million in compensatory damages to the family of Officer Marcellus. Jurors awarded $445,000 to the victim's mother and $645,000 to his daughter, Regina Marcellus and $10 million in punitive damages.


Officer Timothy James Jones

August 26, 1994 - St. Paul, Minnesota - Age 36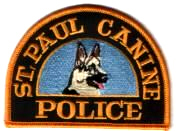 Officer Jones, 36, and his canine, Laser, were shot and killed, August 26, 1994, after being ambushed by the suspect who had murdered Officer Ron Ryan, 29 year-old rookie, earlier in the day. The ambush happened while Officer Jones and his canine were searching for the suspect. The actual events started to unfold approximately 6:55 a.m. when St. Paul dispatch received a call for a check of a person in a vehicle in the lot of the Sacred Heart Church at Sixth and Hope. The first officer arrived at the scene and was called away for another priority call. Officer Ryan volunteered to take the original call. When Officer Ryan approached the suspect's vehicle he woke the individual. The suspect identified himself via his passport as Guy Harvey Baker, 26, and had a gun hidden under a coat in his hand that he was using as a blanket. Baker, Marine combat veteran, had a warrant out for his arrest and was wanted in Mason City, Iowa, on a parole violation for illegal possession of firearms. Baker began to fire at Officer Ryan repeatedly and was hit three times in the torso and once in the head killing him at 6:58 a.m. Baker then removed Officer Ryan's service weapon from his holster. He then returned to his vehicle to leave the area but it wouldn't start. He was able to push it down a hill and get it running. A citizen who witnessed the shooting armed himself and fired three times at the fleeing vehicle hitting it and shattering the rear window. Baker then drove to the rear of a liquor store on Hudson Road, parked the vehicle, and changed his clothing. While Baker was fleeing he began making circular trails and sprinkled lighter fluid across his trail to try to confuse his scent for the police dogs he knew would be tracking him. He also left bits of clothing scattered around in an attempt to confuse the officers. While Baker was fleeing he came upon a garage and ice fishing shack at the rear of 1124 Conway. The ice shack had a crawl space for Baker to crawl underneath and slide up inside without unlocking the door from the outside. The ice shack had a strip of Plexiglas all the way around it for him to observe what was happening around him. Officer Jones had volunteered to come in on his time off to search for Baker with his K-9 partner Laser. Laser had picked up Bakers scent outside the fish shack. The whole time Baker was observing K-9 Laser and Officer Jones. As soon as Officer Jones looked through the window, Baker fired and Officer Jones went down immediately with a fatal head wound at 10:25 a.m. and had no chance to defend himself. Baker then exited the fish house and was attacked by Laser. Baker shot Laser four times. Baker then recovered Officer Jones's service weapon. Baker then hid under a pile of lumber and rubbish next to a porch at 1129 Euclid. Several officers observed Baker in his hiding place and was placed under arrest. Officer Jones had been with the St. Paul Police Department in Missouri for 16 years. K9 Laser was cremated and buried with Officer Jones. He is survived by his wife Roxanne and two children ages 8 and 6.
Guy Harvey Baker pled guilty to murdering both Officer Ryan and Officer Jones and was sentenced to two life sentences without parole.

Chief Robert J. Mortell
February 1,1994 – Paxton, Massachusetts - Age 38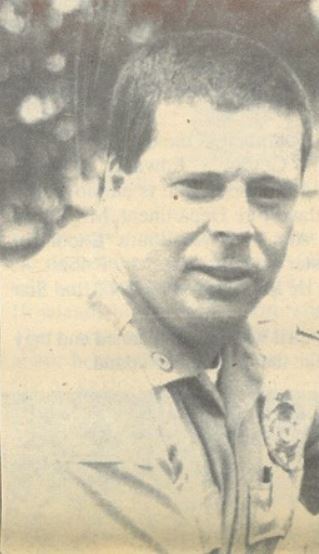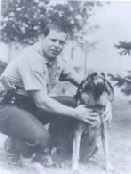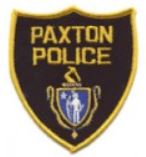 Chief of Police Robert Mortell was shot and killed on 2/1/94 after locating three burglary suspects. Holden police requested Chief Mortell and his tracking dog Ginger, a bloodhound, for help in finding suspects who had been running from police after they had broken into homes at 10:45 a.m. which had front doors smashed in and windows broken and ransacked. The burglars were apparently spooked by a UPS vehicle, fled the scene of the housebreaks and got their vehicle stuck in snow. The trio came upon a truck used by several men from the Worcester Water Department who were working in the area. They fired a shot, ordered the workers to the ground and stole the vehicle. When this vehicle also became stuck in snow, they fled on foot. The chief was on his way when he spotted three men fitting the description of the suspects running across Route 31 about a mile from Pine Hill Dam. Chief Mortell turned the corner to the residence where the burglary had occurred, in a fairly wooded area when he spotted one of the suspects. Chief Mortell left his new canine partner who just completed certification in the cruiser and pursued the men into the woods on foot. Pursuing the three men, Mortell was tracking Padgett and Richards. They had split off from Souza who was able to ambush Chief Mortell. Chief Mortell was shot twice and fatally wounded when confronting one of the subjects at gunpoint. The gunman Michael Souza, 25, fired twelve rounds at Chief Mortell striking him twice in the left side of his chest. One round hit his heart and the other round hit his aorta. Even though Chief Mortell was gravely wounded he manages to fire off six shots at Souza but missing him. Paxton police Sgt. Michael Ahearn called on his radio reporting Chief Mortell had been shot. Princeton police Chief Charles Schmohl and West Boylston police detective Francis Glynn tried to comfort Chief Mortell as they transported him to the University of Massachusetts Hospital where he died in the emergency room. One Hundred fifty officers went to the scene of the crime and set up a perimeter to capture the suspects. State Police helicopter with heat seeking cameras were brought in to assist in the search. Two days later, all three were captured. Michael Souza was spotted walking down a road by Paxton police Sgt. Donald Ball and Massachusetts State Trooper James Jaworek and closed in on him from behind with their guns drawn and was ordered by Sgt. Ball to stop but Souza refused to stop or turn around and continued walking away. The officers ended up with a hand to hand combat with Souza and subdued him and were able to get his 9mm pistol away from him which he used to kill Chief Mortell. Richards and Padgett holed up in a vacant house for the night before surrendering in the morning. Chief Mortell served with the agency for 12 years. Chief Mortell was awarded the Medal of Honor by the Massachusetts Police Association and also a Posthumous Commendation by the New England Association of Chiefs. Chief Mortell's K9 Ginger died two weeks later and was said to have died from a broken heart after being lost without Mortell's companionship. Approximately 5,000 people attended his service. He is survived by his wife Pamela, two daughters, Amy Sue, 12, and Erin, 9, and his son Elliot 7.
Michael Souza was convicted of 1st degree murder and was sentenced to life without Parole. His accomplices, Kenneth B. Padgett, 22, and Jamie Richards, 22, were both sentenced fifteen years to life with chance of parole. Richards pled guilty to second degree murder. Padgett, Richards and Souza had dozens of prior convictions. Souza months before had participated in an armed robbery of a Framingham bank. They were involved in armed robberies, assault, and had weapons violations and drug charges against them. By the age of 22, Padgett had been in and out of prison several times. Padgett tested positive for heroin in prison.

Officer Andrew Michael Chelchowski
July 29,1993 – Dale City, Virginia - Age 37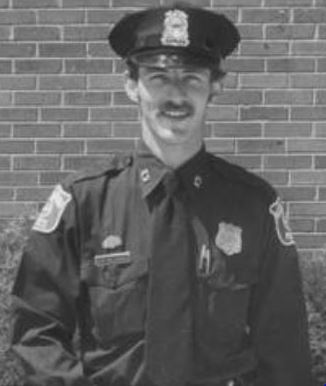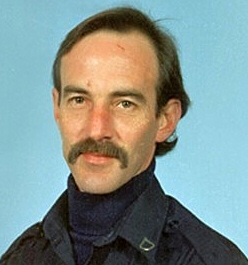 Officer Andrew Michael Chelchowski, 37, commited suicide on July 29, 1993. Around 2 p.m. Chelchowski was found in a wooded area across the street from his home in Dale City. He died of a wound to his head. His service pistol was found near his body. In 1977, Andrew Michael Chelchowski became an Alexandria police officer. In June of 1983, he became a member of the K-9 Unit. On March 22, 1989, Officer Chelchowski and his partner Corporal Charles W. Hill were involved in a shoot out which resulted in his partner being killed and Officer Chelchowski being shot in the leg with a shot gun. Officer Chelchowski endured months of recovery and rehabilitation. He returned to light-duty status later that year and assumed his full duties, with his K-9 partner, in 1991. He remained in that assignment until his death in Prince William County. Officer Chelchowski is survived by his wife, Sherry, a former Alexandria police officer, three step-children, Patrick, Stephanie and Joshua.

Officer Todd Wayne Stone
January 27,1993 – Clinton, Iowa - Age 29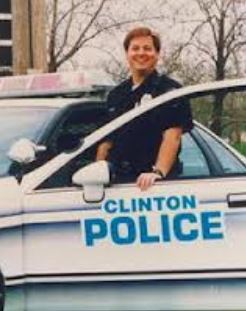 Officer Todd Wayne Stone, 29, was killed January 27, 1993, in a high speed chase when his patrol car struck a utility pole during the pursuit. Speeds reached up to 80 M.P.H. Another officer initiated the pursuit after seeing a car doing donuts in a residential intersection. Stone and officers in three other squad cars were chasing a car driven by Todd Picha, 21, of Erie, Ill., when the crash occurred at 1:10 a.m. As he was pursuing the vehicle another vehicle pulled between him and the suspect vehicle and hit the utility pole after he swerved to avoid that vehicle. The driver of the car they were persuing, Todd Picha, was arrested four hours later. Officer Stone's K9 partner "Max", a Belgian malinois will recover from the injuries he suffered in a car crash that killed his master, but Clinton Police are uncertain whether the canine will be able to resume police work. Officer Stone had served with the Clinton Police Department for 5 years. He was survived by his wife Amy, 3-year-old daughter Casey, and 1 month old son Callen.

Picha was being held on $60,000 bond. Todd Picha pleaded guilty April 22, 1993. On May 27, 1993 Judge David Sivright sentenced Picha to the maximum of five years in prison for

vehicular homicide in the death of Officer Stone. Picha was also ordered to pay $187 restitution to the family of police officer Todd Stone.

Game Warden William F. Hanrahan
November 21, 1992 – Maine – Age 49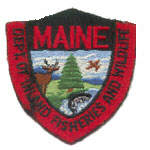 Game Warden Hanrahan suffered a fatal heart attack on November 21, 1992 while investigating reports or drunken hunters in the woods. William Hanrahan had worked for the Maine Department of Inland Fisheries and Wildlife. His wife, four sons and his K9 "Major" survive him.

Sgt. Pedro Antonio Cainas
November 19, 1992 – Hialeah, Florida – Age 34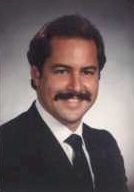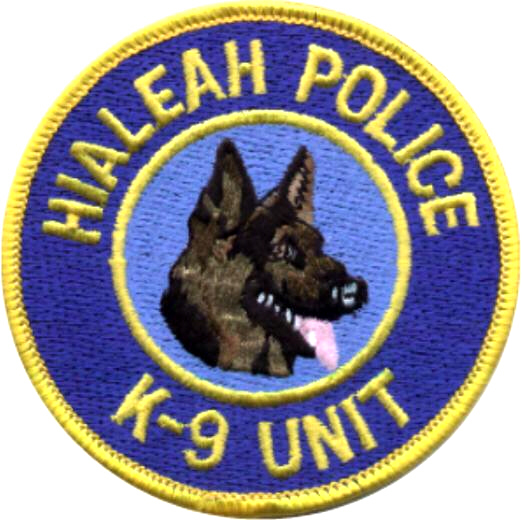 Officer Pedro "Pete" Cainas, 34, was dispatched to a neighbor dispute at 1655 West 44 Place in Hialeah, Florida at approximately 11:05 p.m. on November 13 where he was met by complainant Abel Fernandez. Fernandez had just informed officers that he had engaged in an argument with his neighbor Esteban Quintanal. The officers then went to Quintanal's apartment door and knocked for over two minutes. Quintanal responded by firing a single gunshot through the closed door striking Officer Cainas in the back of the head. Arriving Officers entered Quintanal's apartment and subsequently took him into custody. Quintanal suffered broken ribs and a head wound that required 21 stitches to close during the struggle and his blood alcohol level was 2.5 above the state standard of .10 for intoxication. Officer Cainas lingered in a coma for six days and expired 11:51 a.m. on November 19, 1992 at

Jackson Memorial Hospital

. Pete started his law enforcement career in 1979 who was hired by Riviera Beach Police Department and worked their undercover narcotics.

In 1980, Pete worked for the Miami Springs Police Department nine months before leaving for the Hialeah Police Department.

In his ten years working for the Hialeah Police Department, Pete was a K9 Officer and Auto Theft / Burglary Detective.

In 1985, Pete continued his legal career and studied law at the University of Miami. He graduated from law school and received his law degree in May of 1991. He worked as a Miami-Dade Assistant State Attorney but, returned to the Hialeah Police Department October 25, 1992.

Pete was killed three weeks later on November 19, 1992. Hialeah's main commercial street, W 49 Street, was renamed "Sgt. Pedro Cainas Drive" in 1995. Officer Cainas leaves behind his fiancee, Gilda Reyes.

Esteban Quintanal was arraigned on November 15, 1992 and was denied bail. On December 4, 1992 he was charged with second degree murder of a law enforcement officer. Judge Martin Kahn imposed a sentence of 25 years in prison.

Cpl. Terence O'Neill

May 25, 1991- Mill, Belfast - Age 44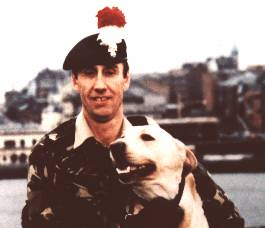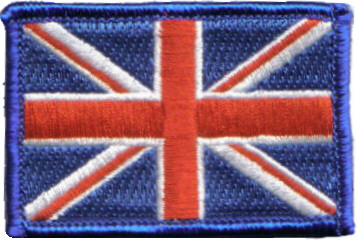 Corporal Terence O'Neill, 44, was killed when a grenade was thrown over the wall of his base. He had just finished feeding his dog and had been speaking with Corporal Darren Swift, another dog handler, when the attack took place. Corporal Swift lost both legs in the explosion. Corporal O'Neill was had served 22 years, and was due to retire from the Army within 6 months.

Deputy Sheriff Dennis Wayne Bryant
April 22, 1991 - Benton County, Washington - Age 30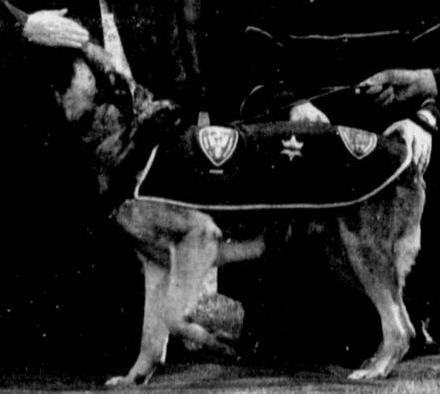 Deputy Sheriff Dennis Wayne Bryant, 30, was killed by a drunk driver who was driving with his head lights turned off on April 22, 1991. Deputy Bryant was responding to backup another deputy who was pursuing a domestic assault suspect. The drunk driver, David Chunn, 30, had just left a local bar after being involved in an altercation and had turned off his lights after seeing the first deputy's patrol car, fearing he would be arrested. The drunk driver struck Deputy Bryan's vehicle head-on and both men were killed. Officer Bryant died at Kennewick General Hospital and David Chunn died at Our Lady of Lourdes Hospital in Pasco. Toxicology reports showed that David Chunn had a BAC of .10 and had smoked marijuana shortly before the incident. Officer Bryant did not have his lights and siren on because the matter was not urgent. Deputy Bryant's K9 "Hasso" was with him in the vehicle when the crash happened and was slightly injured and was able to attended his masters funeral. Canine "Hasso" was reassigned to another officer. Deputy Bryant had served with the Benton County Sheriff's Office for almost 4 years and had served in law enforcement for 10 years. Approximately one thousand people attended his funeral. He is survived by his wife, Sim Tok and two daughters.

Officer Scott Adams Winters
July 29, 1990 - Pompano Beach, Florida - Age 28


Officer Scott Winters was shot and killed with his own weapon on the evening of July 29th, 1990. The incident unfolded when Thelma Johnson reported that Albert Holland approached her and asked her if she had a hitter (a device used to smoke cocaine). Johnson stated that she did not, but proceeded to lead Holland to a wooded area with the intention of smoking cocaine together. Holland then smoked the first half of his cocaine rock off of a beer can, but Johnson refrained because she did not like that method of smoking. After smoking the second half of the rock, Holland became violent. Holland shoved Johnson to the ground, held her down, and hit her on the side of the head with a bottle while she begged him not to kill her. As Holland beat her, he repeatedly threatened to kill her. Holland ripped Johnson's shirt and unzipped his pants. Holland forced Johnson to give him oral sex. When Johnson protested and stopped, Holland beat her until she was unconscious. Holland stopped beating Johnson and left the scene when a witness yelled for Holland to stop before he killed her. Johnson had a severed ear, a fractured skull, and multiple cuts on her face, which required extensive plastic surgery. Police officers responded to a call regarding the attack and began the search for the perpetrator. Officer Winters and his K-9 partner, Baron, were searching for a suspect just south of Martin Luther King Boulevard following the rape and beating of a young Pompano Beach woman. Officer Winters was in his patrol car with his K9 partner "Baron" when he asked Holland to approach the vehicle. Officer Winters exited the patrol car and instructed Holland to put his hands on the car. Holland complied with the request. As Winters reached down to use the radio on his belt, Holland turned and took a swing aimed at Winters' head. A struggle ensued and Winters got Holland in a headlock. Winters repeatedly tried to put Holland on the ground by using his nightstick, but Holland rose and turned, causing the combatants to face each other. Holland kept trying to get Officer Winters gun and at one point Officer Winters was seen pushing Hollands hand down over the gun to try and stop him from removing it. Holland was having a hard time removing the gun from the holster because it was latched. Officer Winters was also seen trying to open his patrol car door to release his canine "Barron" but could not. Holland got a hold of Officer Winters gun when he slid Winters belt with the holster to the front of Officer Winters and was then able to remove it from the holster. When Holland managed to take Winters' gun he shot the officer twice below his vest before he fled the scene. Officer Winters was shot in the lower stomach and in the groin area. Police officers stated that Winters requested backup at 7:25 p.m. and reported being shot at 7:26 p.m. When officers arrived at the scene, Winters' gun was missing. Winters died at 8:30 p.m. as a result of gunshot wounds. One of the bullets destroyed his left iliac artery which caused him to bleed to death. Officer Winters was a member of the Pompano Beach Police Department for three years. Officer Winters funeral was attended by two thousand people and 84 canine officers with their canines. Officer Winters was survived by his wife. To make a donation, checks and money orders may be sent to the [Scott Winters] Trust Fund at the Pompano Beach Police Department, 100 SW Third St., Pompano Beach, Fla. 33060.
Albert Holland, 36, was arrested and charged. On 8/16/90 the defendant was indicted for first degree murder, robbery with a firearm, sexual battery and attempted murder with a deadly weapon. On 8/2/91 Albert Holland was found guilty by trial jury on all counts. On 8/12/91 the jury recommended death by a vote of eleven to one. On 8/18/93 Albert Holland was sentenced to death for first degree murder, 17 years for robbery with a firearm, life sentence for sexual battery, and 40 years for attempted murder with a deadly weapon. During Albert Holland's second trial on11/6/96 he was found guilty as charged to first degree murder, robbery with a firearm, and attempted murder with a deadly weapon but was convicted of a lesser charge for attempted sexual battery. On 11/15/96 the jury recommended death by a eight to four vote. On 2/7/97 he was sentenced to death for first degree murder, life sentence for robbery with a firearm, 15 years for attempted sexual battery and 30 years for attempted murder with a deadly weapon. The sentencing judge was the Honorable M. Daniel Futch, Jr.
A second Direct Appeal was filed on 02/20/97. Issues that were raised included whether the trial court erred in denying him the opportunity to represent himself; whether the trial court abused its discretion in denying Holland's motion to exclude the testimony of the State's mental health experts; whether the trial court abused its discretion in overruling Holland's objections to the admissibility of a videotape interrogation of Holland. The Florida Supreme Court found all of the claims either without merit or harmless and affirmed the convictions and sentences, including the sentence of Death, on 10/05/00.
A Petition for Writ of Certiorari was filed on 05/04/01 and denied on 10/01/01. A 3.851 Motion was filed with the circuit court on 09/17/02 and denied on 05/16/03. A 3.851 Motion Appeal was filed with the Florida Supreme Court on 06/09/03, raising claims of ineffective assistance of counsel. On 11/10/05, the FSC affirmed the denial of the motion. A Petition for Writ of Habeas Corpus was filed with the Florida Supreme Court on 01/09/04, raising claims of ineffective assistance of counsel. On 11/10/05, the FSC denied the petition. A Petition for Writ of Habeas Corpus was filed with the U.S. District Court, Southern district, on 01/24/06. As of 04/27/07, this petition was dismissed as untimely filed. A Certificate of Appealability was granted on 07/18/07. A Petition for Writ of Certiorari was filed with the U.S. Supreme Court on 02/08/06 and denied on 04/17/06. A Habeas Corpus Appeal was filed in the U.S. Court of Appeals, 11th Circuit on 08/01/07 that was denied on 01/30/09. A Petition for Writ of Certiorari was filed with the U.S. Supreme Court on 05/13/09. This case is pending.