K-9 Monuments

K9 Kobus Memorial
Location - Omaha, Nebraska
Unveiled - 12/19/17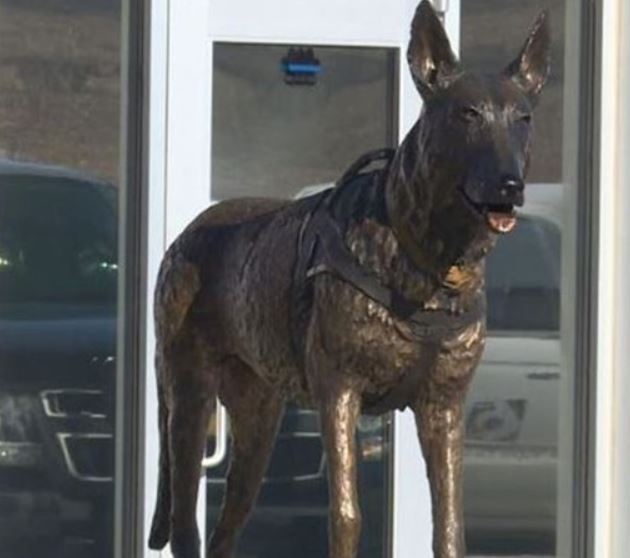 The Omaha Police Department honored K9 Kobus for making the ultimate sacrifice. Police K9 Kobus was killed in the line of duty
on 1/22/16.
. A statue in his honor was unveiled on 12/19/17. Officer Matt McKinney was K9 Kobus's handler.

K9 Jethro Memorial
Location - Canton, Ohio
Sculptor - Lena Toritch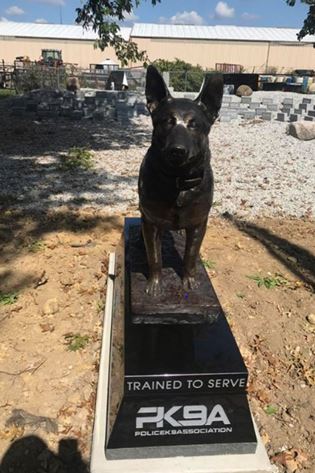 The life-size statue of K9 Jethro was created to honor the Canton police K9 who was shot and killed in the line of duty. The memorial is located in the Police K-9 Association Memorial Cemetery. Officer Ryan Davis, Jethro's partner, and his 3-year-old German shepherd were investigating when he was shot during a break-in at a grocery in January 2016. He died the following day. The statue created in his memory will now be the centerpiece of the newly-designed police K9 dog cemetery.

Forever Faithful Monument
Location - Washougal Police Department, Washougal, Washington
Dedicated - 8/5/17
Sculptor - Susan Bahary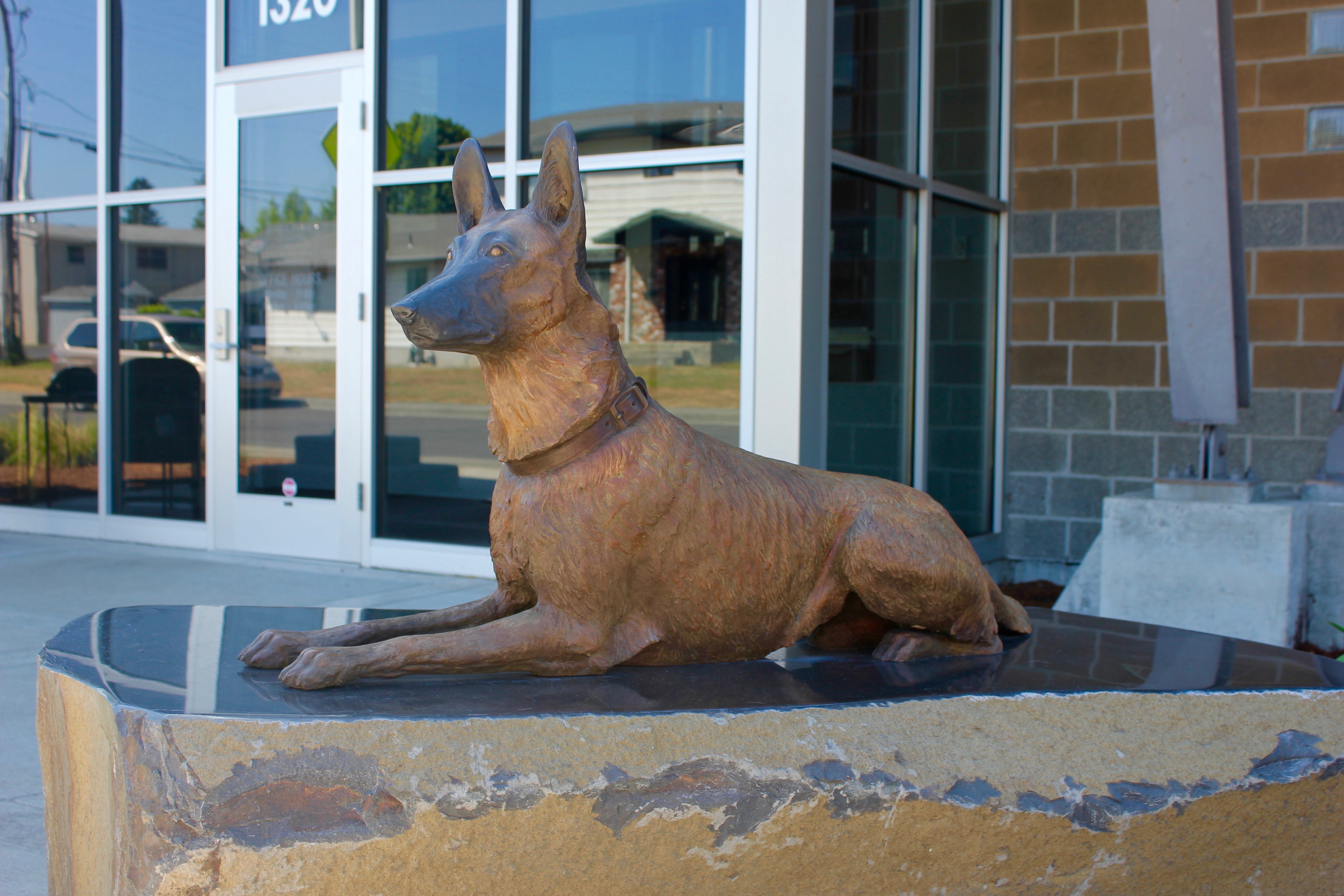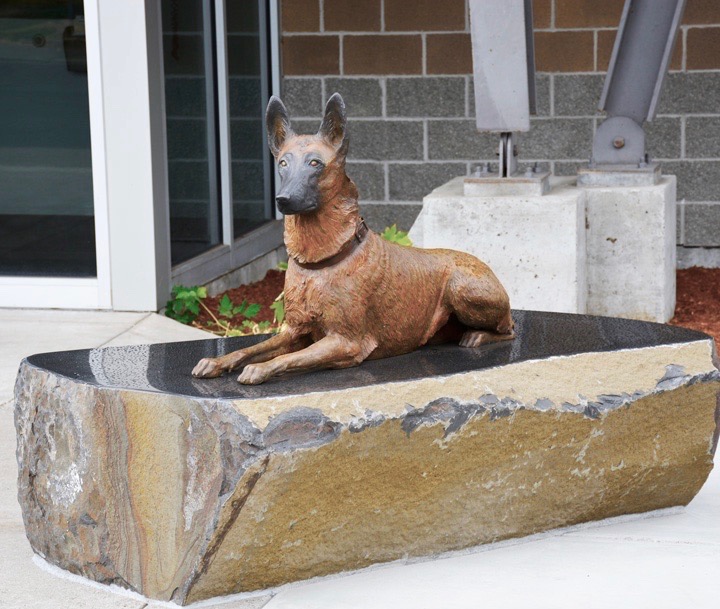 This life-size bronze Belgian Malinois monument entitled, "Forever Faithful", is in front of the Washougal Police Department, in Washougal, Washington.This sculpture stands as a tribute to the extraordinary service dogs that support our police force, as well as all who serve our community. The polished basalt base was donated by Guinett Masonry of Vancouver.

K9 Veterans Memorial
Location - Fort Atkinson's McCoy Park, Wisconsin
Unveiled - 6/25/17
Sculptor - Mark Dziewior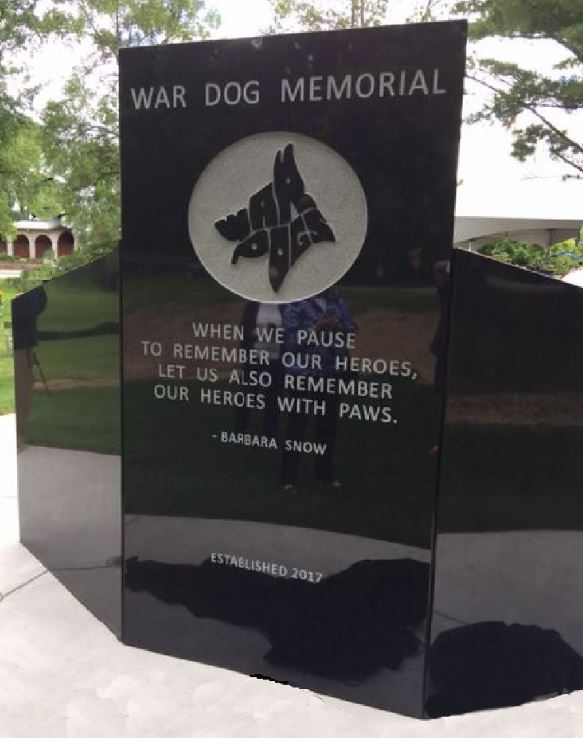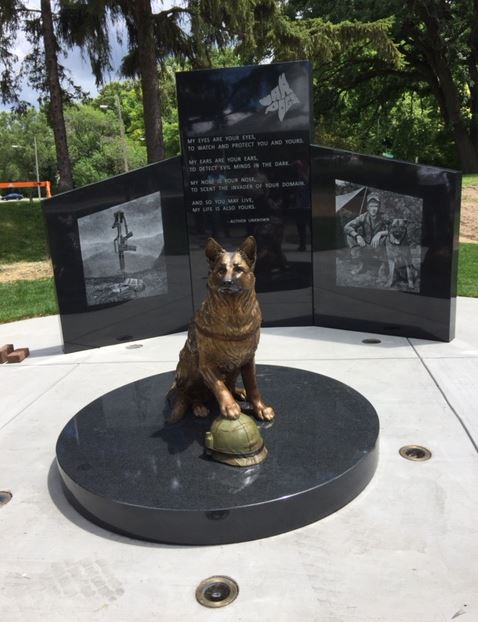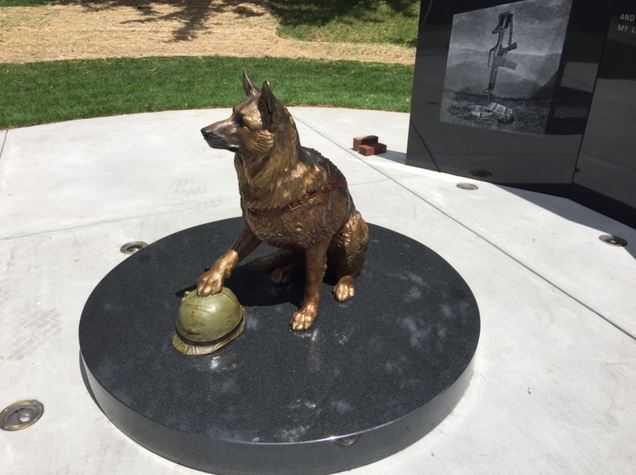 This memorial honors the military K-9 officers and their handlers This memorial has a beautiful bronze dog statue with a three-sided polished black granite backdrop and lighting on a cement foundation. The vision of Mabel Schumacher, the memorial was inspired by the memory of Terrence (Terry) Beck, a fallen Fort Atkinson Marine Corps K-9 handler and his German Shepherd scout dog, Seato, who were killed in action in Vietnam on Dec. 20, 1967. Eighty-four persons, businesses and organizations contributed toward the K-9 Veterans Memorial.

Portland Police K9 Memorial
Location - Portland Public Safety building, 4735 E. Burnside St., Portland, Oregon
Unveiled - 5/20/17
Sculptor - Richard Moore III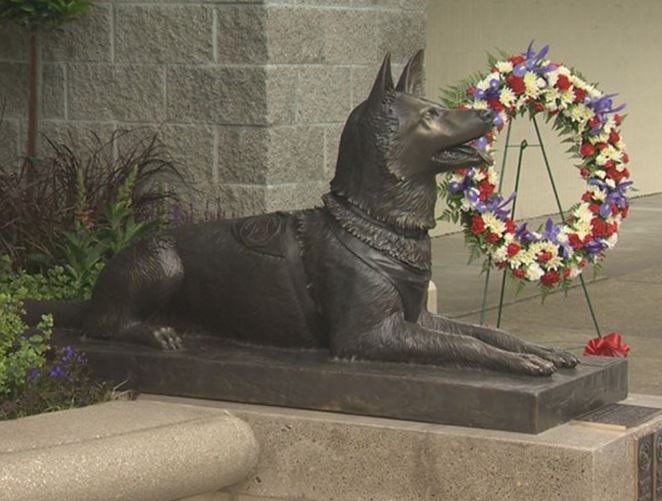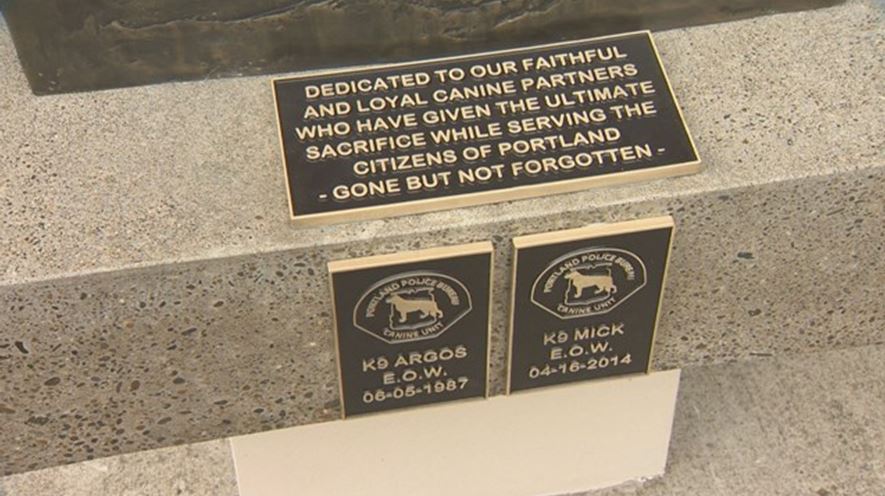 K9 Mick, a Portland police dog who died in 2014 in a shootout that wounded his police partner, provided the inspiration for this bronze statue. K9 Mick, a 17-month-old German shepherd, was shot trying to stop the gunman armed with an A-15 rifle. K9 Mick's partner was wounded in both legs during a shootout with a burglary suspect in Southwest Portland on April 16, 2014. K9 Argos, a 3-year old German Shepherd, was shot in the neck by a gunman firing a rifle and a handgun in 1987. The sculptor donated his services along with the Portland Police Historical Society and Advantis Credit Union also donated to make the memorial fund.

Fayetteville Police K9 Memorial
Location - Fayetteville, North Carolina
Unveiled - 5/15/17
Sculptor - Lena Toritch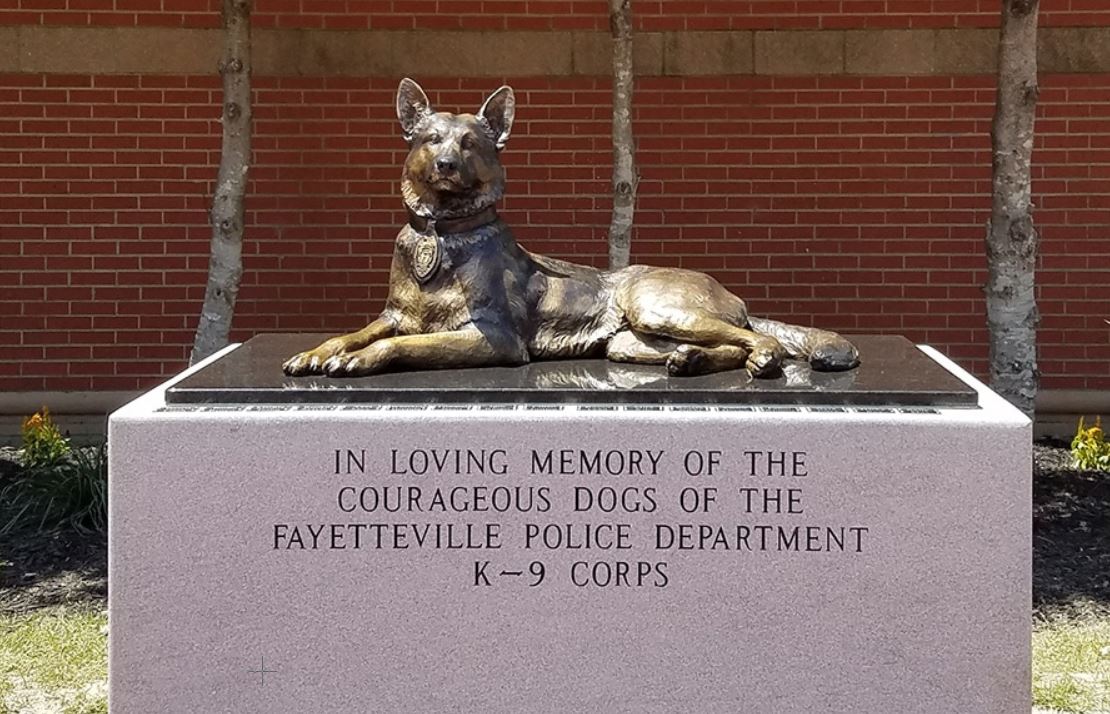 The memorial is designed to remember police dogs who have served with Fayetteville police, as well as honoring those who still serve. Atop the large granite marker is a handsome German shepherd, laying down but remaining alert. His ears are pointed, alert for any sound, and his eyes appear fixed on something of interest.

Berks County K9 Memorial
Artist - Angelo DiMaria
Location - Berks County Heritage Center on Red Bridge Road, Pennsylvania
Unveiled - 5/5/17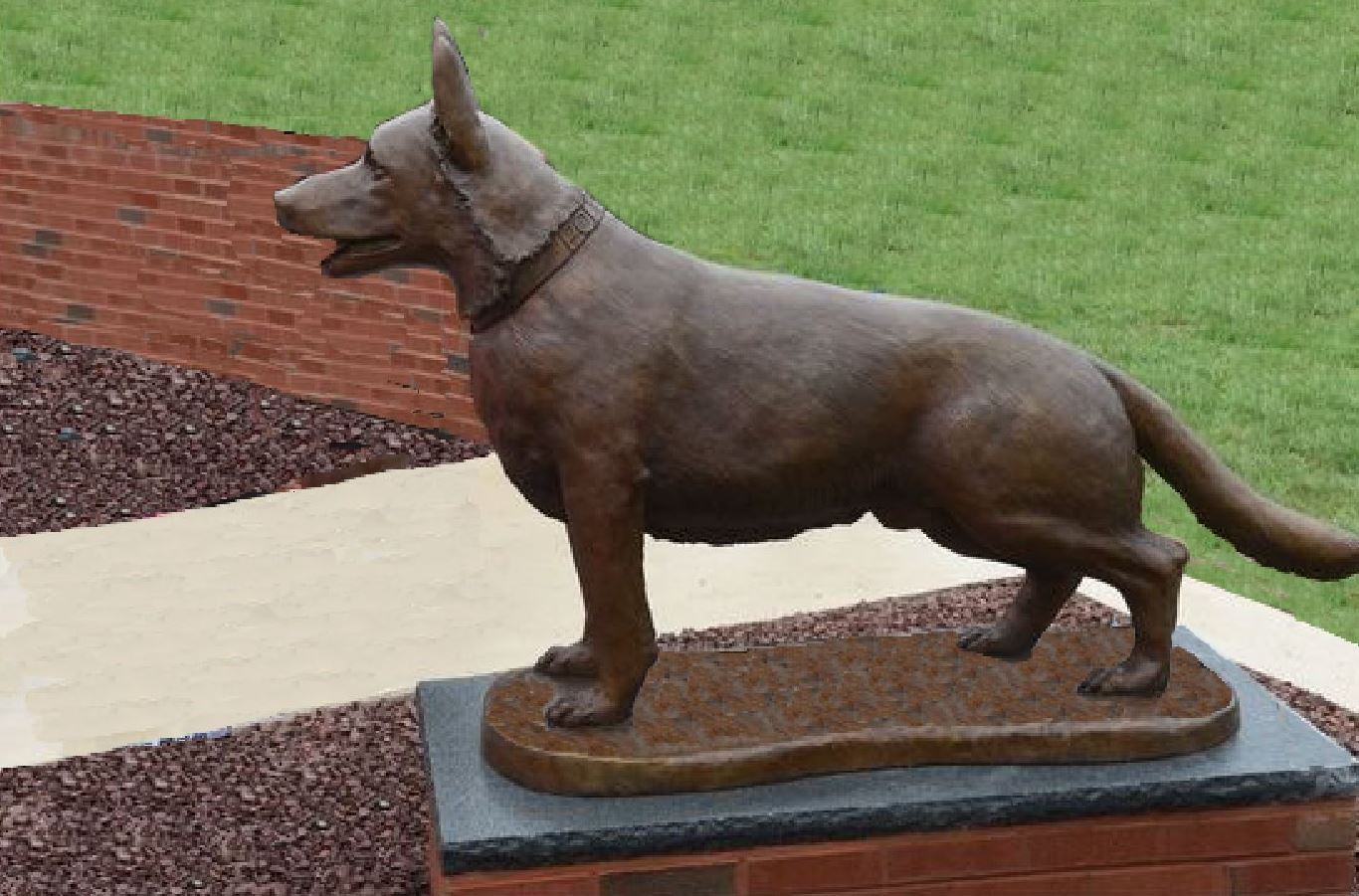 The bronze statues honors fallen officers and police dogs. The bronze German shepherd police dog, is the centerpiece of an elaborate red brick plaza featuring three fountains, lit at night, and tributes to Berks County law enforcement officers, K-9 officers and military veterans. The German shepherd, stands ready for an order.

Canton Ohio K9 Memorial
Designer - Philip Lago
Location - Canton Ohio - Outside Stark County Common Pleas courthouse
Second Street NW and Market Avenue N
Unveiled - 5/3/17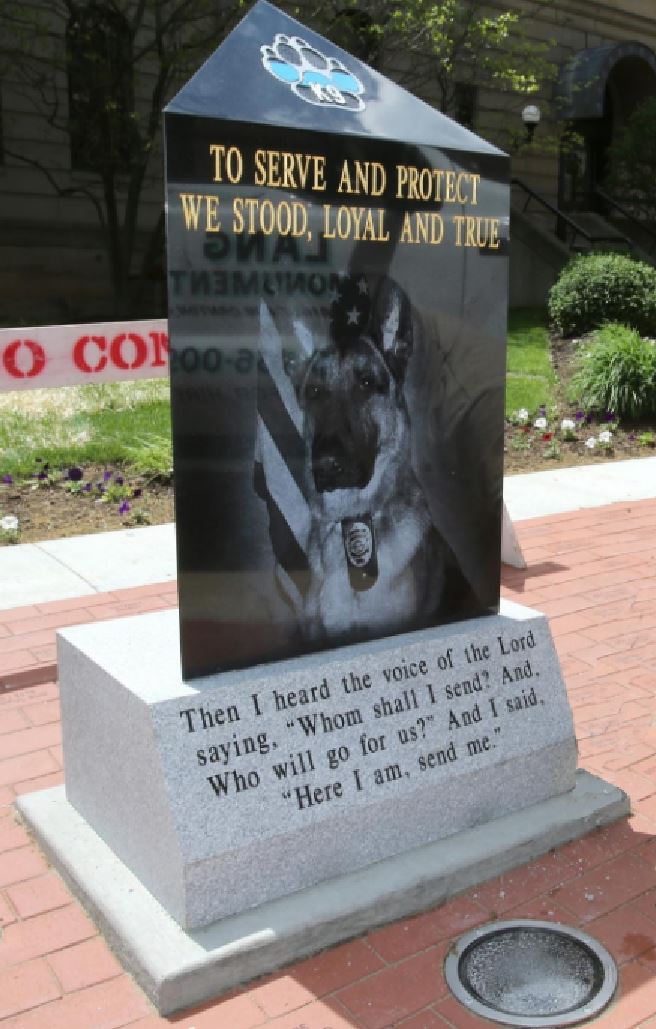 The K9 Memorial is made of polished black granite etched with the image of a police dog with gold lettering and a paw print on top which cost a little above $20,000.

ATF K9 Nash Memorial
Sculpter - Lena Toritch
Located - Glynco, GA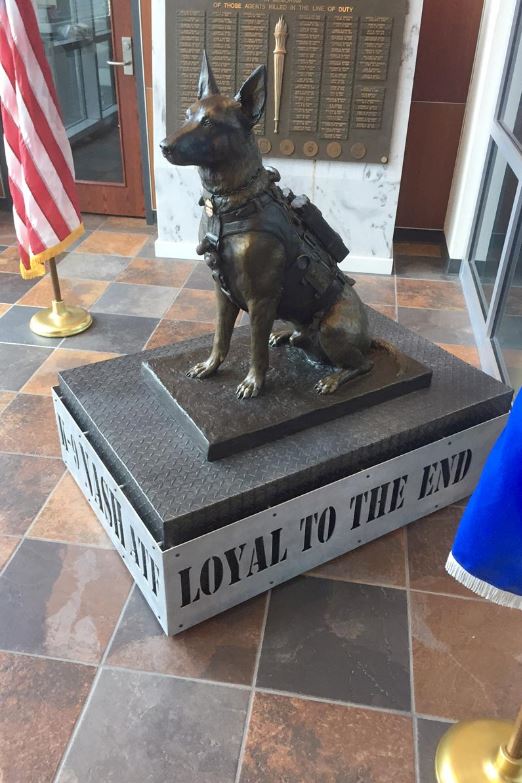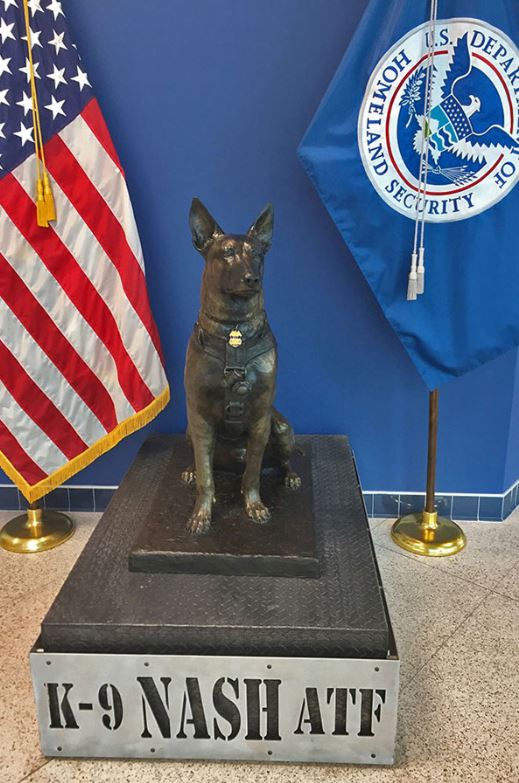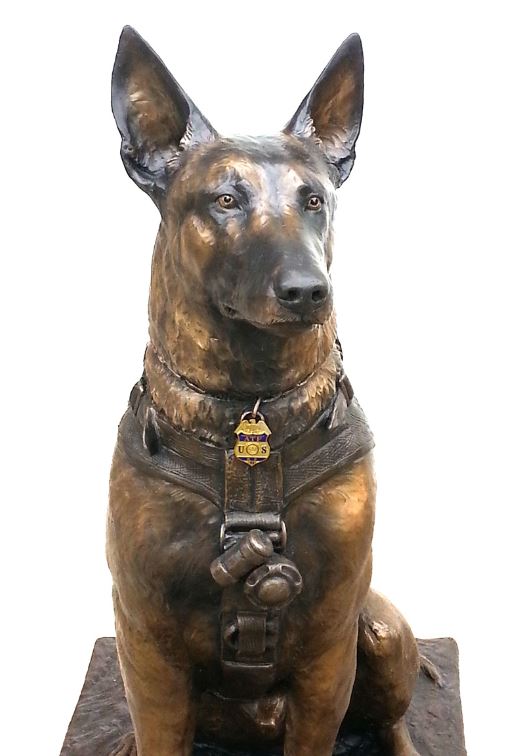 K9 Nash sacrificed his life protecting officers. Nash wash fatally wounded, taking several bullets that were meant for the other members of Special Response Team 5. A life-size bronze portrait statue of K9 Nash is permanently displayed at the new FLETC (Federal Law Enforcement Training Center) Auditorium located in Glynco, GA. Nash symbolizes many law enforcement, military and service dogs that keep us safe.

Wall of Rememberence
Location - Police Dog Training Center - Upper Hutt, New Zealand
Unveiled 3/15/17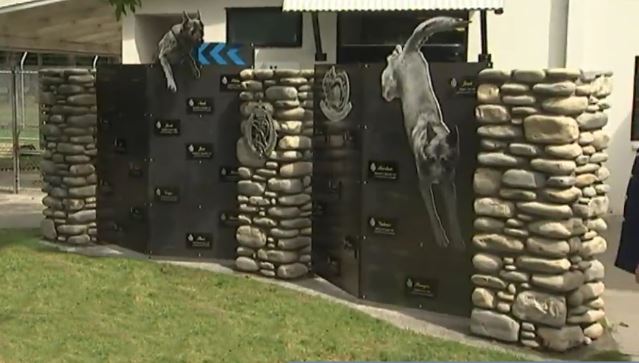 Accelerant and Explosive Canine Detection Dogs Memorial
Dedicated - 12/7/16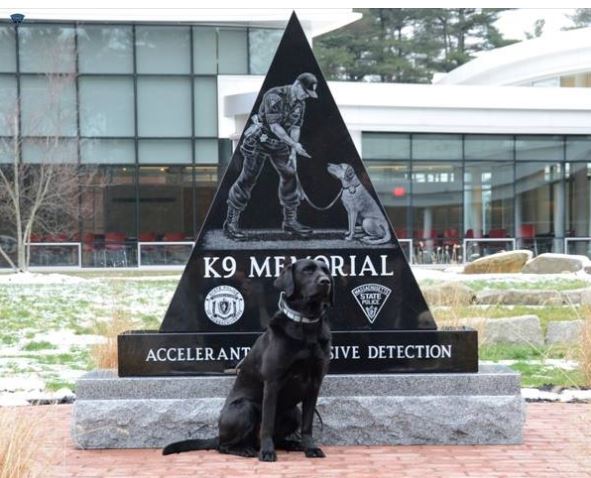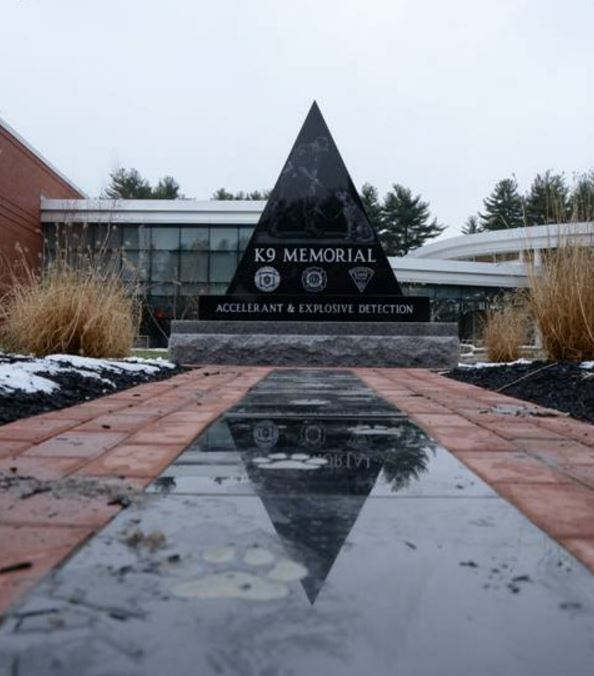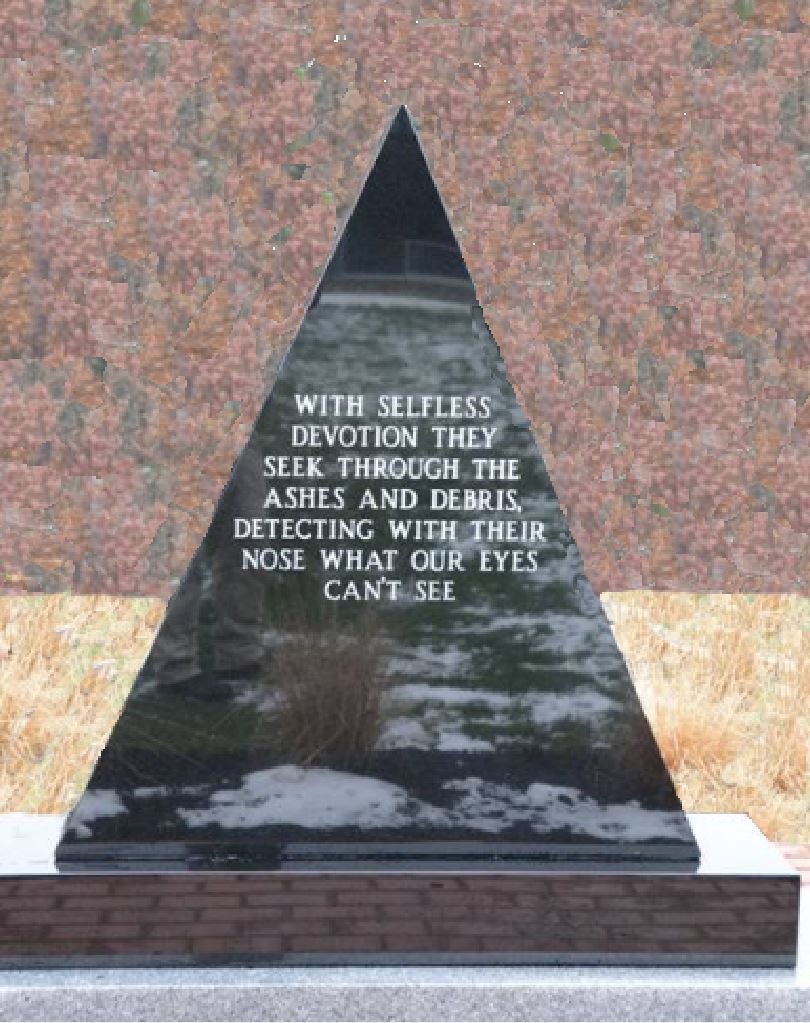 On 12/7/16 the memorial to the Accelerant and Explosive Canine Detection Dogs who work with State Police in the Fire & Explosion Investigation Unit assigned to the Office of the State Fire Marshal was dedicated. The memorial honors those canines who have passed away, those who have retired, those who continue to work, and those who will join the unit in the future.

Franklin County Ohio K9 Memorial
Location - Outside the Jackson Pike Jail - 2460 Jackson Pike, Columbus, OH 43223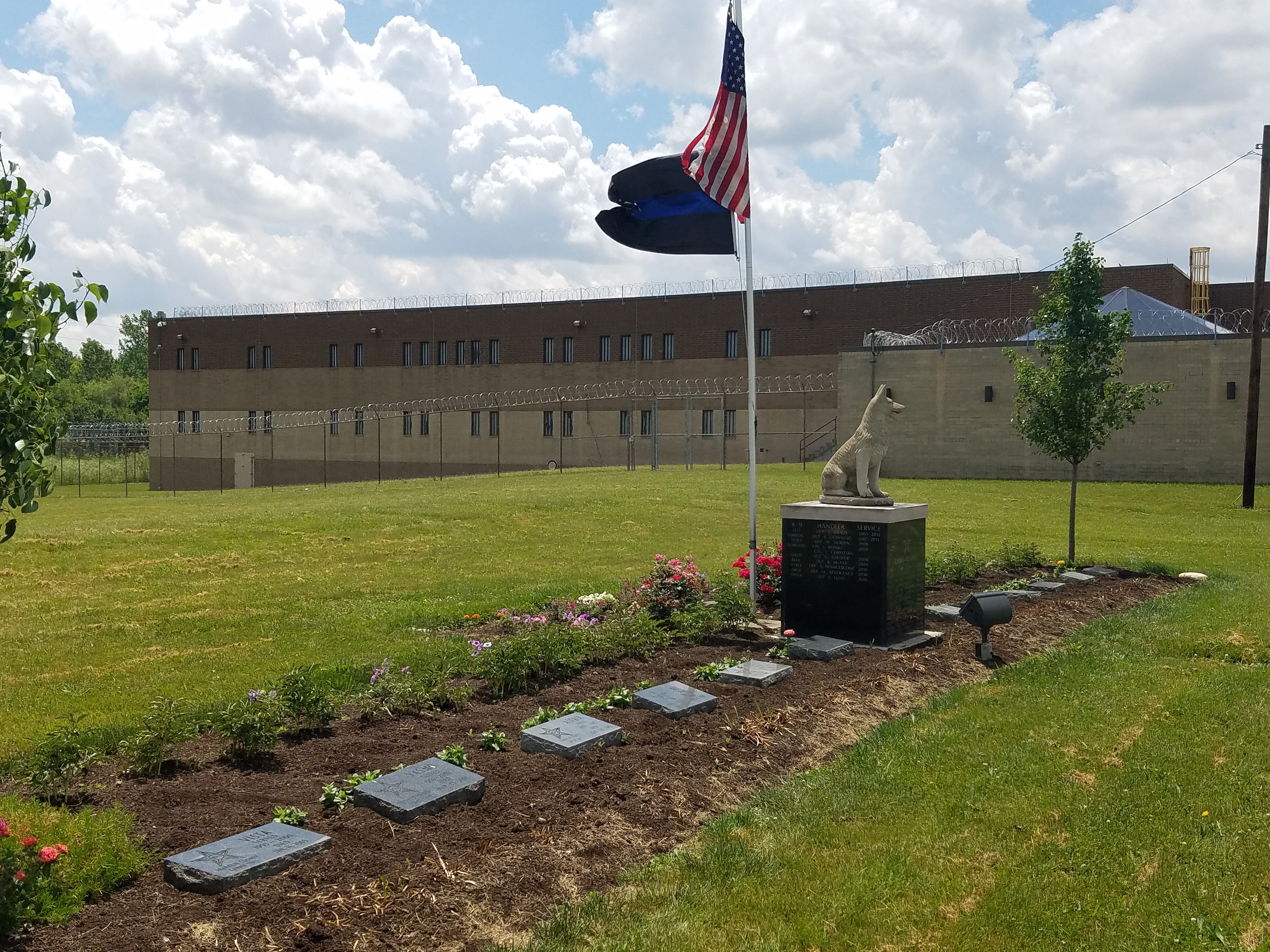 New Braunfels Police Department K9 Memorial
Location - 1488 S Seguin Ave, New Braunfels, TX - New Braunfels Police Department, TX
Dedication - 9/7/16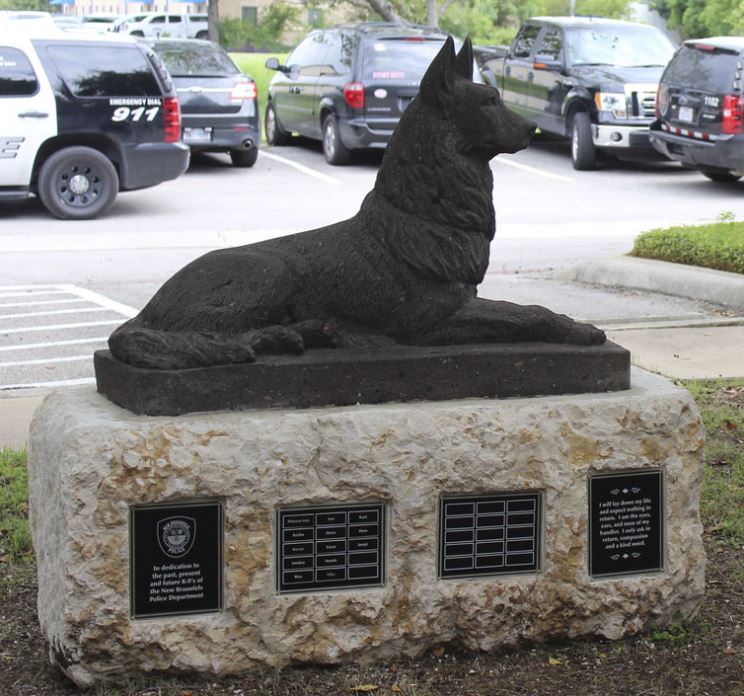 Boy Scout Tommy Duran made his Eagle Scout Project a K9 memorial for the New Braunfels Police Department in Texas. The dedication and unveiling was held on 8/30/16. The massive sculpture honors New Braunfels Police Department canine officers and their handlers, past, present and future. The sculpture of a police dog lying on a pedestal is made of cantera stone. The block at the bottom weighs about 1,200 pounds and the dog weighs in at about 700.

K9 Monument "Vigilance"
Location - Olive Hills Dog Park in Anaheim, California
Unveiled - 8/6/16
Sculptor - Susan Bahary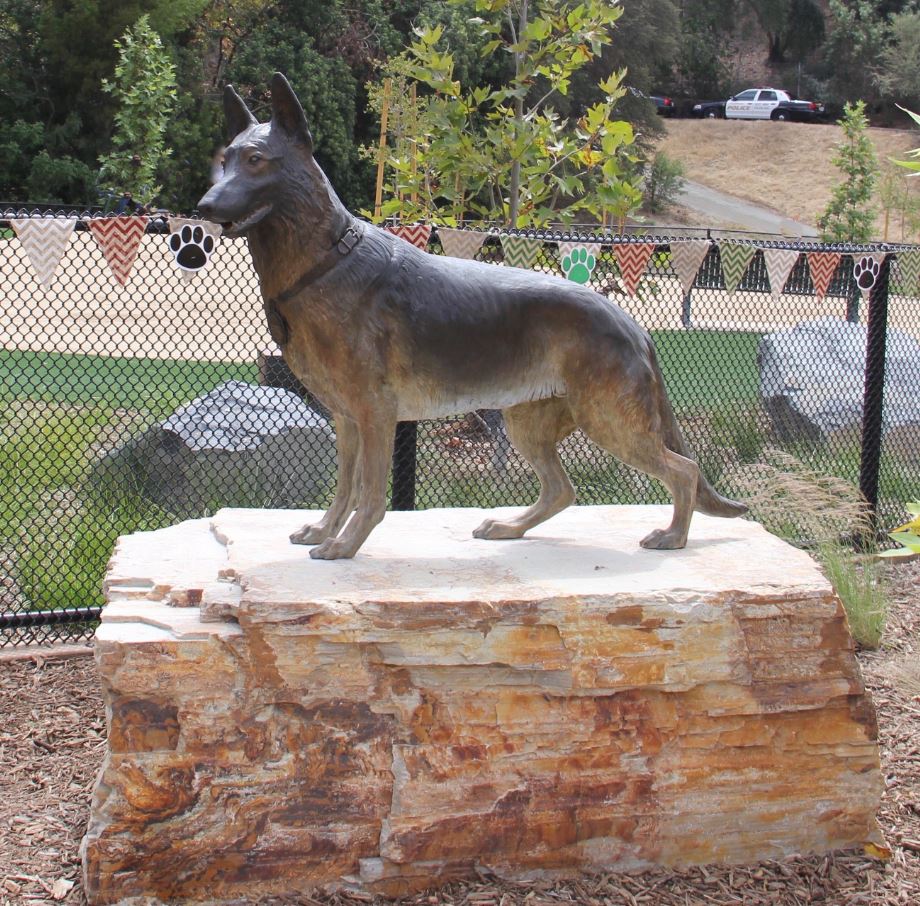 "Vigilance", is the second of two life-size bronze monuments for the City of Anaheim's Police Department. It was inspired by the late K9 Bruno and all the Anaheim Police Department K9's and handler/officers.

Oxford K9 Memorial
Location - Mississippi
Unveiled - 7/21/16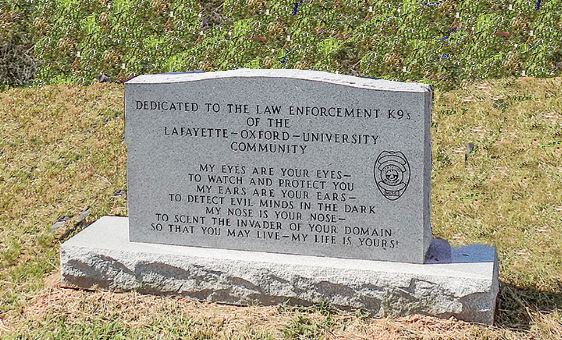 On 7/21/16, an area was dedicated as an official cemetery for Oxford Police Department K9's that have died and for all future Oxford Police Department K9s. Waller Funeral Home donated the marble monument made for the K9 burial site and was a way for them to say thank you and that they appreciate the service police and police K9's provide.

K9 Buster Memorial
Location - England
Unveiled - 7/16/16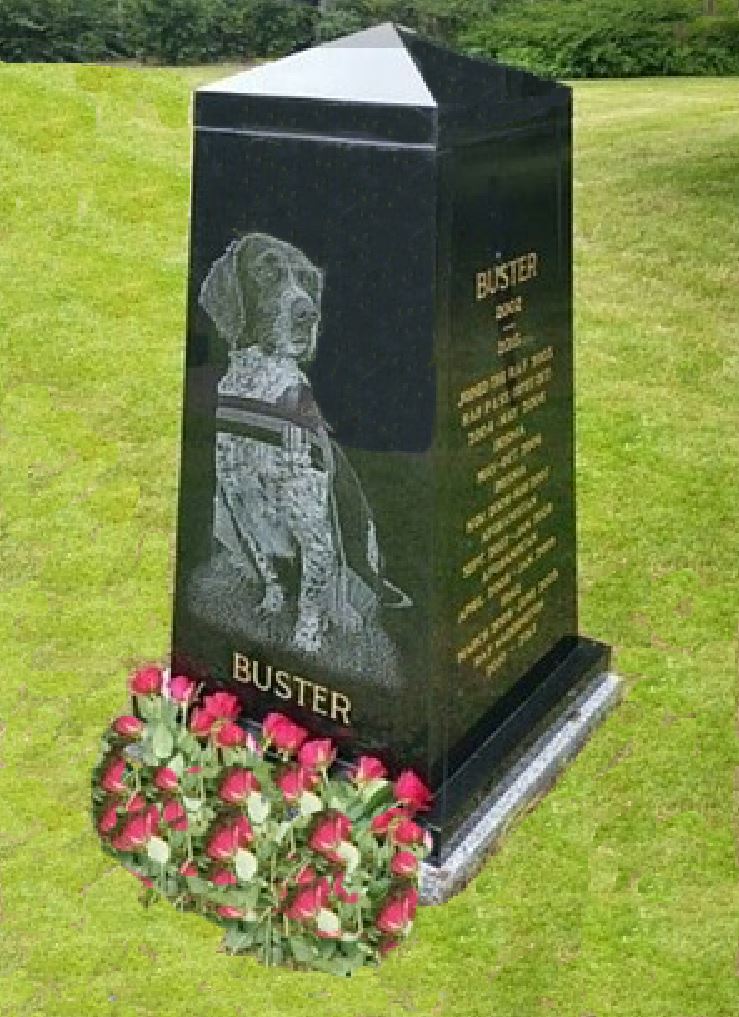 A memorial garden was unveiled at RAF Waddington in memory of a heroic dog, K9 Buster, who helped save more than a thousand lives. RAF Waddington paid tribute on July 16, 2016, to Buster the dog a year after his death. Buster earned a row of campaign medals for his service over the course of five tours of duty to Bosina, Iraq and Afghanistan. After his glittering service with the RAF, Buster retired in 2011, and died on Thursday, July 16, 2015, at the home of his handler, Flight Sergeant Will Barrow. Over the course of his career, Buster is thought to have saved more than 1,000 lives by sniffing out improvised explosive devices (IEDs), as well as weapons and other ammunition. He also helped patrol British bases and search vehicles at check points, and upon retirement was made the official RAF Police mascot. Buster, died aged 13 at the Barrow's home. where he had been enjoying retirement with handler Will, plus two canine companions. It was the saving of countless lives by searching out IEDs that saw the honour of official lifetime mascot of the RAF Police bestowed upon Buster.

K9 Ex K9 Memorial
Location - John Galvin Park, 1072 N Grove Ave. - Ontario, California
Unveiled - 5/20/16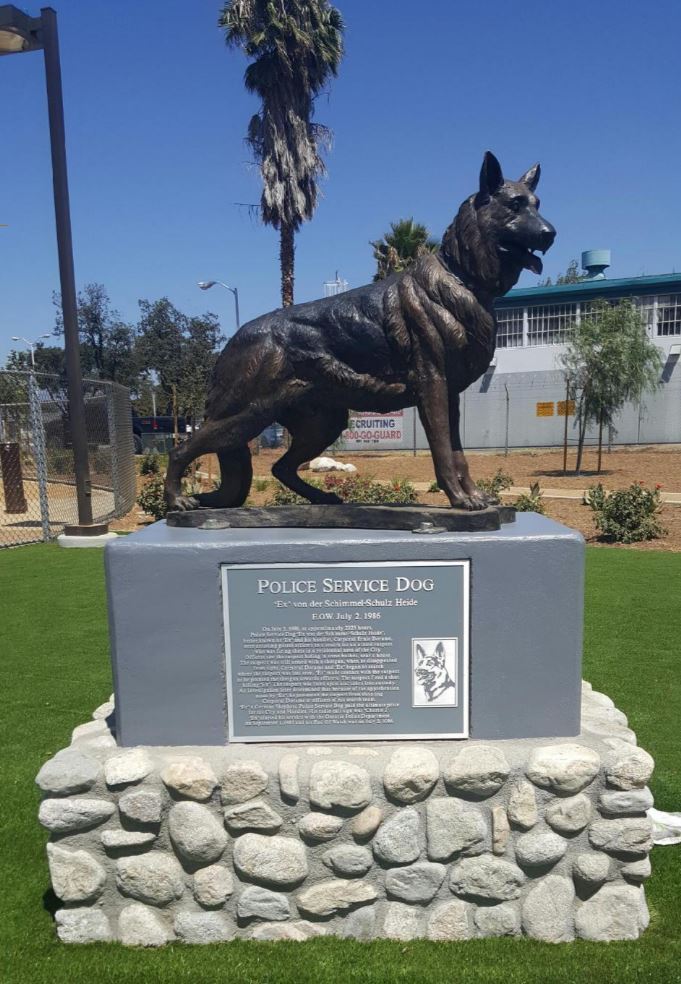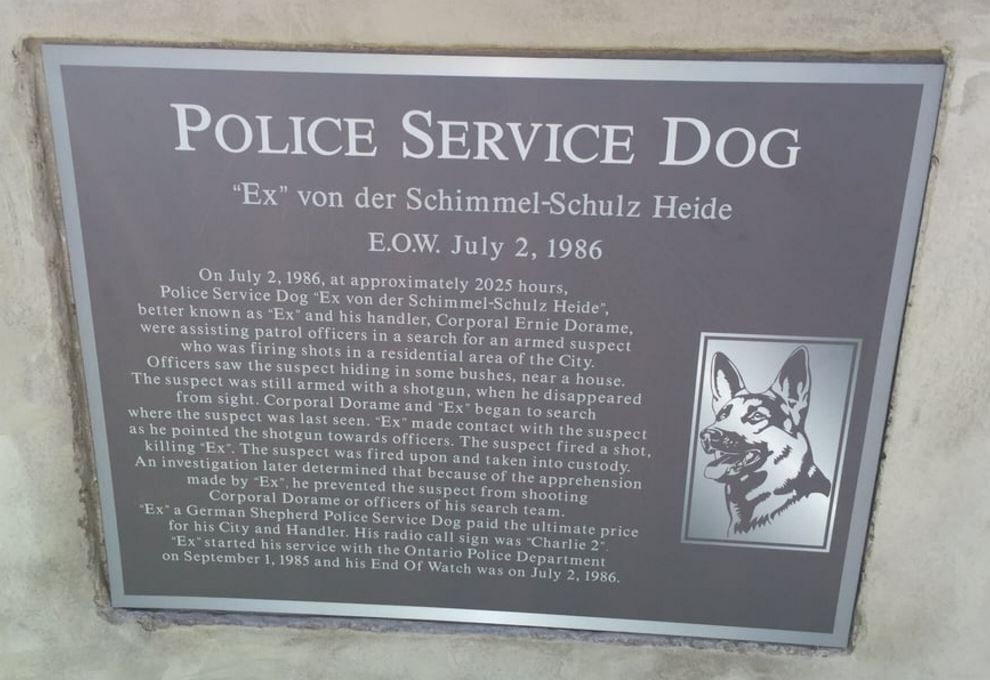 The dog park was constructed in 2016 and opened on May 21st, 2016. The park name is in dedication to police service dog, "Ex" Von der Schimmel – Schultz Heide, a 4-year-old German shepherd with the Ontario Police Department in California who was shot killed by a shot gun blast to his neck while protecting his handler, Corporal Ernie Dorame on July 2, 1986. The K9 was killed while assisting patrol officers in search for an armed suspect that was firing shots in a residential area of the City. Due to Ex's sacrifice, it lead to the capture of the armed gunman and also prevented him from shooting Dorame and other members of the patrol team. Ex went into service in September 1985 as Ontario's first police canine.

Lake County Police Dog Memorial
Location - Lakefront Park - Willowick, Ohio
Unveiled - 5/17/16
Honoring police K9's in Lake County.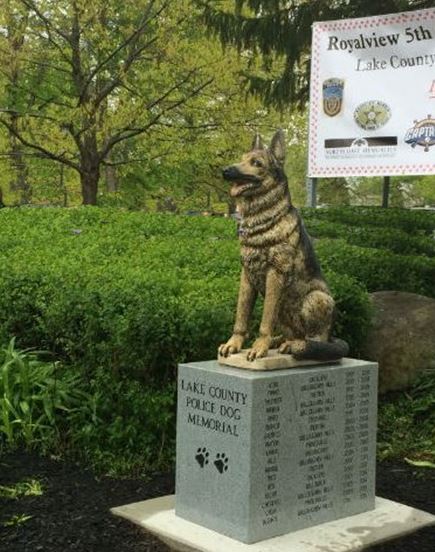 Flagler County K9 Memorial
Location - Flagler County Sheriff's Office, Bunnell, Florida
Unveiled - 5/5/16

Round Rock K9 Memorial
Location - Round Rock Police Department - 2701 N Mays St - Texas
Sculpter - Austin Weishel
Unveiled - 4/5/16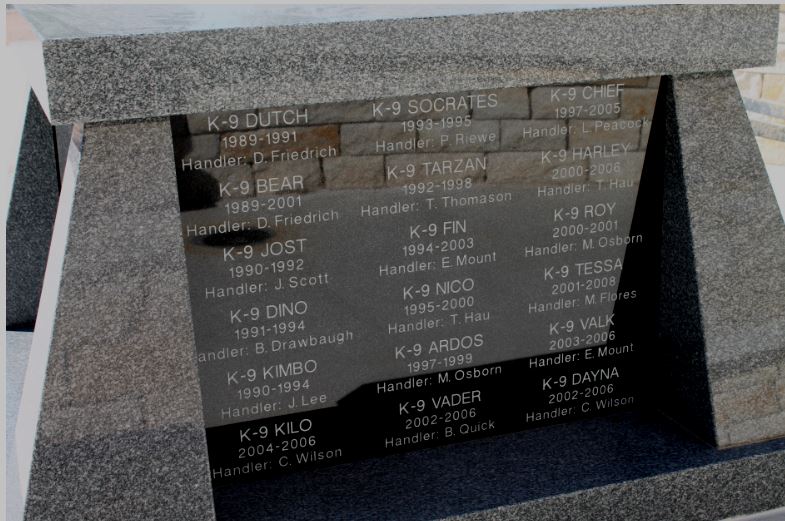 Memorial for Round Rock Police Department K9's honoring past, present and future canines that have past away. All K9's have died have their ashes placed in the base of the monument. Memorial was provided through donations.

Valor
Location - La Palma Dog Park, 1151 N. Anaheim Blvd., California
Sculpter - Susan Bahary
Dedication - 4/3/16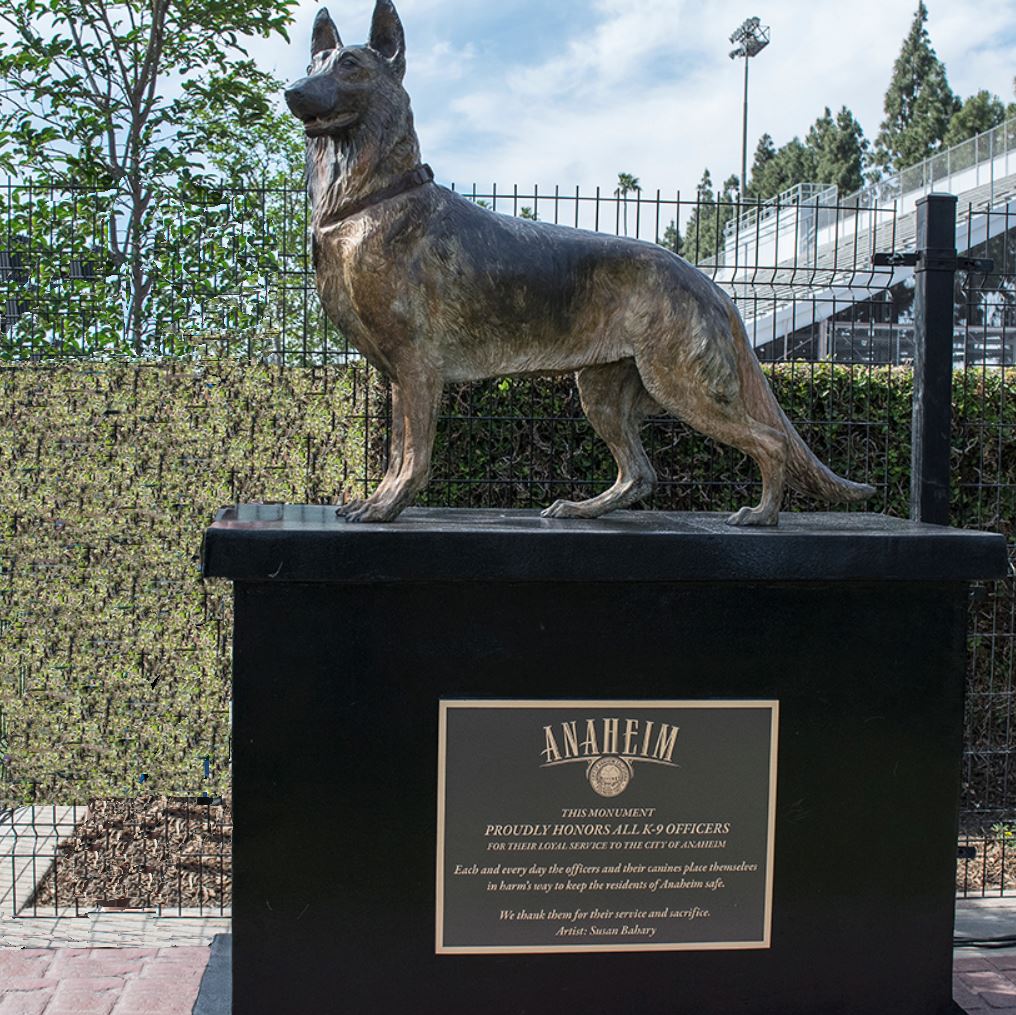 The life-sized 3.5-foot-tall bronze sculpture of a German shepherd atop a black concrete pedestal bronze German shepherd honors Anaheim's crime-fighting canines. The sculpture was inspired by a 2014 incident in which Anaheim Police K-9 officer Bruno, 7-year-old German shepherd, was shot in the line of duty. Bruno, survived the shooting after being shot in the jaw and chest and went through months of recovery and was retired. The monument honors the sacrifice and service of K-9 officers and to recognize the important role they play in our daily lives to ensure the safety of all who live, work and play in Anaheim. The pedestal was donated by Bomel Construction Co.

Florida Sheriff's Association Memorial
Location - Tallahassee, Florida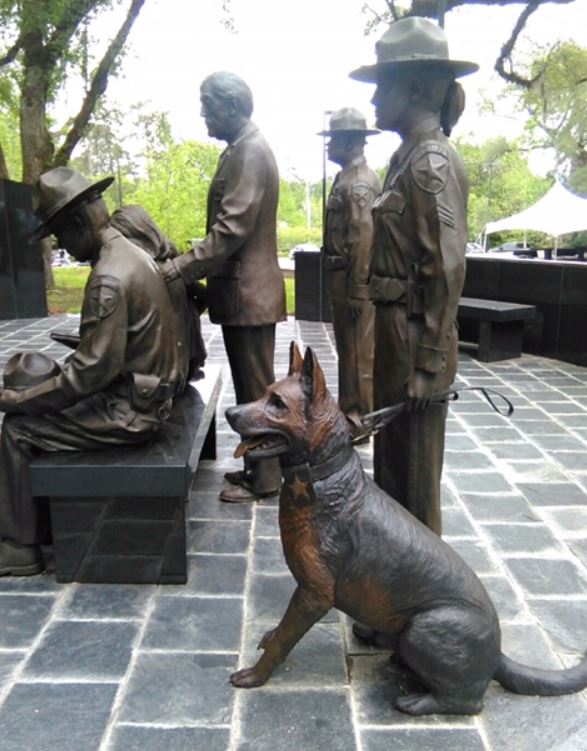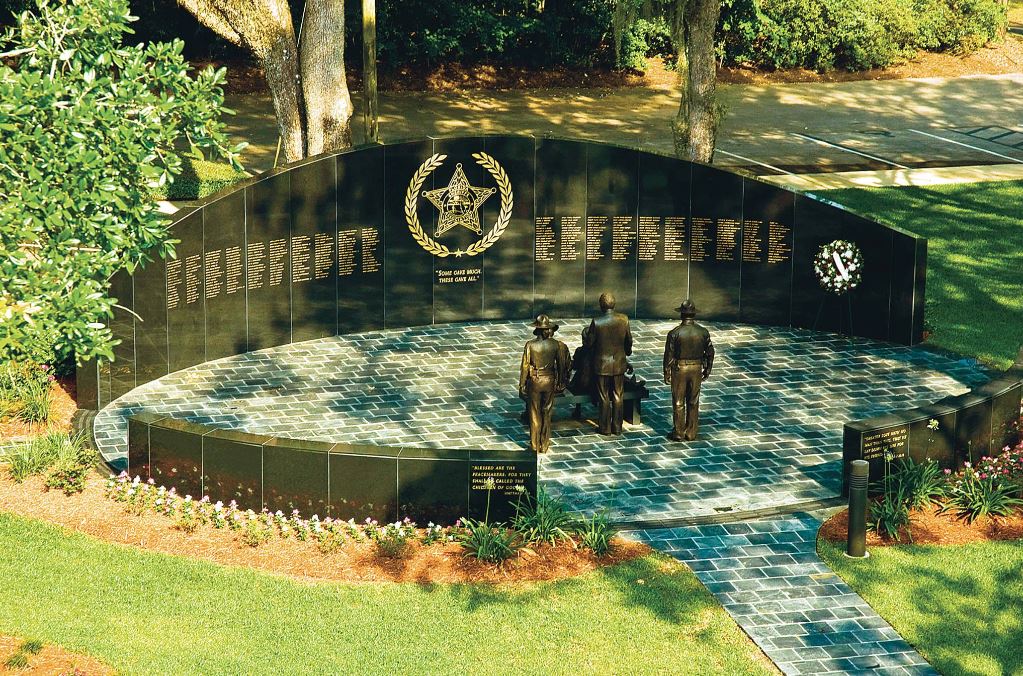 The Florida Sheriff's Association honored all of the fallen deputies and officers who served the law and state of Florida, in the line of duty with this memorial. The K9 statue honors K9 officers who bravely served the citizens of Florida.

Bach K9 Memorial
Location - Jim Saucier Park, Mississippi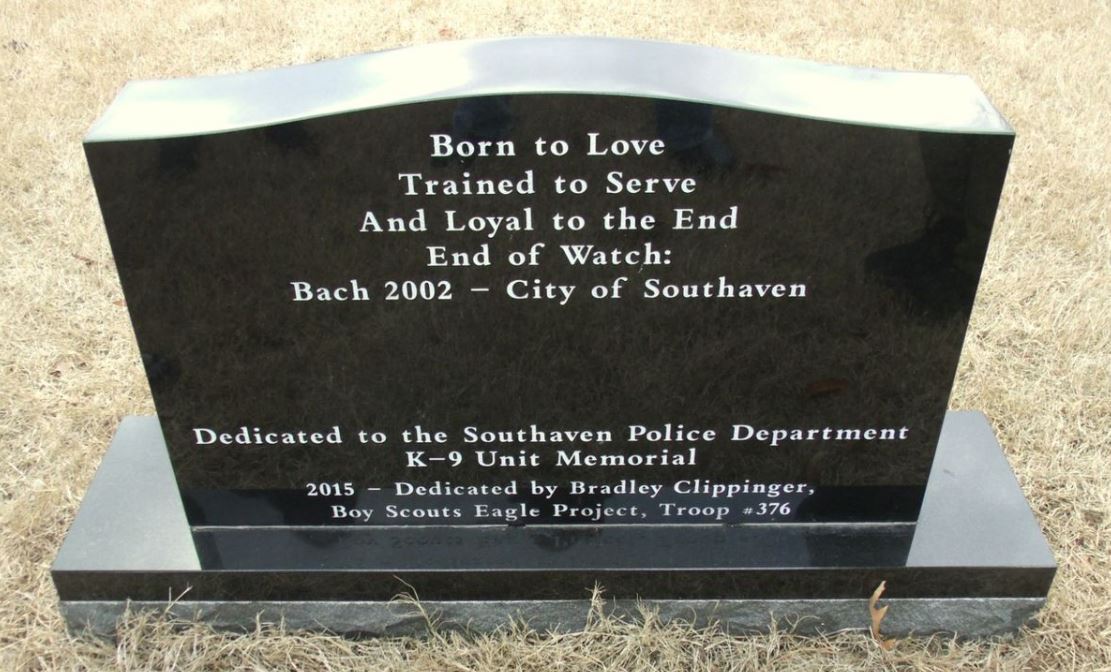 This monument honors fallen canine officer Bach who died in 2002. Eagle Scout Bradley Clippinger raised funds to memorialize Bach and others who have given their all in the effort to protect and serve.

Vietnam War Dog Memorial
Location - South Carolina Memorial Park
Dedication - October 31st, 2015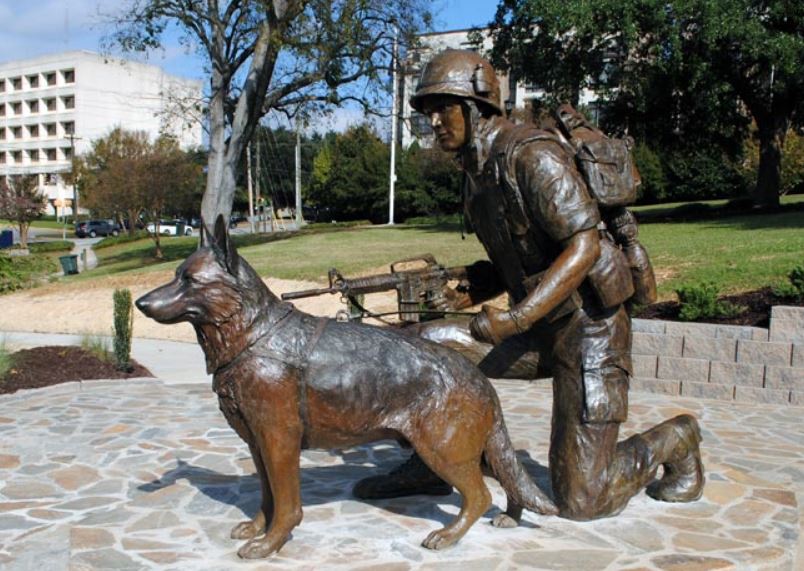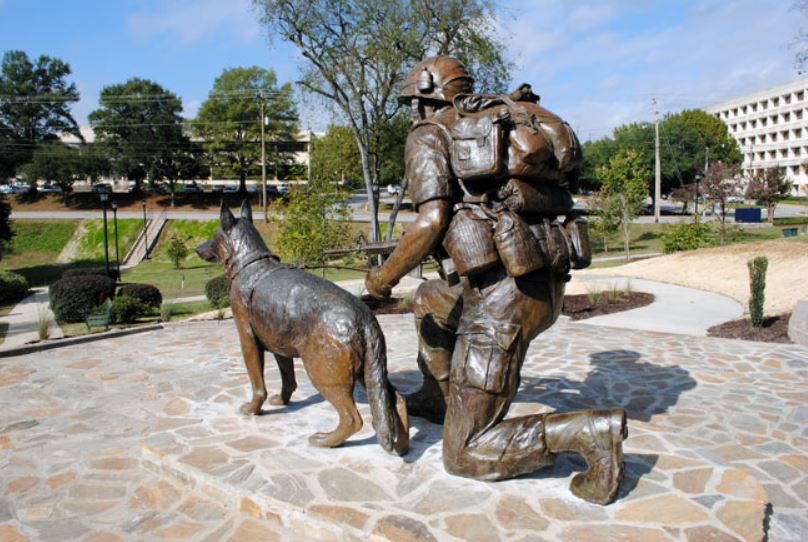 Edmonton K9 Memorial
Unveiled - October 30, 2015
Location - Vallevand Kennels, 12211 124 Ave., Edmonton, Canada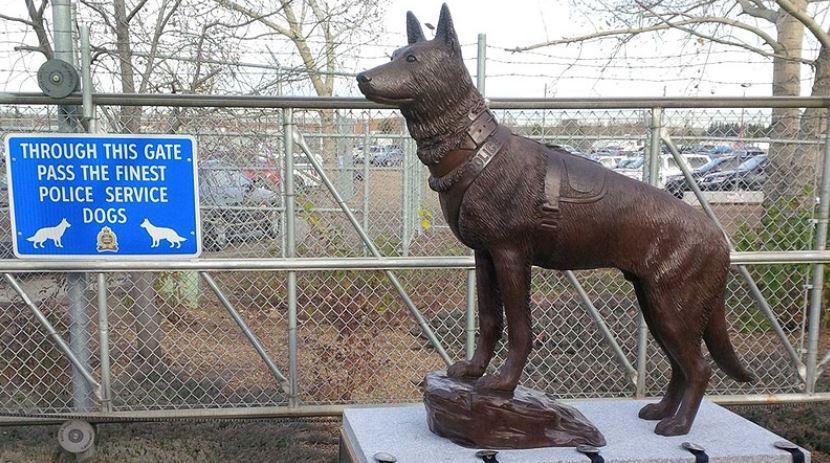 The statue at Vallevand Kennels, celebrates Edmonton Police Service dogs that have died in the line of duty. The monument cost $40,000, and it was paid for by donations.

MIA-POW K9 MEMORIAL
Dedicated - September 18, 2015
Location - Teague Park - Longview, Texas
Artist - Terry Jones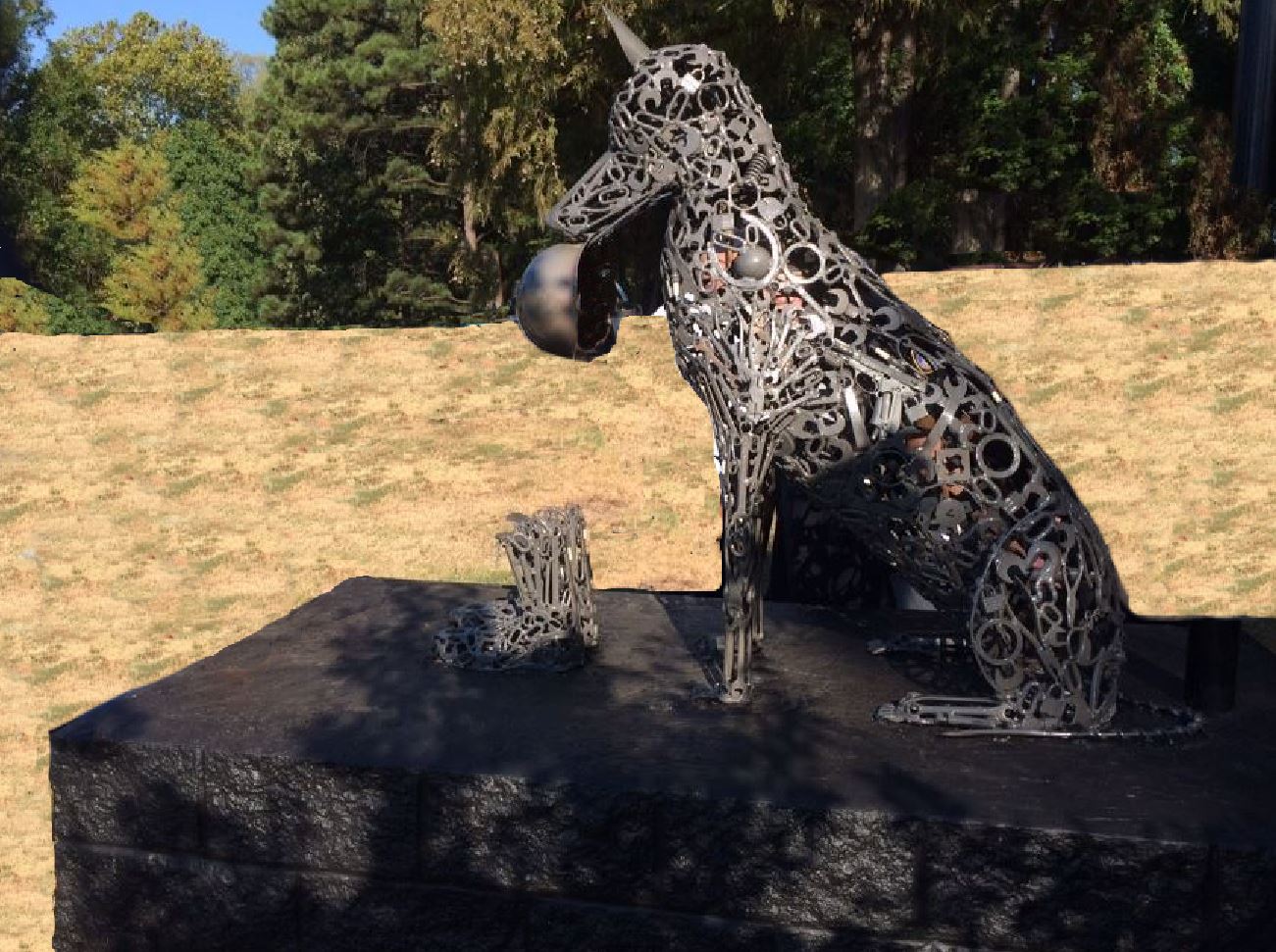 Longview area law enforcement and veterans dedicated the MIA/POW K9 Memorial monument on 9/18/15. The memorial depicts a dog awaiting his missing master from combat. It's made of tools, weapons and ammunition from battlefields and military installations. A cannonball piercing the dog's shoulder was recovered from the battlefield of San Jacinto and also 100-year-old handcuffs in there that were found. The monument honors prisoners of war, service people missing in action, and man's best friend.

Police Service Dog Memorial
Location - Anaheim Police Department, East Station E. Santa Ana Canyon Road, California
Unveiled - 9/16/15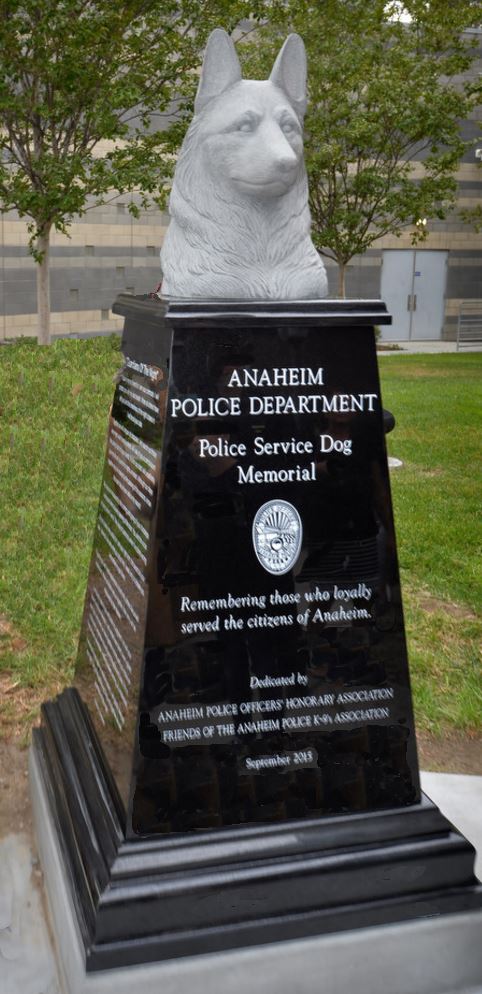 A gray granite bust of a German shepherd perched atop a jet-black marble base that stands more than 6 feet tall. The Police Service Dog Memorial outside the APD East Station is etched with the names of the 27 APD service dogs that have honorably served the agency and the community. One side of the four-paneled memorial features the poem "Guardians of the Night," written in honor of military and police dogs. The front of the memorial has an etching of an APD badge and the words, "Remembering those who loyally served the citizens of Anaheim." Also named on the front are the two organizations that raised money for the statue: Timmons' nonprofit and the Anaheim Police Officers' Honorary Association. The $8,000 memorial was entirely paid for by private donations.

K9 Rocco Memorial "Ever Watchful"
Dedicated - August 8, 2015
Location - Heinz Field on the North Shore, Pennsylvania
Sculptor - Susan Wagner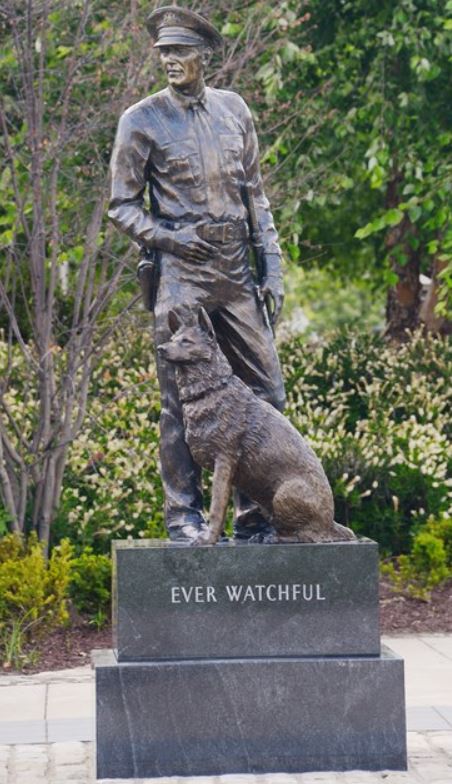 This statue is dedicated to a Pittsburgh Police K9 in Pennsylvania, K9 Rocco. The statue is located outside Heinz Field on the North Shore, right beside a statue honoring human officers. The statue was installed on 7/24/15 and dedicated on 8/8/15 K9 Rocco was an 8 year old German Shepherd who was stabbed in the back on 1/28/14 which punctured his kidney and spine while protecting his handler and another officer, who were in a violent struggle with a fugitive. K9 Rocco succumbed to his injuries on 1/30/14. The death of K9 Rocco had lawmakers stiffen the penalty for harming police animals. K9 Rocco had served with the Pittsburgh Police Department for five years. The Law Enforcement Officers Memorial raised money for the tribute which was over $25,000. The subject was convicted and sentenced up to 44 years.

Officer Joshua T. Miktarian Memorial
Dedicated - July 1, 2015
Location - Twinsburg Government Center in Ohio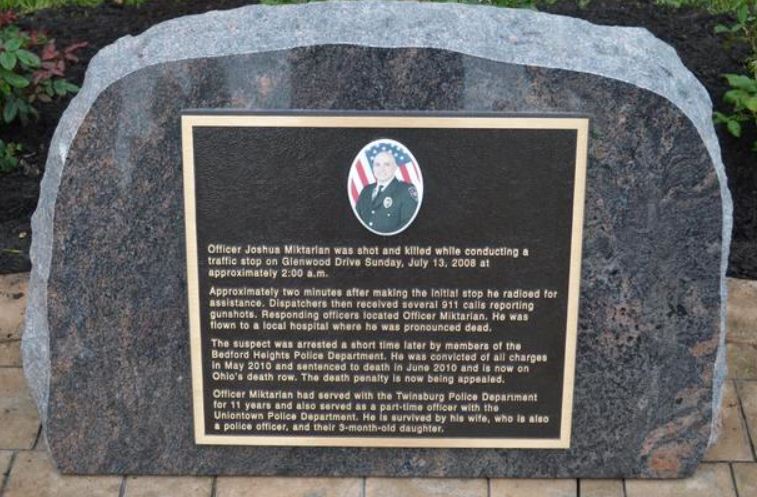 On July 1, 2015 another memorial was unveiled honoring Officer Joshua Miktarian. The stone, paid for and dedicated by the Twinsburg Police Association, is a 1,500-pound granite boulder with a bronze plaque, color photo and a description of his End-of-Watch and is next to his first memorial which was a black granite monument which was dedicated July 13, 2009. Both are located at the Twinsburg Government Center in Ohio.

Hero
Location - DeKalb County Police Headquarters, 1960 West Exchange Place, Tucker Georgia
Unveiled - May 15, 2015
Sculptor - Lena Toritch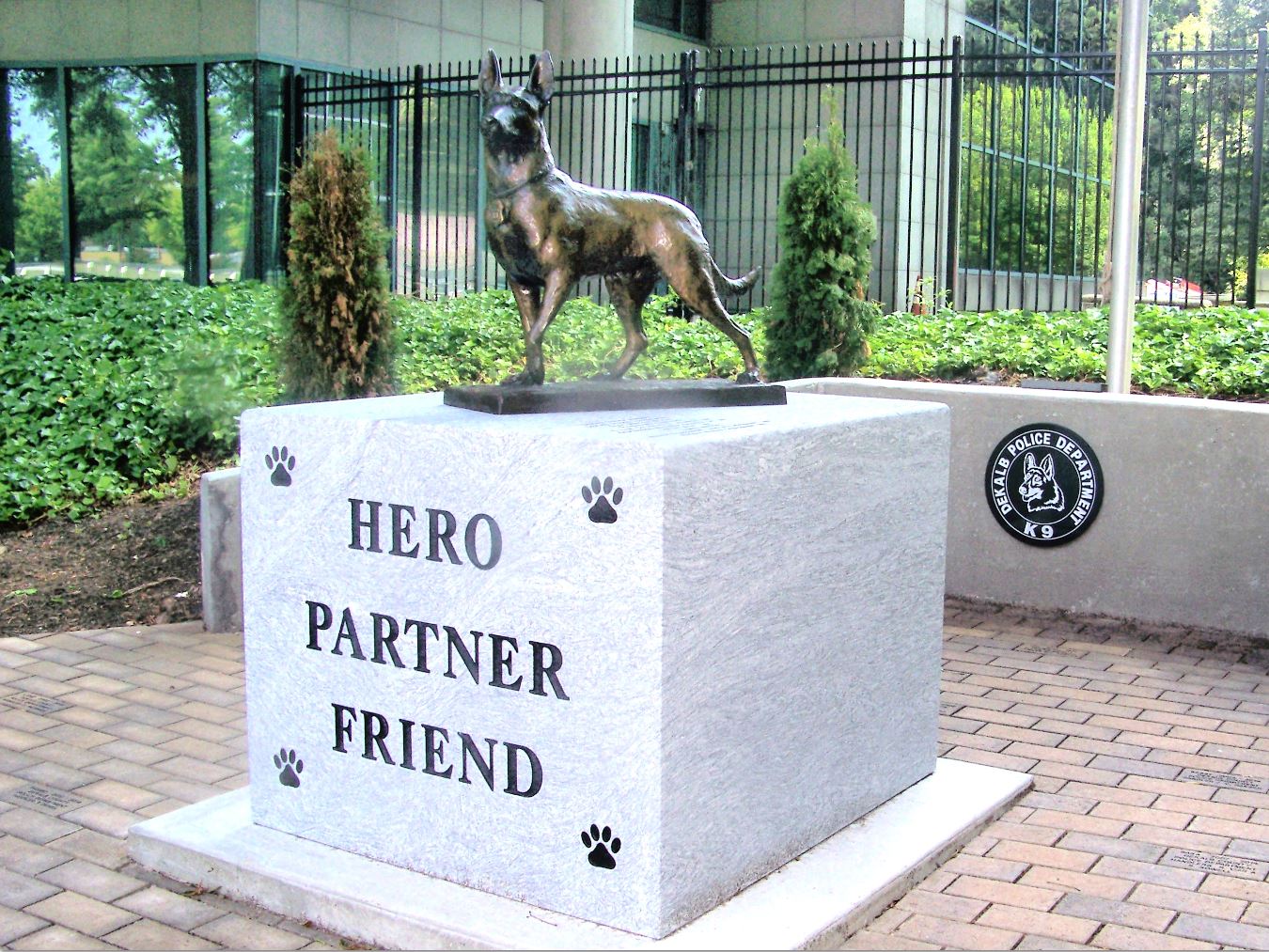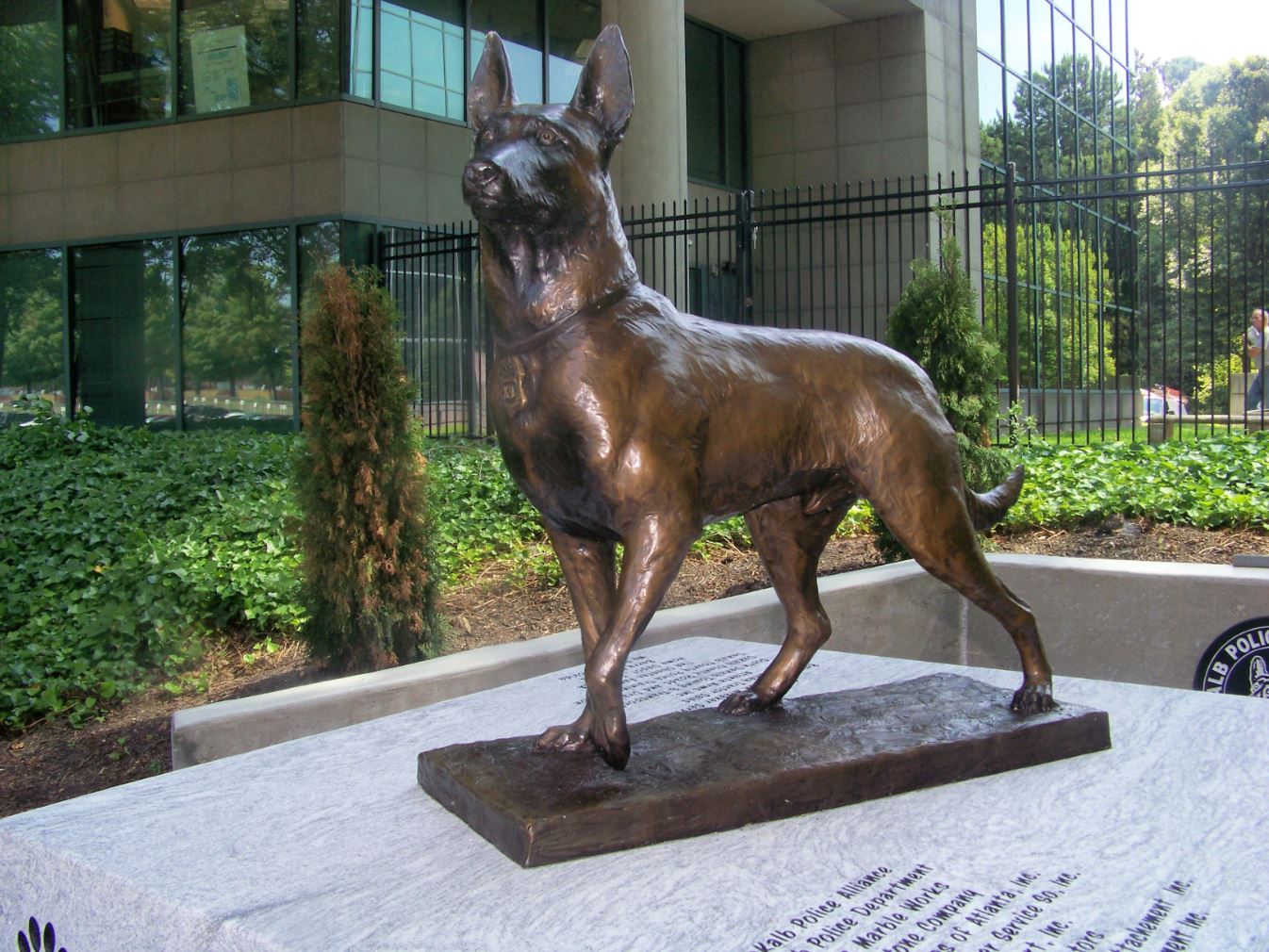 The Hero monument, a statue of a dog named Hero is mounted on a marble block and unveiled May 15, 2015 to recognize the importance of police dogs that have served the citizens of DeKalb County. Leading to the monument is a walkway of pavers with the name of each K-9 and its handler and the years of the dog's service.

Kevin Tonn Fallen Heroes Memorial
Location - 380 Civic Drive - Galt, California
Unveiled - January 15, 2015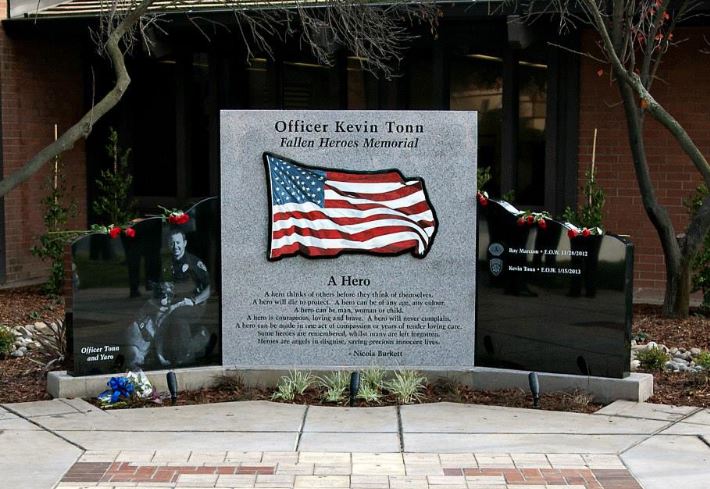 Etched on Memorial
A Hero
A hero thinks of others before they think of themselves
A hero will die to protect
A hero can be of any age, any color
A hero can be man, woman or child
A hero is courageous, loving and brave
A hero will never complain
A hero can be made in one act of compassion
Or years of tender loving care
Some heroes are remembered, whilst many are left forgotten
Heroes are angels in disguise, saving precious innocent lives
Nicola Burkett
A group of dedicated BEST Academy students from Galt High School had a vision for a Kevin Tonn Memorial and presented the concept and a detailed three-dimensional model to the Galt City Council. The civic engineering and architecture students started work on the idea at the end of last school year and joined up with the Community Heroes Appreciation Memorial Project, the fundraising arm. Officer Tonn's picture, taken with his beloved K9 partner, Yaro, is burned into one of the stones. The conceptual design was created by students Seth Bathovd, Ryan Downer, Terry Dutra, Aaron Harmon, Natalie Lizama, Julian Mendoza, Julian Oropeza, Joel Ramirez, Charles VanVactor, Andrew Vogt and valedictorian, Nick Werblun. The cost of the project was covered by donations at the cost of $55,000.

In the Line of Duty Memorial
Location - Atlantic City Boardwalk, New Jersey
Unveiled - December 5, 2014
Sculpter - Brian Hanlon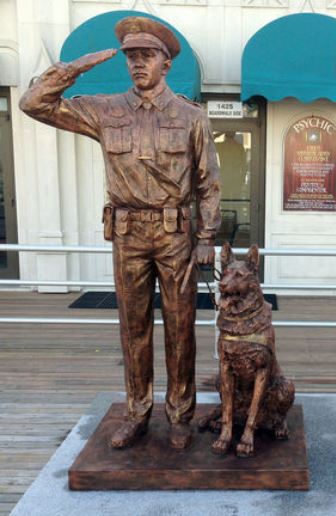 The bronze K9 and a police officer are placed on a granite pedestal. The memorial honors all officers who lost their lives in the line of duty.

Working Dogs
Unveiled - December 2, 2014
Sculpter - Lloyd LeBlanc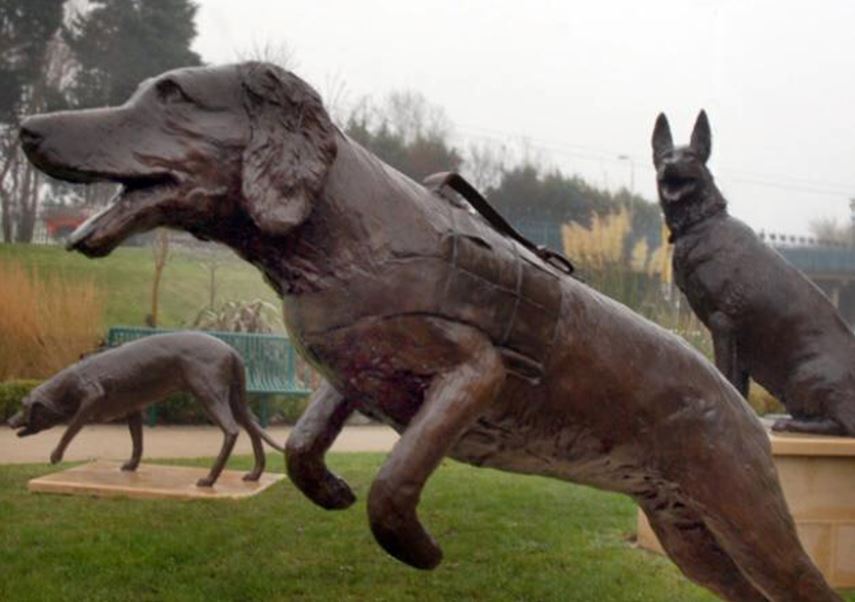 Bronze sculptures
celebrating the bravery and dedication of military working dogs and their handlers trained in Melton, England The statues of a Labrador detecting and a Springer Spaniel leaping, joined the sculpture of a German Shepherd on guard outside Melton Council's Parkside offices in Burton Street. The sculptures - which were commissioned by artist Lloyd LeBlanc who owns a foundry near Melton - recognize the courage and partnership of military dogs and their handlers trained at Melton's Defence Animal Centre (DAC) since 1946.

Warrior Dog Memorial
Location - Mohr Dog Park, Kokomo, Indiana
Unveiled - November 11, 2014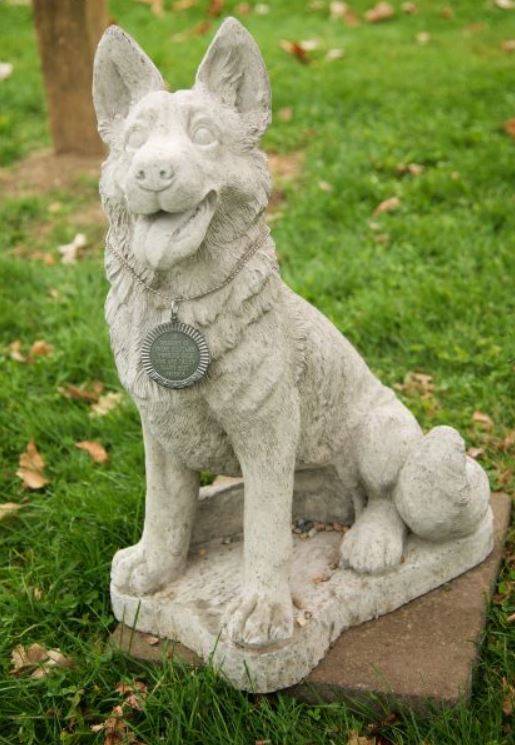 Monument commemorating the thousands of war dogs who have served in the military since World War I. Monument and plaque cost was $1,500.

Lancashire Constabulary Police Dog Memorial
Location - England
Unveiled - October 22, 2014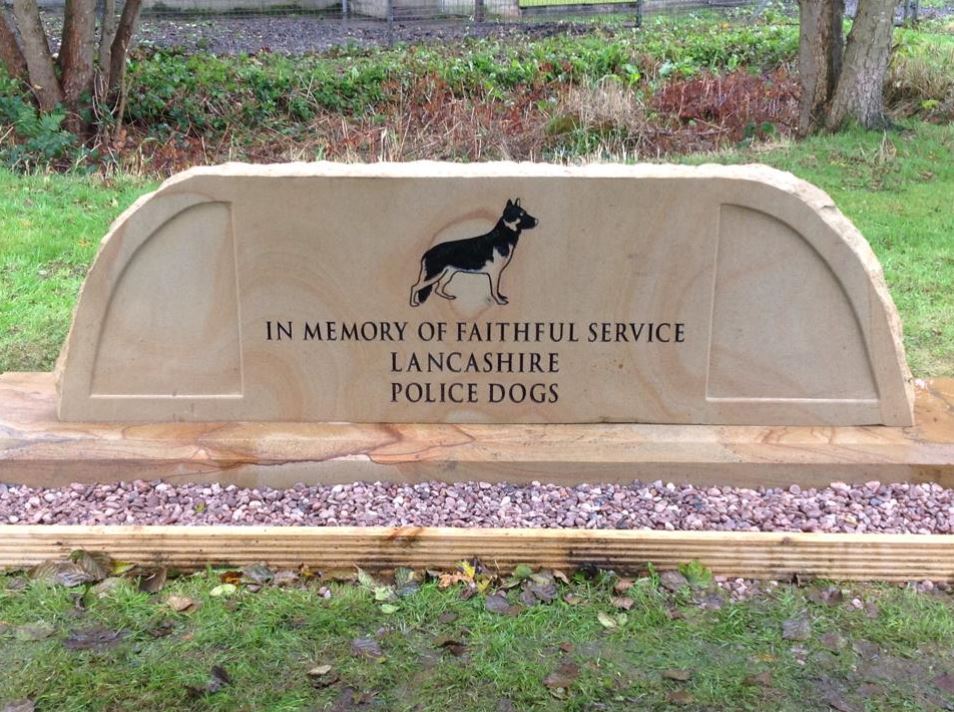 A memorial for Lancashire Constabulary police dogs was officially unveiled on 10/22/14.

Connecticut State Police K9 Memorial
Location - State Police Headquarters in Middletown, CT
Unveiled - August 27, 2014

Dawgs of War
Location - Marine Corps Base Camp Pendleton, California
Dedicated August9, 2014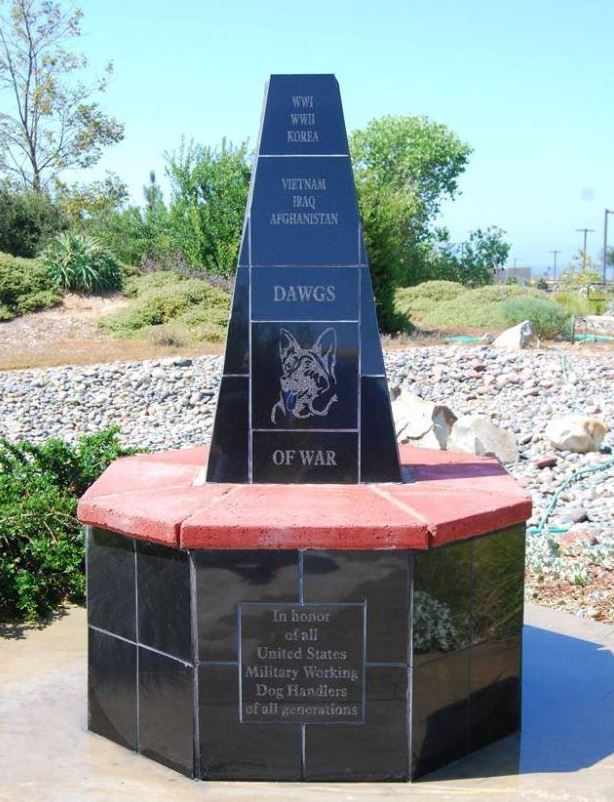 War Dogs Monument
Location - Menomonee Falls Village Park, Wisconsin
Unveiled - June 22, 2014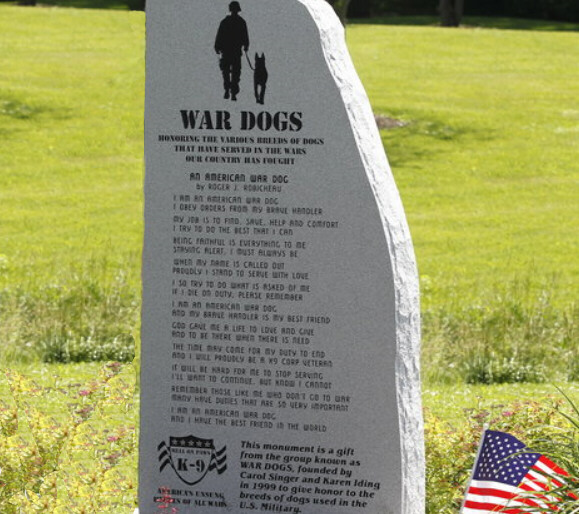 The 6-foot-tall gray granite monument is located at Menomonee Falls Village Park in Wisconsin. A group called War Dogs raised $5,400 for a monument which was unveiled at a ceremony on June 22, 2014.
Engraving of monument reads:
War Dogs
Honoring the various breed of dogs that have served in the wars our country has fought.
An American War Dog
I am an American War Dog. I obey orders from my brave handler. My job is to find, save, help and comfort. I try to do the best that I can. Being faithful is everything to me. Staying alert I must always be. When my name is called out, proudly I stand to serve with love. I so try to do what is asked of me. If I die on duty, please remember I am an American War Dog and my handler is my best friend. God gave me a life to love and care and to be there when there is need. The time may come for my duty to end and I will proudly be a k9 Corp veteran. It will be hard for me to stop serving. I'll want to continue but know I cannot. Remember those like me who don't go to war. Sadly have duties that are so very important. I am an American War Dog and I have the best friend in the world.
This monument is a gift from the group known as WAR DOGS, founded by Carol Singer and Karen Iding in 1999 to give honor to the breed of dogs used in the U.S. Military.

Enduring Valor
Location - Cedar Hill Pet Memorial Park, 1210 J Elmer Weaver Freeway, Cedar Hill, Texas
Dedicated - May 31, 2014
Sculptor - Susan Bahary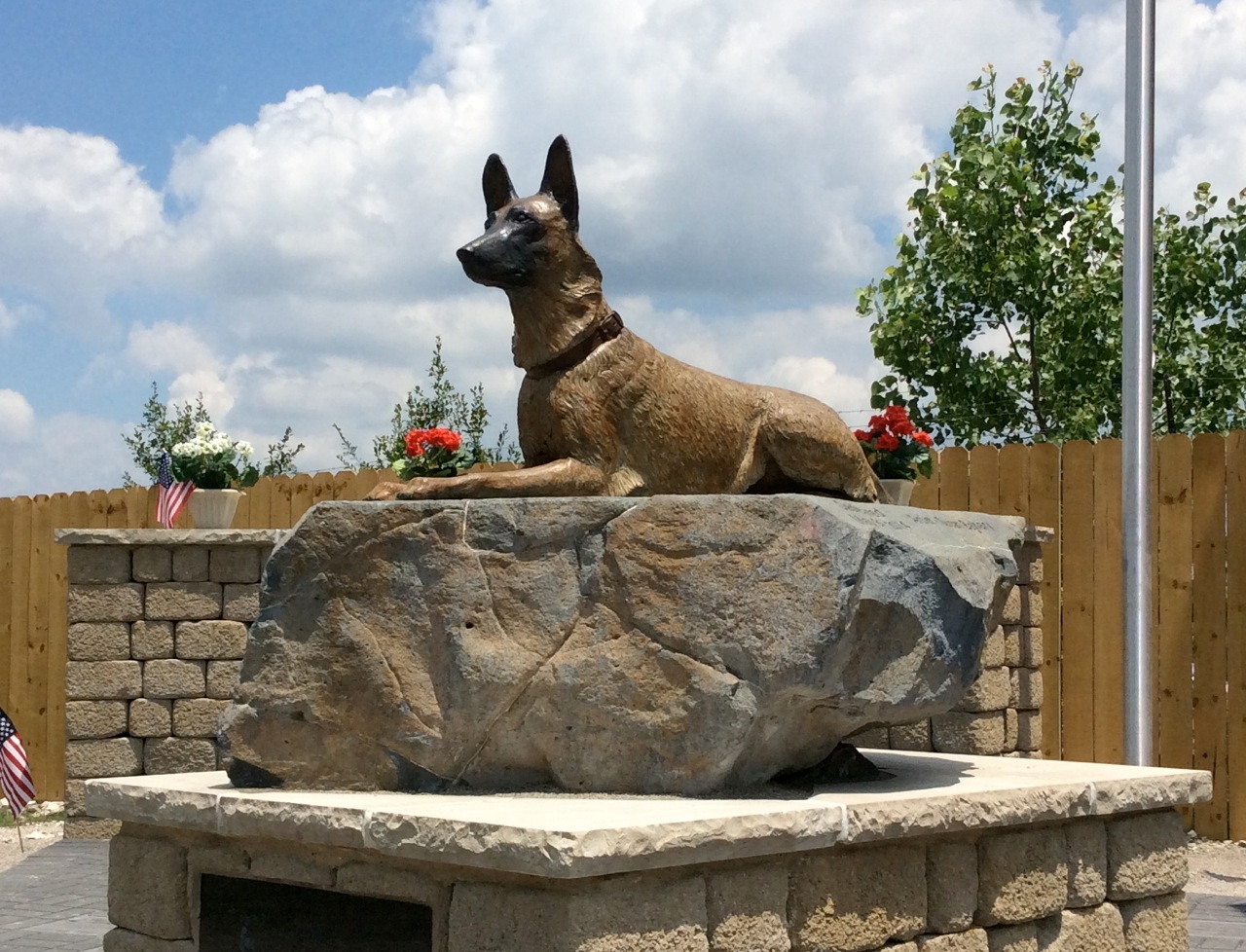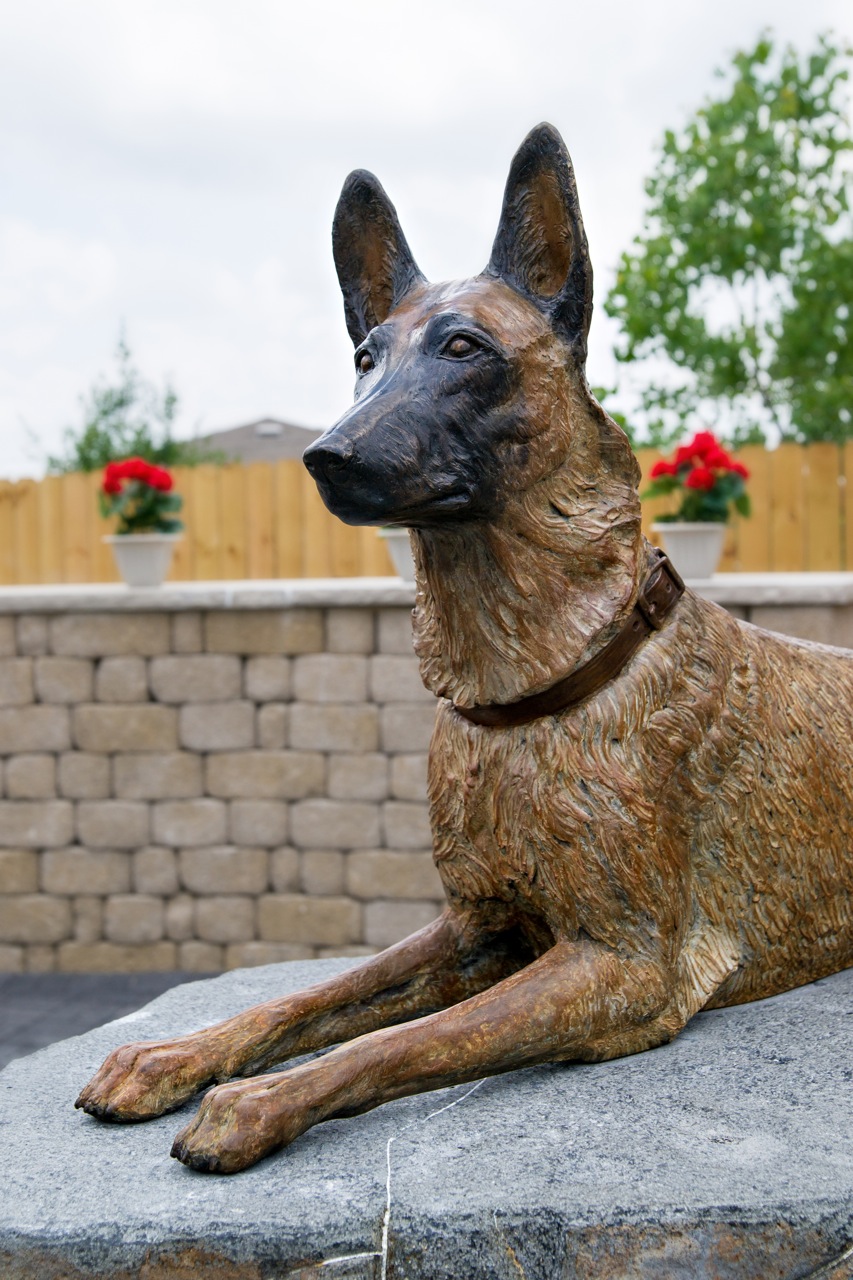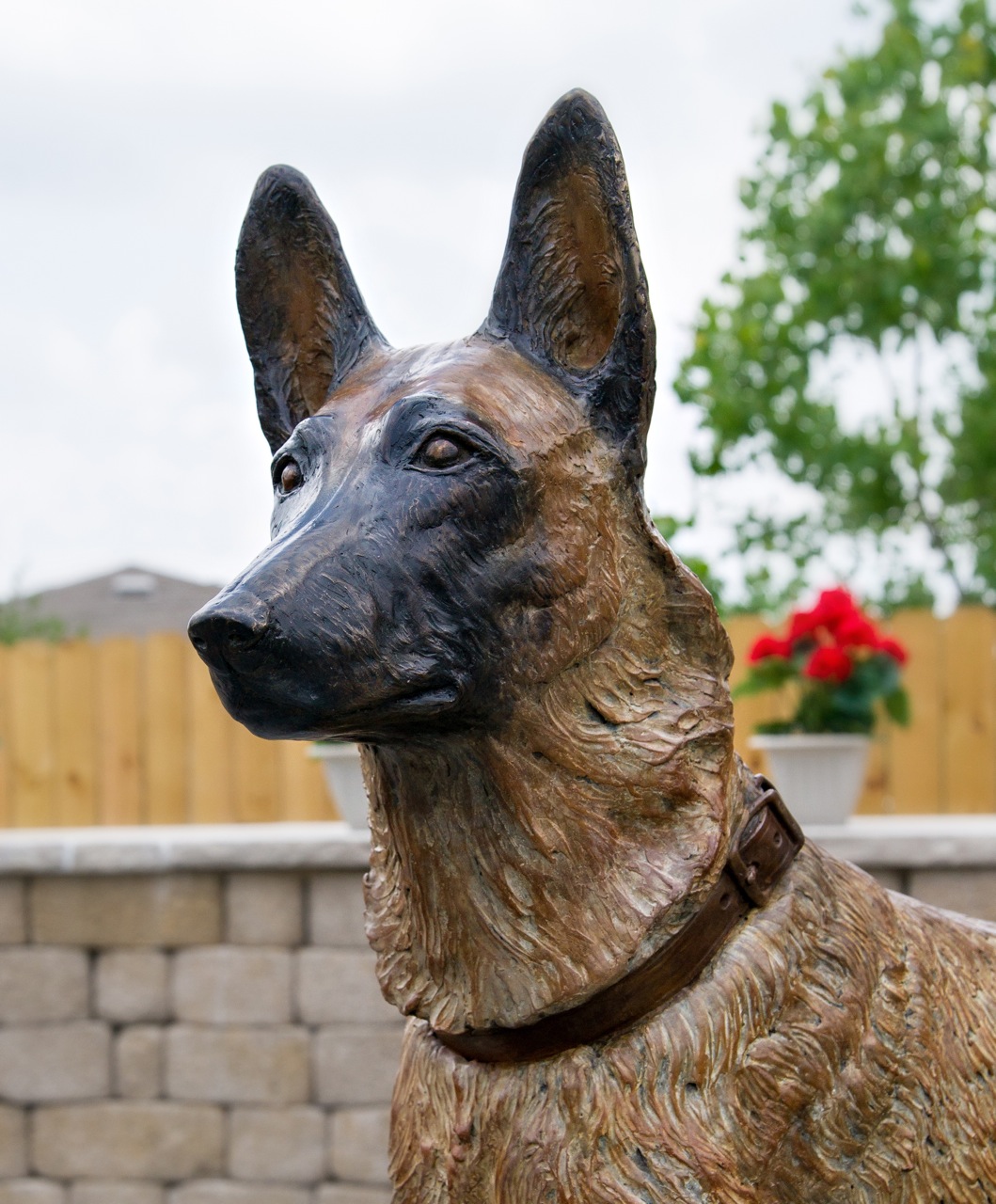 Photo by Kristina Fanelli
The bronze sculpture on stone is by Susan Bahary "Enduring Valor". The piece was inspired by K9 Titus, a Belgian Malinois, who is a member of the Cedar Hill K-9 Unit. The War Dog monument is a tribute to all handlers and their canine partners in the military and local law enforcement who faithfully serve and protect our communities and nation. The monument also honors the special human/animal bond that exists for many folks in the world today.

The Brooklyn Wall of Remembrance
Location - 1904 Surf Ave (at Coney Island MCU Park), Brooklyn, NY 11224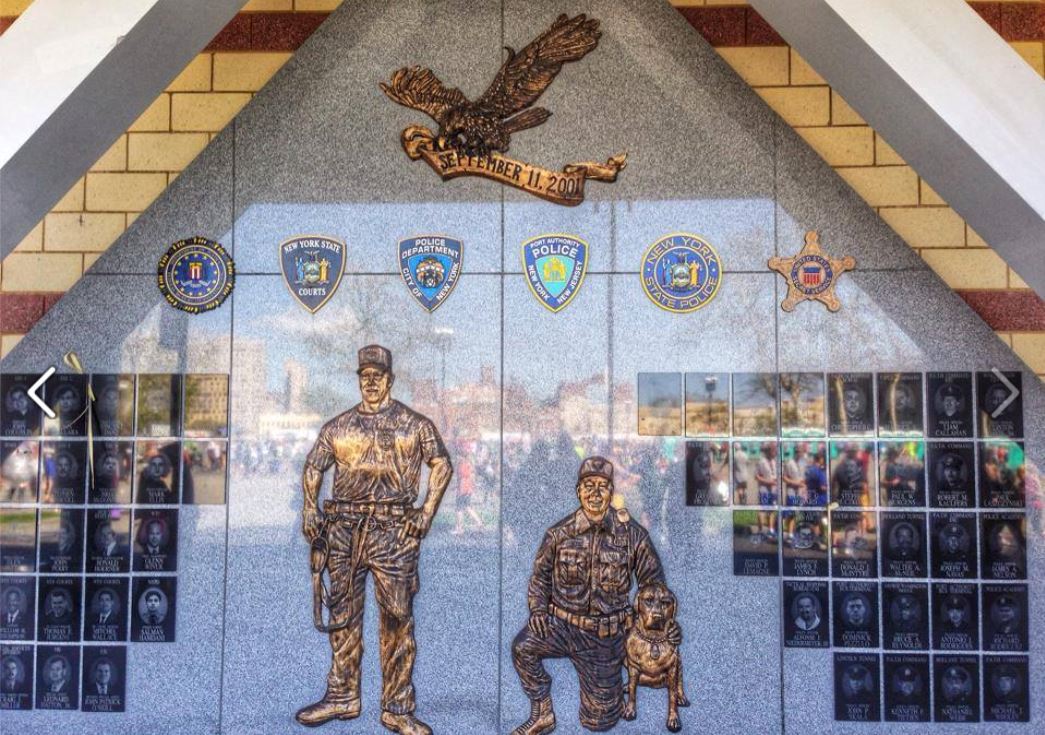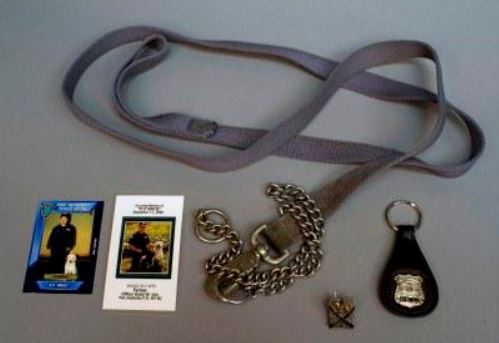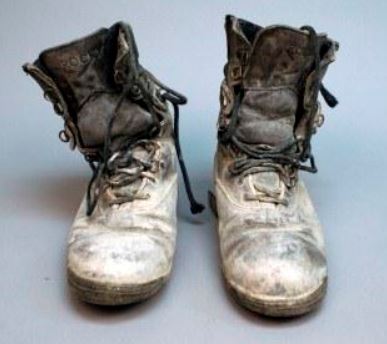 The 9/11 Memorial opened for the public on May 21, 2014. Lieutenant David Lim is on the right with his K9 Sirius. K9 Sirius died when the Port Authority Police Department Lt. David Lim was in the basement below the World Trade Center's South Tower with his K-9 partner Sirius when he felt the building violently tremble. Feeling duty-bound to assist potentially injured civilians, Lim took time to secure Sirius in his kennel and then went to investigate the disruption, telling his partner, "I'll be back for you." After miraculously surviving the collapse of the North Tower, Lim's first instinct was to find Sirius, but he was rushed into an ambulance and brought to St. Vincent's Hospital for treatment of injuries he had sustained from the collapse. Unfortunately, Sirius was not as lucky as Lim. His remains, recovered in the winter of 2002 in the wreckage of the South Tower, were ceremoniously removed from Ground Zero with a full honor guard, in a manner befitting a hard-working member of the PAPD. Lim donated items in memory of Sirius to the 9/11 Memorial Museum, including a training leash and one of Sirius' badges. Additionally, he gifted the soiled boots and gun belt that he had worn on September 11, 2001 as vestiges of his remarkable survivor story. The Brooklyn Wall of Remembrance is comprised of 3 30 x 12 foot granite walls, the Coney Island memorial contains the laser-engraved images of 346 Firefighters, 37 Port Authority Officers, 23 NYC Police Officers, 3 NYS Officers, 1 Fire Patrol, First responders and 1 K-9 Rescue dog named Sirius.

Royal Army Veterinary Corps Memorial
Dedicated - May 2, 2014
Location - North Luffenham, England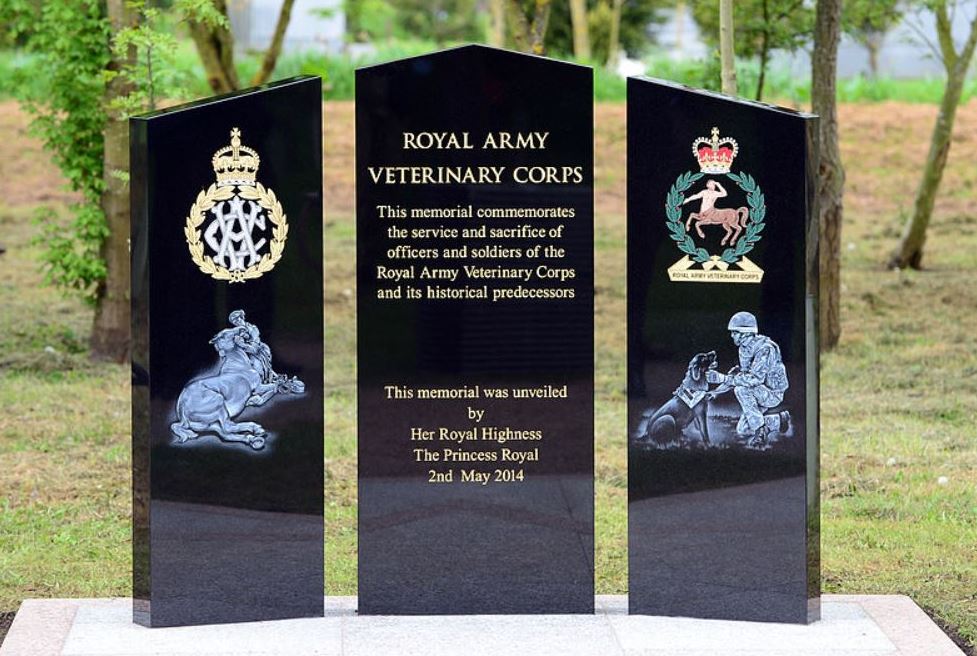 The first memorial to the Army's veterinary corps was unveiled at the National Memorial Arboretum by Princess Anne. Seven memorial stones in remembrance of the five dog handlers who lost their lives while serving in Northern Ireland and the two dog handlers who were killed while on operations in Afghanistan have been placed at their base in North Luffenham.

Chillicothe K9 Memorial
Unveiling - April 28, 2014
Location - Chillicothe Police Department, Chillicothe, Illinois
Created by Tim Gill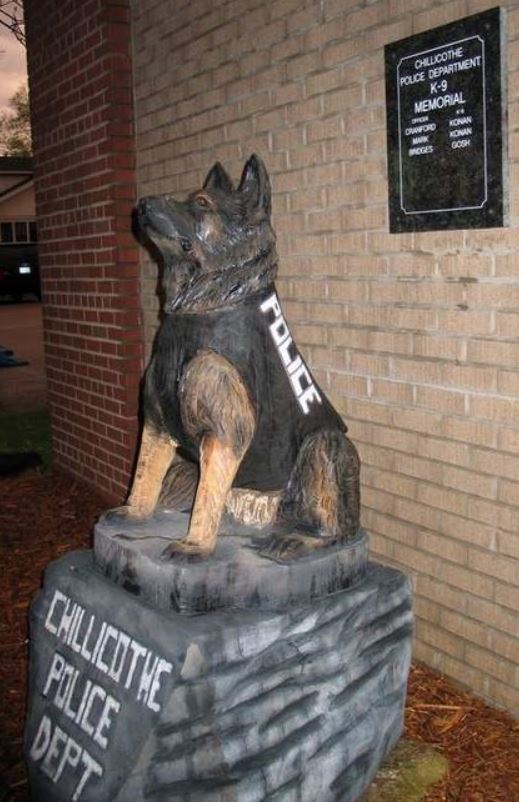 Chainsaw artist Tim Gill created this German shepherd out of wood to stand as a K-9 memorial at the Chillicothe Police Department. Including the base, the wooden statue is about 5 feet tall. Behind it is a plaque with the names of K-9 dogs and their handlers.

Veterans and War Dog Memorial
Location - South Carolina Memorial Park - Houma, Louisiana
Artist - Renee Bemis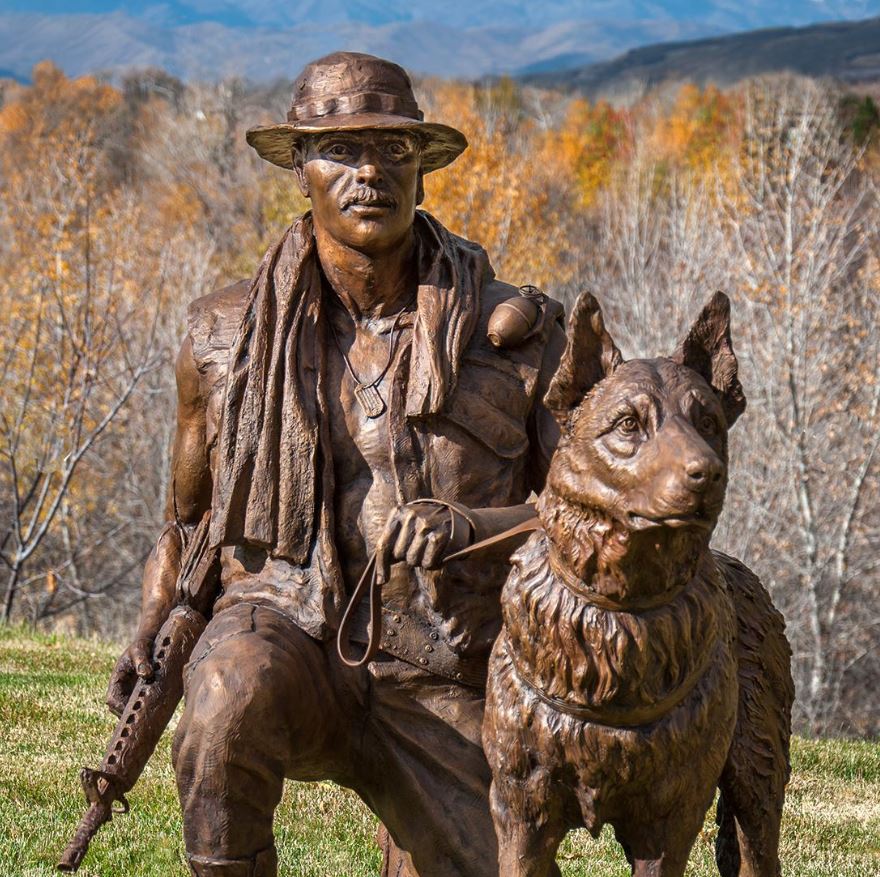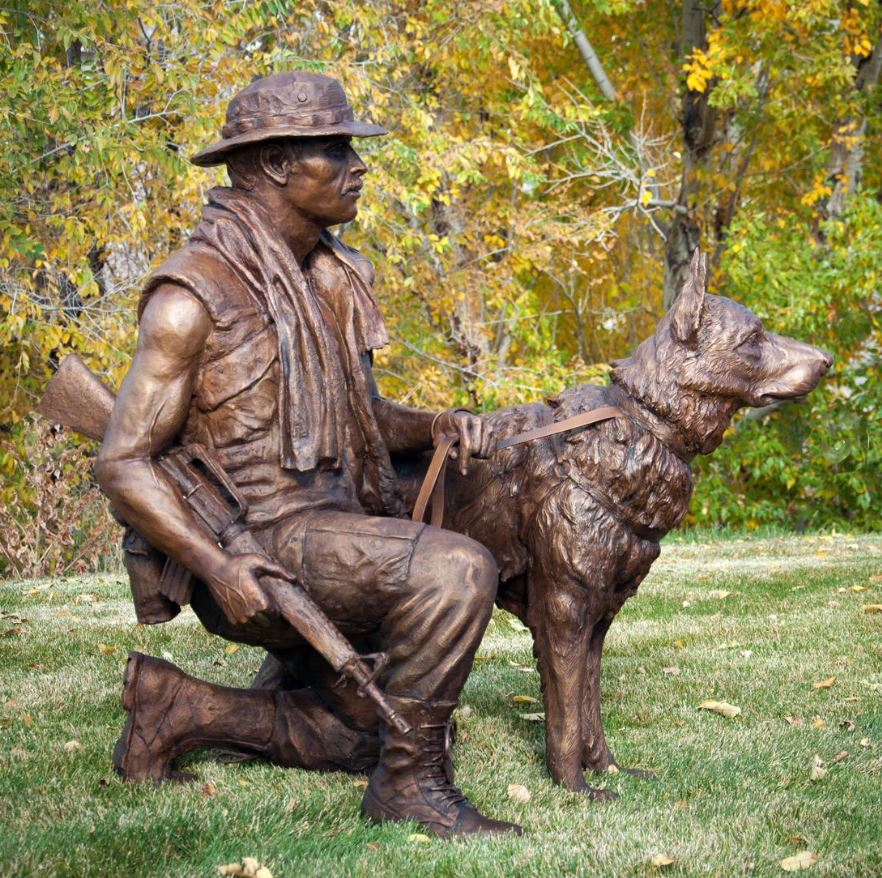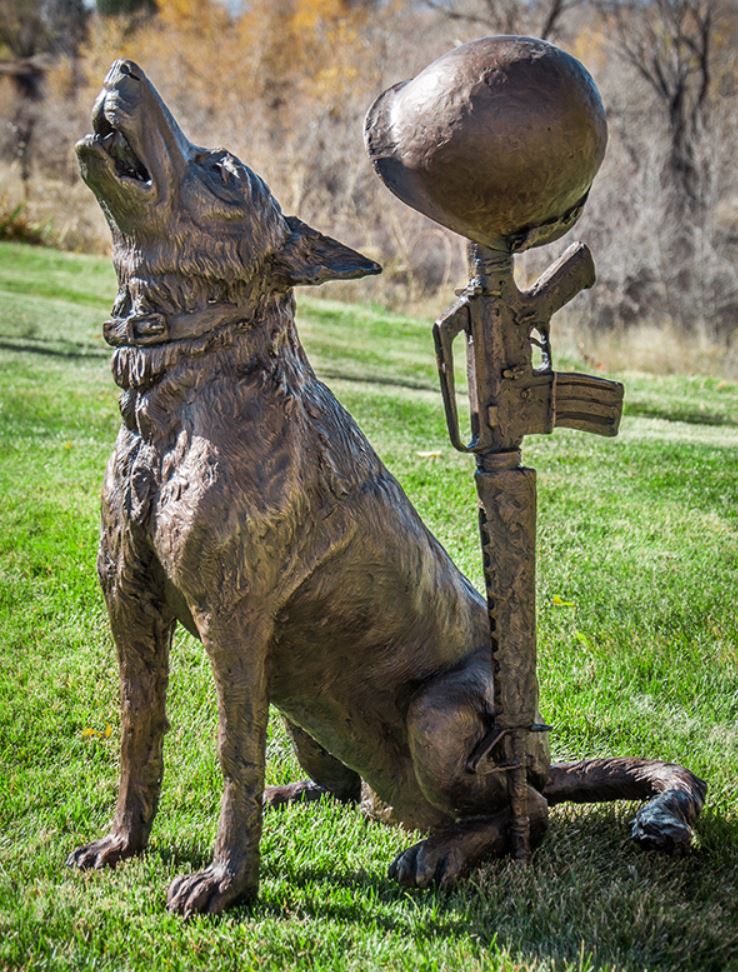 This bronze veteran and war dog statue was created in memory of the brave men, women, and animals who have fought for our freedom. The bronze statues are placed in Houma, Louisiana. The $130,000 bronze statue of a handler and his German shepherd of a kneeling soldier is about seven feet tall and weighs 1,400 pounds. The statue of the dog stands four feet tall and weighs 300 pounds.

A War Dog Memorial
Dedicated - November 11, 2013
Location - Pikes Peak Community College - Colorado Springs, Colorado
Designed and built by Pikes Peak College welding student - Christopher Morrell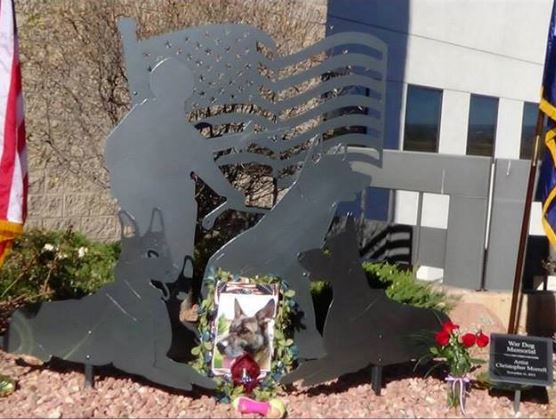 Christopher Morrell, a Pikes Peak College Welding student designed and built A War Dog Memorial and received a $500 reward for designing the memorial which he spent over three months on the project.

North Carolina War Dog Memorial
Location - King, North Carolina
Unveiling - November 11, 2013
Sculpted by Cody McBride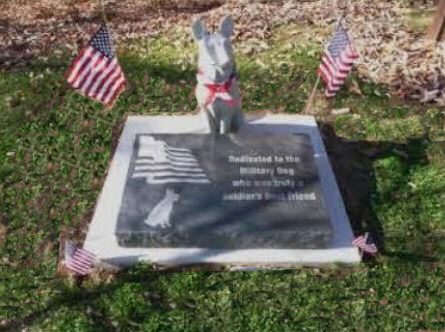 The K9 is mounted on a concrete base with materials discounted by Lowes Hardware. The dog statue was purchased from a concrete figure fabricator in Virginia and the granite memorial completely donated by a quarry in northern North Carolina.

U.S. Military Working Dog Teams National Monument
Dedicated - October 28, 2013
Location - Lackland Air Force Base, Texas
Sculptor - Paula Slater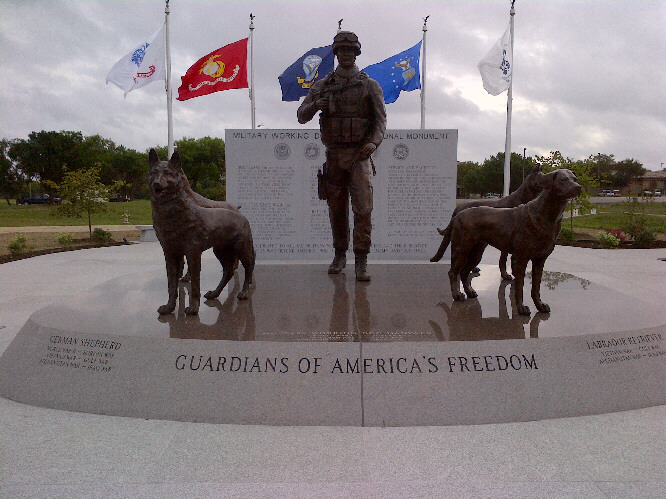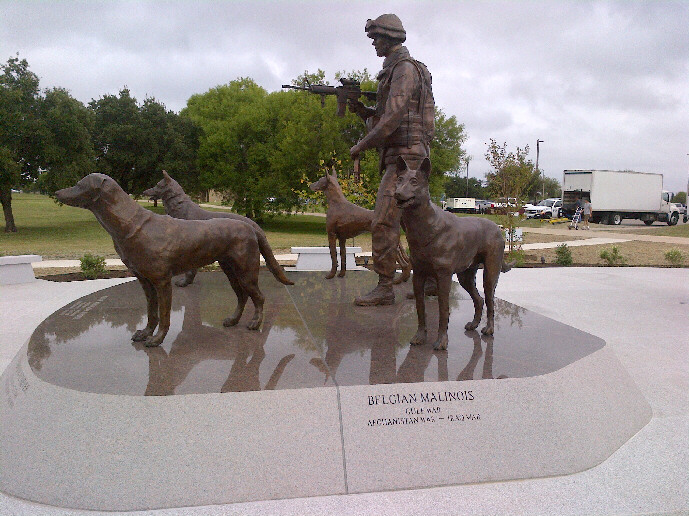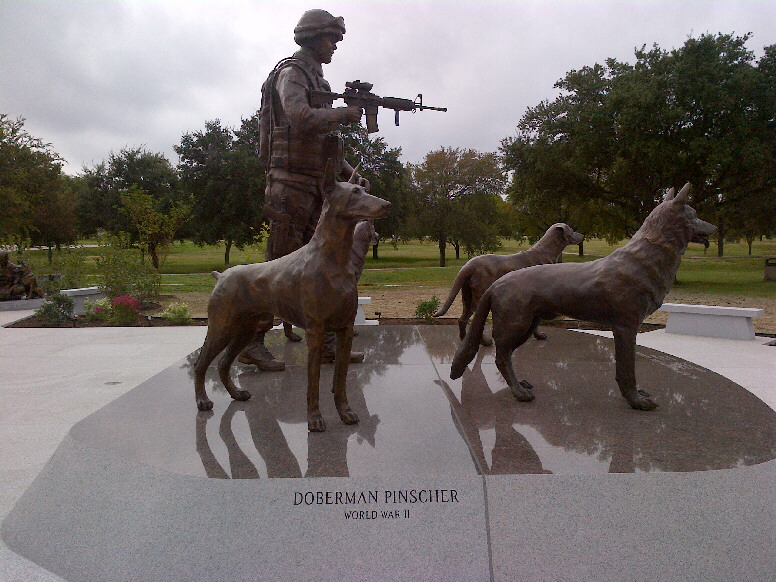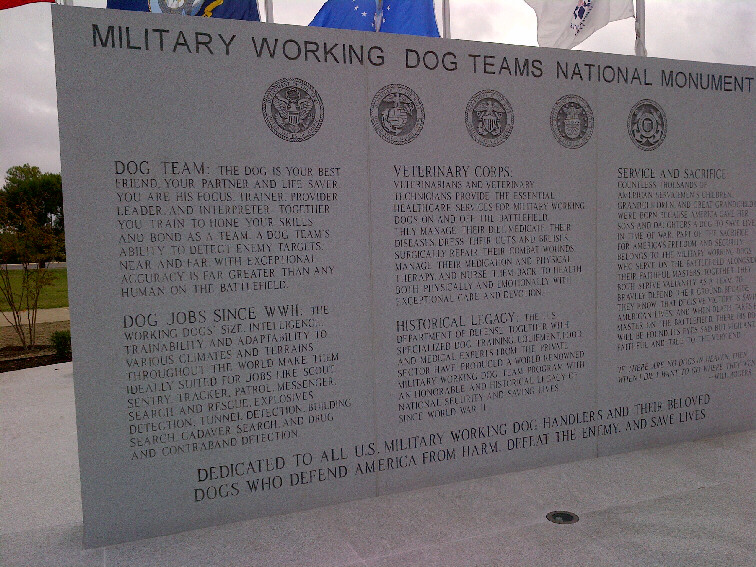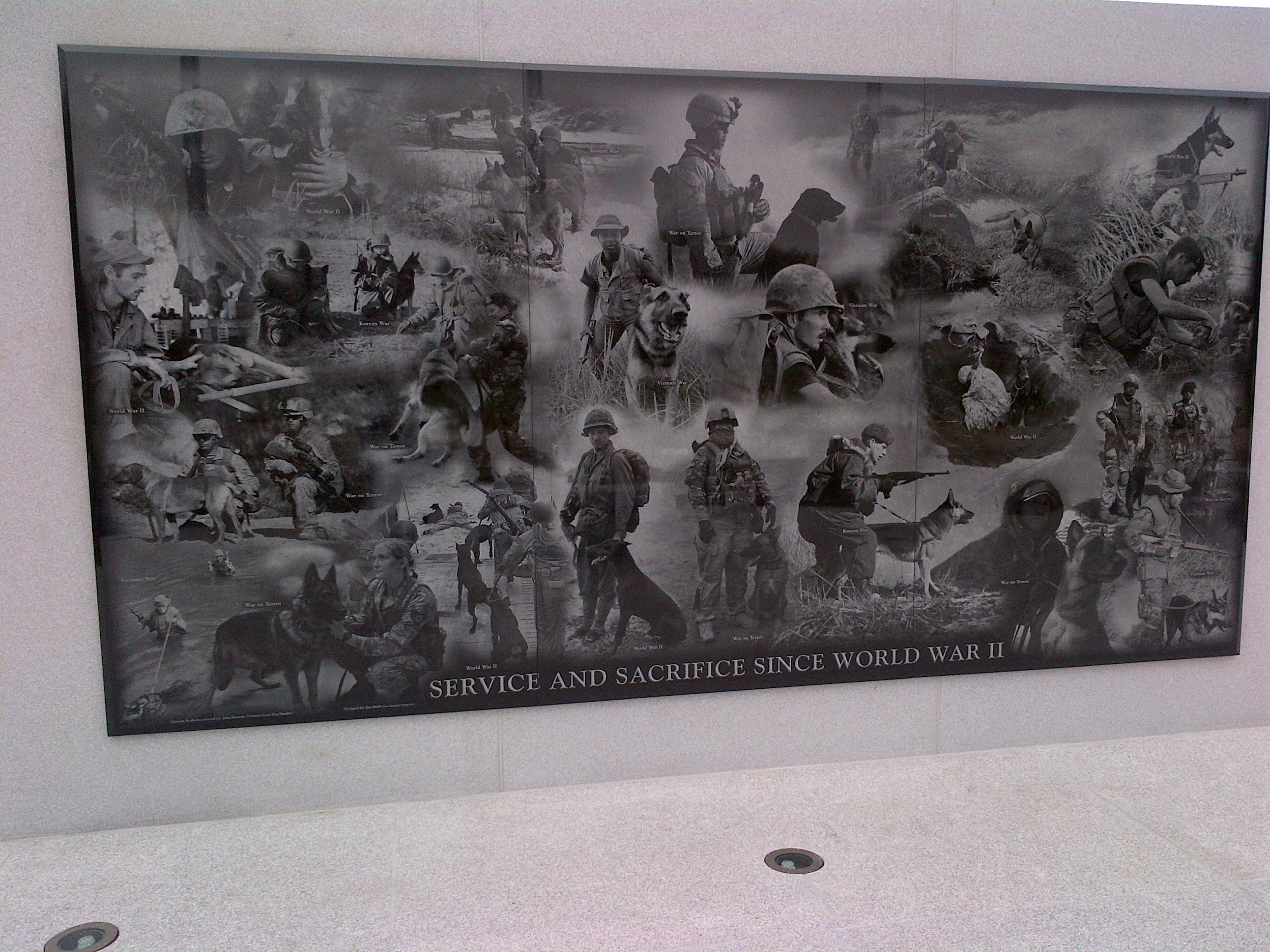 The monument was thought of by John Burman who wanted a national monument to honor America's military working dogs and handlers. Mr Burman served in the U.S. Army infantry as a German Shepherd Scout Dog Hander who handled Scout Dogs' Timber and Clipper, and a Sentry Dog named Hans during the Vietnam War (1966-1968). Since 1958 the dogs have undergone basic training at Lackland preparatory to a variety of critical roles for the five U.S. armed services – Army, Navy, Marine Corps, Air Force and Coast Guard. The monument is comprised of bronze five foot dogs of the four breeds – Doberman, Labrador Retriever, German Shepherd and Belgian Malinois – that serve the U.S. military. The 10-foot-high pedestal with dogs is next to a bronze 9-and-a-half-foot tall dog handler fully outfitted for combat standing on a granite base.

Not Forgotten Fountain
Dedicated - October 28, 2013
Location - Lackland Air Force Base, Texas
Sculptor - Paula Slater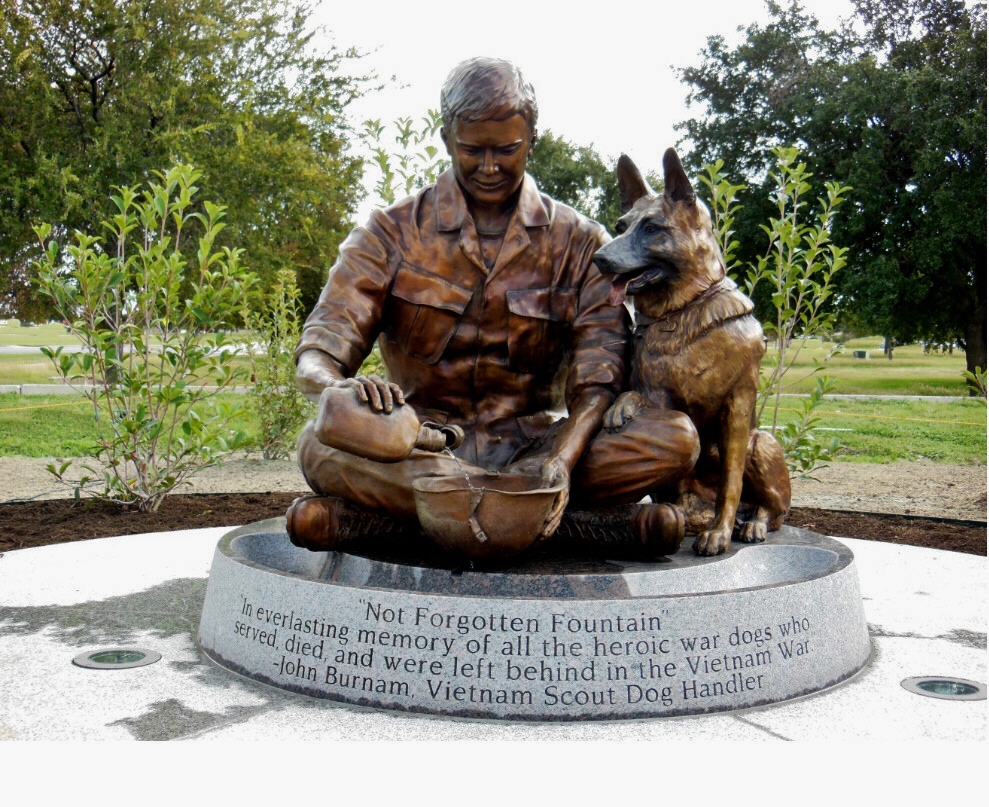 "Not Forgotten Fountain is a fully functional bronze dog and handler water fountain that epitomizes the bond between dog and handler which is dedicated to all the heroic war dogs who served, died and were left behind after the Vietnam War." The monument is located at Joint Base San Antonio-Lackland . JBSA-Lackland is the home to the Department of Defense Military Working Dog Program and is where the U.S. Armed Forces has been training its military working dog teams since 1958. It is the world's largest training center for military dogs and handlers and is also home to the largest veterinary hospital for military working dogs.

Raising Kane Memorial
Sculpted September 2013
Sculptor - Mark McLean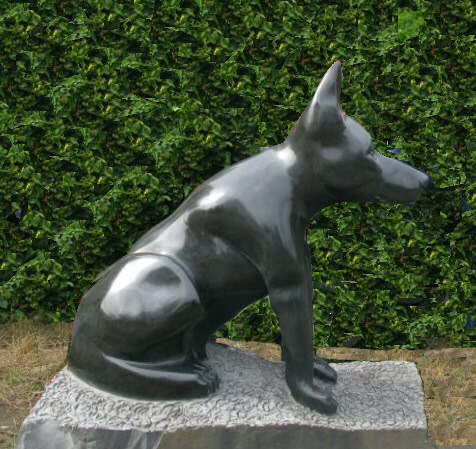 The sculpture "Raising Kane" was sculptured by Milwaukie, Oregon artist Mark McLean in September of 2013. K9 Kane's handler was Deputy Rick Osborne of the Clark County Sheriff's Office in Washington. K9 Kane was stabbed and killed on April 2, 2011 while trying to detain one of the suspects that fled from a stolen vehicle. The sculpture is made of black basalt.

Max's Garden
Dedication August 2013
Location - Windham Public Safety Building, Grey Road, Maine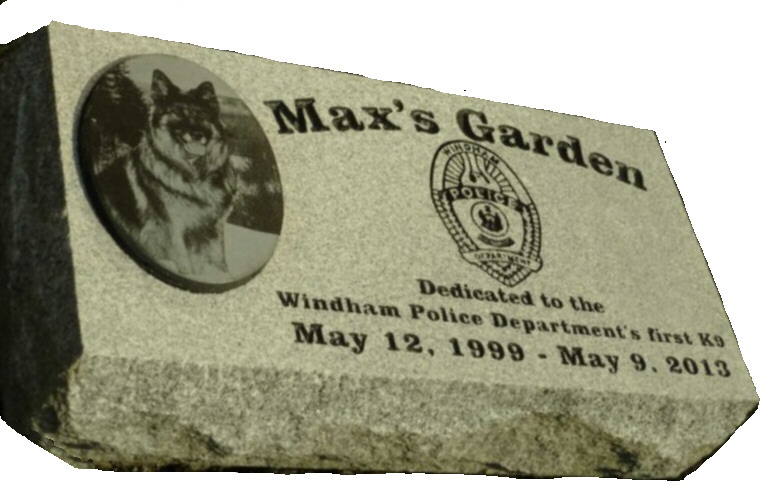 SOF K9 Memorial
Constant Vigilance
Unveiled July 27, 2013
Location - Airborne & Special Operations Museum, Fayetteville, North Carolina
Sculptor - Lena Toritch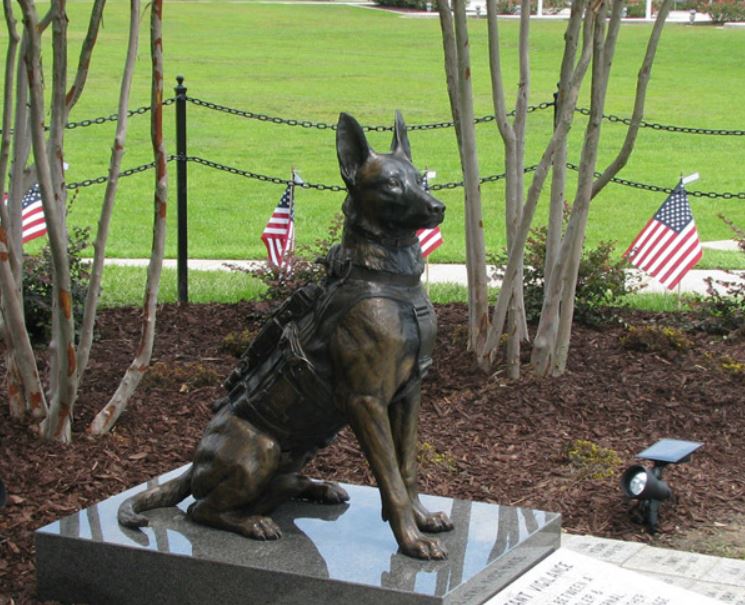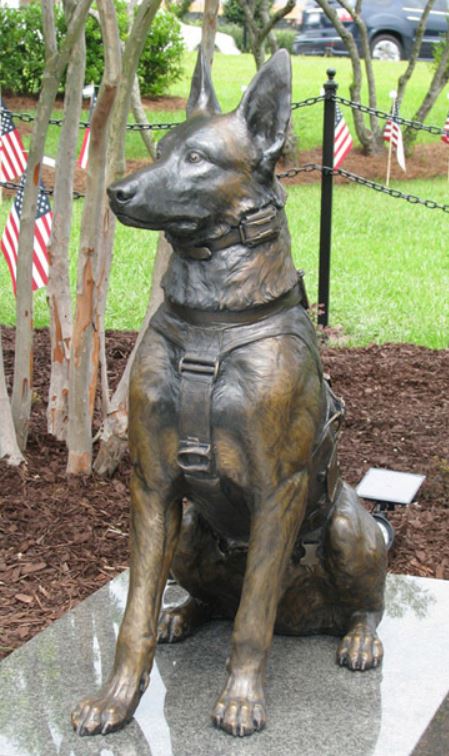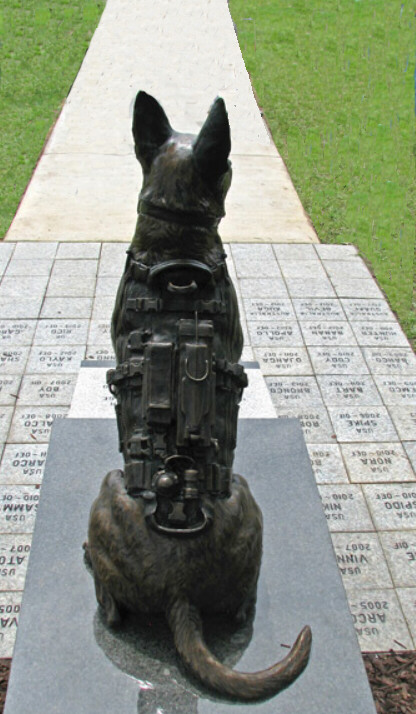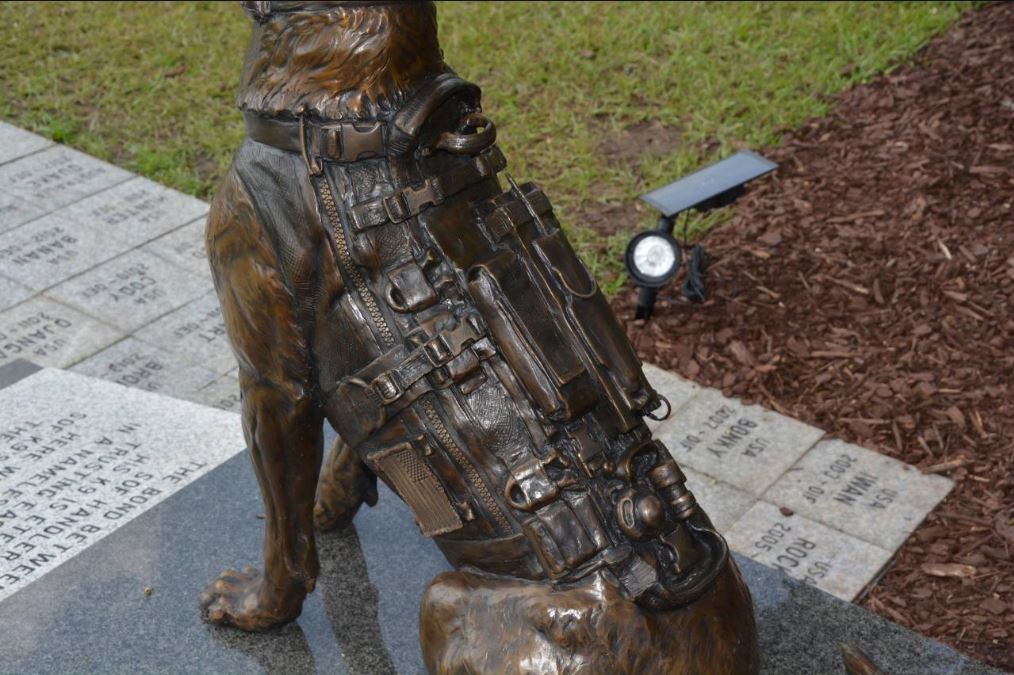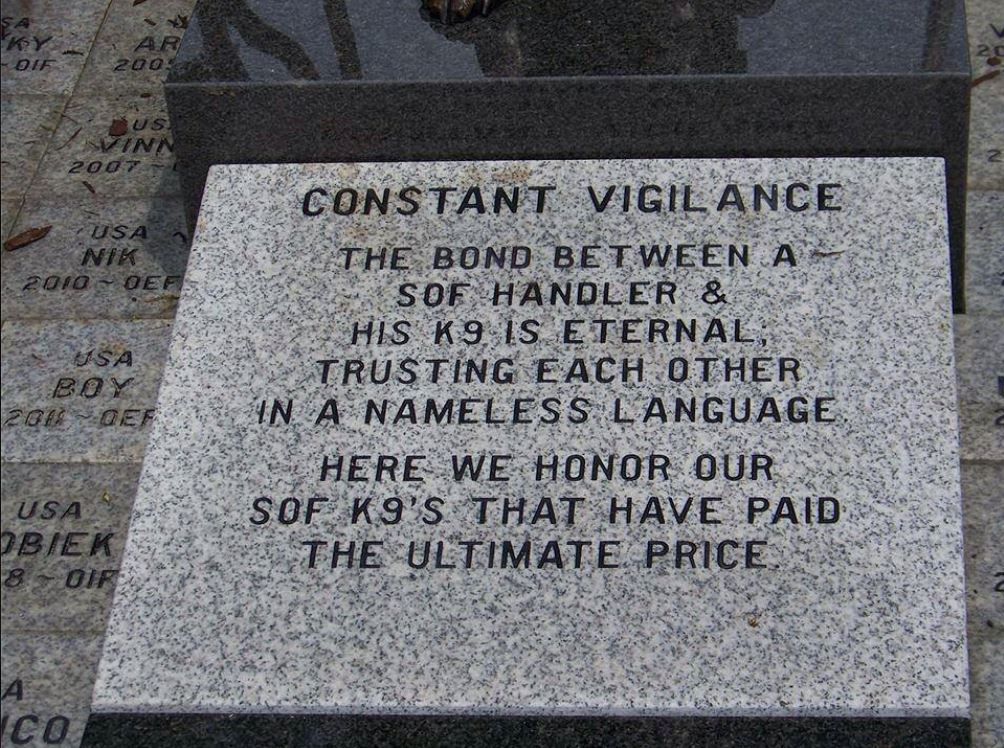 The bronze statue depicts a life-size Belgian Malinois wearing his full deployment kit.This statue is the first in the world depiction of this type of a military dog. Surrounding the statue are paver stones listing the dogs that were Killed in Action.

Rembering Drake Memorial
Dedication June 23, 2013
Location - Barkeritaville Dog Park at Simmons Veterinary Hospital in Lake Worth, Florida.
(this is the hospital where Drake received his emergency care)
Sculptor - Jocelyn Russel.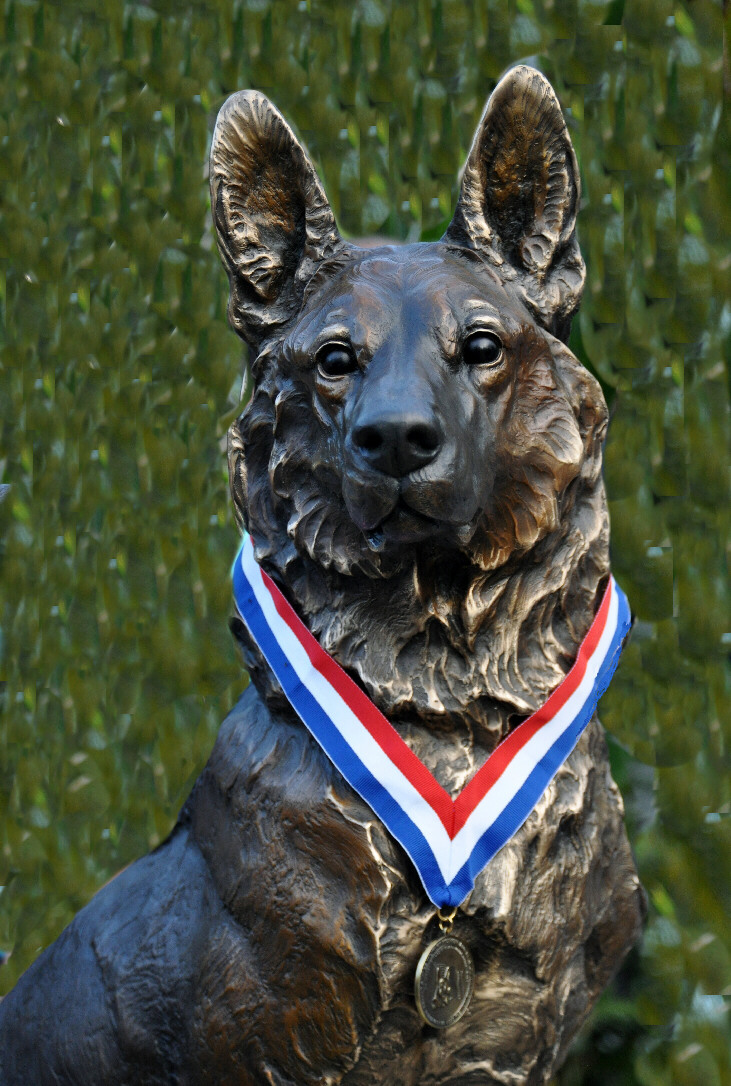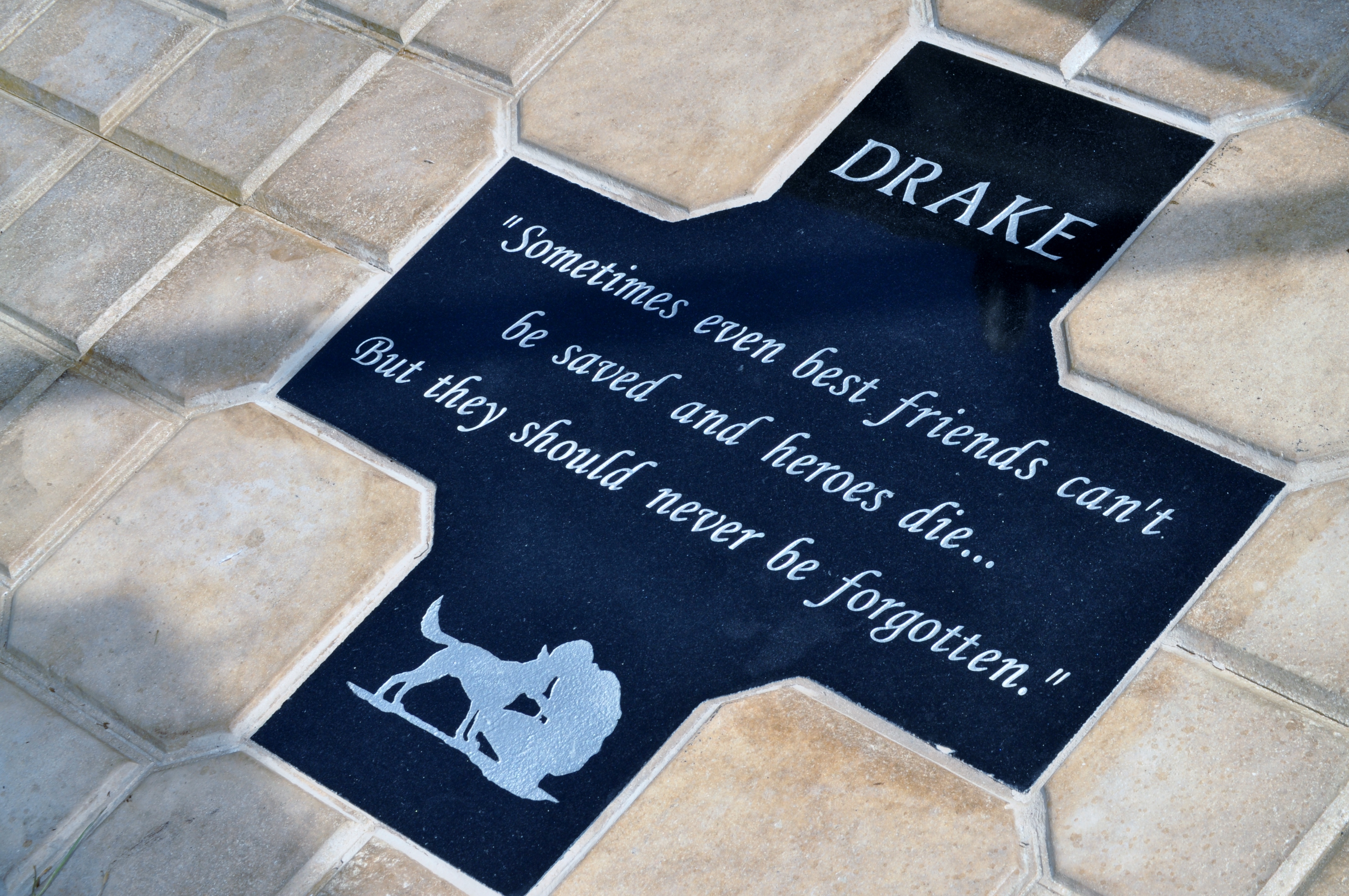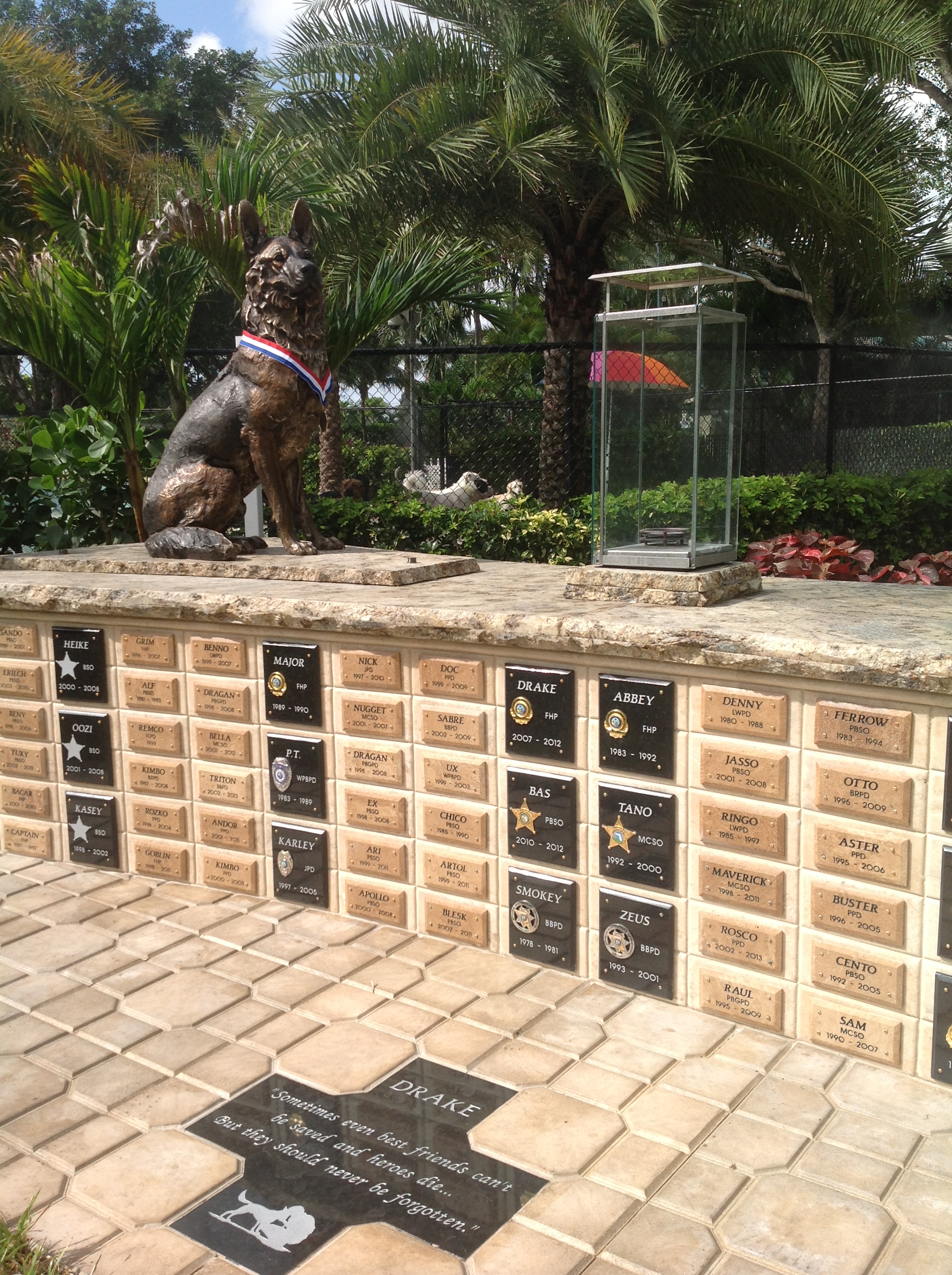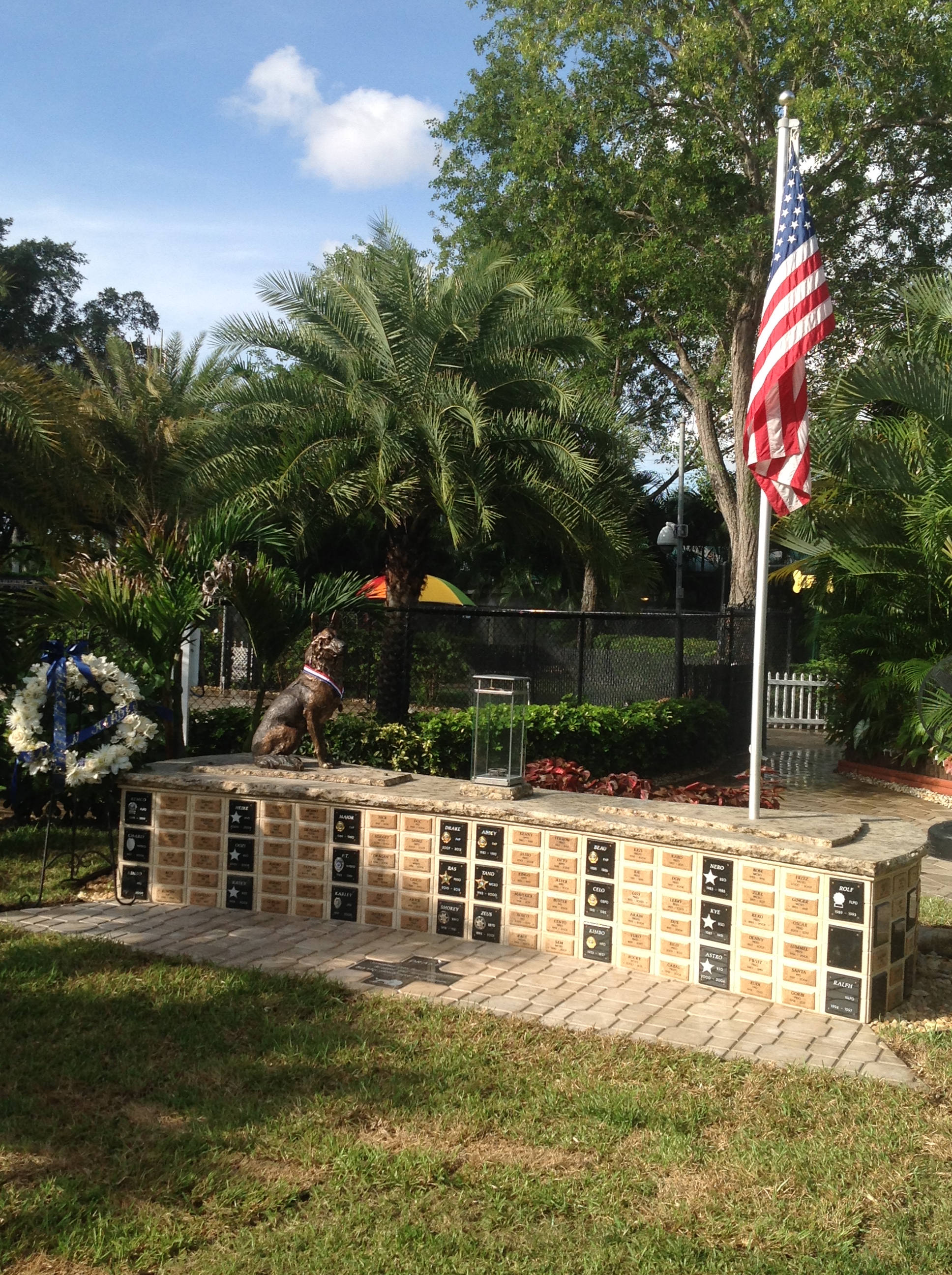 K-9 Drake was shot multiple times on November 18, 2012 as he bravely protected his home. In spite of five days of heroic efforts by the best veterinarians in the country, the decision was made by Drake's owner, Florida Highway Patrol trooper Bobby Boody and Dr Simmons to euthanize Drake. The memorial is a life-sized bronze sculpture that rests on a large granite base.

John Douangdara Memorial Statue
Unveiled - May 27, 2013
Location - Siouxland Freedom Park in South Sioux City, Nebraska
Sculptor - Susan Bahary
Photos by George Lindblade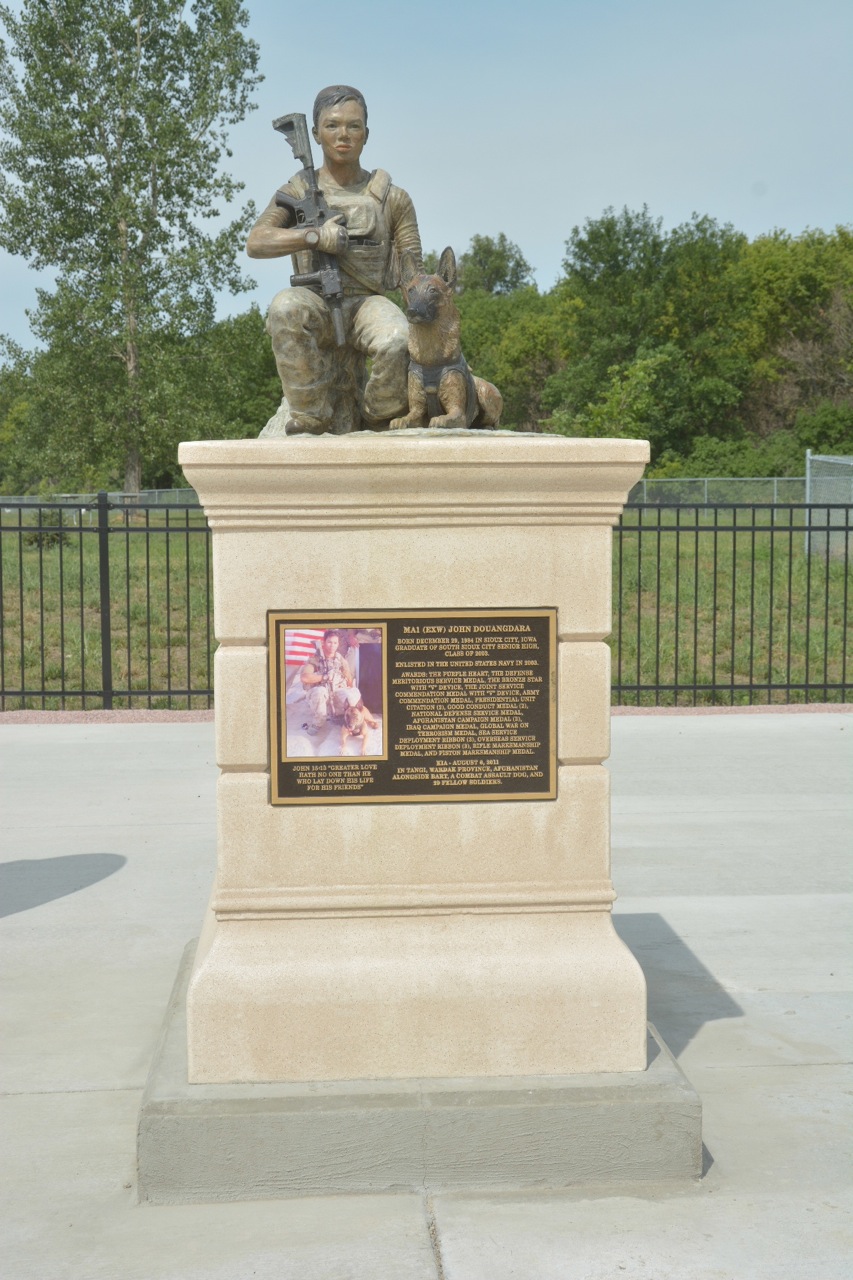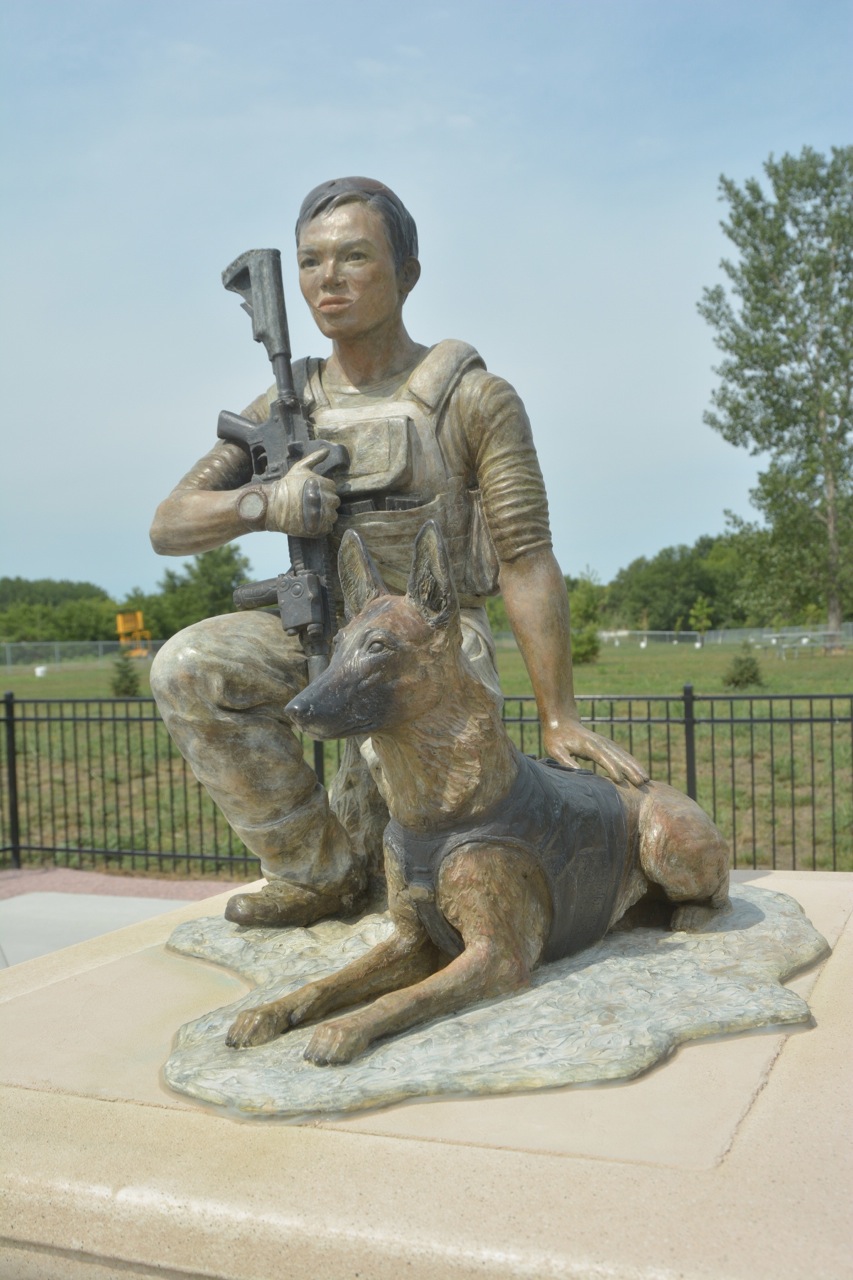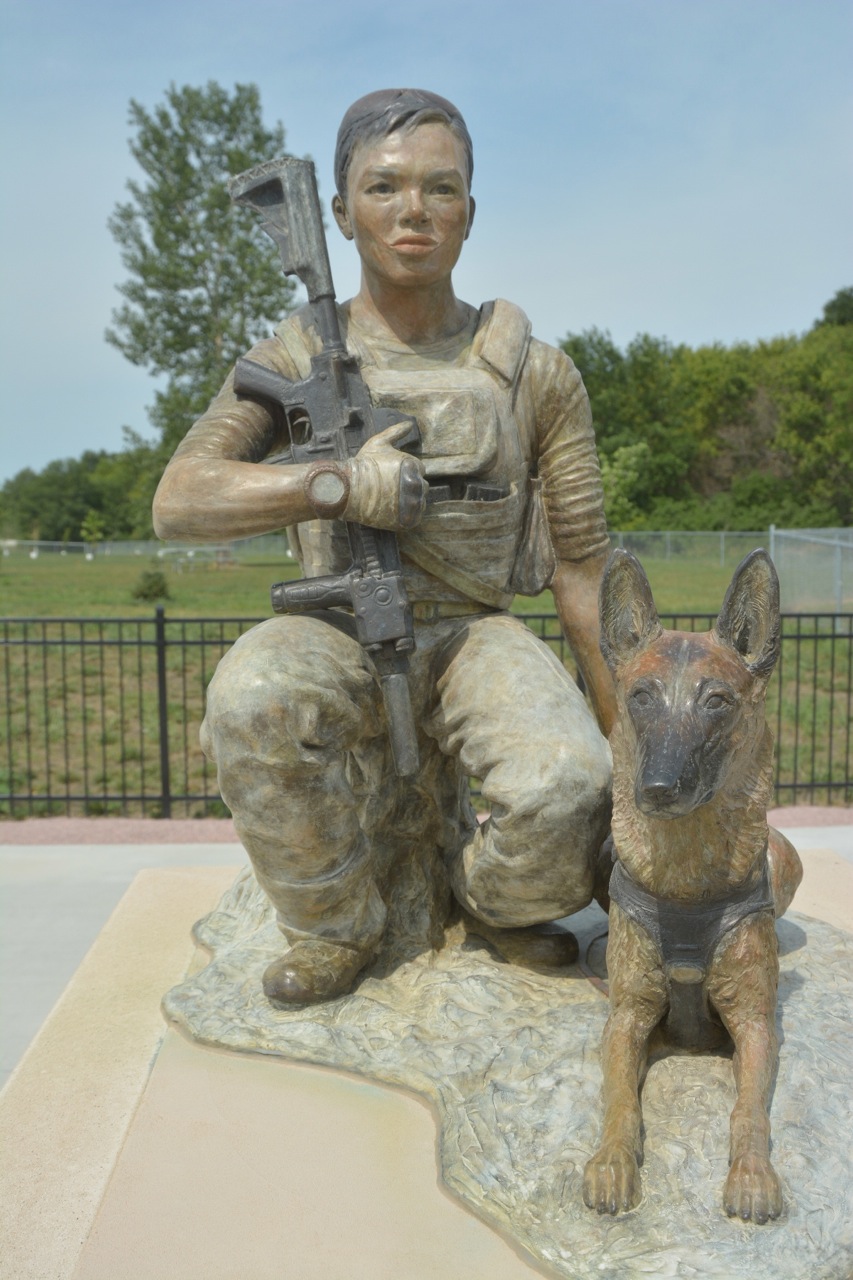 The family of former Navy Seal team Six member John Douangdara unveiled a bronze half life-sized statue of him and his combat dog Bart on Memorial Day during a ceremony at the fifty five acre Siouxland Freedom Park in South Sioux City, Nebraska. Douangdara's right hand, placed on his heart and holding a gun, represents his sense of duty, justice and patriotism. His left hand, lightly touching the dog, shows his love for Bart and the strong connection they shared.Susan Bahary spent six months creating the statue. Navy Master at Arms John Douangdara was a lead dog handler for Seal Team Six. Douangdara, along with his military combat dog Bart, was one of 29 soldiers killed during an attack on a CH-47 Chinook helicopter on Aug. 6, 2011 in the Wardak Province, Afghanistan. Douangdara is buried at Arlington National Cemetery.

Westport K9 Memorial
Dedicated - May 27, 2013
Location - Westport Police Department, Connecticut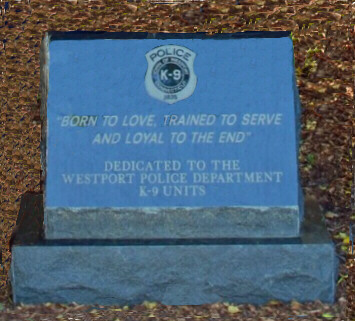 The memorial was funded through donations by Poster Animal Hospital, Westport Police Union Local 2080, and the Westport Police Benevolent Association.

Virginia K9 Memorial
Installed May 1, 2013
Location - Richmond Police K9 Facility, 814, Forest Lawn Drive, VA.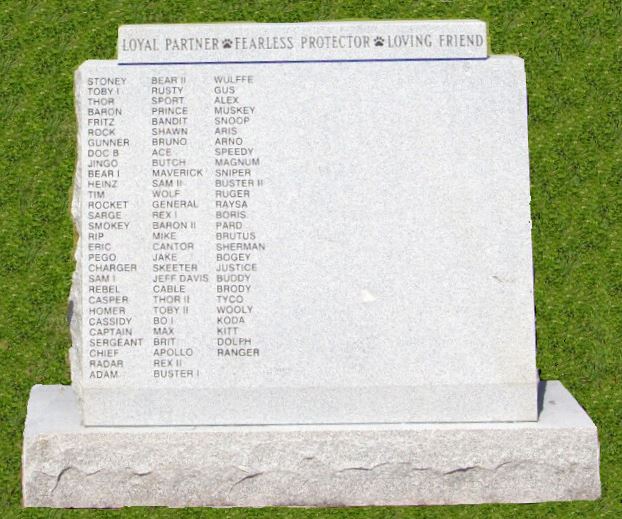 The Virginia K9 Memorial is dedicated to police dogs that have served Central Virginia. The 270 pound granite stone was donated by Booth Memorial.

Animals in War
Unveiling - November 3, 2012
Location - Confederation Park, Ottawa, Ontario
Designed by David Clendining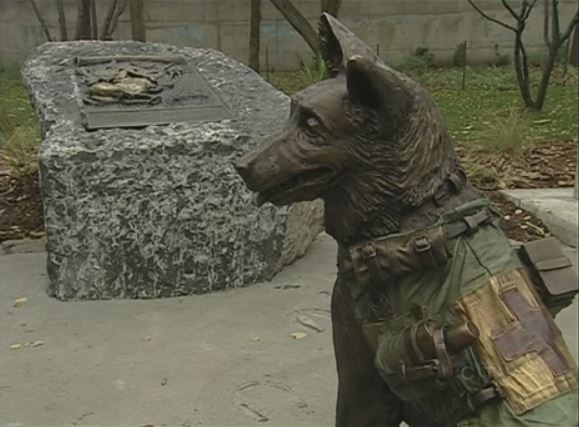 Connecticut Department of Corrections K9 Memorial
Dedicated - October 19, 2012
Location - Maloney Center for Training and Staff Development, 275 Jarvis St., Cheshire, CT.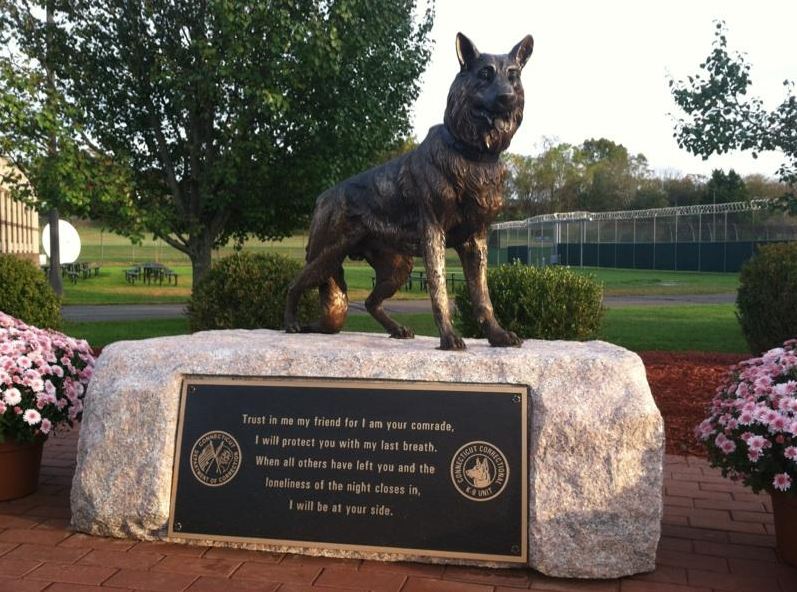 The K9 Memorial is a life size bronze German Shepherd on top of a granite base. The Connecticut Department of Corrections K9 program began in 1985 with six K9 teams at Somers State Prison.

Northern Illinois Police K9 Memorial
Unveiling - September 26, 2012
Location - Highland Memorial Park, Illinois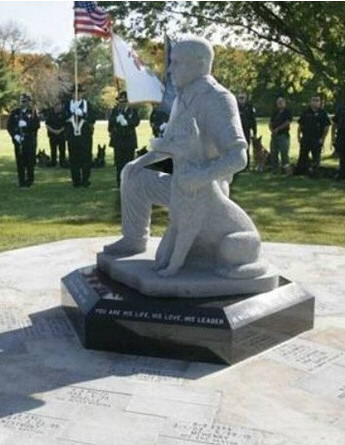 Carved from granite, the life-size statue depicts an officer on bended knee with an arm around a police dog. An inscription reads: Worthy of such devotion. He is your friend, your defender, your dog. Below the statue are tiles engraved with names of canine cops recognized at the memorial, which is for all police departments north of I-80.

K9 Memorial
Unveiling - July 5, 2012
Location - Emmett Park, Tahmoor, Australia
Sculpted by Peter Lewis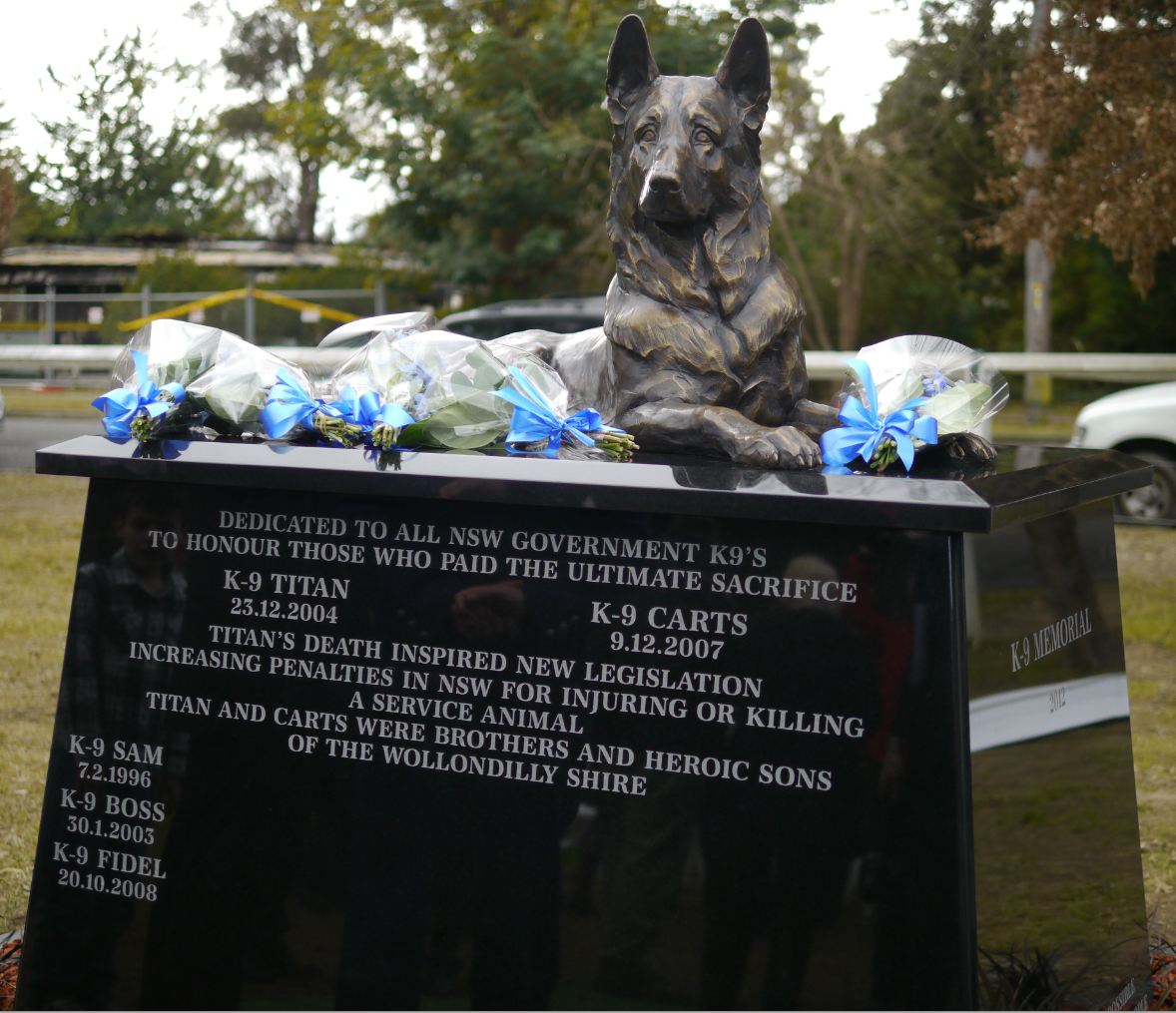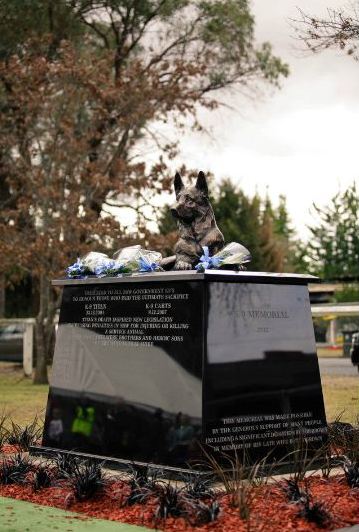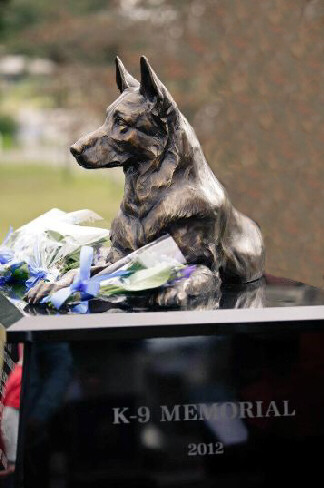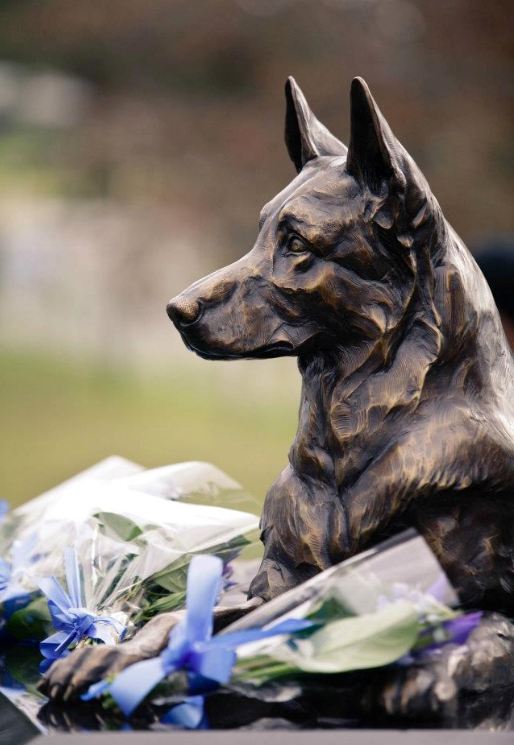 The memorial honors police dogs killed on duty. It features a bronze german shepherd dog atop a granite base - bears the names of the five police dogs killed in action since 1996, K9 Titan, K9 Carts, K9 Sam, K9 Boss & K9 Fidel. The idea for the memorial came after the deaths of Wollondilly shire-born police dog brothers K9 Titan and K9 Carts. Titan was stabbed to death on December 23, 2004, during a siege at Seven Hills. Carts was stabbed on December 9, 2007, during a police operation at Corrimal. The dogs were bred and raised as pups in Tahmoor by Christine Anderson. Its was designed by Freya Jobbins and the sculpture by Peter Lewis was modelled from Titan and Carts' living brother Rusty. Peter Raksts Memorials donated the granite and the rest was donations from the general public.The cost of the K9 Memorial was $50,000.

National Fire Dog Monument
"From Ashes to Answers"
Unveiling - June 28, 2012
Location - Washington D.C. at Fire Station #3
Sculptor - Austin Weishel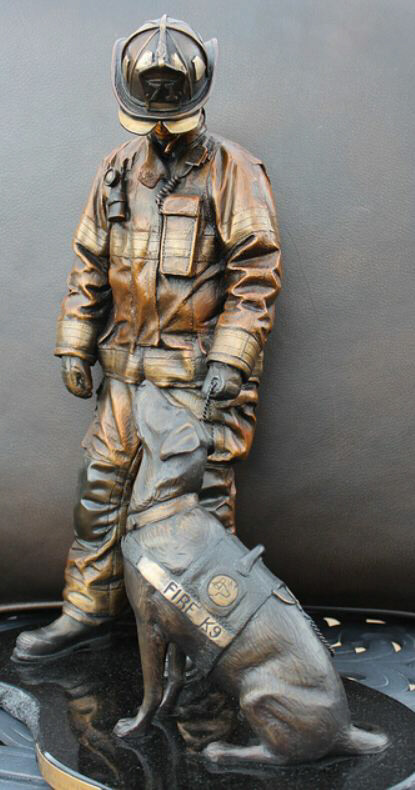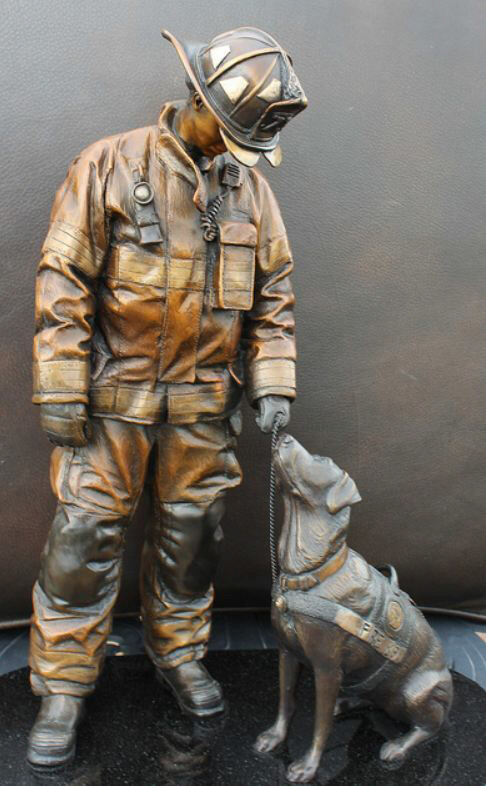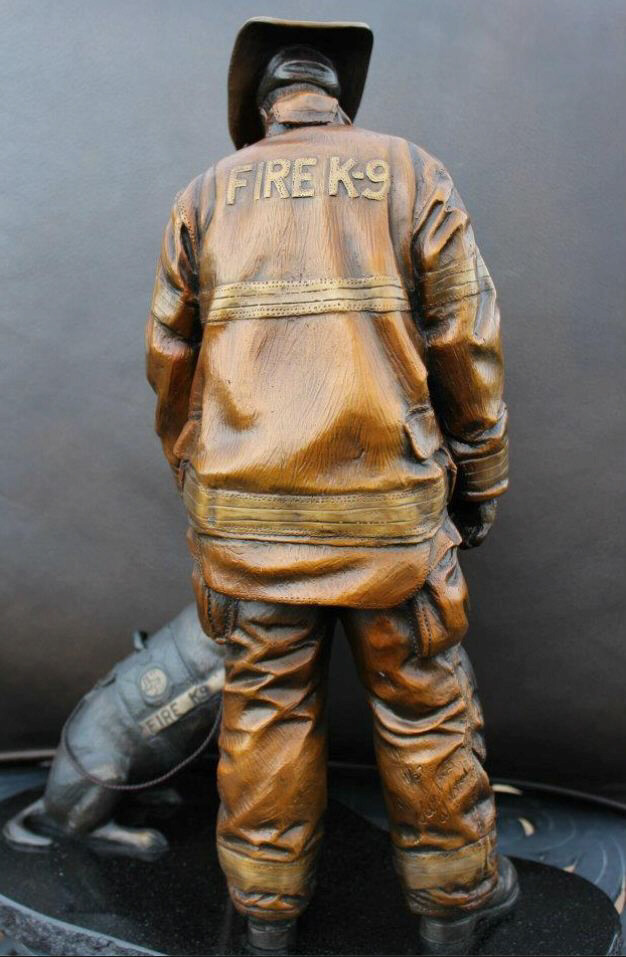 The National Fire Dog Monument was created to recognize the incredible contributions that accelerant detection canines (arson dogs) make in keeping communities safe. These dogs do not ask for anything in return after risking their lives to reduce the negative impact of arson in their communities. The life size bronze monument depicts a firefighter looking down at his canine partner who in turn is looking up at his partner ready to work. Entitled "From Ashes to Answers", this incredible monument was sculpted by 22 year old artist and Colorado firefighter, Austin Weishel. The monument is located in Washington D.C. at Fire Station #3. on June 28, 2012.

Service Dog Memorial
Unveiling - June 12, 2012
Location - Entrance of the Foothills Animal Shelter, Colorado
Sculptor - Pat Madison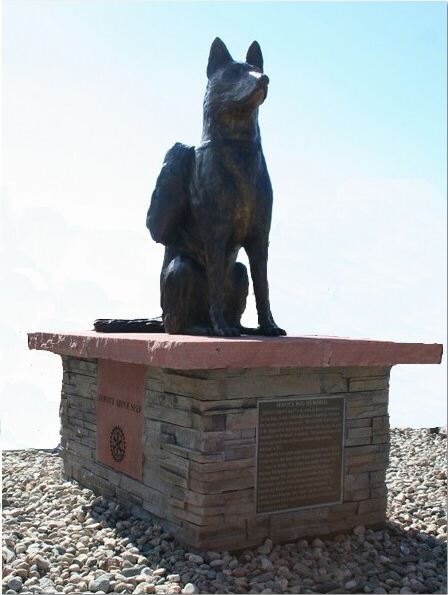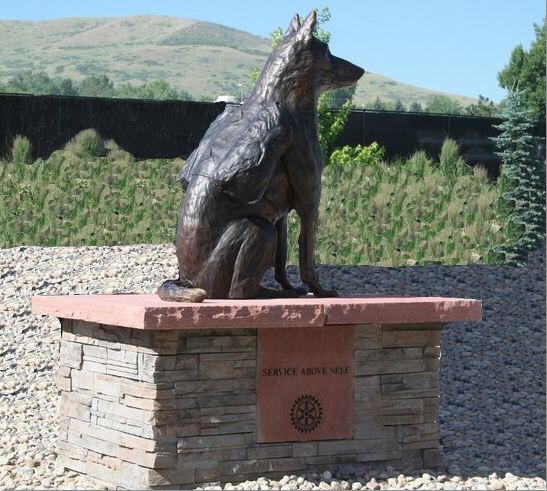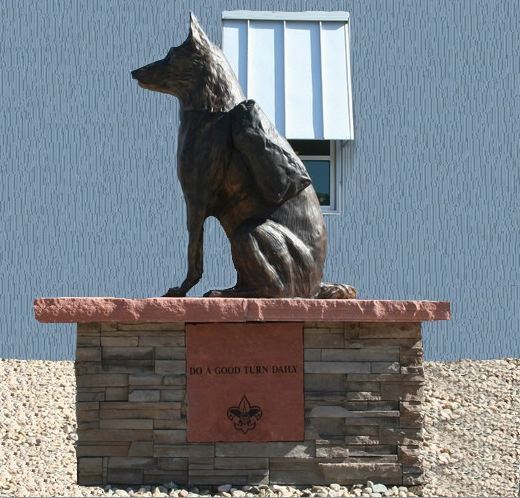 This two year project was the idea of Grady Guziak Jensen, 15-year-old member of Boy Scout Troop 130 in Golden, CO. which was his Eagle Scout project. The unveiling was on June 12, 2012. Artist Pat Madison created the sculpture and Jim Dickson of Century Bronze in Golden completed the bronze work for Madisons sculpture and District 5450 Governor James Halderman finished the stonework. The dog wears a backpack and looks out eagerly with ears perked and ready, as if waiting for the command to help. On the north side of the base is the Rotary International logo and motto, Service above self. On the south side of the base is the Boy Scout logo and motto, Do a good turn daily. On the front of the sculpture base is an inscription explaining the project and about how service dogs exemplify both mottos. Jensen got the idea for the project to honor service dogs when his dad, Jefferson County District Attorney Steve attended a police dog training demonstration where his dad wore a bite suit.

K-9 Police Dog Memorial
Unveiling - May 17, 2012
Location - West Bloomfield Police Department, 4530 Walnut Lake Road, Michigan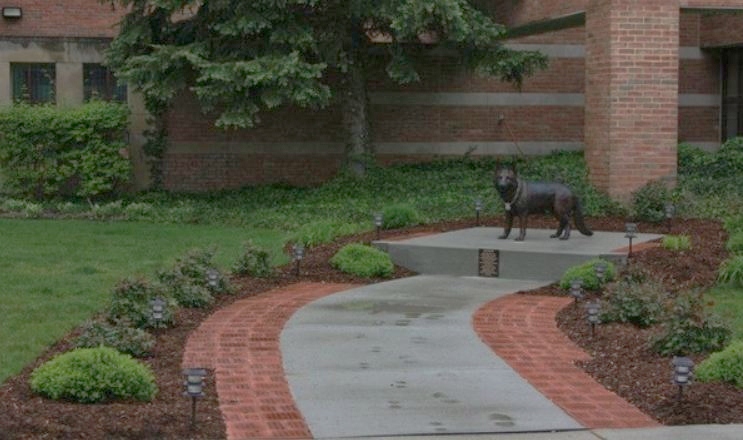 The K-9 Police Dog Memorial was publicly unveiled during a National Police Week memorial ceremony for fallen officers at the West Bloomfield Police Department May 17, 2012. The memorial, created by 14-year-old Boy Scout Joshua Geary, of Boy Scout Troop No. 185 in Waterford, Michigan, includes a bronze German shepherd statue with a badge around its neck. It contains a written passage called A Working Dogs Oath that describes the dedication of a police dog to its human guardian. The final project cost around $7,000. The sidewalk leading to the memorial has a K9 handlers foot prints and to the left of the K9 handlers are K9 paw prints. Both sides of the sidewalk there are donor-inscribed bricks. The teenager thought of the project and over saw it so he could earn Eagle Scout. Geary is the son of West Bloomfield police officer Jim Geary, who was a police dog handler.

Remembering the Fallen
Unveiling - 2011
Location - Anoka County Sheriff's Office - Andover, Minnesota
Created by Brodin Studios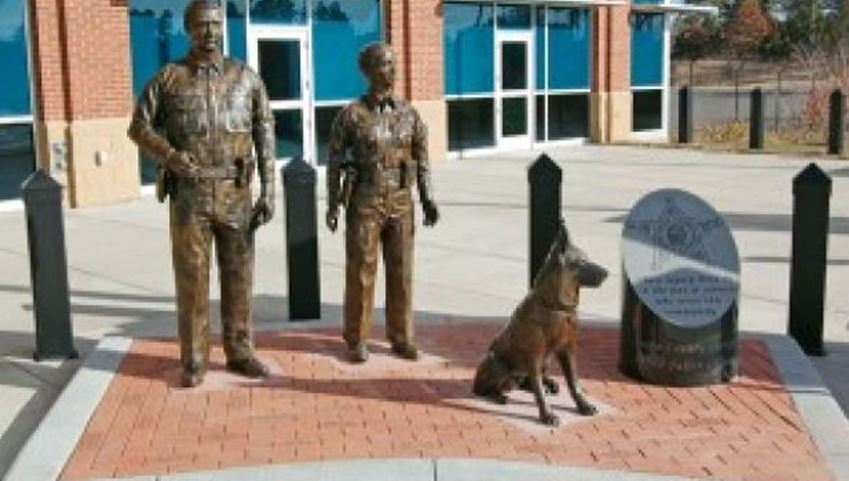 The granite memorial is located outside the Anoka County Sheriff's Office in Andover, Minnesota. Bronze figures of a male, female and K9 officer represent the proud history of service to the community and serves as a tribute to those who have fallen. The figures look to the horizon, which is symbolic of the sheriff's office as a whole looking optimistically to the future. The project was approximately two years in the making and cost $90.000 to build which was entirely covered by donations. Rocky, a Belgian Malinois patrol dog, was seven years old when he was killed Dec. 30, 2009. T-shirts with Rocky's image were sold to raise funds for this memorial. Lapel pins ($2), black and white pencil drawings ($10), color posters($20), bronze coins ($25), water color drawings ($50), silver coins of the monument ($55), red bricks engraved with donors' names ($250), a scale miniature of the monument done in bronze and red brick,($2,000) brought in funds. Brodin Studios created the monument. Rocky, was killed on Dec. 30, 2009 while leading a SWAT team into a Ham Lake home on Dec. 30, 2009 to apprehend a 70-year-old man during a lengthy stand-off. Rocky ran into the home and around a corner as the SWAT team began entering the home. They heard a gunshot. The man came around the corner, holding a gun and began to raise it. A SWAT team member fired at the man before he could get a shot off. The Anoka County Attorney's Office after reviewing the BCA investigation documents did not file charges against the SWAT team member because he acted in self-defense. The Minnesota Peace Officer's Memorial reads: "Blessed are the peace makers, for they shall be called the children of God" Those fallen officers now have K9 Rocky protecting them, as he did here on earth.

Utah Monument
October 5,2011

Officer Roy Nelson Memorial
Location - New Smyrna Beach Police Station, Florida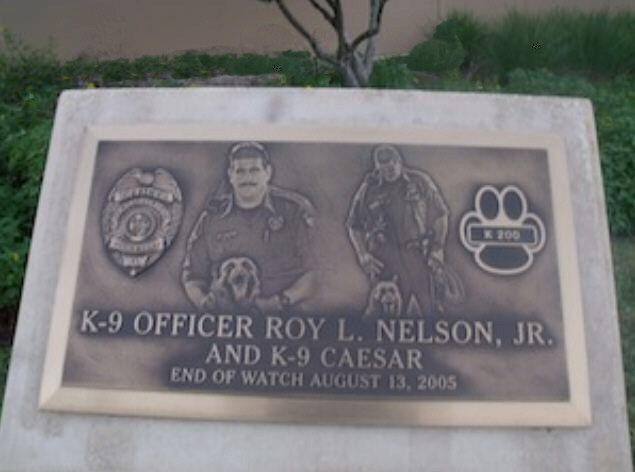 Officer Roy Nelson and his K9 partner "Ceasar" were both killed in Nelson's squad vehicle in a collision with another vehicle that caused Nelson's vehicle to flip on the South Causeway while answering a call of a reported burglary at 11:40 p.m. on Aug. 13, 2005. Both Nelson and his K9 Ceasar were pronounced dead at the scene. Nelson, 36, had been with the police force seven years. He and his loyal dog, Ceasar, were the first New Smyrna Beach police personnel killed in the line of duty.

War Dog Monument
Unveiling - September 18, 2011
Location - Green Hill Park Worcester, Massachusetts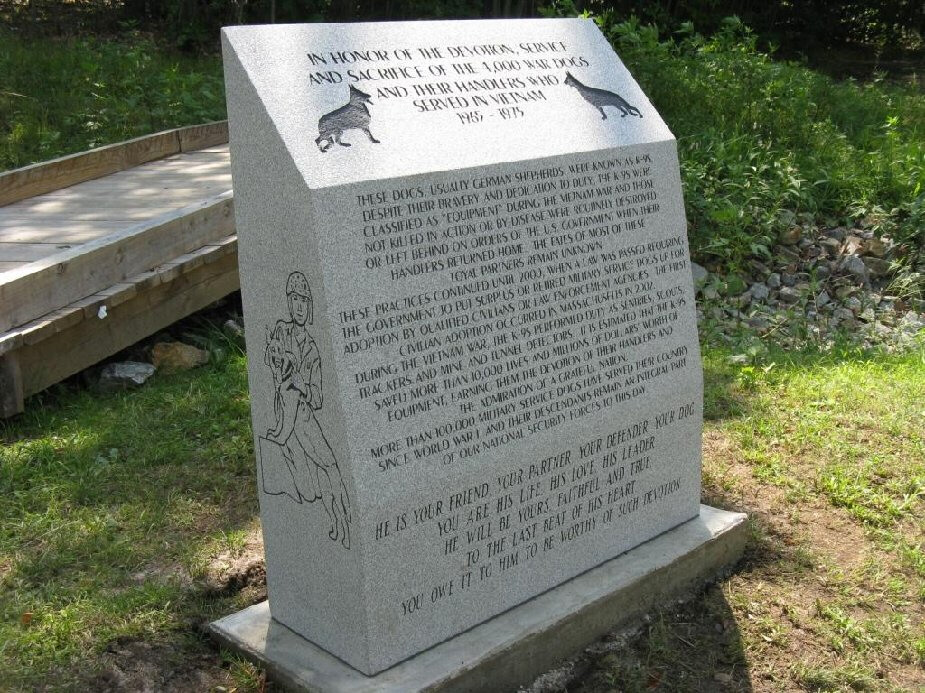 National Police Defense Foundation Memorial
Unveiling - September 11, 2011
Sculpted by Franco Minervini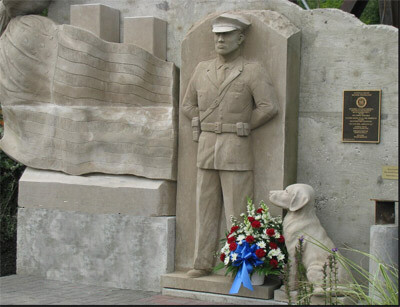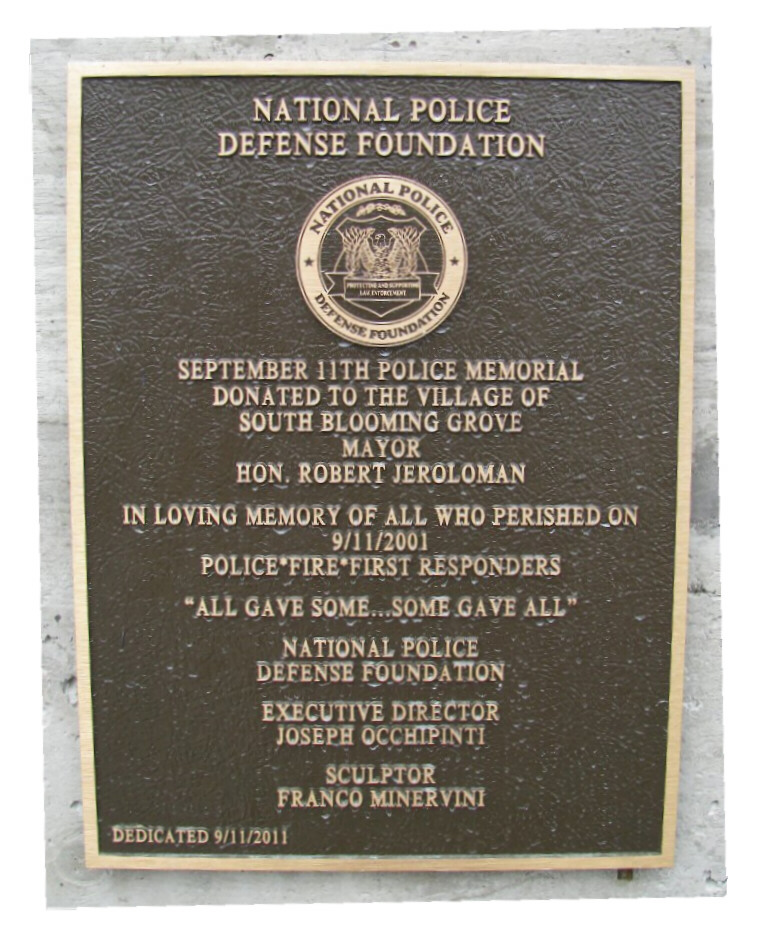 The memorial was donated to commemorate the 10th anniversary of the terrorist attacks. The memorial is crafted from a 14 foot high wall of Indiana limestone. Embedded within is a piece of steel from the Twin Towers.

German Shepherd Rescue Dog Memorial
Location - Diamond in the Pines Park, Coram, New York
Dedicated September, 2011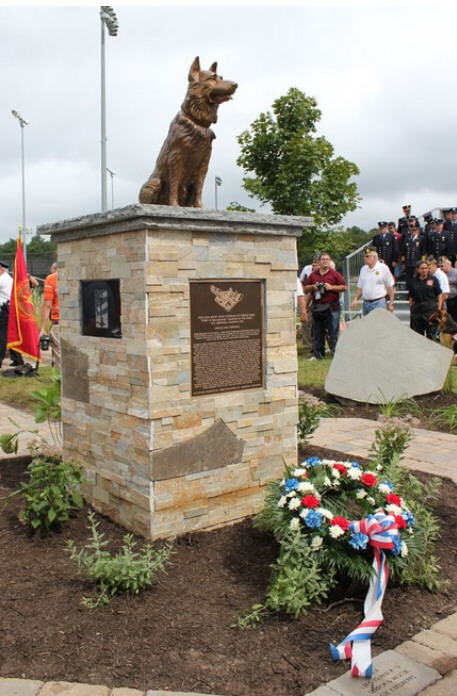 The September 11th memorial at Diamond in the Pines Park was unveiled in September in honor of the 10th anniversary of the attacks on the World Trade Center. This statue serves to honor those brave animals that were vitally important to the rescue and recovery effort following the September 11th attacks, as well as those that provide assistance and companionship to our veterans at home and soldiers overseas. The bronze statue was funded with over $20,000 in private donations to the Rocky Point VFW Post 6249.

Sgt. Yoris Memorial
Location - Adored Pet Cemetery, Johnson City, Tennessee
Dedicated May 4, 2011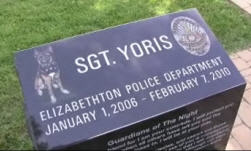 The large granite monument features a picture of Yoris, along with engravings of his badge and name, and the poem Guardians of the Night engraved on the front. Sgt Yoris was a member of the Elizabethton Police Department in Tennessee who escaped from his kennel on February 6, 2010 and was severely injured during an incident with five boys. Sgt. Yoris was euthanized on February 7, 2010, a day later due to his injuries including stab wounds. Sgt. Yoris handler was Officer Shane Darling. Hitchcock Memorials of Elizabethton designed and paid for the memorial.

MWD Chyba
Location - Rancho Coastal Humane Society in Encinitas, California
Dedicated April 16, 2011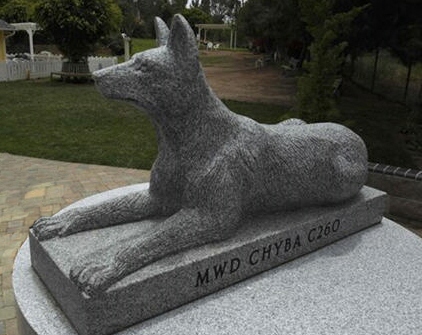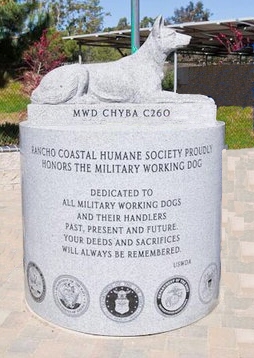 This is the first Military Working Dog (MWD) memorial in San Diego County and the only private memorial West of the Mississippi. The project cost $25,000 and was designed by HonorLife. The memorial features a life-size statue of a MWD modeled after T. Boone and Madeleine Pickens adopted dog Chyba, an 11 year- old German Shepherd that was retired from the 95th MP Battalion in Stuttgart, Germany. MWD Chyba C260 was a Patrol-Narcotics Detector Dog and also deployed to Iraq for 6 months in August of 2004. The memorial also includes the crests of each military branch. The public can purchase engraved bricks in the memorial at a cost of $150 to help support the memorials maintenance.

JR Searcy Memorial
Unveiling - March 4, 2011
Location - JR Searcy Library - 5775 Jonesboro Rd., West Monroe, LA ,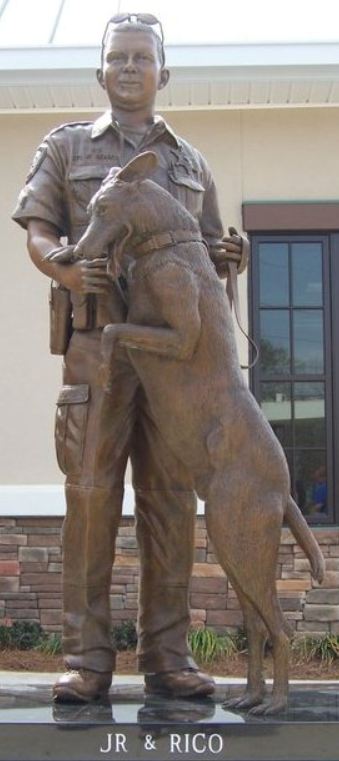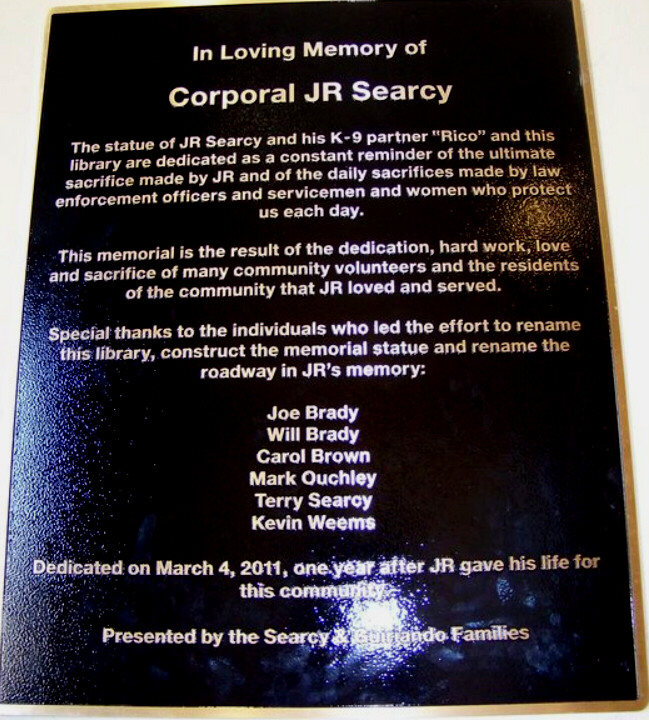 Cpl. J.R. Searcy, 33, was responding to a call about a reported aggravated assault and was shot twice and killed on 3/4/10 when he arrived at the scene to back up another deputy . The second deputy returned fire, killing the suspect.

Deputy Matt Williams & K9 Diogi Memorial
Location - Entrance of the Polk County Sheriff's Office - Florida
Unveiling - January 18, 2011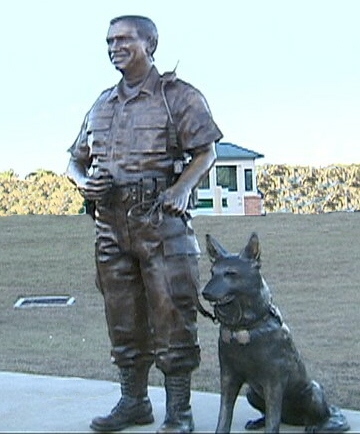 Polk County Sheriff Deputy, Vernon Matthew "Matt" Williams, 39, was shot and killed along with his K-9 Diogi on September 28, 2006 when he was providing back up at a traffic stop and the man ran into a wooded area and was pursued by Deputy Williams who was then shot eight times and his K9 Diogi shot once and both killed by the suspect. The next day the suspect was shot and killed.

K9 Jax Memorial
Location - Castle Rock, Colorado
Unveiling - October 10, 2010
Sculpted by Janene DiRico-Cable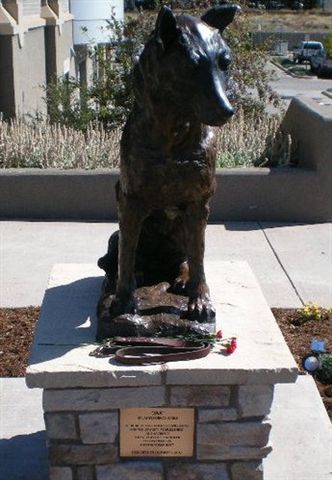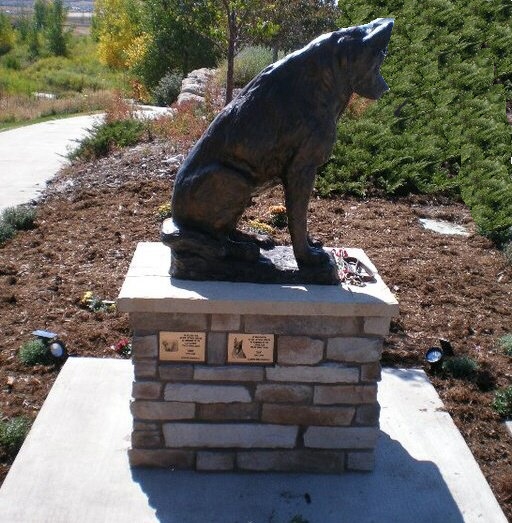 K9 Jax served the Castle Rock community for eight years with his handler , Officer Todd Thompson, before retiring. He was euthanized in May 2010 due to illness. On two occasions K9 Jax was credited for saving his handler. The Fraternal Order of Police, Lodge 54 came up with the idea to memorialize K9 Jax and all service dogs with a statue of K9 Jax in the park next to the Castle Rock Police Department. A local artist, Janene DiRico-Cable donating her time and skills for the memorial.

Officer Roger Debattista Memorial
Location - Malta
Unveiling - July 22, 2010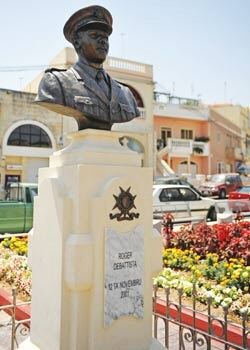 PC Roger Debattista was a K9 handler for 12 years in Malta and was working a second part time job working security for a bank when he was shot and killed on November 12, 2001.

Virginia Law Enforcement K-9 Memorial
Ready to Serve
Location - Virginia-Maryland Regional College of Veterinary Medicine
Blacksburg, Virginia
Unveiling - October 16, 2009
Sculpted by Lawrence Reid Bechtel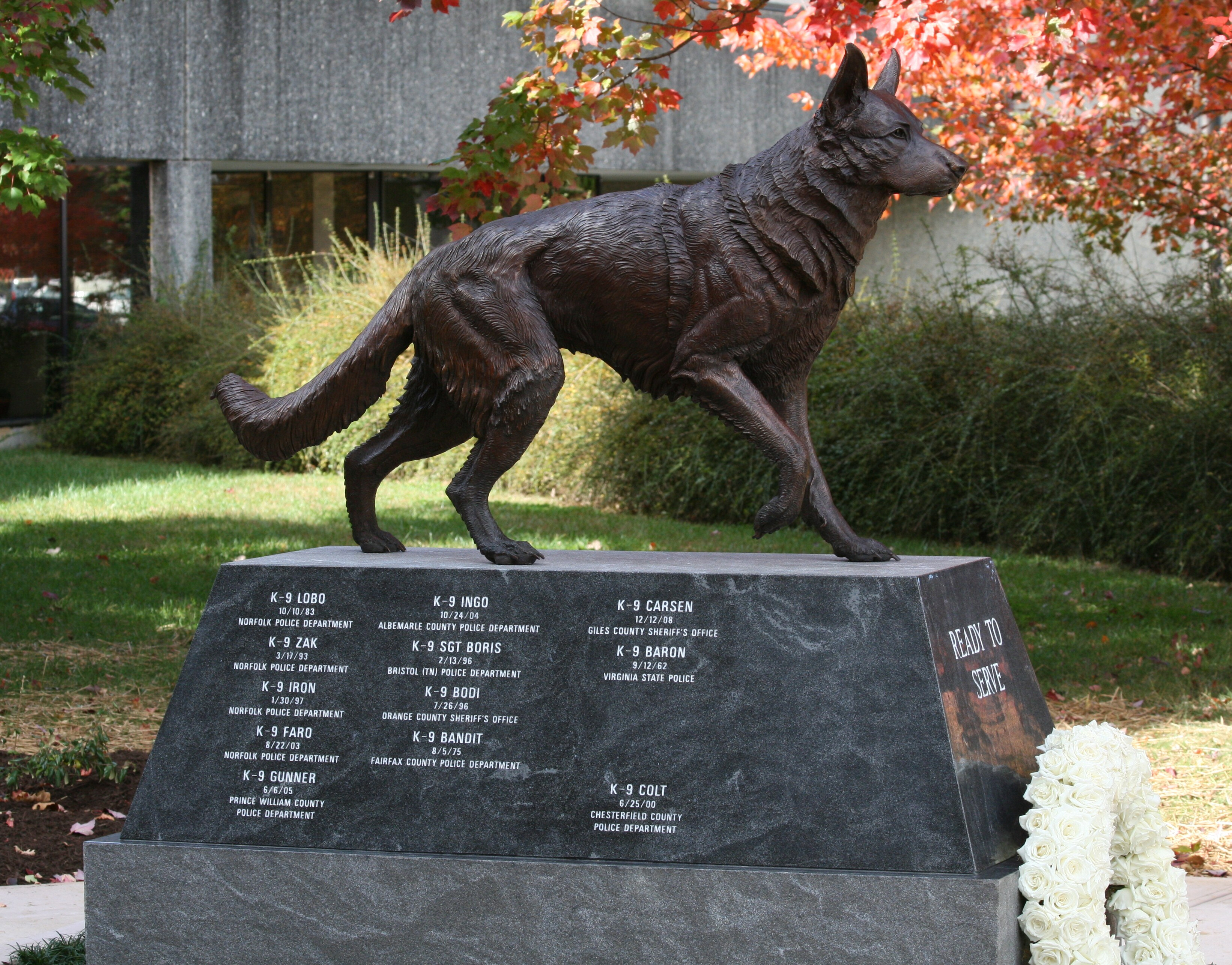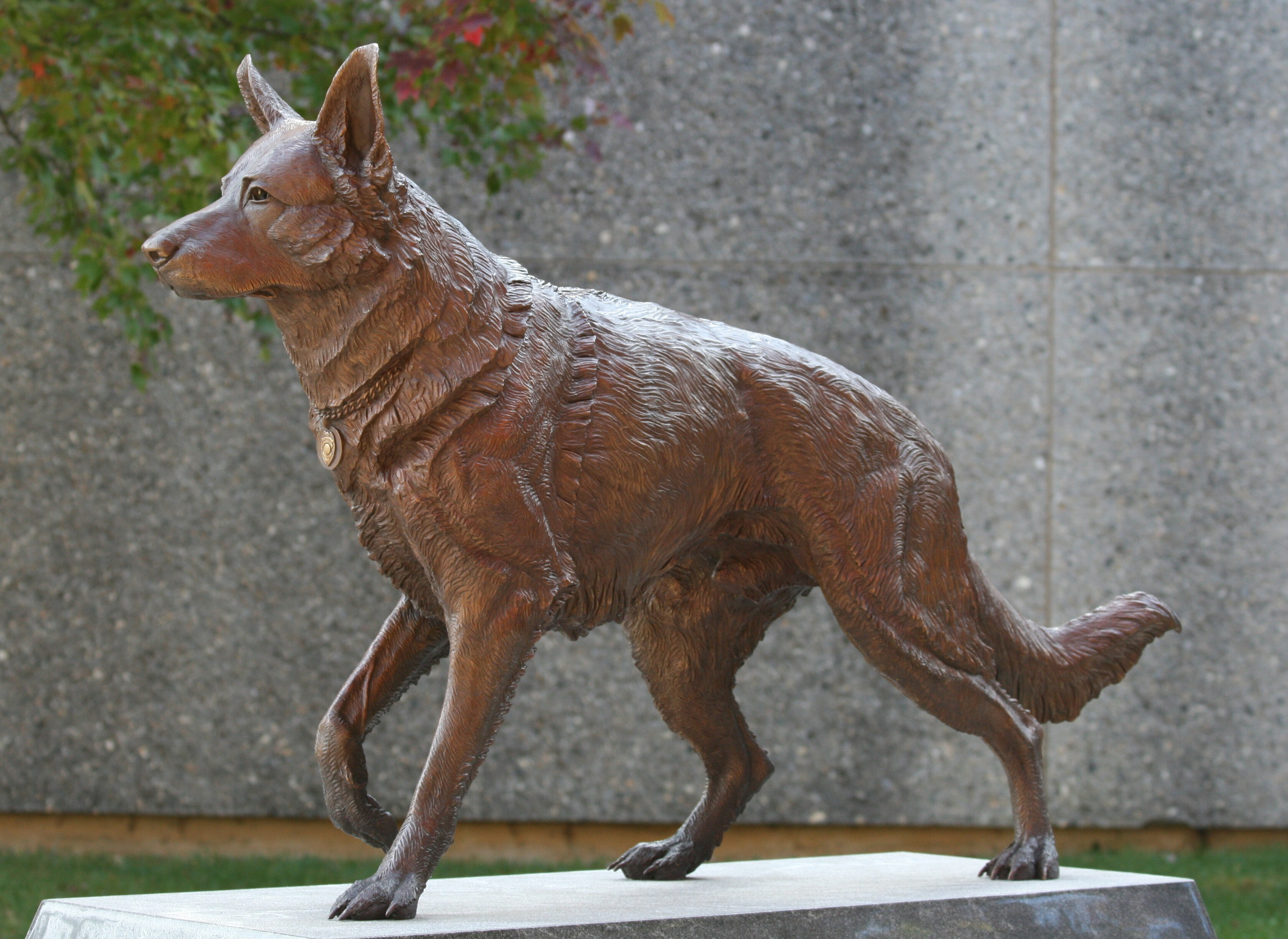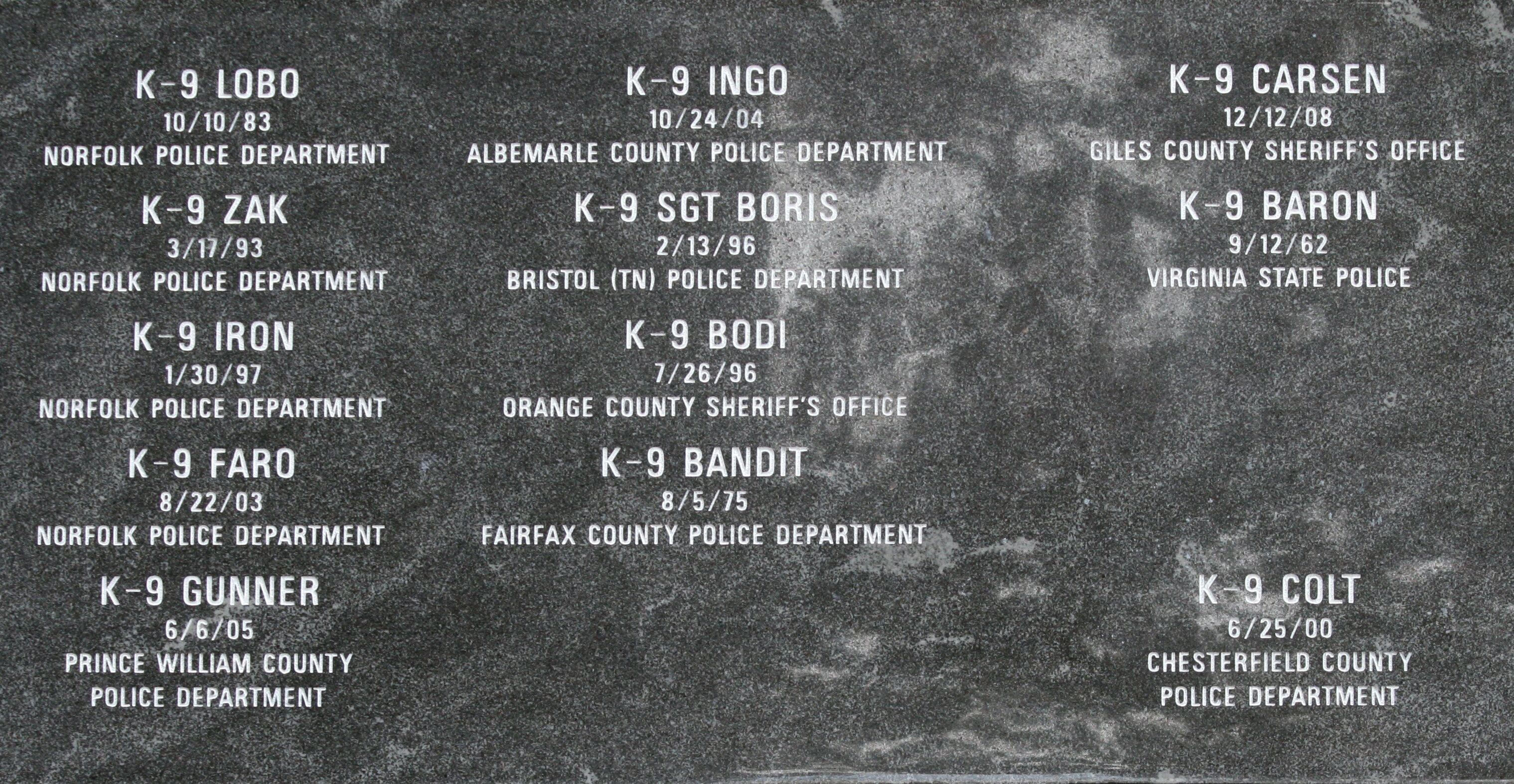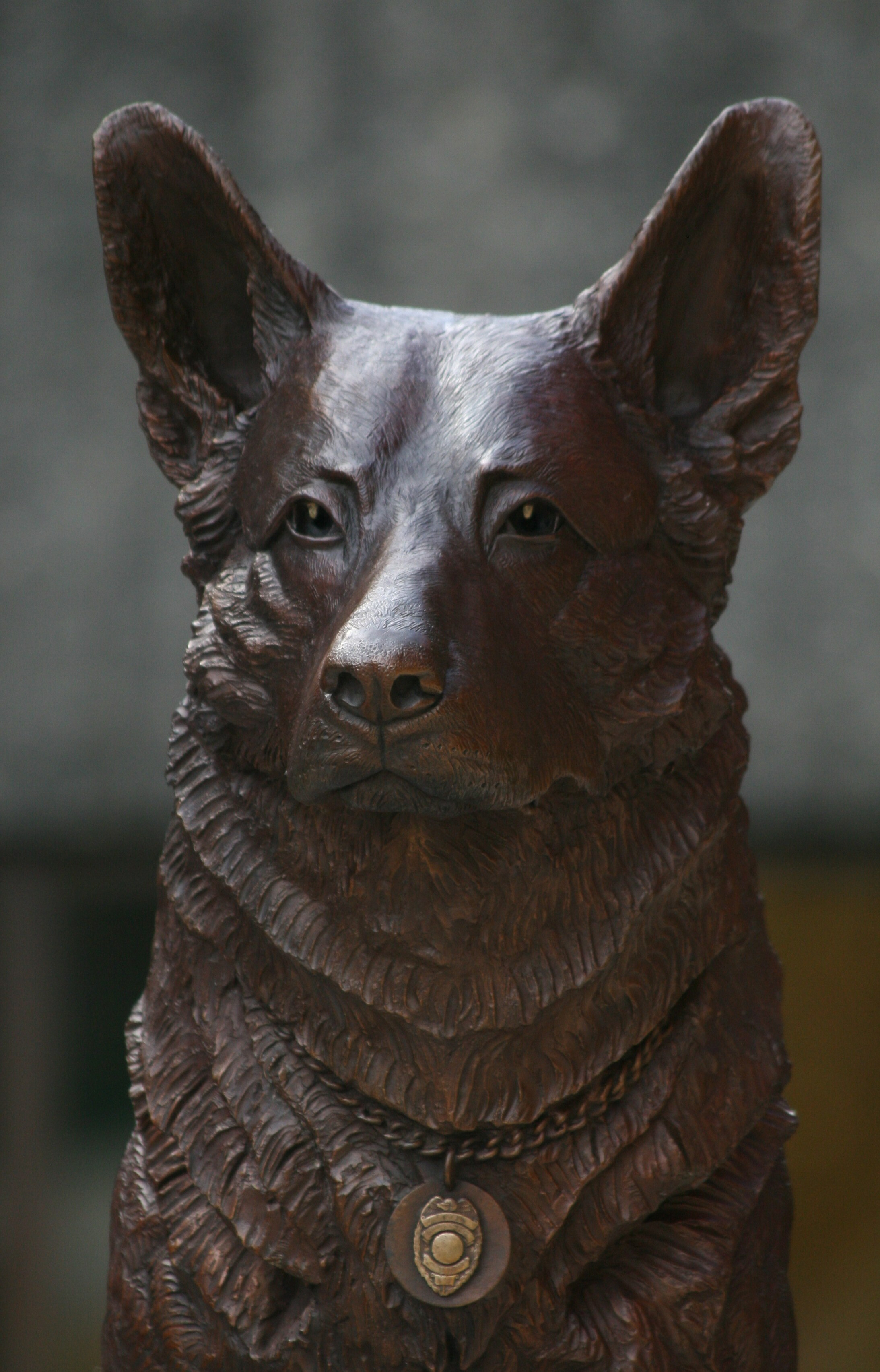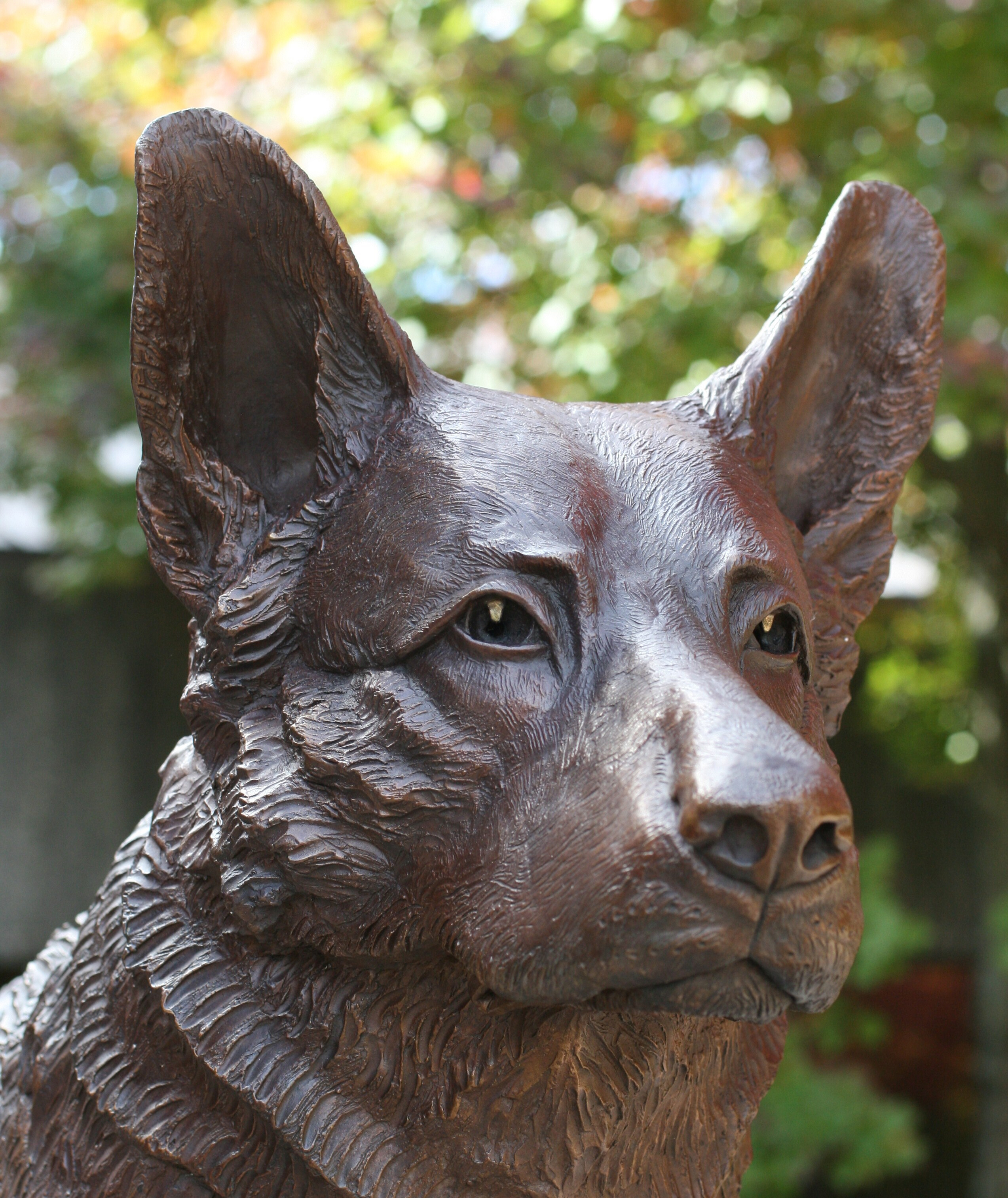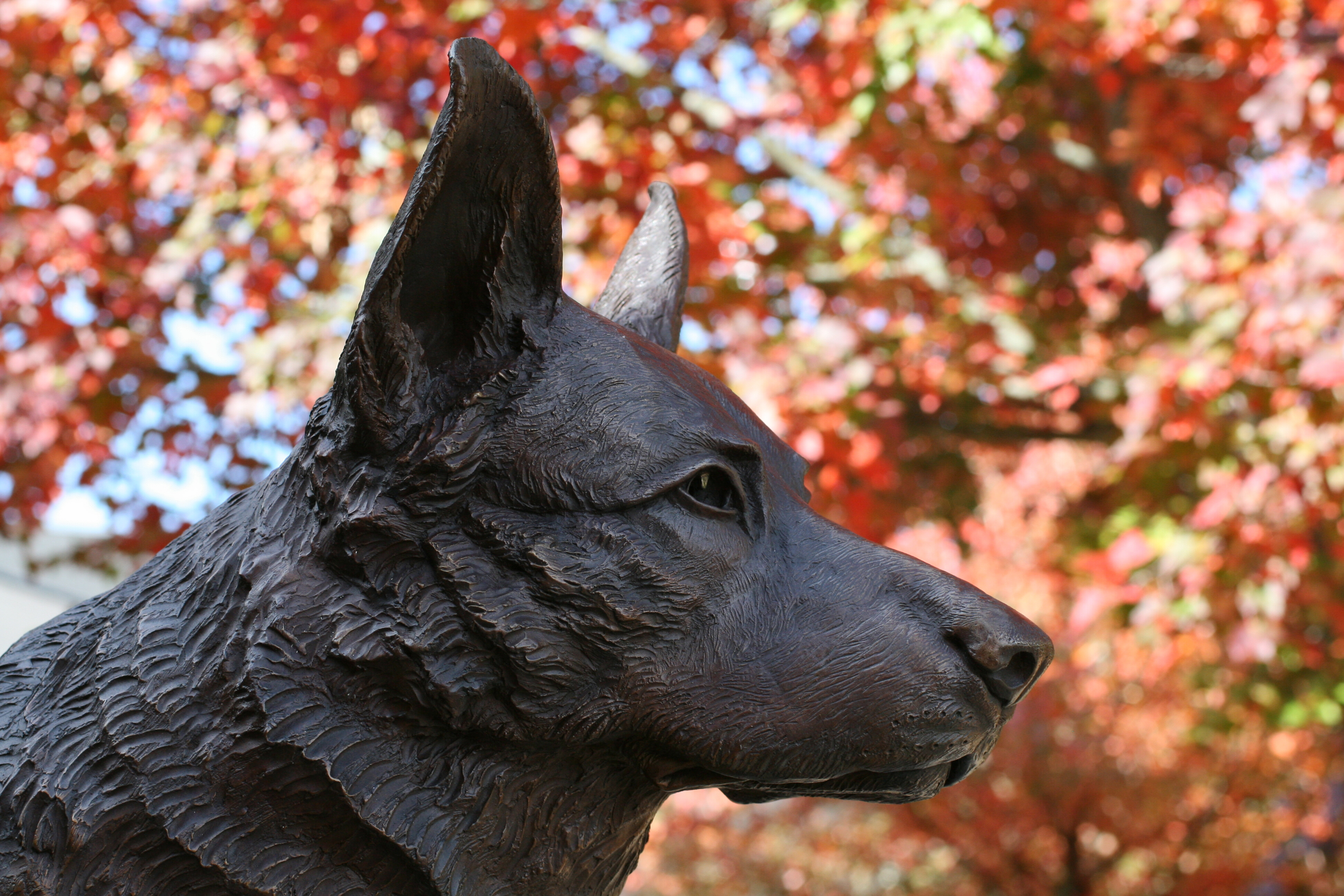 The memorial consist of a life-size bronze German Shepherd police dog installed on a granite base with the names of Virginia police K-9�S that lost their lives in the line of duty.

Stanislaus County Sheriff's Department K9 Memorial
Dedicated October 2, 2009
Located in California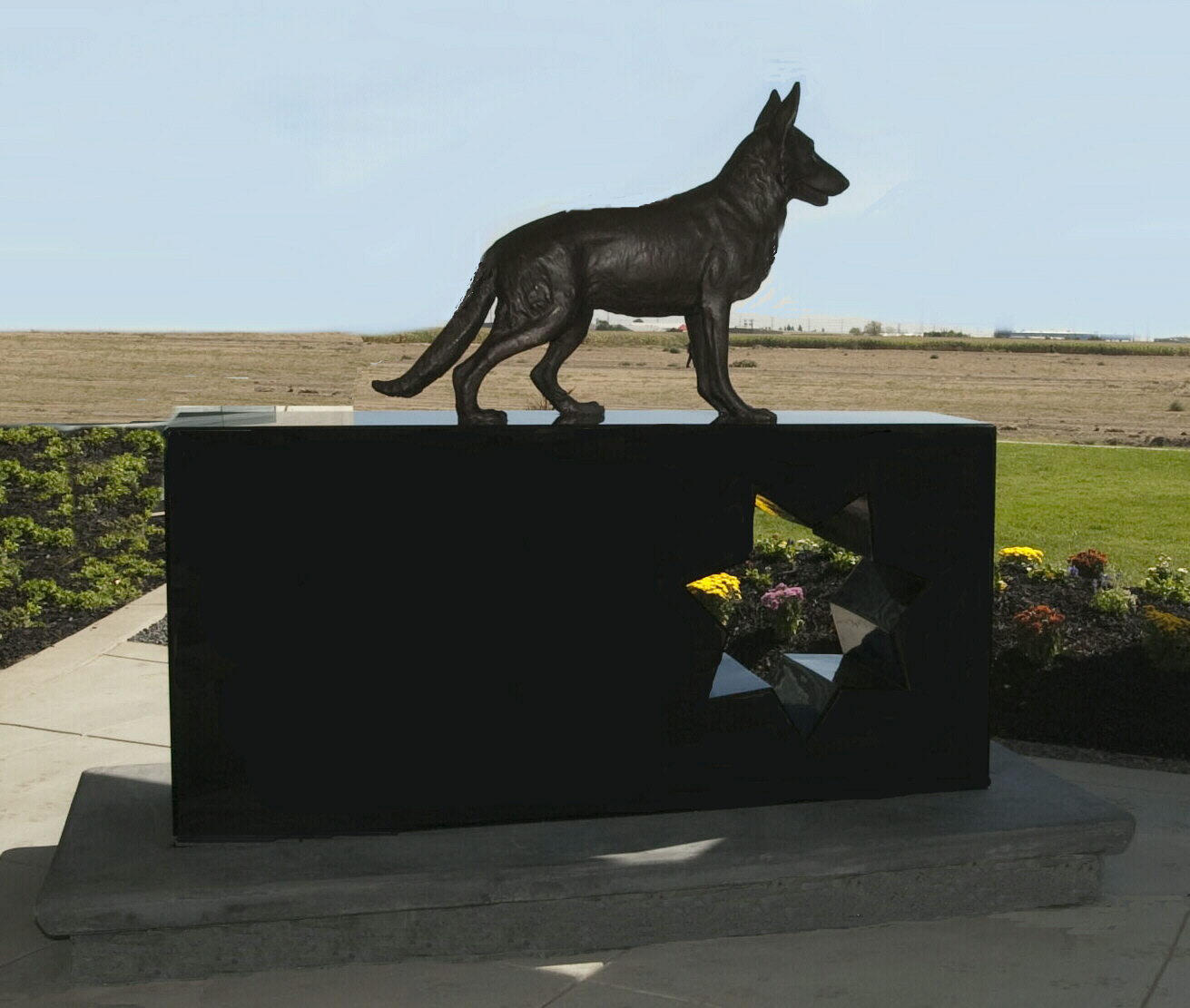 The memorial consists of a 7,000 pound black granite base topped with a full-size bronzed statue of a German Shepherd. The Bradbury family, which owns Stone Bella, donated most of the expenses.

Pineville Kentucky K-9 Memorial
Unveiled September 28, 2009
Sculpted by Jaime Corum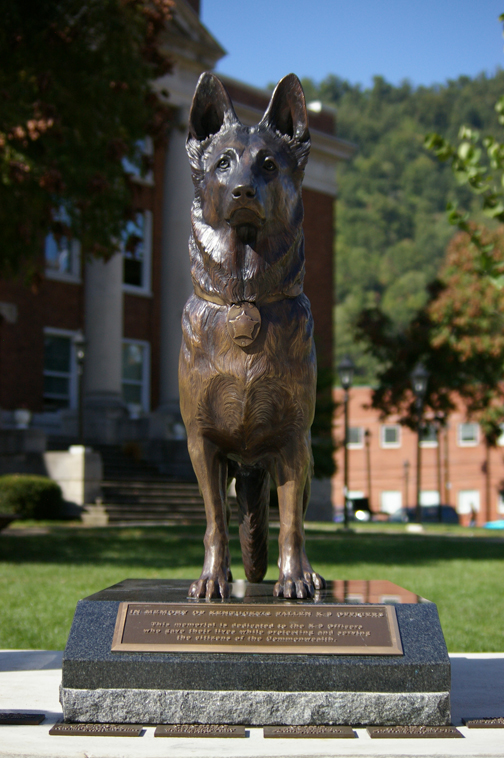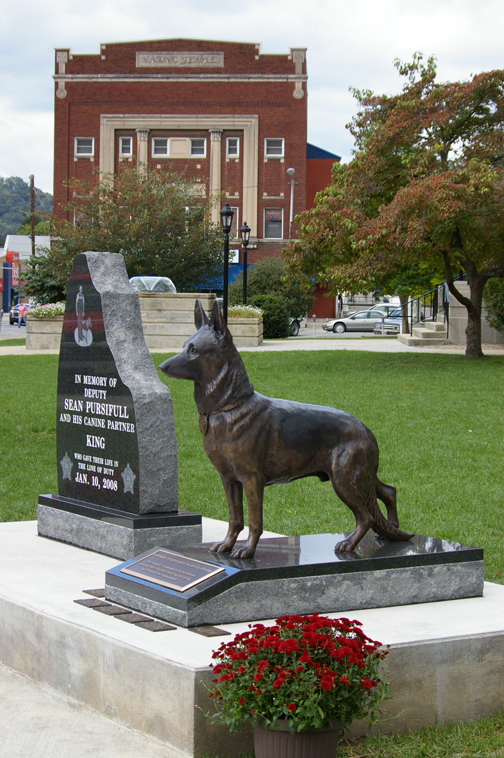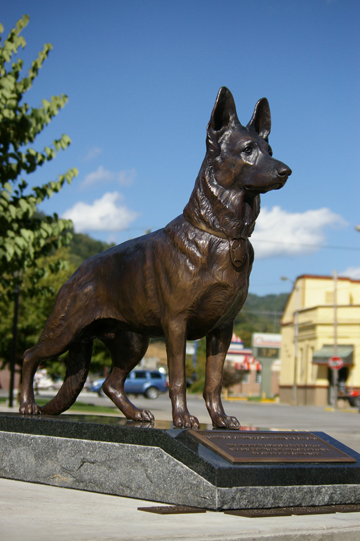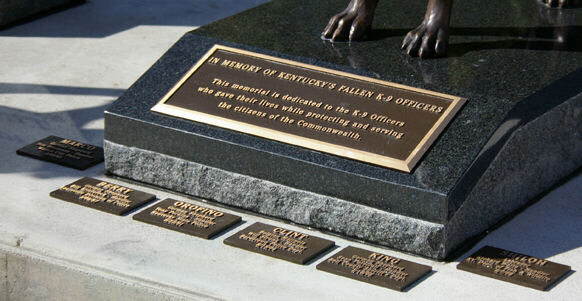 Joshua T. Miktarian Monument
Dedicated July 13, 2009
Located at Twinsburg Government Center, 10075 Ravenna Road, Twinsburg, Ohio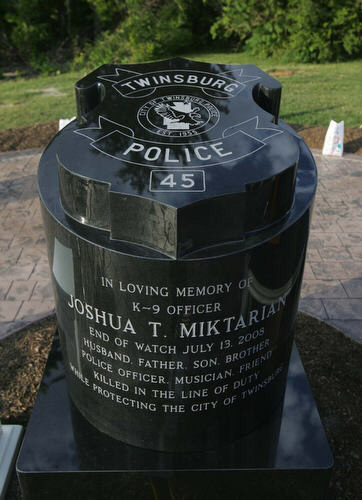 This polished black granite monument is dedicated to Joshua T. Miktarian, 33, who was a Police K9 officer for the Twinsburg Police Department in Ohio. Officer Miktarian was shot four times in the head while making a traffic stop on July 13, 2008. Officer Miktarian's K9 partner "Bagio" was in the police car and not hurt at the time. Approximately 1,000 people attended the dedication and Miktarian's badge number "45" was retired.

Vietnam K-9 and Dog Handler Memorial
Located at J.P. Case Middle School, 301 Case Boulevard - Flemington, New Jersey
Dedicated May 18, 2009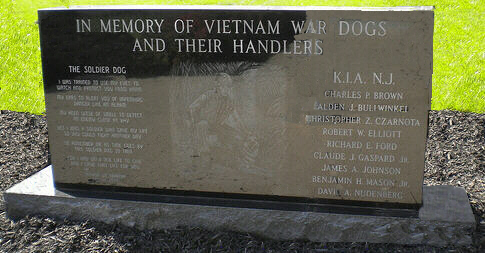 Etched on left side Etched on right side; New Jersey dog handlers killed
The Soldier Dog
Charles P. Brown
I was trained to use my eyes to Alden J. Bullwinkel
watch and protect you from harm. Christopher Z. Czarnota
My ears to alert you of impending Robert W. Elliot
danger like an alarm. Richard E. Ford
My keen sense of smell to detect Claude J. Gaspard Jr.
an enemy close at bay. James A. Johnson
Yes I was a soldier who gave my life Benjamin H. Mason Jr.
so you could fight another day. David A. Nudenberg
So remember me as time goes by
This soldier dog so true.
For I had only one life to give
and I gave that life to you.

Author Joe Ferrar
Jan. 11, 2008

Moberly War Dog Memorial
Moberly, Missouri
Dedicated May 12, 2009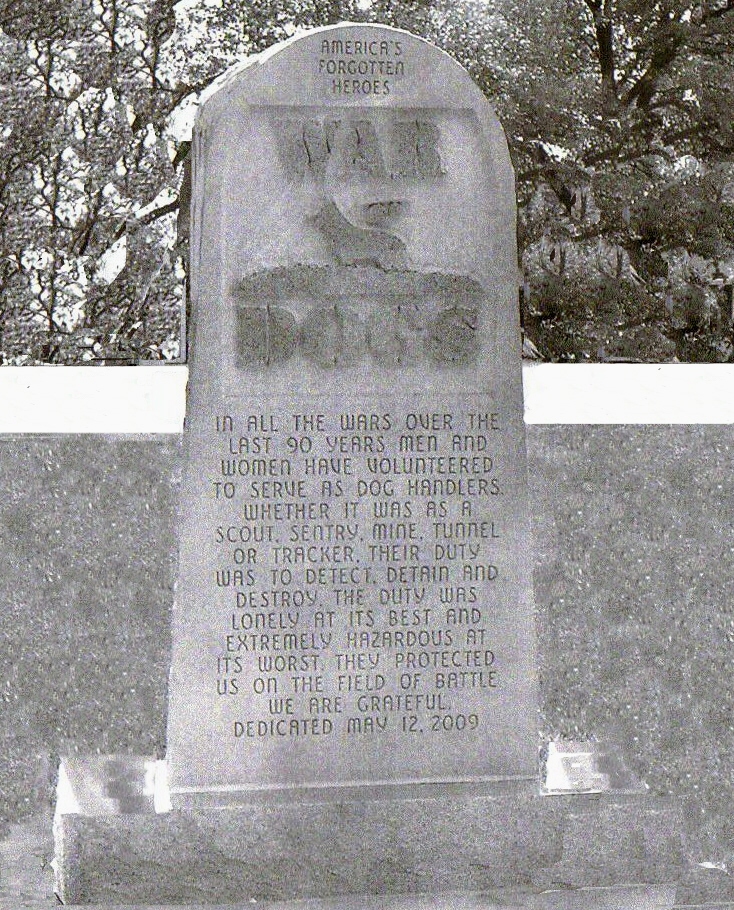 Miami Police K-9 Memorial
Located at the Law Enforcement Officers Memorial site in Tropical Park
Completed May 1, 2009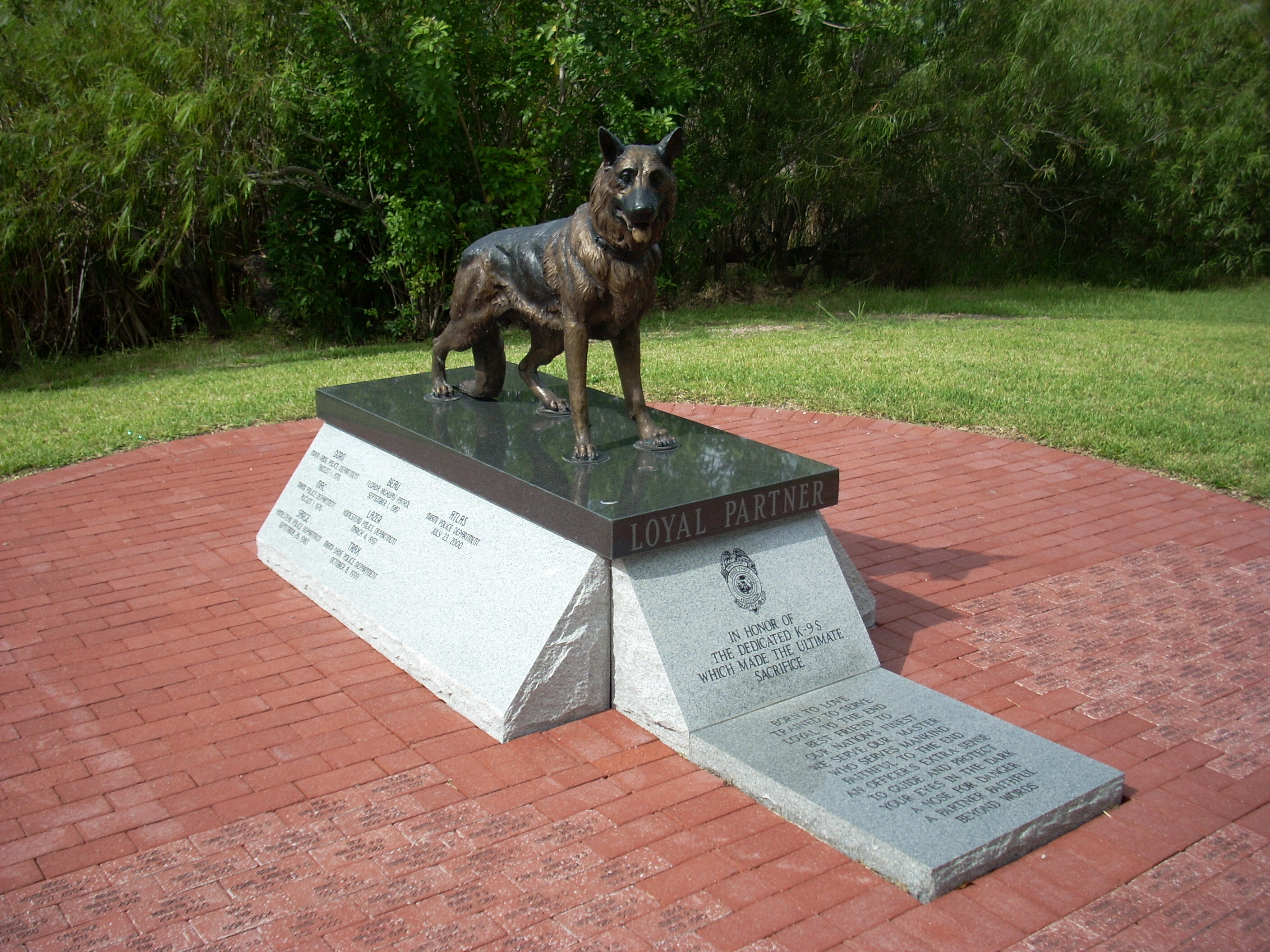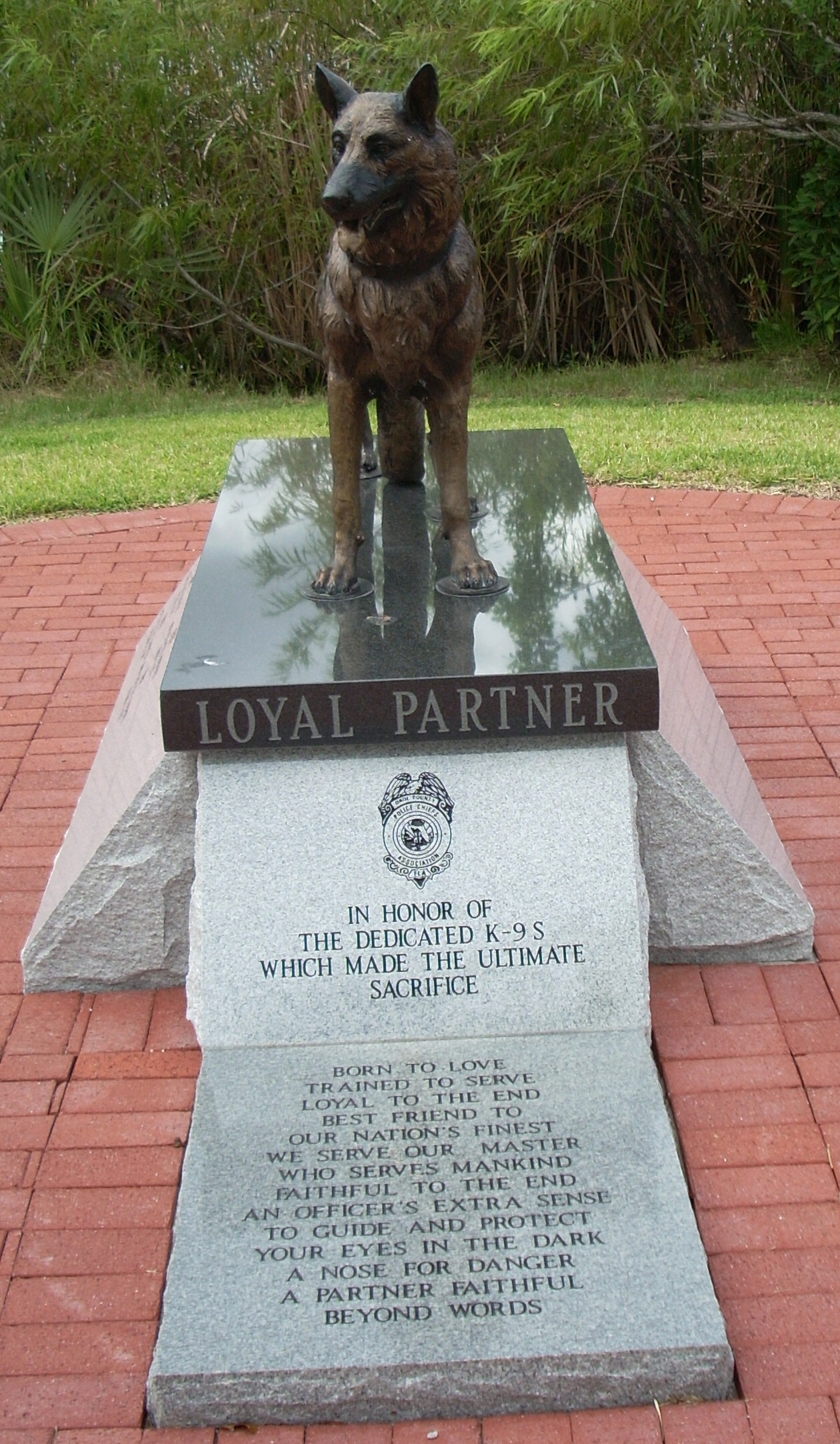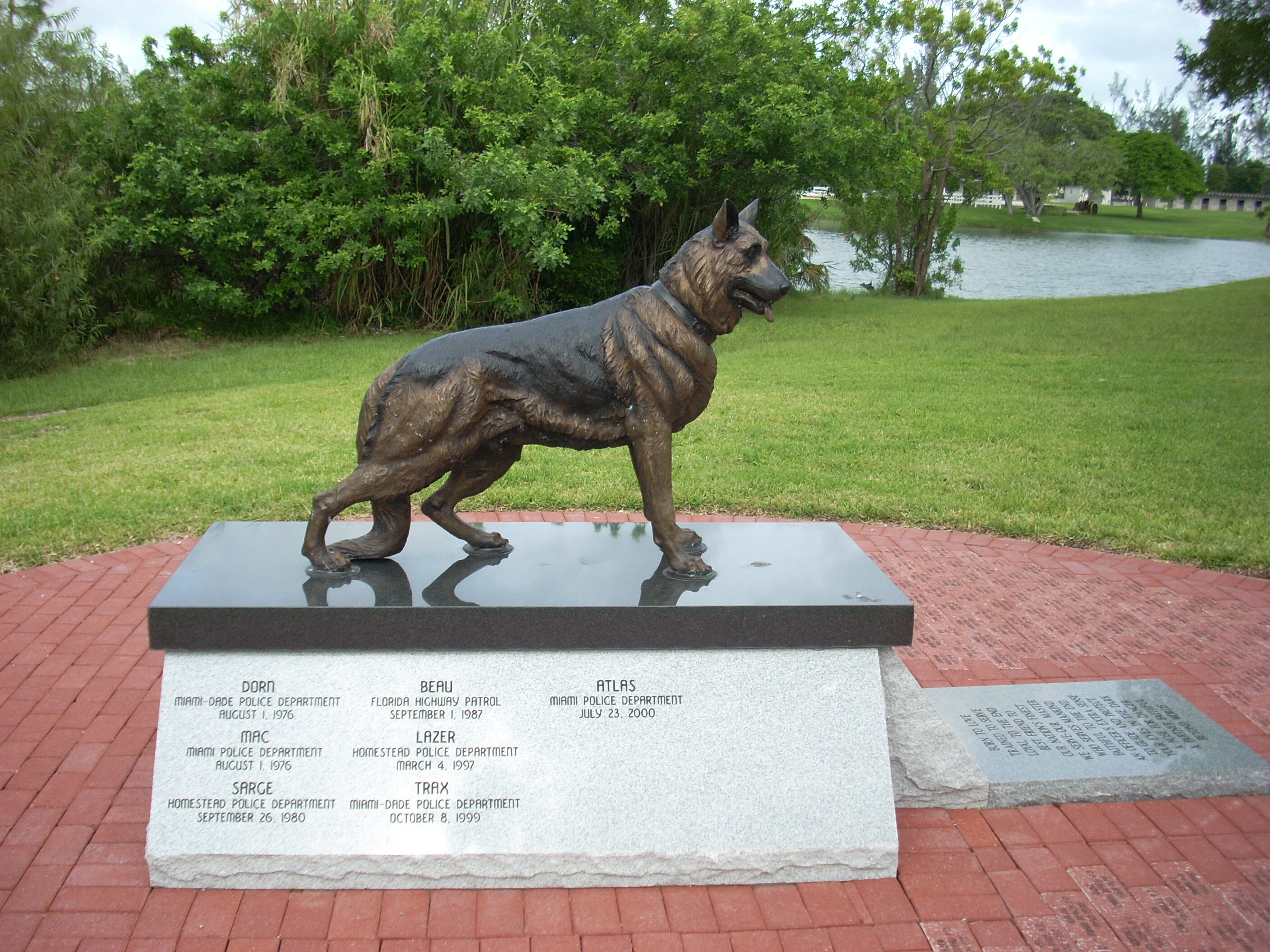 Largo Police Department K9 Memorial
Dedicated December 5, 2008
Located at Largo Central Park, Florida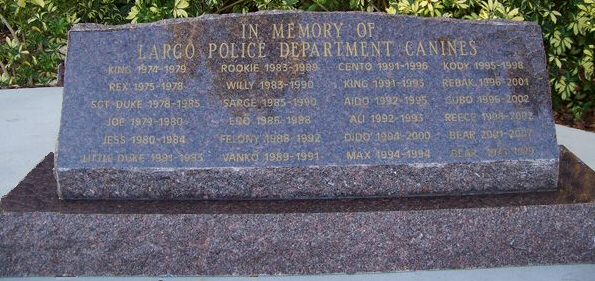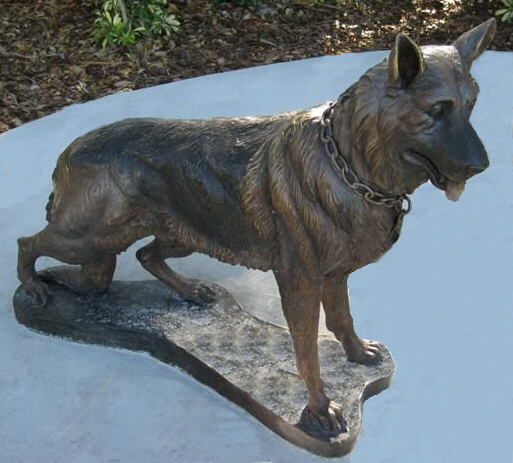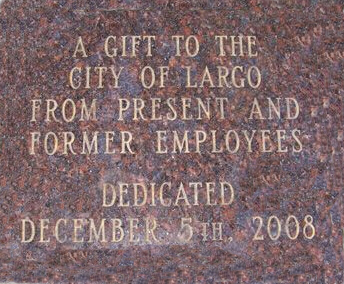 The memorial honors past and present Largo Police Department K9 handlers and their partners. The Police K9 Memorial Statue was bought by money donated by employees of the City of Largo.

K9 Dakota
Unveiled December 3, 2008
Sculptor Mark McLean
Vancouver Police Department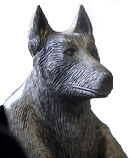 The sculpture honors the slain tracking dog, Dakota, who was shot and killed on Oct. 23, 2007, with a .357 Magnum revolver while tracking with his handler Officer Roger Evans to capture a suspect. The sculpture is carved out of a four-ton chunk of hard black basalt that was donated along with the loading and hauling to the studio that came from Columbia Gorge mine. The sculpture is located at the Vancouver Police Departments east precinct office in Cascade Park. The sculptor, a Milwaukee, Oregon artist and owner of Sculptural Stone Design, Mark McLean, donated the sculpture. Several individuals from rock companies and local businesses also generously donated time and materials for this project.

Alabama War Dogs Memorial
Dedicated November 11, 2008
USS Alabama Battleship Memorial Park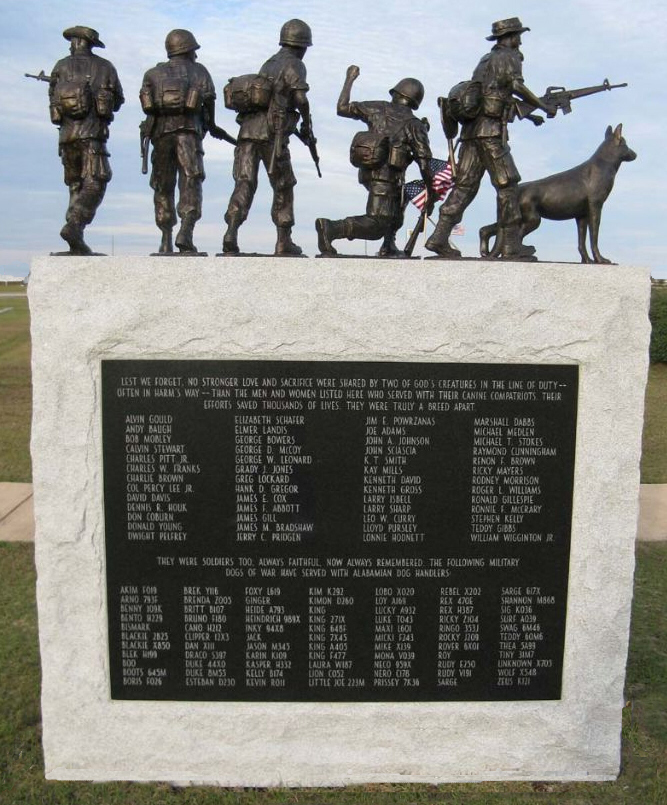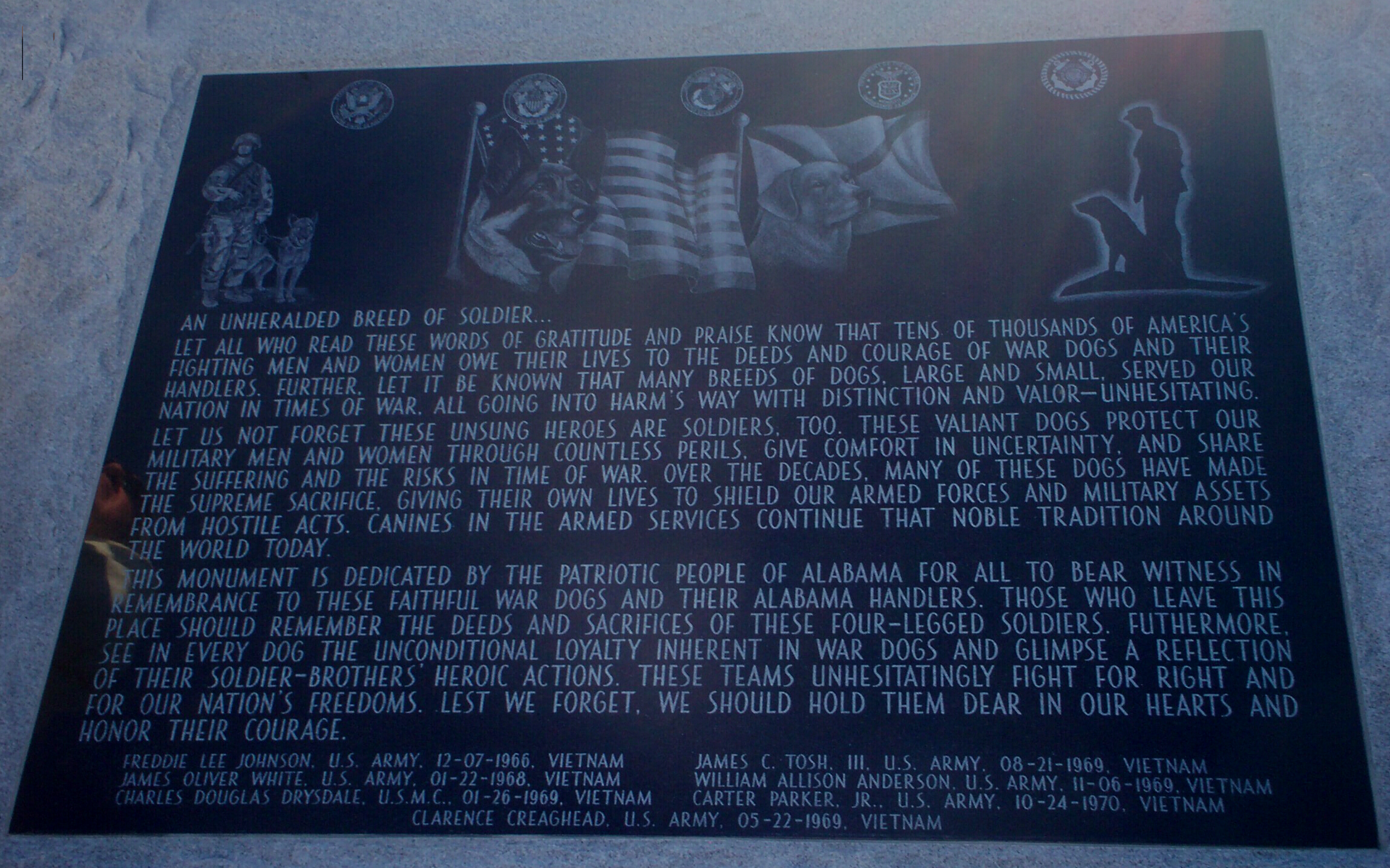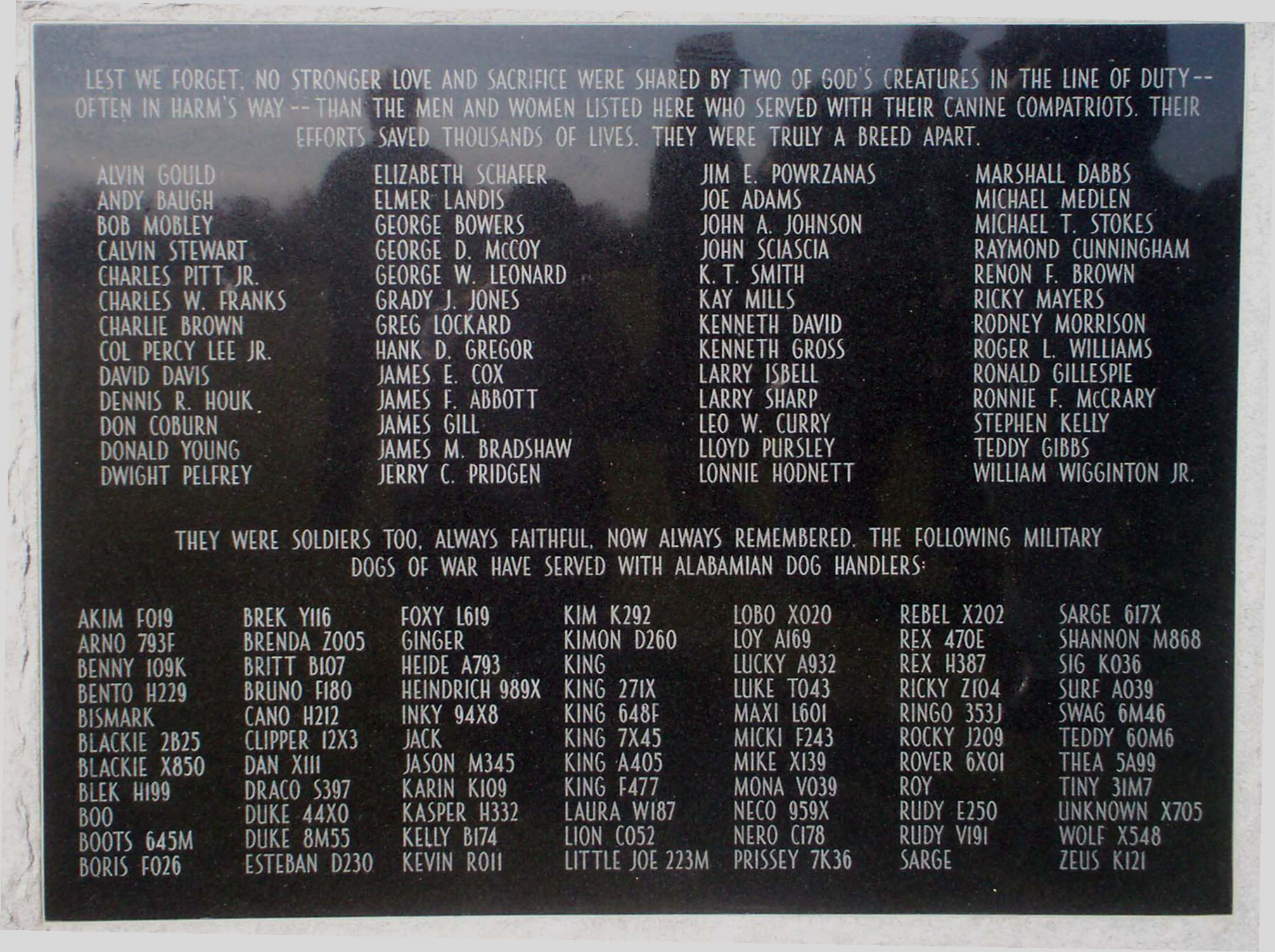 The four-ton granite slab supports statues depicting a war dog, his handler and other soldiers. The marble back side contains a listing of war dogs associated with handlers from Alabama. In front of the piece are boot prints made from an actual soldier's footwear, along with paw prints. The $58,000 memorial took six months to design.

Fort Benton War Dogs Memorial
Fort Benton, Montana
Dedicated November 11, 2008
Sculptors : Ron Saville & George Conklin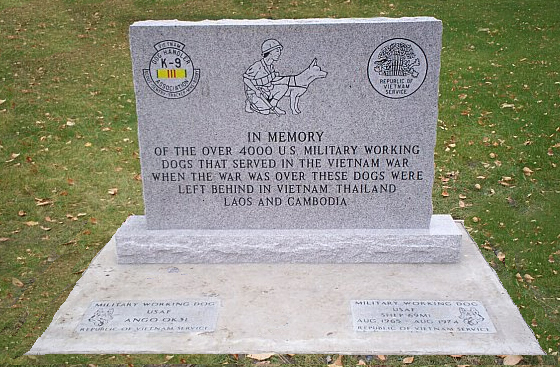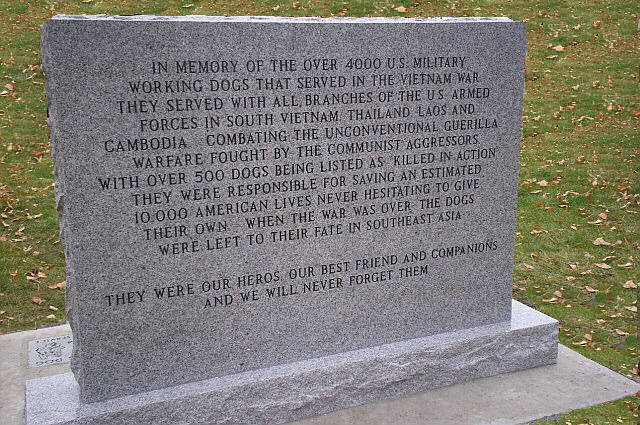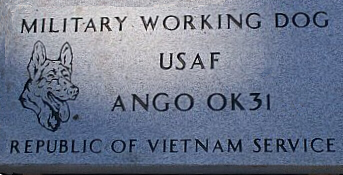 Utah Law Enforcement Memorial
Dedicated September 6, 2008
Sculptor - Lena Toritch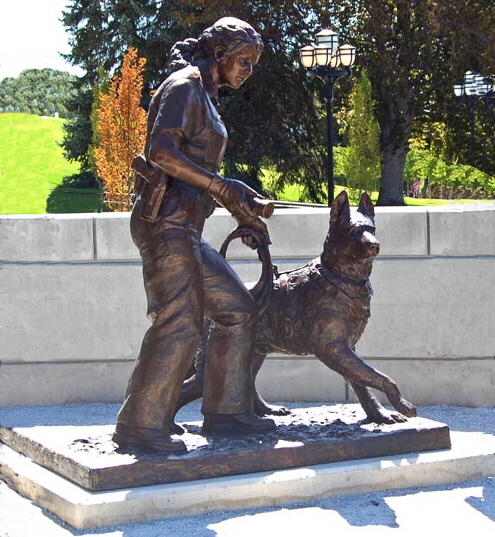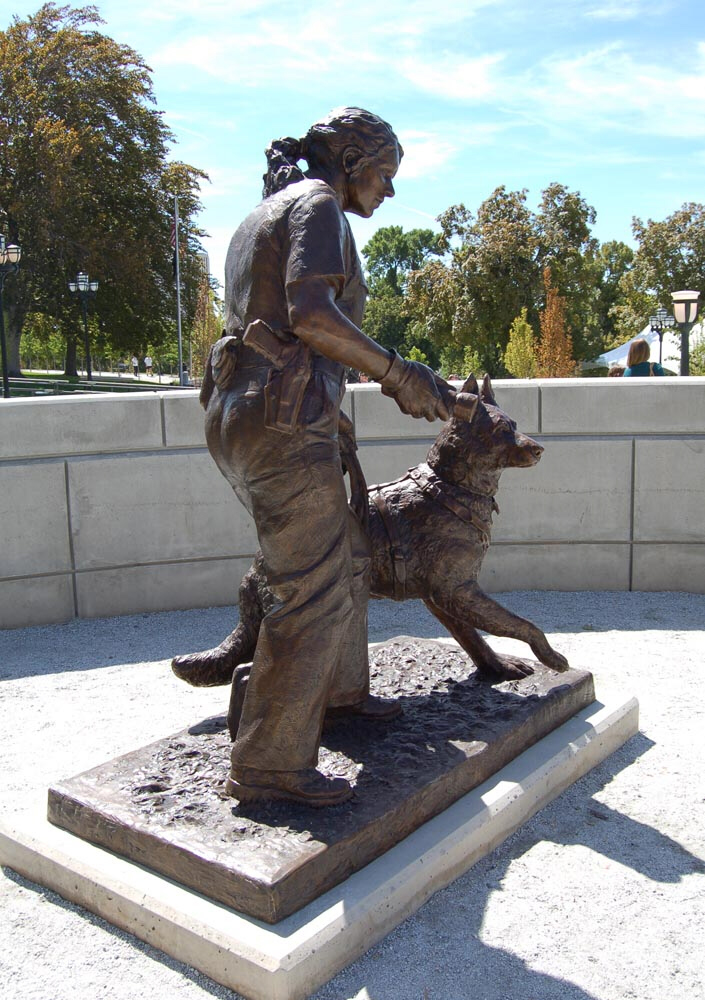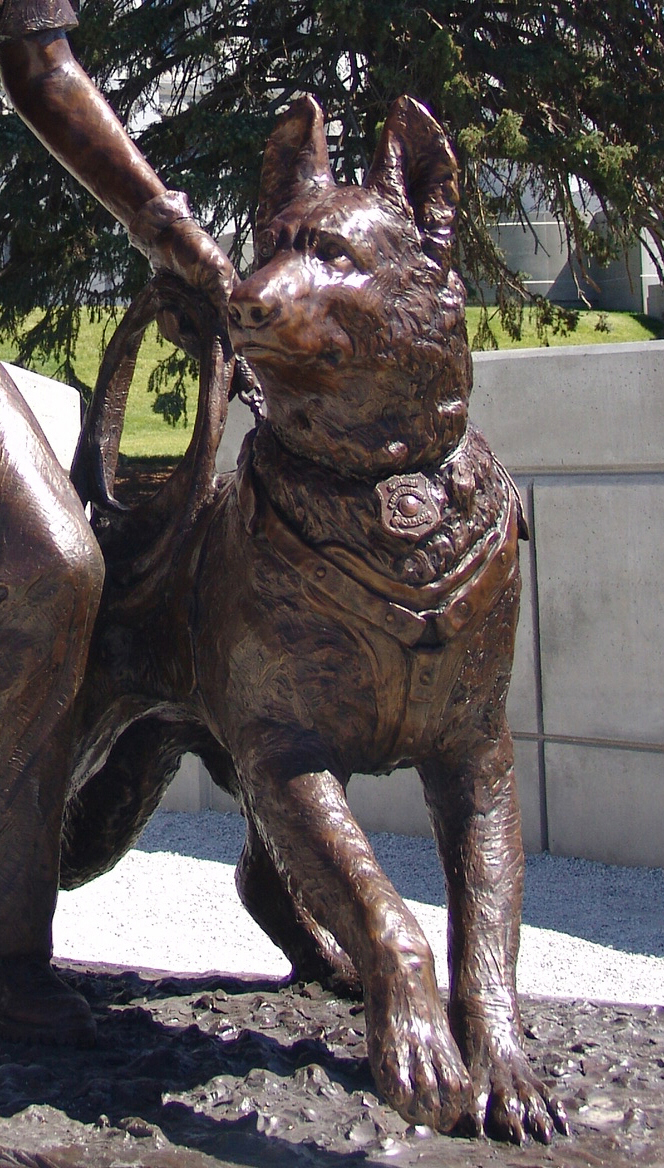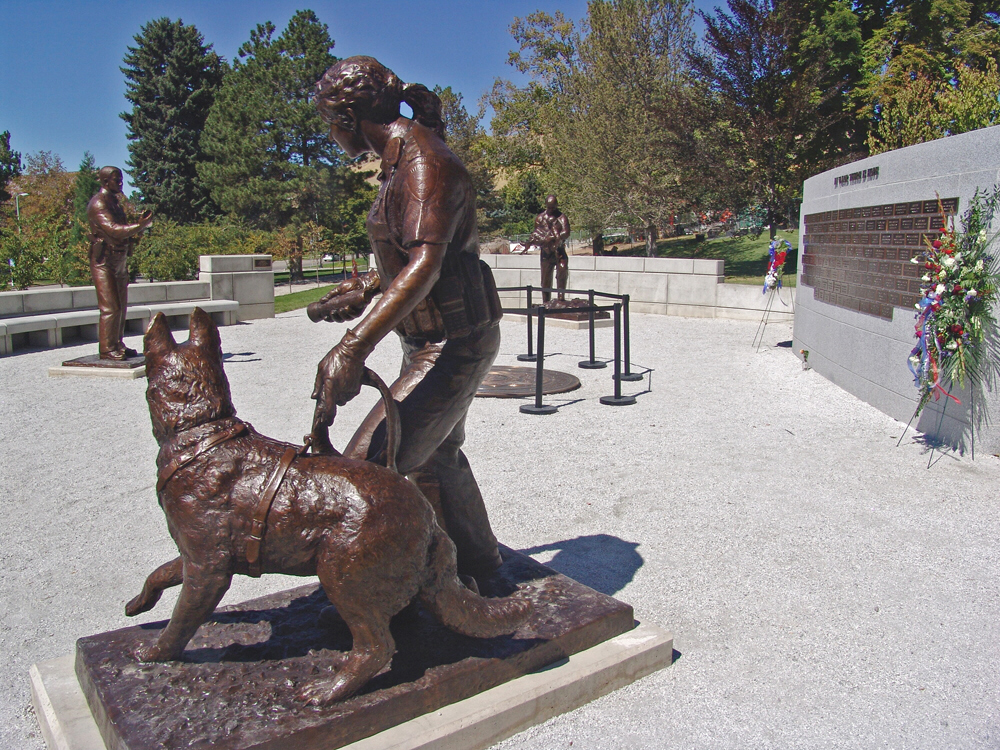 Bronze sculpture of a Utah Highway Patrol female K9 trooper.

Faithful Partners-Guardians of the Night
Dedicated August 1, 2008
Air Force Armament Museum
Eglin Air Force Base Ft Walton Beach, Florida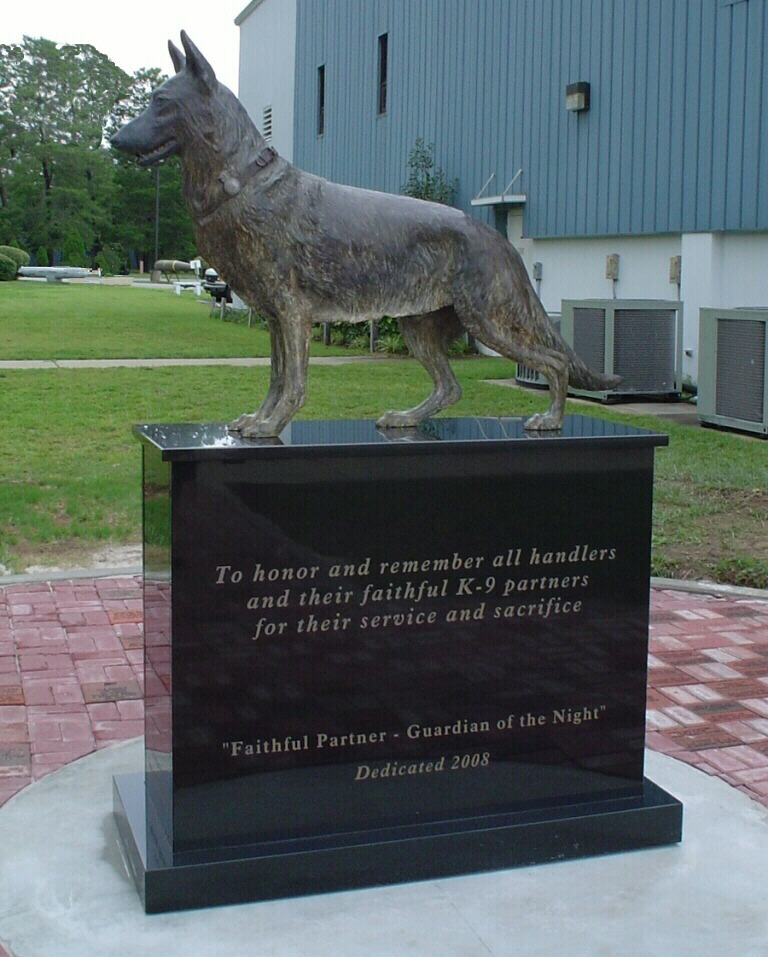 A life size bronze statue of a German Shepherd sits on a granite base and was created by Ms. Susan Bahary.

War Dog Memorial
Fishkill, New York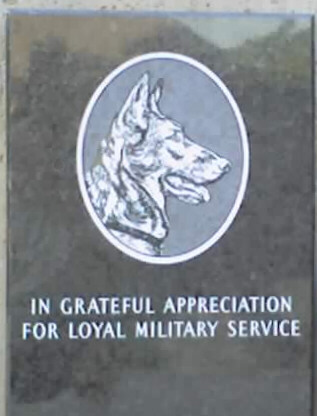 War Dog Monument
East Meadow, Long Island, New York
Eisenhower Park
Dedicated May 25, 2008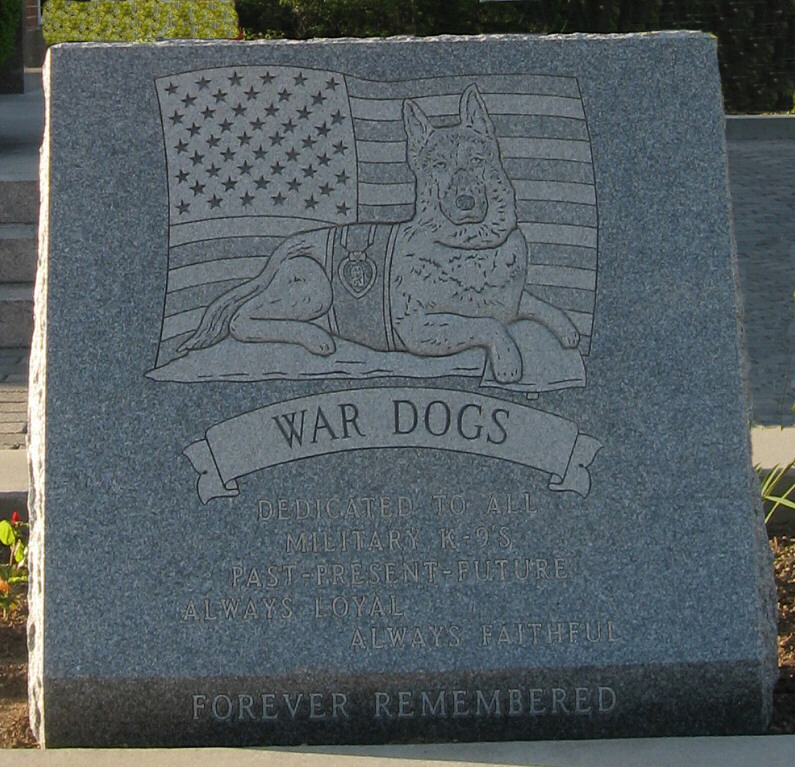 Fresno Police Department K9 Memorial
Fresno, California
Dedicated - November 2007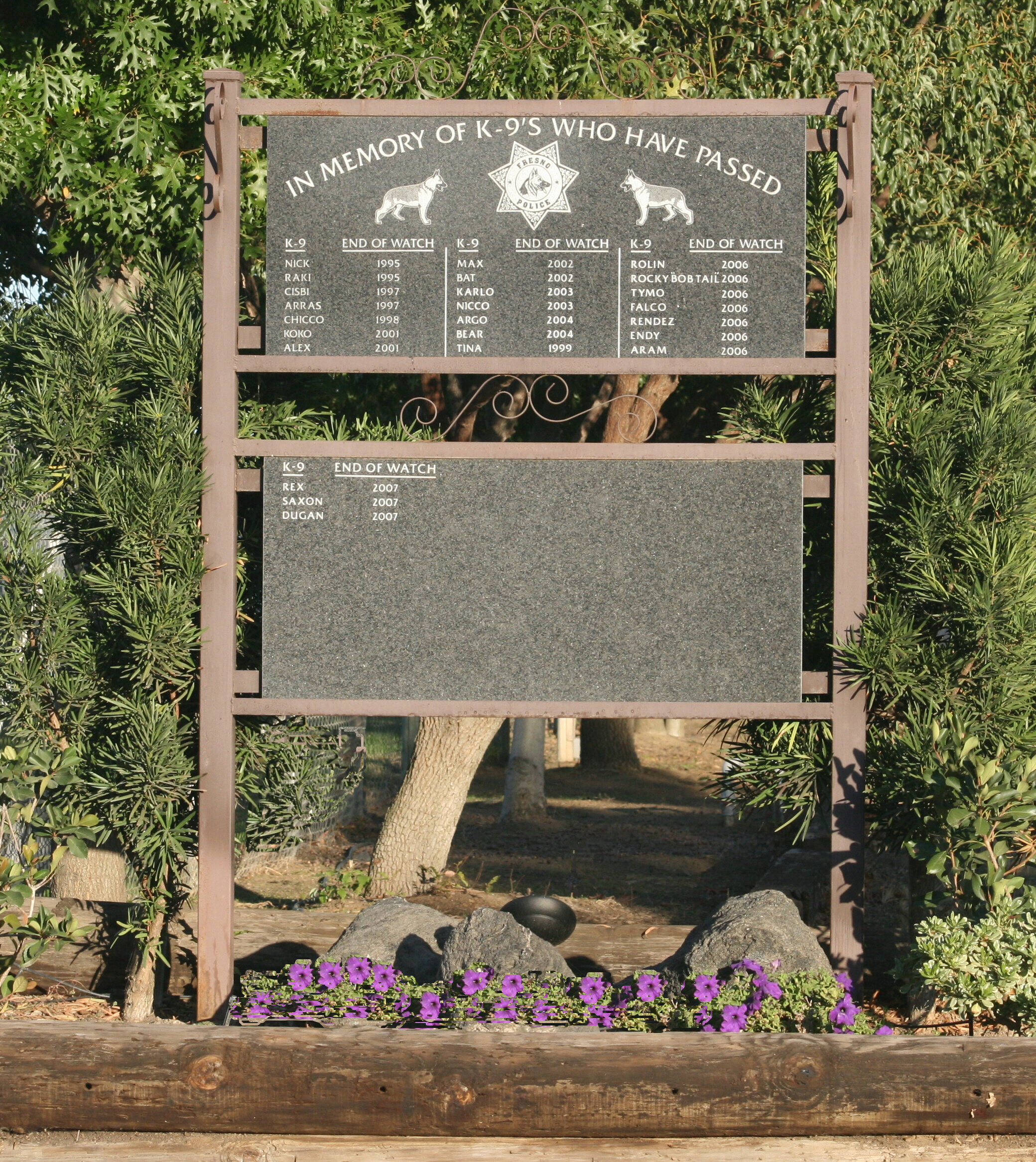 The memorial was made possible by donations from citizens of Fresno.

Hondo Dog Park
Location - 4499 NW 229TH Avenue, Hillsboro, Oregon
Opened September 17, 2007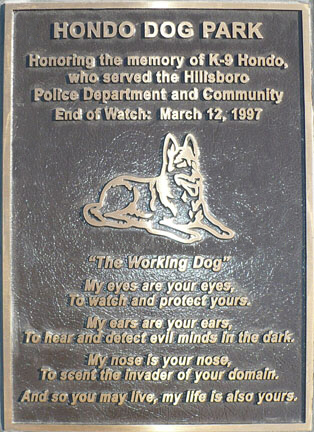 Hillsboro's first ever off-leash dog park, opened on September 17, 2007. The park is named in honor of Hillsboro Police K9 Dog Officer "Hondo," who was shot and killed in the line of duty. His ashes were spread over the city.

Police K9 Zeek
Westland, Michigan
Dedicated August 29, 2007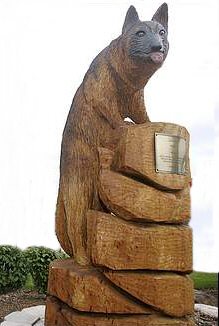 The wooden statue honors Westlands Police Dog Zeek who joined the force in 1996 and died of kidney failure in 2002. Dr. Sharon Lawrenchuk, the veterinarian at Westland Veterinary Hospital who cared for Zeek, donated and dedicated the statue on August 29, 2007. The dog's ashes were entombed at the base of the statue that will be kept in front of the hospital at 7610 N. Wayne in Westland, Michigan.

K9 Schafer Memorial
Dedicated August 18, 2007
Located on Vernon Township Front Lawn In Pennsylvania
Crawford County First K-9
Sculptor - Brian Sprague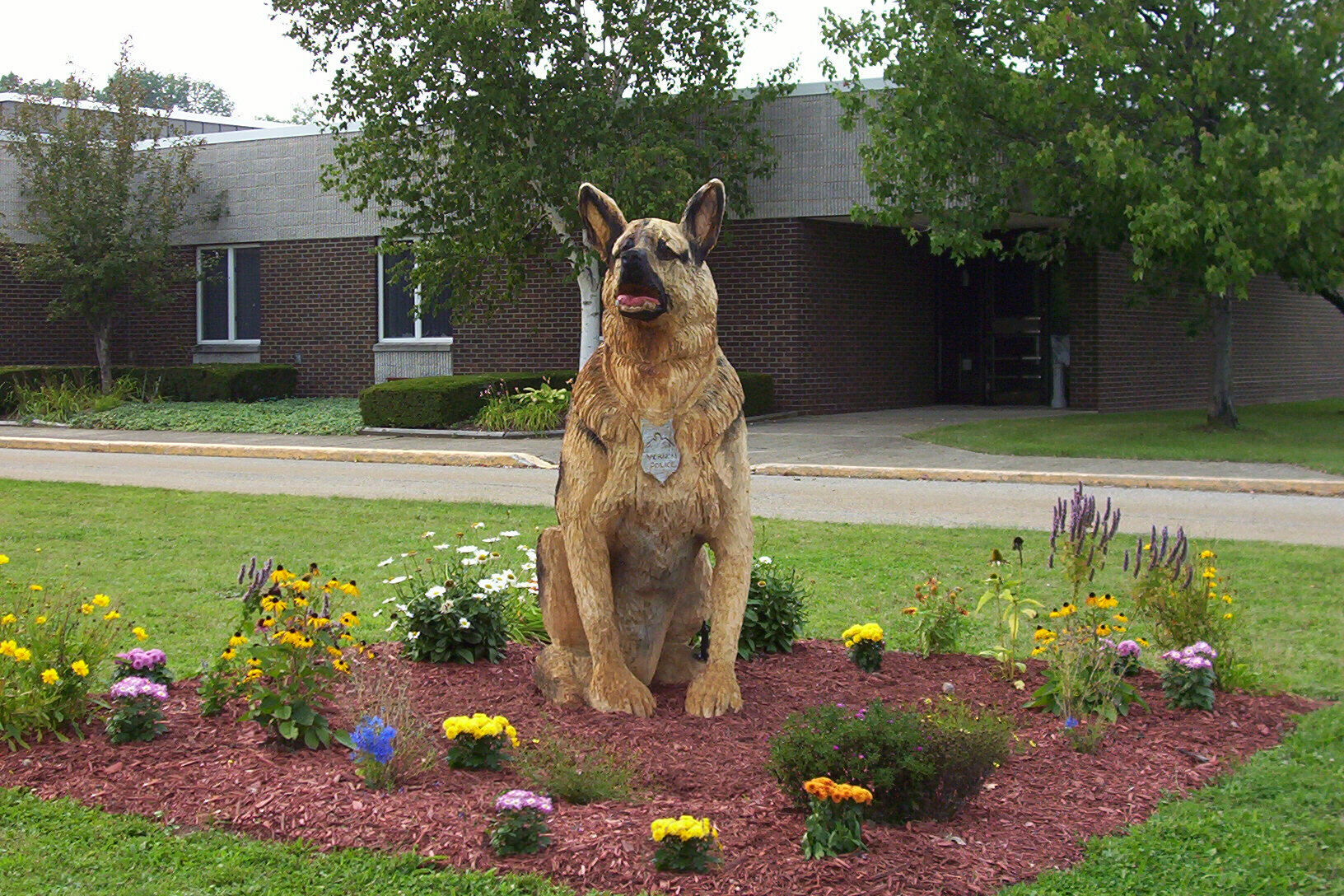 Canadian Police Service Dog National Monument
Innisfail, Canada
Unveiled June 20, 2007
Sculptor - Diane M. Anderson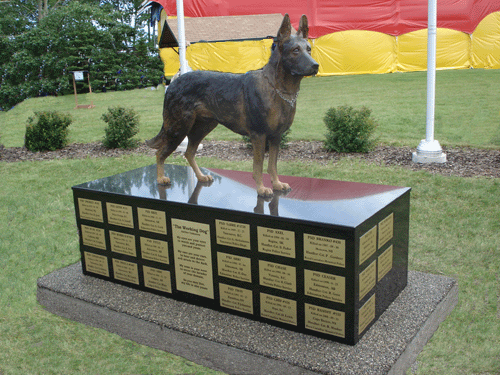 The monument is located on the grounds of the Police Dog Service Training Center. The the life-size bronze German shepherd statue was crafted by renowned sculptor, Diane M. Anderson of Alberta. The base of the statue was created by Dave Jardine of Lacombe and carries the names of 32 dogs who died in the line of duty while protecting others since 1965. The concept of having a National Monument to honor fallen service dogs in Canada was created by Constable Doug Marianchuk who has worked on implementing his idea since 1992. He was also instrumental in raising over $30,000 to help complete the monument. Doug Marianchuk is a retired K9 handler from the Saskatoon Police Service, member of the Canadian Pacific Railway Police and also President of the Canadian Police Dog National Service Memorial Society. The Caesar Memorial Trust Fund itself was created by Sgt. Randy Goss and was donated to fund this national monument.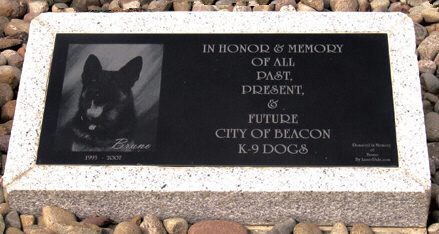 Bruno served with the Beacon Police Department in New York for ten years and retired in 2003. The 13-year-old German shepherd had degenerative myelopathy and died June 1, 2007. His handler was Detective Mark Thomas.

Deputy Matt Williams & K9 DiOGi Memorial
Polk City, Florida
Unveiled April 27, 2007
Cost of monument was $1,650 which was paid for by donations.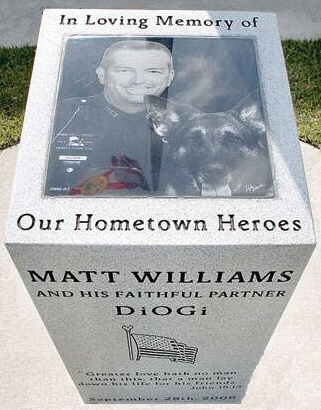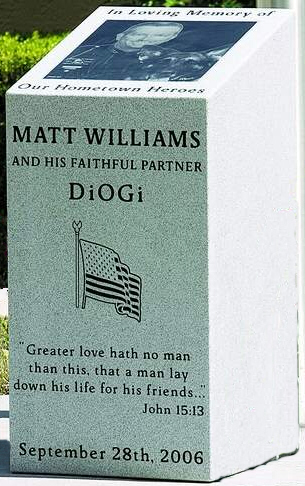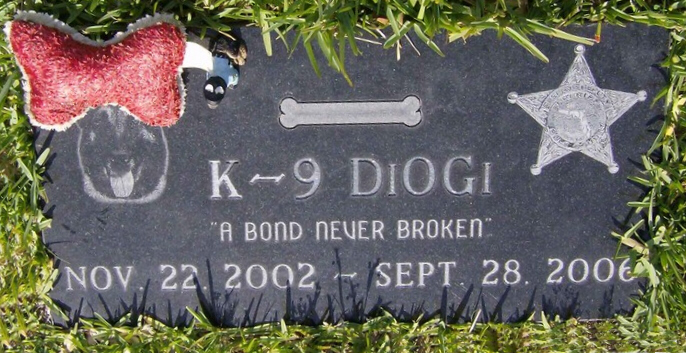 Deputy Matt Williams and K9 DiOGi Memorial is located on a walkway of to Polk City Elementary School in Florida . It is the same pathway Williams, his wife and their children walked when they all attended the school. The monument has the words "In loving memory of our hometown heroes" surrounding the picture on the top with Williams' name and the words "his faithful partner DiOGi" and the date they died, Sept. 28, 2006. On the front, a quote from the Bible: "Greater love hath no man than this that a man lay down his life for his friends." The monument was made possible with donations from the school's annual cake auction. A cake that had a picture of Williams and DiOGi on it was sold for a total of $6,900. Lannis Wilson, the school's math facilitator, designed the monument.

Memorial to War Dogs and Their Handlers
Installed April of 2007
Utah Veterans Memorial Park
Sculptor - Mark Davenport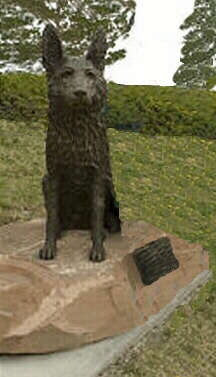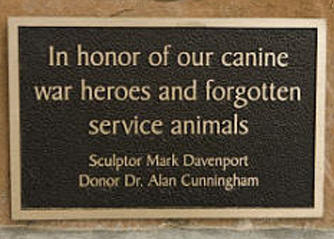 Dr. Alan Cunningham decided to erect this bronze memorial to war dogs and their handlers
which is the first to be placed in a veteran's cemetery.

Sgt. Adam Cann Plaque
Dedicated November 15, 2006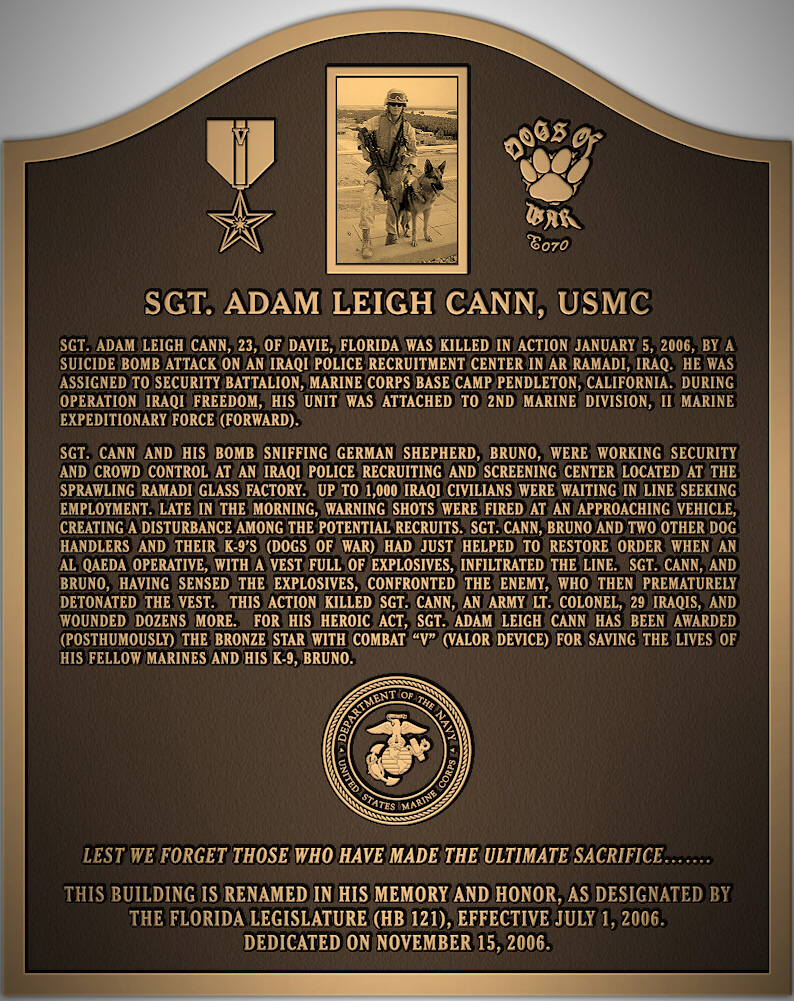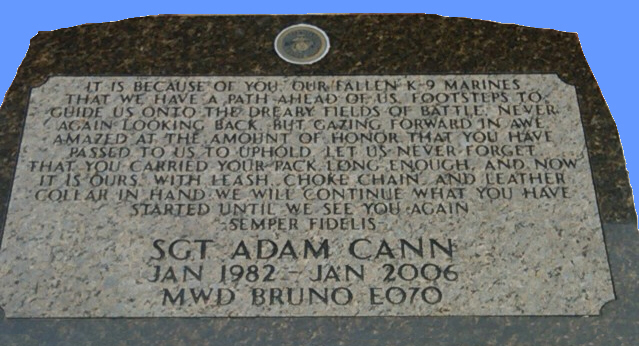 War Dog Pal
Unveiled November, 2006
Located at

York County Rail Trail Heritage Park at King Street, York Pennsylvania.
Sculptor -
Lorann Jacobs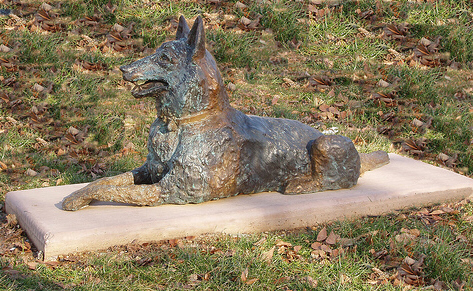 K9 Pal was a Marine dog that served in World War II with Arthur Glatfelter. K9 Pal was one of 72 dogs that put their life on the line in the 3rd Marine Dog Platoon. K9 Pal went out on 550 patrols. He survived the war and honorably discharged in 1946 with the rank of Sergeant and lived with Glatfelter for about five years and then passed away. The monument is 5 1/2 feet long and 2 1/2 feet high weighing 300 pounds and cost $10,000.

Union County K-9 Memorial
Summit, New Jersey
Unveiled September 30, 2006
Cost of monument was $15,000 which was paid for by donations.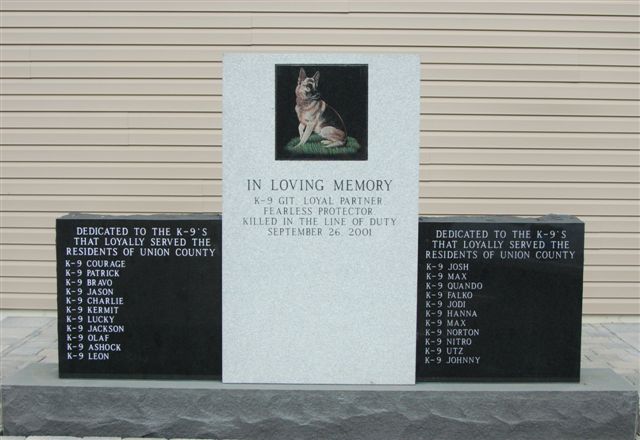 Pennsylvania War Dog Memorial
Bristol, Pennsylvania
Dedicated on September 16, 2006
Sculptor - Joseph Pavone
The Pennsylvania War Dog Memorial is located in front of the Bristol Township Municipal Building in Bristol, PA. and was sculpted by Joe Pavone, a local artist. Behind the sculpture are three plaques that list the U.S. military conflicts in which war dogs served, branches of service, and types of military working dogs.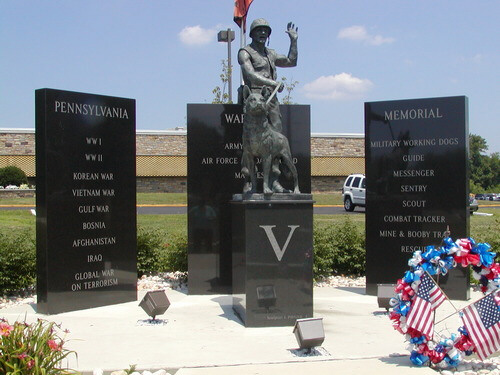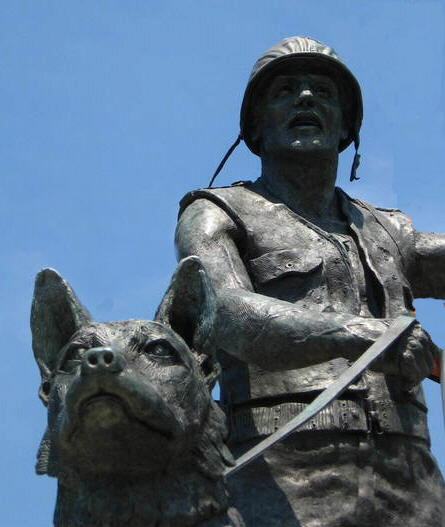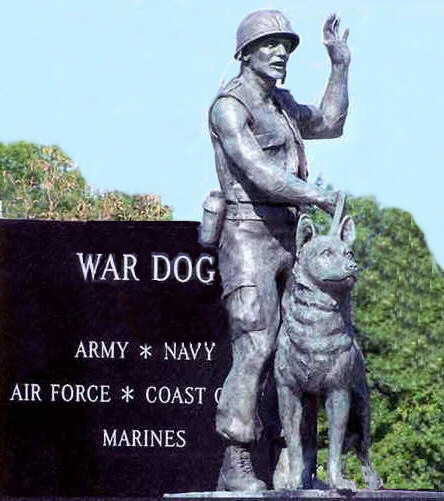 Cobb County Police Department Canine Memorial, Georgia
The memorial, which cost about $2,200, was paid for with donations. It is located in the
interior courtyard of the Cobb police headquarters building on North Marietta Parkway
Dedicated July 2006

United States War Dog Memorial
Holmdel, NJ
Unveiled June 10, 2006
Sculptor - Bruce Lindsay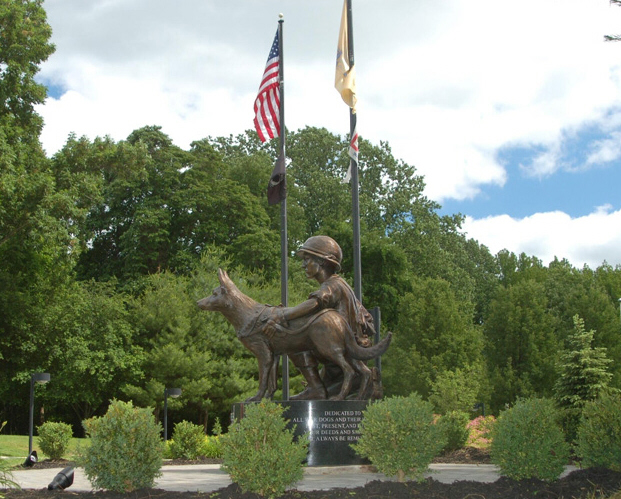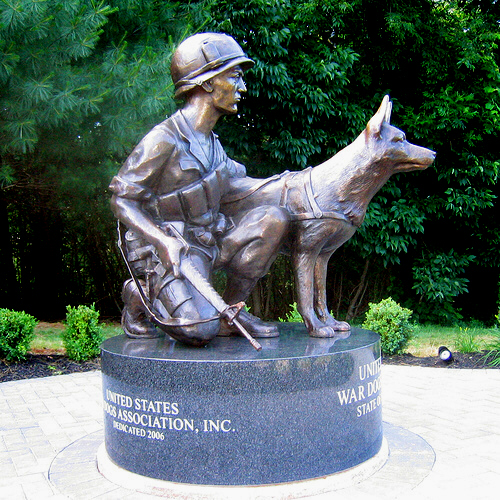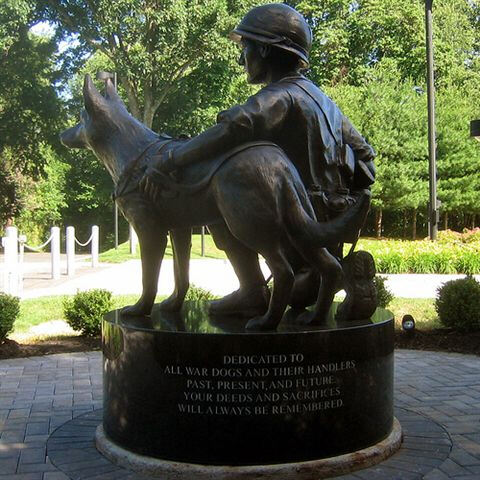 The United States War Dog Memorial was unveiled on the grounds of the New Jersey Vietnam Veterans Memorial in Holmdel on June 10, 2006. The life-size bronze statue was created by Bruce Lindsay which cost $100,000 and depicts a soldier in Army fatigues kneeling besides his German Shepherd. The effort for the sculpture was nearly seven years in the making and was led by the nonprofit U.S. War Dogs Association. The sculpture recognizes the role of dogs in American warfare and honors dogs in Vietnam, World War II, Korea and all the skirmishes in between.

Arizona Police K-9 Memorial
Dedicated April 7, 2006
Sculpter - Jeff Davenport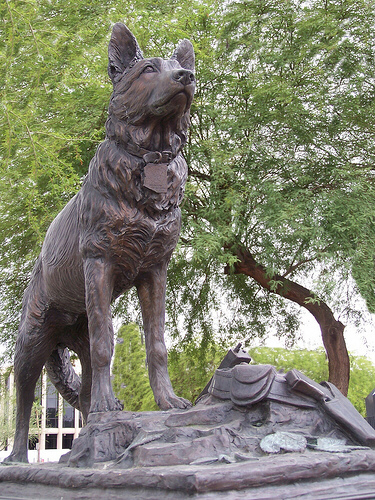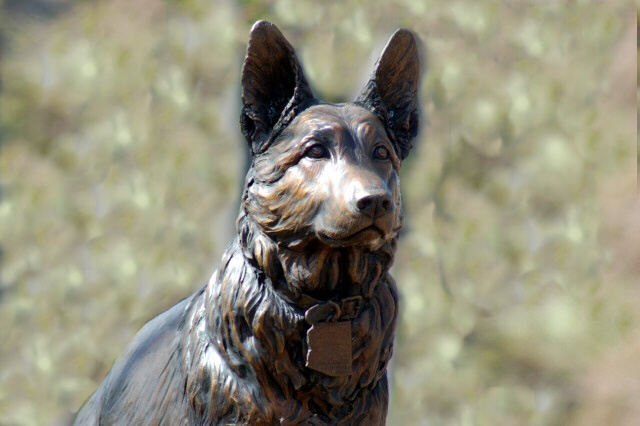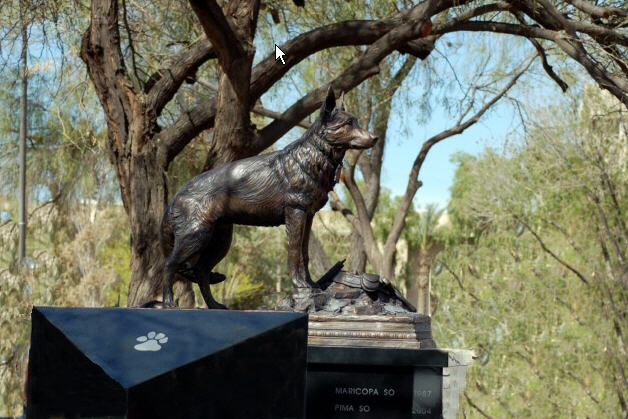 The Arizona Police K-9 Memorial was unveiled and dedicated on April 7, 2006. The memorial is located at Wesley Bolin Plaza and was designed by Pat Rehse of Architecture Resource Team, The bronze monument is a life-size German shepherd mounted on a granite bolder with a police gun belt, handcuffs and a radio at its feet. Sculptor Jeff Davenport, a Chandler artist, created the 4-foot-tall bronze statue. Names of the canines are listed who have given the ultimate sacrifice in the line of duty and have died in service, along with the poem Guardians of the Night.

K-9 Memorial
Unveiling - 2006
Location - Concord Police Department, California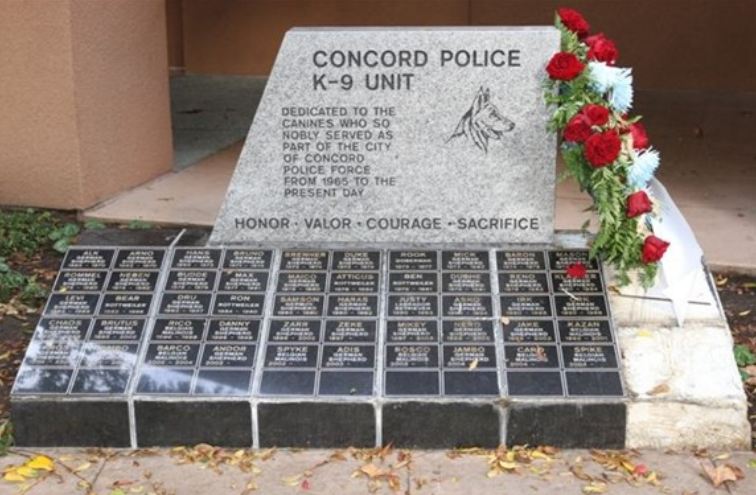 Boy Scout Andy Farrell helped achieve his goal of Eagle Scout by developing the K9 Memorial wall, dedicated to the past and current working Police K9s of the City of Concord, California. The memorial wall was built in the front lot of the Concord Police Headquarters. The cost of this project was approximately $5000, which was paid for by donations from the Canine Association, the Concord Police Officers Association, and private citizens and businesses. Specialized engraving work was completed by Serenity Headstones in Pittsburg. The memorial was dedicated by city officials in the Summer of 2006.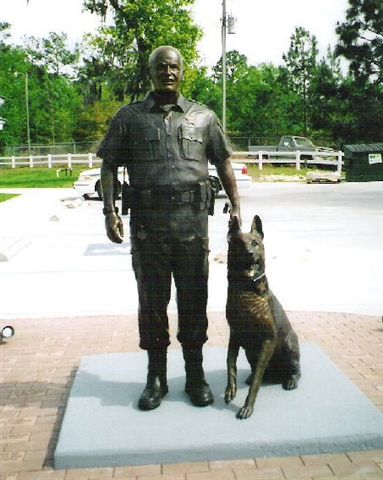 Ocala, Florida
A monument was errected at Marion County Sheriff's Office in memory of Deputy Brian Litz and is located at the South West District Office "Deputy Brian Litz Building", S.R. 200 Ocala, Florida. Brian Litz was shot and killed on February 7, 2004 at approximately 1300 hours while making a routine well being check on a 74 year old elderly man. The statue was unveiled and dedicated on January 13th 2006 and is located within a mile of the shooting incident. The monument was primarly paid for by private donations. The Artist : Professional sculpture and native Floridian is W. Stanley "Sandy" Proctor.
" Nemo's War Dog Heroes " Memorial
Lackland Air Force Base, Texas
Dedicated on November 15, 2005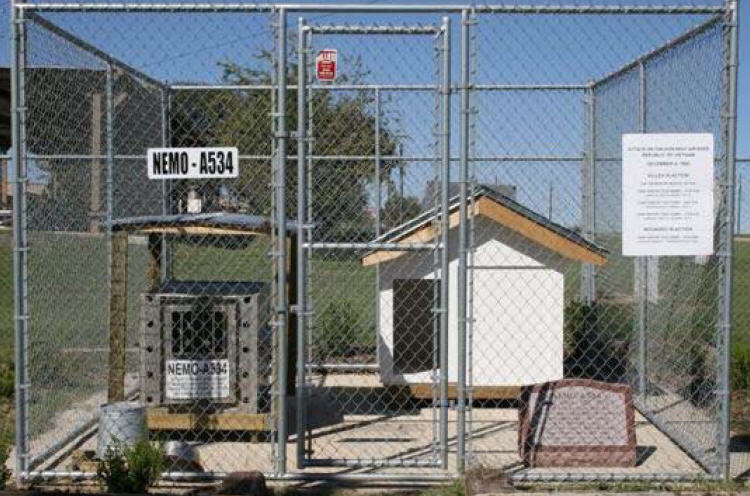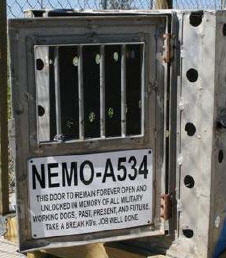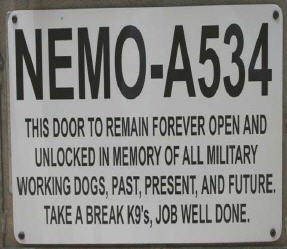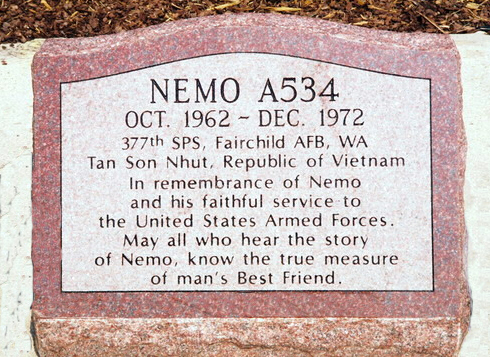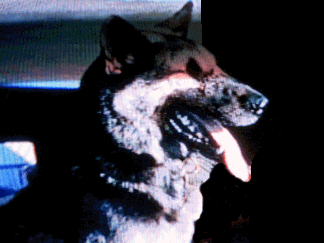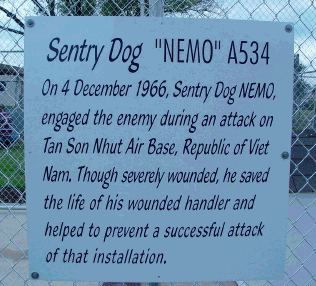 Nemo was obtained by the Air Force in the summer of '64 when he was 1 1/2 years old. In January 1966, Nemos first handler, Airman Leonard Bryant Jr., were transferred to the Republic of South Vietnam and was assigned to the 377th Security Police Squadron, stationed at Tan Son Nhut Air Base. Six month later, in July, Nemo's original handler rotated back to the United States. The dog was then teamed up with 22 year old Airman 2nd Class Robert Thorneburg. Just before total darkness on December 4th, 1966 after Sentry Nemo and his handler Thorneburg were posted, Nemo alerted and was released to attack the VC who had evaded earlier detection. Nemo and his handler were both wounded, but not before killing two VC. Nemo's injuries included the loss of one eye and a gunshot wound that ripped into his nose and had exited his mouth. Nemo, an 85 pound German shepherd, although severely wounded, protected his handler who had been shot in the shoulder by crawling across his body, and guarding him against anyone who dared to come near. When help arrived, they were able to convince Nemo to leave his handler, who was then given first aid. Nemo, suffering from a gunshot wound to his face, and the lost of his right eye, was relieved of sentry dog duties. The base veterinarian performed skin grafts on Nemo's torn up face. He did a tracheotomy to help the dog breathe. And he had to remove the dog's right eye, which was hanging uselessly out of its socket. Nemo has been credited with saving his handler's life and preventing further destruction of life and property at Tan Son Nhut Air Base. On 23 June 1967, Headquarters, USAF, directed that Nemo be returned to the United States as the first sentry dog officially retired from active service. The C-124 Globemaster, carrying TSN hero Nemo, touched down at Kelly Air Force Base, Texas, on July 22, 1967. Nemo was now home! His permanent retirement kennel was located at the Department of Defense Dog Center, Lackland AFB, Texas. Sentry Dog Nemo was one of the few Military Working Dogs that returned home. Nemo spent his retirement years at the Department of Defense Dog Center, Lackland AFB, Texas. He was assigned a permanent kennel near the veterinary facility. A sign with his name, serial number, and details of his heroic exploits designated his freshly painted home. Nemo was frequently taken on tours throughout the United States to assist in the procurement of military working dogs. The military used Nemo as a Department of Defense canine recruiter. He made several television appearances and helped maintain an adequate supply of working dogs for all the armed services. Sentry Dog Nemo died in December of 1972 at Lackland AFB shortly before the Christmas holiday. The Vietnam War Hero was laid to rest on March 15, 1973 at the DoD Dog Center at the age of 10. The government recruited over 4,000 dogs and we believe that less that 200 made it home. It was estimated that these dogs saved the lives of over 10,000 American soldiers. On November 15th, 2005, a dedication was made to honor Nemo at Lackland, Air Force Base named Nemos War Dog Heroes Memorial. The legacy will continue to honor all of canine heroes, past, present and future. Till this day, Nemo, is most most famous canine to serve in the military.

Dog Soldiers In Vietnam Memorial
Location - Rock Quarry Park, Durham, North Carolina
Dedicated on November 11, 2005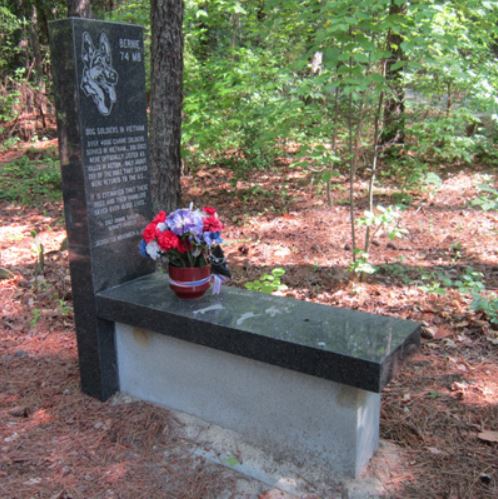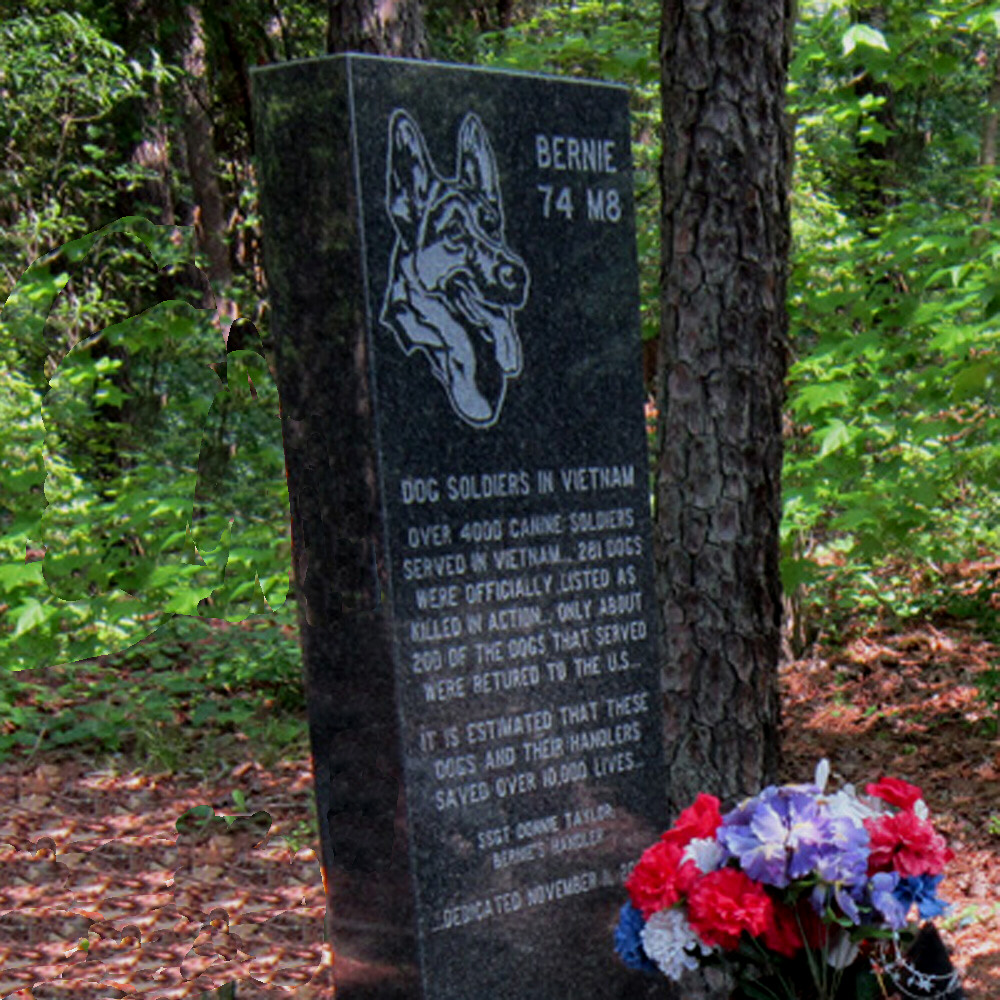 The memorial is an L-shaped bench made of polished dark granite resting atop a base of light granite. Although the marker is meant to honor all dog soldiers that served in Vietnam, this marker memorializes a specific dog named Bernie. Both the bench and back of the marker contain carved images of Bernie, a German Shepard. The back contains an inscription honoring dogs that served and were killed in Vietnam.
Inscription - Back: BERNIE / 74 M8 / DOG SOLDIERS IN VIETNAM / OVER 4000 CANINE SOLDIERS / SERVED IN VIETNAM… 281 DOGS / WERE OFFICIALLY LISTED AS / KILLED IN ACTION… ONLY ABOUT / 200 OF THE DOGS THAT SERVED / WERE RETURNED TO THE U.S…. / IT IS ESTIMATED THAT THESE / DOGS AND THEIR HANDLERS / SAVED OVER 10,000 LIVES… / SSGT DONNIE TAYLOR, / BERNIE'S HANDLER / DEDICATED NOVEMBER 11, 2005

Smoky
"
Smoky
, the Yorkie Doodle Dandy, and Dogs of All Wars."
Dedicated November 11, 2005
Sculptor - Susan Bahary
Cleveland, Ohio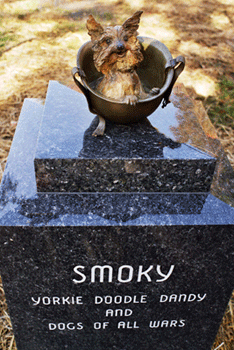 The bronze life-size sculpture of Smoky sitting in a GI helmet, on a blue, two-ton granite base, was dedicated to "Smoky, the Yorkie Doodle Dandy, and Dogs of All Wars." The most famous dog of WWII, Smoky was a four-pound Yorkshire terrier. Nearby, a colorful information plaque listed other famous war dogs, Stubby, Nemo, Caesar and Chips, as well as Smoky. Smoky, who was found in an abandoned foxhole in the jungles of New Guinea, came to be owned and trained by William A. Wynne, a photo specialist in the Army Air Corps. Wynne trained Smoky to do several hundred tricks, took her to visit wounded and sick troops in hospitals and carried her along on 12 air rescue missions. Smoky joined the ranks of "war dog hero" when she pulled a line through a 70-foot culvert, enabling vital communications lines to be run under newly captured air taxiways, thus saving the many war planes stationed there from exposure to enemy fire and near-certain destruction. After the war, Smoky continued to entertain troops and civilians alike. Smoky died in 1957 at 14. In 1996, Wynne wrote Yorkie Doodle Dandy, a Memoir, which continues to be a popular seller today. The War Dog memorial fulfills Wynne's decades-long dream and immortalizes a very special little dog, who was not only a famous "war dog" but also the "first therapy dog of record," according to researchers at TV's Animal Planet. Smoky is now laid to rest under the monument in a WWII 30 cal. ammo box. Susan Bahary of California was commissioned to create the beautiful sculpture of Smoky. The memorial was made possible by many donations.

War Dog Memorial
Long Island, New York
Dedicated on October 21, 2005
Sculptor - Doug Roper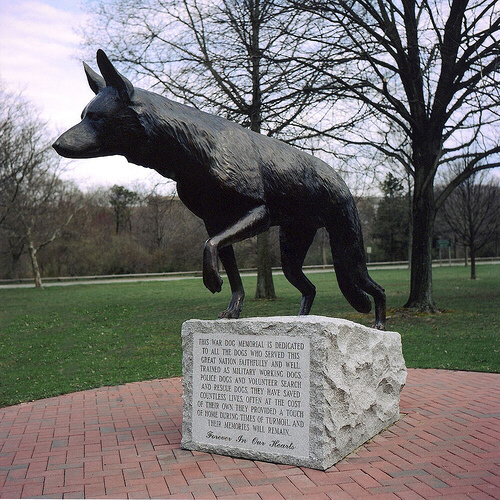 This War Dog Memorial reads; This War Dog Memorial is dedicated to all dogs who served this great nation faithfully and well trained as military working dogs, police dogs and volunteer search and rescue dogs. They have saved countless lives often at the cost of their own. They provided a touch of home during times of turmoil and their memories will remain. Forever In Our Hearts.
War Dog Memorial sculpture was dedicated on 10/21/05 on Long Island, New York and sculptured by Doug Roper. The bronze monument is two times larger than life. The monument serves to remember and is dedicated to K9 heroes and honor them for their life saving work who often gave their lives to save humans throughout our nations history in war time, search & rescue K-9s and their handlers that were used in the tragic events of 9/11 and also our nations natural disasters.

Cheltenham Township Police Department K9 Memorial
Cheltenham Township , Pennsylvania
Dedicated October 15, 2005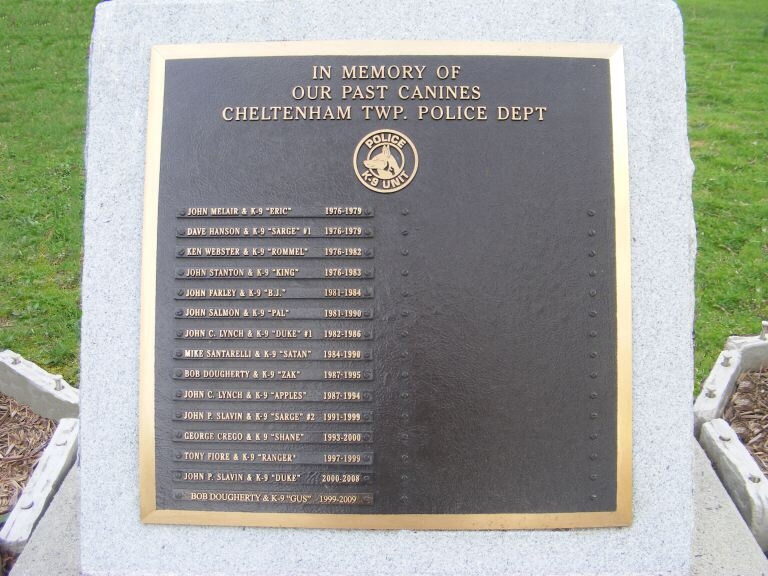 PC Ged Walker Memorial
Unveiled September 27, 2005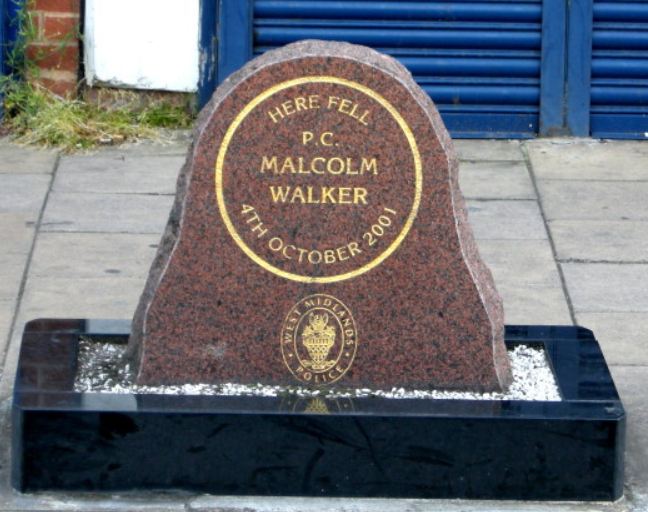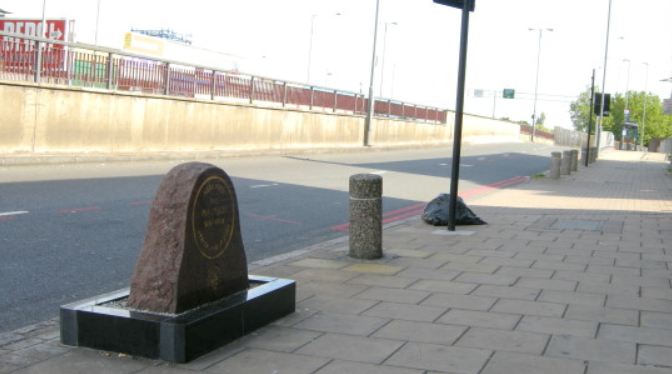 Dog handler PC Ged Walker, 42, was killed on January 9, 2003 when a a former drug addicted to heroin and cocaine and habitual criminal forced his way into a lady's home. When PC Walker arrived on scene the man ran out of the house and forced a taxi cab driver from the drivers seat. PC Walker along with his K9 Kai tried to stop the criminal from driving off in the cab. by attempting to grab the keys from the ignition. Both PC Walker and K9 Kai were dragged by the vehicle resulting in the death of PC Walker 2 days later in the hospital. His K9 partner "Kai" survived.

9/11 Memorial Garden
Dedicated on August 26, 2005
New York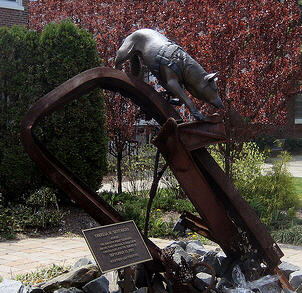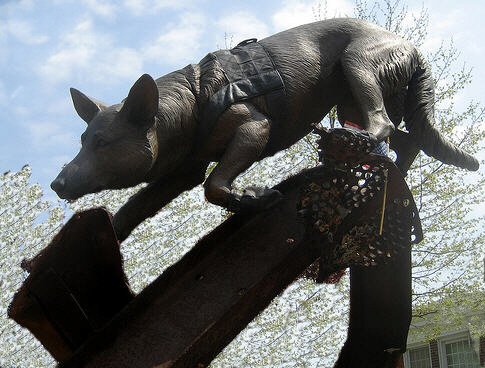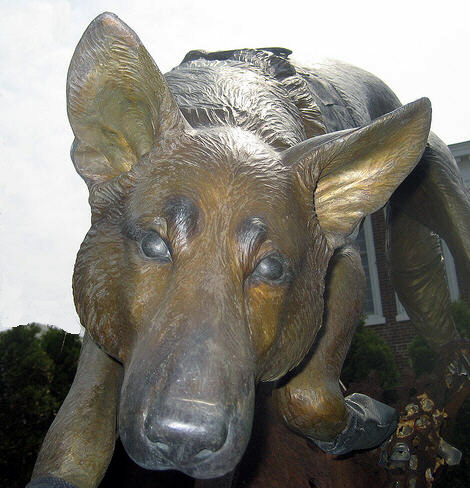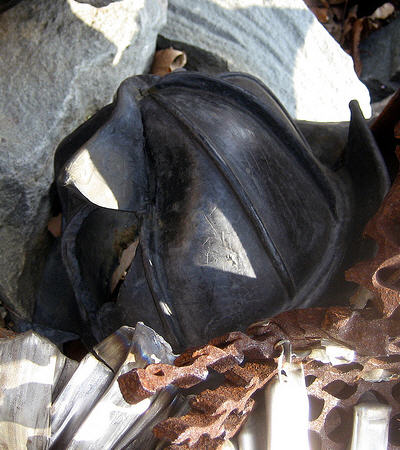 A 9/11 Memorial Garden was opened to the public on Aug. 26, 2005. The SUNY Farmingdale 9/11 Memorial Garden has a German Shepherd moving down an eight-foot I-beam with vest and booties going toward a crushed New York City firefighters helmet. Part of the sculpture consists of recovered materials from Ground Zero. The life size bronze sculpture is by Liza Todd-Tivey.
Animals in War Memorial

Located in London

Unveiled on November 24, 2004

The memorial is located at Brook Gate, Park Lane, on the edge of London's Hyde Park and was unveiled on November 24, 2004 by Princess Anne. The English Sculpture is David Backhouse. The sculpture depicts all the animals that have been used by troops in wartime, which have been killed in conflict while serving their country. Horses and mules to dogs, elephants, camels, canaries and glow worms are included in the memorial. The curved Portland stone wall symbolizes the arena of war, with the animals depicted on it in base. Two life-size heavily laden two bronze mules struggle up the steps towards a gap in the wall. Beyond the gap a bronze 10 foot horse and K-9 gaze into the distance. The memorial stands at 58-feet wide and some 55-feet deep.

Staten Island War Dog Memorial

Dedicated October 29, 2004

Sculptor - Robert Flood

The memorial reads; They protected and watched over us at home and on the field of battle. We are forever grateful for their undying loyalty, devotion and faithful service. They are not forgotten.




War Dog Memorial

Prairie State Park, Illinois

Dedicated on May 31, 2003

Sculptor - Erin Mallon

The two piece life size bronze statue. The sculpture is of a soldier and his K-9 German Shepherd.

War Dog Memorial

Goolwa, Australia

Dedicated in May, 2003

The War Dog Memorial is located in Goolwa, Australia and was dedicated in May, 2003. It is made of black marble and on the face of the memorial etched into stone is a photograph of a South Australian soldier with his tracking dog. In the right hand corner of the monument there is a water fountain and a paw print carved into the black marble which serves as a drinking trough for dogs. The names of the eleven tracker dogs that served in Vietnam from 1962-1972 are also listed on the memorial. ( K-9 Cassius, Tiber, Justin, Marcus, Janus, Julian, Caesar, Milo, Trajan, Juno & Marcian ) The cost to erect monument was over $6,000.

Solid bronze German Shepherd dog sculpture, named "DOGNY", "America's Tribute to Search and Rescue Dogs" donated to the State of Georgia and placed outside the Department of Agriculture to serve as a permanent tribute to America's search and rescue dogs.

(valued at $25,000)

Unveiling Sept. 11, 2003

Washington Police K9 Memorial

Washington State Law Enforcement Academy Burien, WA

Zach Adam, 17, sculpted a clay statue of this police dog which was cast into bronze.

January 31, 2003

Maxwell AFB, Alabama

Dedication & unveiling November 9, 2002

Nebraska K-9 Memorial

Dedication day,

September 26, 2002

DOGNY ART

2002

DOGNY is America's Tribute to Search and Rescue Dogs. The art initiative goal was to raise much needed financial resources for professional and volunteer Canine Search and Rescue organizations throughout The United States of America. Many DOGNY sculptures were sold at auction. To date over $3,000,000 has been raised for SAR organizations nationwide. There are approximately 200 colorful canine statues around New York that are a visible reminder of the heroic acts performed by dogs and humans alike in the aftermath of September 11. On December 16, 2002 "DOGNY Day" in the city of New York. Above are a few of these. If you would like to submit a picture of one that is not here please do so.

California K9 Law Enforcement Memorial

"Faithful Partner"

" Dedicated to Police and Sheriff Department Service Dogs killed in the line of duty in California "

UC Davis School of Veterinary medicine.

Unveiled October 6, 2002

Sculptor - Susan Bahary

The California Law Enforcement K-9 Memorial. This memorial is dedicated to Californias heroic canines who give their lives in the line of duty. It is installed at the University of California at Davis Veterinary School.

A German Shepherd stands atop a seven pointed sheriff's star of black granite. A life size bronze statue of a German Shepherd was created by

Ms. Susan Bahary.




Chip Service Dog Monument

Hope, Canada

Chip was an R.C.M.P. Police Service Dog who died in the line of duty on September 13, 1996 while protecting his partner, Constable Doug Lewis. Chip, a two-and-a-half-year old German Shepherd Dog who had been Lewiss partner for the past eighteen months. K9 Chip was sent on a track in a wooded area and located the suspect and then charged him biting him on the arm. The suspect pulled a knife and plunged the knife into Chips neck, severing his jugular vein. The suspect then attacked constable Lewis knocking him to the ground and stabbing him in the face arms and neck. Even though K9 Chip was bleeding heavily he tried to protect his handler by attacking the suspect and biting him again. Constable Lewis had suffered nine stab wounds to his face, arms and chest, requiring more than fifty stitches. The suspect then escaped into the woods again. K9 Chip died shortly after Constable Lewis went to his aid. Constable Lewis exhausted from fighting and going into shock from loss of blood managed to find his way out of the woods to a highway where he flagged down a vehicle. A massive manhunt was launched which involved thirty police officers, seven K9 Units, and an R.C.M.P. helicopter. Another police service dog ended the search five hours later when he caught the suspect. Touched by the police dogs bravery and loyalty to his handler, the citizens of Hope, Canada erected a monument carved out of wood and depicts a dog standing on a mountainside in Chips honor.

The plaque mounted on the base of the monument reads:

This carving has been erected in the lasting memory of Royal Canadian Mounted Police Service Dog Chip, killed in the line of duty near Hope, British Columbia, September 13, 1996, while protecting his partner and friend, Cst. Doug Lewis.

Sirius Dog Park

Located in Dennis P. Collins Park West 1st Street in Bayonne, New Jersey

Police K9 Sirius (badge #17) was a four-and-a-half-year old, yellow Labrador Retriever. He was an Explosive Detection Dog with the Port Authority of New York and New Jersey Police Department. Sirius, and his handler, Police Officer David Lim, were assigned to the World Trade Center in New York. Sirius was the only police dog to perish during the attack on the Twin Towers � he died when Tower Two collapsed. His body was recovered on January 22, 2002. Sirius was posthumously awarded the Victoria Cross at the British Embassy in Manhattan.

Beautiful Joe Heritage Park

Meaford Ontario, Canada

Unveiling May 11, 2002

In 2002, a memorial was built to honor Sirius, the one police dog killed in the terrorist attack on the World Trade Center on Sept. 11, 2001. His partner, New York Port Authority Officer David Lim, attended the unveiling. The two large stones represent the Twin towers.

The plaque on the left reads;

Dedicated to the Memory of

Sirius.

K9 Partner of Officer David Lim

World Trade Center

Lost September 11, 2001

The plaque on the right reads;

September 11, 2001

Thousands of lives were lost through the terrorist attacks committed in the United States of America. This plaque honours the devotion and bravery shown by the many K-9 police units during the search, rescue and recovery of victims of these attacks. Their heroic deeds will not be forgotten.

Virden Police Department K9 Memorial

Memorial for Virden's first Police K9 "Officer Mike"

Virden, Illinois

Search & Rescue Canine Memorial

Lindenhurst, New York

Dedicated To All Search and Rescue K-9'S Of 9/11

Fairchild Air Force Base

Washington

Dedicated June 1, 2000

Yogi Memorial

Unveiled May, 1998

Byram Park, Greenwich, CT

Scultor - Mark Robinowitz

K9 "Yogi" was the first police dog for Greenwich Police Department and his handler was Lt. Rick Cocran. K9 "Yogi ( 1988-1996 ) retired from the police department in 1994.

War Dog Memorial

East Berlin, Pennsylvania

The plaque at the base of the monument reads : In memory of all dogs who served our country in times of wars. You are not forgotten.

Long Beach Police K9 Memorial

Long Beach Police Academy, California

Redondo Beach Police K9 Memorial

Redondo Beach, California

Independence Missouri K9 Monument

Watertown Police Department Monument

Located at Thompson Park, New York

Weber County Sheriff K9 Memorial

Location - Utah

Concord K9 Memorial

Concord, California

Police Dog Memorial Wall of Urns

Location - Mozambique, South Africa

Beautiful Joe Park

Meaford Ontario, Canada

Tribute to Police Service Dogs

Inscription on monument

Streamwood - Chicago, IL

The bronze monument "Guardians", located in Streamwood, IL was dedicated in May 2001. Memorial Monument was sculptured by Anthony Quickle and is of bronze and granite

.

AUSTRALIAN WAR DOG MEMORIAL

The monument recognizes the enormous contribution by the war dogs that saved countless soldiers lives in Vietnam. The monument was unveiled at a ceremony on Saturday 7th April 2001 at 12 noon at The Bluff, Alexandra Headland, Sunshine Coast, Queensland, Australia. At the base of the rock at the foot of the carving is a drinking trough where local dog owners can water their animals while walking their dogs.

Port Neches, Texas

Dedicated November 1, 2000.

Sculptor, Doug Clark - Vietnam - all services

16-ft. tall granite and bronze statue

FORT BENNING, GA

They Protected Us On The Field of Battle

They Watch Over Our Eternal Rest

We Are Grateful

The War Dog Memorial Is a Tribute To All Dog

And Handler Teams

That Served Our Country So Proudly.

Sculptor: A. Thomas Schomberg

Dedicated October 8, 2000 by Jeffrey P. Bennett,

Nan Eisley Bennett,

Nature's Recipe Pet Foods, H.J. Heinz Corp.

And The American Public

THE WAR DOG MEMORIAL

AIR FORCE BASE - Riverside, CA

The War Dog Memorial - They Protect Us On The Field of Battle - They Watch Over Our Eternal Rest - We Are Grateful Dedicated February 21, 2000. The 16 foot tall monument made of bronze and granite was sculptured by Thomas Schomberg and dedicated on February 21, 2000. ( All eras and services )

Dedicated to the canines and their trainers who so nobly served as part of the federal emergency management task force urban search and rescue mission in Oklahoma city in April 1995.

The marker was dedicated on May 28, 1995

The design of this life size K-9 Memorial has been commissioned by the Vietnam Dog Handlers Association for placement in Washington D.C. on the National Mall. The sculpture is planned for 7 feet tall and 7 to 10 feet across. The monument will have three 2 foot portraits of the most commonly utilized War Dogs; the German Shepherd, Doberman, & Labrador Retriever. The sculpture of the Dog Handler, War Dog, military seals & plaques are cast in bronze and mounted on a one foot thick granite base. Contained within the granite base and under the bronze plaque under the German Shepherd's left paw raised slightly in a protective gesture is a weatherproof vault containing engraved metal plaques listing War Dog identifiers such as tattoo, service number, or name with additional plaque listing all killed in action handlers and K-9's that gave their life in combat for our country. The scale model was made by Anthon Quickie.

War Dog Memorial

"Always Faithful"

Dedicated July 21,1994

Sculptor - Susan Bahary

Guam

GUAM K9s

The sculpture "Always Faithful" was created by Susan Bahary Wilner. The bronze monument is life size of K9 Kurt, a Doberman Pinscher who served on Guam during WW II. Canine Kurt saved the lives of 250 Marines trying to take back Quam when he went out ahead of troops pointing to warn them enemy forces were ahead. Canine Kurt was the first killed when the Japanese bombarded him with grenades on July 23, 1944. Inscription from memorial commemorating World War II combat dogs... 25 Marine War Dogs gave their lives liberating Guam in 1944. They served as sentries, messengers, scouts. They explored caves, detected mines and booby traps. Their graves are marked with small headstones.

SEMPER FIDELIS

Kurt Yonnie Koko Bunkie

Skipper Poncho Tubby Hobo

Ni Prince Fritz Emmy

Missy Cappy Duke Max

Blitz Arno Silver Brockie

Bursch Pepper Ludwig Rickey

Tam (buried at sea off Asan Point)

When United States Marines landed war dogs on Bougainville in the South Pacific, 01 November, 1943, it marked the first use of trained military dogs in combat by the United States. Dobermans, the official U.S. Marine Corps War Dogs, served throughout the South Pacific, courageously leading patrols in the steaming jungles, giving timely warning of the enemy waiting in ambush or hiding in caves, saving untold lives. They guarded exhausted sleeping troops in foxholes by night, preventing infiltration by the foe. After the war, many of the dogs returned to civilian homes, where, despite their training, not one of them was ever known to have bitten anyone.

Given in their memory and on behalf of the surviving men of the 2nd and 3rd marine war dogs platoons, many of whom owe their lives to the bravery and sacrifice of these gallant animals. By William W. Putney DVM C.O. 3rd Dog Platoon - Dedicated this day 21 July 1994. Five of the original handlers were in attendance.

The monument above is located at the University of Tennessee. Castings are located at :

The US Marine Corps War Dog Cemetery, US Naval Base, Orote Point, Guam

The University of Tennessee Veterinary School, Knoxville, TN

Auburn University College of Veterinary Medicine, Auburn, Alabama

The National Museum of the Marine Corps, Triangle, VA

Wood River Police K-9 Monument

Wood River, Illinois

North Providence Police K-9 Memorial

North Providence, Rhode Island

BORN TO LOVE TRAINED TO SERVE LOYAL TO THE END BEST FRIEND TO YOUR NATIONS FINEST

WE SERVED OUR MASTER WHO SERVES MANKIND FAITHFUL TO THE END AN OFFICERS EXTRA SENSE

TO GUIDE AND PROTECT YOUR EYES IN THE DARK A NOSE FOR DANGER A PARTNER FAITHFUL BEYOND WORDS

Anoka Minnesota Police Dog King Memorial

A life size bronze statue of Anoka Minnesota Police Dog King who was the first police dog to be used effectively in the Minneapolis St. Paul area between 1967 and 1972. His effectiveness as a police dog led to agencies in a five state area surrounding Minnesota to get into the use of dogs in law enforcement. After his death in 1973 The City of Anoka named a park in his honor and initially placed a concrete statue of a German Shepherd. Ten years later the Anoka Police Federation commissioned Minneapolis artist Roger Brodin to construct a life size bronze statue of King from photographs.

Menlow Park Police K9 Memorial

Location - Menlow, California

The Menlo Park Police K-9 Memorial is fabricated of Dark Diamond Grey Granite and is dedicated to the police dogs killed in the line of duty. Two of The memorial features the bust of a dog in bronze and the gold-leaf accent. All fabrication done at V. Fontana & Co.

The

War Dog Memorial

Location - South Lyon, Michigan

A Pal Remembered

Location - Heritage Rail Trail County Park in York, Pennsylvania

New York State Police K9

Upper Moreland Police K9 Memorial

Location - Upper Moreland, PA

K9 Officer

Location -

Swartz Creek Veterans Memorial Park in Michigan

This life size bronze was dedicated to the memory of military service dogs that gave their lives along with other courageous Soldiers during the battles for freedom.

Located in Kelly Ingram Park - Birmingham, Alabama

K9 Police & War Dog Monuments In Russia

Frontier Guard - Murmansk, Russia Frontier Guard - Cheremkhovo Irkutsk, Russia

Frontier Guard - Blagoveshchensk, Russia Frontier Guard - Khabarovsk, Russia

Frontier Guard - Moscow, Russia Frontier Guard - Sortaula Republic of Karelia

Frontier Guard - Rossoshvoronezh, Russia

Russia

Starlingrad, Russia Russia

Police Dog - Novosibirsk, Russia

K9 Monuments in Ukraine

Frontier Guard - Ukraine

Frontier Guard - Luhansk, Ukraine

HARTSDALE PET CEMETERY - Hartsdale, NY

Erected -1923

Dedicated to the memory

of the war dog.

Erected by public contributions

by dog lovers

to man's faithful friend for the

valiant services

rendered in world war, 1914 - 1918

Robert Caterson was chosen to build the war memorial. He used the finest granite from his own Vermont quarry. The monument is ten-foot high, which is topped with a bronze statue of a shepherd dog wearing a Red Cross blanket. At the shepherds feet are a bronze helmet and a canteen. A special ceremony is conducted at the foot of the war Dog Memorial every Memorial Day weekend to pay tribute to military dogs, K-9'S that assisted in the rescue mission in the bombing of the Oklahoma City federal building in 1994, and police dogs.

ACCELERANT DETECTION MEMORIAL

Erected at the NYS Academy of Fire Science

Montour Falls, New York

Texas City, TX

War Dog Memorial

Barrington Cemetery

New Hampshire Dedicated 6/22/02

K9 MEMORIAL

Dedicated to all police canines that

served the Town of Barnstable, MA

KINGS COUNTY SHERIFF'S DEPT.

K9 Memorial - California

Police Dog Memorial for Fallen K-9'S in the line of duty.

Jacksonville Police Headquarters

Jacksonville, Florida

Life -size - bronze

Sculptor : Debbie Driggers

This monument honors two police K9's, Quanto and Titan who were both shot and killed in the line of duty in 1999 .

The K9 you see in this picture was a Scout Dog named "Prince" (5A07) that served in the Vietnam War in 1966 and 1967. He was handled by two people in that period of time, Melvin Cobb and Pete Peters. The K9 appears to be wondering where his name is for his sacrifice to our country he loyally served. Prince seen in this photo was wounded in action in November of 1966 when shot in the right hip. He was later put down in September of 1967.

Canine (K-9)Memorial Florida