1970 - 1979 Tributes For Police And Military K9 Handlers
Note : Some of these tributes are for those that were not line of duty deaths.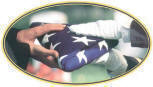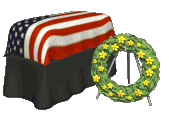 Flashing star on both sides of officer name indicates both officer and K9 were killed in line of duty


Officer Carl Vance Kime Jr.
November 5, 1979 - Tulsa, Oklahoma - Age 29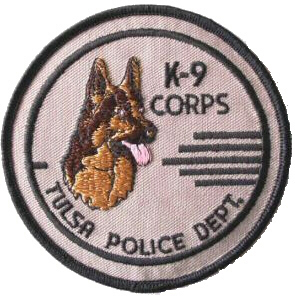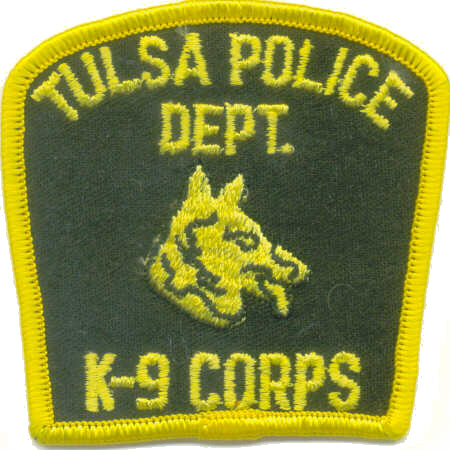 Officer Carl Poncho Kime Jr, 29, was a K-9 officer killed on November 5, 1979, approximately 2 :00 a.m. while on a routine patrol when he observed an open door on the Sooner Insurance Merchandise business at 5710 E. 11th Street. Officer Kime and his German Shepherd canine partner "Smokey" entered the open door to search for possible burglars. Retired Oklahoma Highway Patrol Trooper who served for twenty two years, Herbert Hellen age 61, was working as a security guard for the business that night and only minutes earlier had chased two burglars from the store. Apparently Hellen thought they were returning when he saw a silhouetted figure at the door of the office he was in using the telephone. Hellen fired at the figure with a .12 gauge shotgun loaded with OO buckshot from about 35 feet away. Eleven of the twelve .38 caliber pellets hit Officer Kime in the neck and left side of him. Kime was wearing a vest at the time. "Smokey" crawled on top of his mortally wounded handler and held police at bay until other canine officers arrived and were able to coax him away. On July 13,1979, Officer Kime survived a shooting when he went into a bar to look for an armed patron at the Friends Lounge. When Kime identified himself as an officer and asked the patron to place his hands on the bar, a struggle ensued near the front door and shot Officer Kime in the chest at close range. Kime's vest he was wearing saved his life. Larry Paul Goodwin, of that shooting was sentenced to ten years in jail. Kime was awarded the Medal of Valor and Purple Heart and was suppose to receive it the day he was accidentally shot and killed by retired Trooper Herbert Hellen. The medals were presented later to his wife and two daughters. Officer Kime was with the Tulsa Police Department in Oklahoma. He is survived by his wife Kathrine, and two daughters ages 1 and 8.
Retired Oklahoma Highway Patrol Trooper, Herbert Hellen, was not charged in the killing of Officer Kime.

Officer Buford Dedeaux
June 8, 1979 - Gulfport, Mississippi - Age 34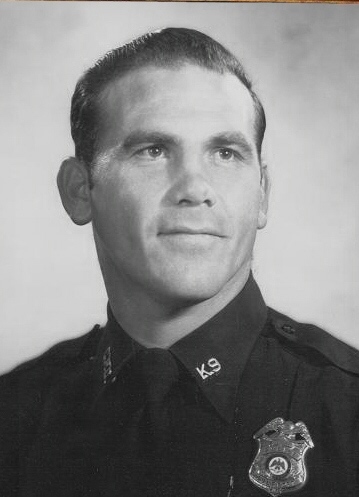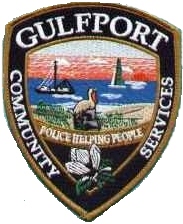 Officer Buford Dedeaux was shot and killed on June 8, 1979, at approximately 12:44 a.m., when he stopped to investigate a suspicious individual riding a bicycle near Yeager's Grocery Store on 25th Avenue north of 34th Street in Gulfport. After asking the individual to empty a small bag he was carrying, the individual, produced a .25 caliber handgun and shot Officer Dedeaux twice.
After being shot Dedeaux requested assistance by radio but died shortly after the arrival of

assisting officers.
The suspect had run away from the shooting scene. When the first policeman arrived he found Dedeaux lying mortally wounded on the driver's side of his police car front seat of the patrol car mortally wounded.
The lights of the police car were not on and Dedeaux expired without regaining consciousness. At the scene, the following evidentiary items were found: a yellow bicycle with a crescent wrench and key wired to the handlebars, pullover hat on the hood of the police car, a green ditty bag, several spent .22 calibre cartridge casings and Dedeaux' service revolver. At the request of police officials, a picture of the bicycle found at the scene was displayed on local television. In response to it, Jimmy Moore contacted Officer Smith at about 1:30 p.m., June 8, 1979. Smith was informed by Moore that he and Cyril Lindsey, a companion, had been watching television and recognized the bicycle as that of Arthur Ray Lanier, age 40. Moore explained that he and Lindsey worked at the same company with Lanier and saw him ride the bicycle to work on Thursday morning, June 7. Moore and Lindsey were brought to the police station and identified the bicycle as that of Lanier.
Moore and Lindsey also stated they had observed Lanier carrying the ditty bag and wearing the pull over hat. These identifications linked Lanier to the homicide.
Arthur Ray Lanier
was arrested approximately 5:00 p.m. the same day at his grandmother's residence in north Gulfport by Officer Prentiss Smith. Approximately 1:10 a.m. on Sunday, June 10, 1979, he made a videotaped statement in which he admitted shooting Dedeaux. Following this statement, Lanier assisted the officers in locating the gun he had thrown away. Lanier stated that while riding his bicycle, he was stopped by Officer Dedeaux and directed to empty the ditty bag. In complying Lanier removed a pistol from the bag and Dedeaux drew his gun and fired at him. He stated that he fired at Dedeaux while running backwards but was not sure if any of the shots had actually struck Dedeaux, who entered the patrol car and radioed for help.

Lanier then stated that he threw the gun away and returned to his grandmother's home.
Officer Dedeaux is survived by his wife and two sons.
Arthur Ray Lanier, on June 12, 1985 , from his third trial for the murder of Buford Dedeaux, was found guilty of capital murder in the First Judicial District of the Harrison County Circuit Court. In 1990 Arthur Lanier was granted a fourth trial by the Mississippi Supreme Court because the Justices ruled unanimously that the judge who presided over the 1985 trial, then-Circuit Court Judge J. Ruble Griffin, gave a faulty jury instruction that unfairly limited Lanier's chances of conviction on the lesser charge of manslaughter. On September 16, 1998, nineteen years after the killing officer Dedeaux, Lanier's attorneys reached an agreement with prosecutors calling for the charge against Lanier to be reduced from capital murder to murder, Lanier pleaded guilty in front of Circuit Court Judge Jerry O. Terry. Lanier was sentenced to life in prison without parole.


Deputy Sheriff David G. Livengood

January 18, 1979 - Garrett County, Maryland - Age 31

The first line of duty death of a Garrett County Officer occurred at approximately 5:30 am on January 18, 1979. Deputy Sheriff David G. Livengood, 31, was approximately one mile away when a silent alarm at Davidson's store in Oakland, Maryland was tripped at 5:25 a.m. The first officer arrived at the scene at approximately 5:27 a.m. and found the padlock and chains broken off the front door. At approximately 5:26 a.m. Livengood arrived on scene at the back of the store. At approximately 5:30 he radioed the officer at the front of the store that he was going to check a suspicious vehicle in the back. That was the last they heard from Livengood. Deputy Livengood had confronted the suspects near the back entrance carrying stolen property. While in the process of apprehending the two men, Livengood was shot 7 times with a 9 mm, once to the back of the head by Richard Danny Tichnell. The other intruder, Roberto Recek used a samurai sword to then kill Deputy Livengood's K-9 "Sarge" who was found by the other officer lying up against a barbwire fence still alive but lifted his head and then died. Deputy Livengood was killed by two perpetrators who fled and then a short time later accosted a family, tied them up and stole their vehicle. Later that day both suspects, Roberto Rezek and Richard Danny Tichnell were apprehended and taken into custody by the Virginia State Police. Deputy Livengood had been with the Garrett County agency in Maryland for eight years and was a Marine Corps veteran. Deputy Livengood is survived by his wife Geni, his daughter Shannon and his son David.
Rezek was tried and convicted of murder and sentenced to life imprisonment. Tichnell was convicted and sentenced to death which was later commuted to life in prison.

Ofc. Nelson I Hess V
June 12, 1978 - Chattanooga, Tennessee - Age 35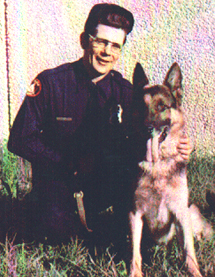 K-9 Officer Hess, 35, and Officer David Friederichsen were shot and killed on June 12, 1978 after responding to a domestic disturbance call. Two minutes after arriving on the scene the suspect opened fire, striking them both. Officer Hess was killed at the scene and Officer Friederichsen was succumbed to his injuries at a local hospital three days later. Officer Hess had been with the Chattanooga Police Department in Tennessee for six years. He is survived by his wife and son.

Officer Louis Pena
April 2, 1978 - Coral Gables, Florida - Age 41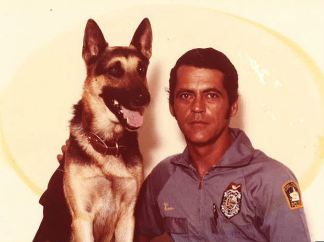 Officer Pena , 41, was shot in the neck and killed on April 2, 1978 when he stopped Manuel Valle, 27, for a traffic violation at Le Jeune Road and Miracle Mile for running a red light shortly after 7:00 p.m. Valle was also driving a stolen Camero which was not known at the time and was with , Felix Ruiz. Though Valle was driving a stolen Camaro, the car didn't register as stolen when Pena called it in to dispatch. Pena would most likely have let Valle go with a ticket. The events that followed were witnessed by Officer Gary Spell also of Coral Gables Police Department. Officer Spell testified that when he arrived at the scene Manuel Valle was sitting in the patrol car with Officer Pena. Spell heard Pena use his radio to run a license check on the car Valle was driving. Valle was allowed to go back to his vehicle because he said he needed a cigarette but instead he grabbed a gun. Officer Spell said Valle approached Officer Pena and fired a single shot hitting Officer Pena in the neck which resulted in his death. Valle also fired two shots at Officer Spell hitting him in the back and Valle then fled. Officer Spell was wearing his bullet-proof vest which probably saved his life. Valle, fearing a trip to prison, pulled a gun and shot Pena at point-blank range with a 38 cal. On the police dispatch call, Pena can be heard saying "I'm shot" three times, along with the frenzied barking of his K-9 dog in the back seat. Valle was picked up 2 days later in Deerfield Beach when Officer Rodriguez spotted him along side of the road and matched him with a picture he had with him and arrested him. When he was arrested he was carrying a bag of clothing and a 38 caliber revolver. He was charged with first degree murder, attempted murder and possession of a firearm by a convicted felon and automobile theft. During the trial, evidence was shown that Valle's fingerprints were on both vehicles. His K-9 partner "Abraham" was with him at the time of the incident. Officer Pena was the father of 4 children and 11-year veteran of the force. He is survived by his wife Inez, his son Louis Paul Pena 19, Jeneane 13 and two other children.
Codefendant Felix Ruiz, was also charged as an accessory after the fact and sentenced to 10 years imprisonment on 6/20/78.
On June 4, 1978, Manuel was arrested. On June 13, 1978 he was indicted on, First-Degree Murder, Attempted First Degree Murder, Possession of a Firearm / Convicted Felon, and Grand Theft Auto. On April 14, 1978 Valle was arraigned by the trial court of Dade County, 11th Circuit. The defendant stood mute, entering no plea. Valle later pled guilty to Grand Theft Auto, for which he was sentenced to five years' imprisonment. On 5/10/78 the jury found the Valle guilty and received death sentence for First Degree Murder, 30 years for Attempted First Degree Murder and 15 years for Possession of a Firearm/ Convicted Felon. On 7/7/78 an appeal was filed and on 2/26/81 The Florida Supreme Court reversed Valle's convictions and sentence and remanded for a new trial.
On 7/31/81, during his second trial, Valle was convicted on all counts charged in the indictment. On 8/1/81 the jury, by a 9 to 3 majority, voted for the death penalty. On 8/4/81 Valle was sentenced to death for First Degree Murder, 30 years for Attempted First Degree Murder and 5 years for Possession of a Firearm/ Convicted Felon. On 9/23/81 an appeal was filed and on 7/11/85 the court affirmed the convictions and sentence of death and on 9/17/85 a rehearing was denied. Valle filed a Direct Appeal in the Florida Supreme Court arguing that his confession should have been suppressed because it was obtained in violation of his Miranda rights, that the trial court erred in allowing under-representation of minorities in the jury selection and that a mistrial should have been granted when the prosecutor for the State prejudicially commented on Valle's right to remain silent. Regarding the penalty phase of the trial, Valle contended that the trial judge erred in excusing a prospective juror for cause and that the court erred in allowing the prosecutor for the State to make improper comments during closing arguments. Valle also challenged the instruction, consideration, and application of aggravating and mitigating circumstances in his case. Specifically, Valle argued that the trial court erred in omitting mitigating evidence that he would be a model prisoner if spared the death penalty. On 12/6/85 a petition was filed and on 5/5/86 a Certiorari was granted in light of Skipper v. South Carolina, regarding the admissibility of model prisoner testimony. On 1/5/87 the Florida Supreme Court remanded for resentencing before a new jury and reversed the death sentence. On remand from the United States Supreme Court, the Florida Supreme Court found that testimony regarding Valle's potential future behavior as a model prisoner should have been considered by the jury during the penalty phase of the trial. As such, the Florida Supreme Court remanded for resentencing before a new jury on 01/05/87. On 2/29/88 The jury, by an 8 to 4 majority, voted for the death penalty. On 3/16/88 Valle was resentenced death for First Degree Murder, 30 years for Attempted First Degree Murder and 5 years for Possession of a Firearm/ Convicted Felon. Valle filed a Direct Appeal in the Florida Supreme Court. In that appeal, he argued the improper cross-examination of defense experts who were testifying as to Valle's prison behavior. The defense's presentation of Skipper testimony regarding the admissibility of model prison behavior, gave the prosecution the opportunity to scrutinize Valle's prison behavior on cross-examination. Valle also challenged the application of the aggravating factor that the victim was a law enforcement officer engaged in his official duties and the application of the cold, calculated, and premeditated aggravating factor. He also argued that the prosecutor improperly presented victim impact evidence. On 4/27/88 an appeal was filed. On 5/2/91 the court affirmed the convictions and sentence of death. On 7/5/91 a rehearing was denied. On 8/5/91 a mandate was issued. On 10/1/91 a petition was filed and was denied on 12/2/91. Valle claimed he received ineffective assistance of counsel. Valle argued that his counsel was ineffective for failing to move for the disqualification of his resentencing judge. Judge Norman Gerstein allegedly kissed the victim's widow in an offer of sympathy and fraternized with the victim's friends in front of the jury. Valle also contended that his counsel was ineffective for presenting Skipper evidence during his resentencing proceedings, which allowed the State to bring up that Valle had attempted an escape from prison between the time his death sentence was reversed and the resentencing. Valle claimed that his counsel erroneously presented the Skipper evidence because they thought they had to, since his earlier sentence reversal was based on the exclusion of such evidence. Valle contended that without the defense's presentation of the Skipper evidence, the State would have been unable to present rebuttal evidence of his escape attempt, and the jury may not have recommended death. The Florida Supreme Court affirmed the denial of Valle's 3.850 Motion in part, reversed the denial in part, and remanded to the State Circuit Court for an evidentiary hearing on Valle's claims of ineffective assistance of counsel.On 4/5/93 a motion was filed and on 8/19/93 the motion dismissed without prejudice in order to file a legally sufficient motion. On 12/1/93 a motion was filed and denied on 8/31/94. On 6/7/96 an appeal was filed and on 12/11/97 the court affirmed in part, reversed in part, and remanded Valle's motion to the trial court for an evidentiary hearing regarding Valle's claim of ineffective assistance of counsel. On 12/11/97 the court remanded the motion for an evidentiary hearing regarding Valle's claim of ineffective assistance of counsel. On 10/19/98 the motion was denied. On 1/25/99 an appeal was filed. On 1/18/01 the court affirmed the denial of Valle's Motion. On 3/12/01 a rehearing was denied and on 4/17/01 a mandate was issued. On 12 31/01 a petition was filed and denied on 8/29/02 and on 11/12/02 a rehearing was denied. On 2/19/03 a petition was filed and denied on 6/24/03 and on 10/15/03 a rehearing was denied. On 2/21/03 a petition was filed and denied on 9/13/05. Another petition was filed on 1/13/04 and denied on 3/29/04 On 10/11/05 an appeal was filed and on 8/11/06 the court affirmed the denial of the petition. On 2/27/07 a mandate was issued. On 7/16/07 a petition was filed and denied on 10/1/07.
While in prision Valle on 10/14/80 destroyed state property, On 12/14/80 received 30 days for disobeying an order. On 2/8/83 disorderly conduct. On 5/7/83 disorderly conduct. On 7/18/84 received 90 days for attempting escape. On 11/12/84 received 15 days for possession of negotiables. On 6/10/86 he received 15 days for disorderly conduct. On 1/13/87 received 180 days for possession of escape paraphernalia. On 11/17/90 received 15 days for misuse of state property.
On June 30, 2011, Governor Rick Scott signed his first death warrant and Valle is set to be executed by lethal injection on 8/2/11 at 6 p.m. at Florida State Prison in Starke. On July 25, 2011, The Florida Supreme Court stayed Manuel Valle's execution until Sept. 1, 2011 so a judge can hear arguments over the use of a new lethal injection drug. In a 4-3 decision, the court decided that a judge will have to hear evidence on whether the new lethal injection drug the state is using in Valle's execution is acceptable. Florida last month adopted a new procedure that substitutes pentobarbital. Valle's lawyers contend the new drug's use will subject him to "substantial risk of harm." Florida and several other states have been forced to seek alternatives to sodium thiopental, part of a three-drug cocktail used in lethal injections. The new sedative drug, pentobarbital, has already been used for executions in four other states, although it hasn't been used in a Florida execution yet. The drug has been unavailable after the only seller in the country, Hospira, stopped manufacturing it due to concerns about its use in lethal injections. On August 23, 2011, the Florida Supreme Court approved the state's new lethal injection drug cocktail and the next day an execution date for Manuel Valle was set for Sept. 6, 2011. On Sept. 2, 2011, he received a second temporary stay of execution. Manuel Valle's execution, originally set for 6 p.m. on 9/6/11 was delayed by the U.S. Court of Appeals for the Eleventh Circuit in Atlanta until at least 7 p.m. on 9/8/11. Valle's lawyers were ordered by the appeals court to submit written arguments regarding claims Valle was denied a clemency hearing. Valle's lawyers previously filed documents saying the state began a clemency proceeding in 1992, but never followed through with an investigation of the case or assigned Valle a clemency lawyer. A new date was given for the execution to take place September 28, 2011 at 4:00 p.m. On that date, twenty-six minutes before Valle was going to be executed, Department of Corrections spokeswoman Gretl Plessinger announced a delay which turned into three hours. At 6:55 p.m. an announcement was made that the execution would take place. Thirty people filed into the execution chamber gallery. The first two rows were 16 Pena family members. Six media witnesses were in the fourth row. The rest were corrections officers or state officials. At 6:58 p.m., team warden Timothy Cannon asked Valle if he had anything to say. "No, I don't,'' Valle said. The drugs were then started for the execution and a doctor came into the room with a stethoscope and pronounced Valle dead 7:14 p.m. The curtain closed at 7:15 p.m. Family members filed out of the gallery at 7:16 p.m. Valle ate a final dinner of fried chicken breast, white rice, garlic toast, peach cobbler and a Coca-Cola. Valle was the first Florida prisoner executed using a new lethal mix of drugs. Louis Pena's wife, Inez Afanador, 73, did not attend the execution because she was recovering from back surgery. Manuel Valle was the first person in the U.S. executed for killing a K9 officer.

Trooper Richard F. Champy
February 3, 1978 - New Hampshire State Police - Age 32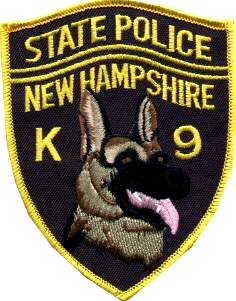 On February 3, 1978, Trooper Champy, 32, heard a call for assistance at 5:30 p.m. of a motorist whose car had been struck by a hit and run motorist and forced a vehicle off the road near Lebanon. Trooper Champy, along with fellow Trooper Korbett pursued the fleeing vehicle and eventually stopped it at exit 10. During a struggle to arrest the passenger of the vehicle Trooper Champy suffered a heart attack. Another trooper arrived and performed CPR on him and he was rushed to Lew London Hospital where he died at 7:30 p.m. Trooper Champy was an eight-year veteran of the New Hampshire State Police and was stationed at Troop D in Bow. His K9 partner was a bloodhound named "Smokey". Trooper Champy served in the United States Navy in the Vietnam War. He was survived by his wife and his two daughters ages 6 & 7.
Police charged two strafford men in the incident. Mark D. Avery, 21, a passenger, was charged with resisting arrest and intoxication. The driver Dean Homer Kendall, 41, was charged with driving while intoxicated and leaving the scene of an accident.

Robert Gray
January 6, 1978 - Clark Air Base, Philippines - Age 22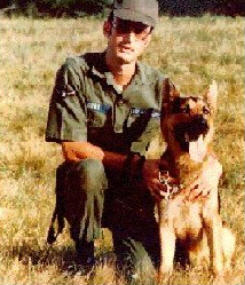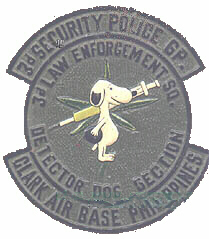 Robert Gray was killed at Clark Air Base in the Philippines on January 6, 1978. Robert was killed when he had been dispatched to an intruder sighting and was searching a mile range which had scrub and elephant grass and some washouts. Robert didn't wait for backup, he trusted his dog Casey Jones. Casey Jones was a great detector dog but not much of an attack dog. As Robert spotted and chased the intruders through the grass two of them ducked down into the high grass and waited as Bob ran by, still in pursuit of the others. Bob released Casey Jones and he actually had a bite on the foot of one of the two intruders still ahead of them. The two who had waited in the grass jumped Robert from behind after he cut Casey Jones loose. Robert was struck in the head and was stabbed in the neck and cut into his ribs and lungs from his waist to under his armpit by four intruders who got his gun and shot Robert's loyal dog, Casey Jones as the loyal dog was returning to his stricken master. The intruders fled leaving Robert and Casey Jones lying on the ground. Casey Jones underwent surgery and survived to be assigned to another handler later. The intruders got away. On March 12, 2004, Lackland Air Force Base 341st training squadron had a kennel dedication ceremony in honor of Robert Gray which was attended by his parents and brother. Robert Gray was buried at Oakwood Cemetery in Troy, NY. on January 18, 1978.

Trooper Carl P. Moller
February 13, 1976 - Connecticut State Police - Age 31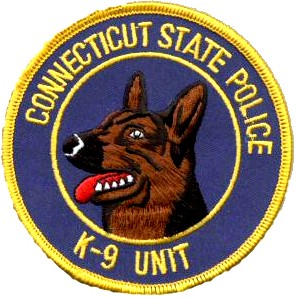 Trooper Moller, 31, was struck and killed on February 13, 1976 (Friday the 13th ) along with the motorist he was assisting on I-84 roadway in West Hartford by a hit-and-run driver in a truck. The driver fled the scene but turned himself into a Hartford police officer who was directing traffic. Moller was assigned to Hartford following his graduation from the Academy in February 1970 and spent his entire career at Troop H. Trooper Moller's partner was K-9 Thor. Trooper Moller had served with the Connecticut State Police for 6 years.
The man was charged with two counts of negligent homicide.

Ptl. James Kenneth Armstrong
April 15, 1975 - Bensalem, Pennsylvania - Age 28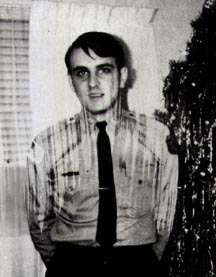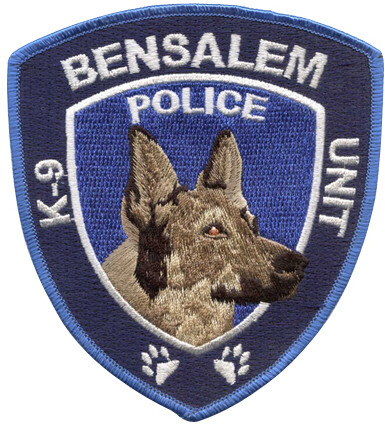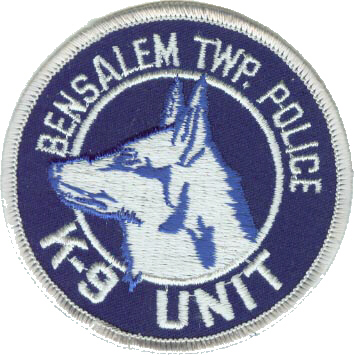 Ptl. Armstrong, 28, was killed on April 15, 1975. in Bensalem PA. Ptl. Armstrong was shot while on a felony traffic stop of armed robbery suspect at Woodhaven Mall and his K-9 "Shep" was also shot by the suspect and survived. K-9-Shep who was in the backseat of the patrol car with the window only partway down could not get out. At approximately 11:00 a.m. Officer Armstrong approached Joseph Hennessey in a parking lot of Colorcraft Company on route 13 in Bensalem Township to question him about a gas station robbery fifteen minutes earlier. Hennessey was driving a Chevrolet station wagon that fit the general description of the robbery suspect. During the interaction with Officer Armstrong, Hennessey disarmed him and chased him through a parking lot and shot him five times, three times in the chest, once in the mouth & once in the head. Hennessey fled jurisdiction to Philadelphia with a female and admitted to her he committed the robbery and murdered Officer Armstrong and was arrested. The female with him witnessed Hennessey heavily intoxicated from drugs and/ or alcohol in the days before and after the murder. Officer Armstrong's tie tack was found under Hennessey's car seat. Officer Armstrong's K9 "Shep" returned to duty some time after. At the time of his death, he left behind his wife and one year old daughter Sandra and Patti.
On September 30, 1975, following a trial, a jury found Hennessey guilty of 1st degree murder of Bensalem Township Police Officer James Armstrong. The following day the jury sentenced Hennessey to life in prison.

Cpl. Brian Criddle
July 22, 1973 - Northern Ireland, - Age 34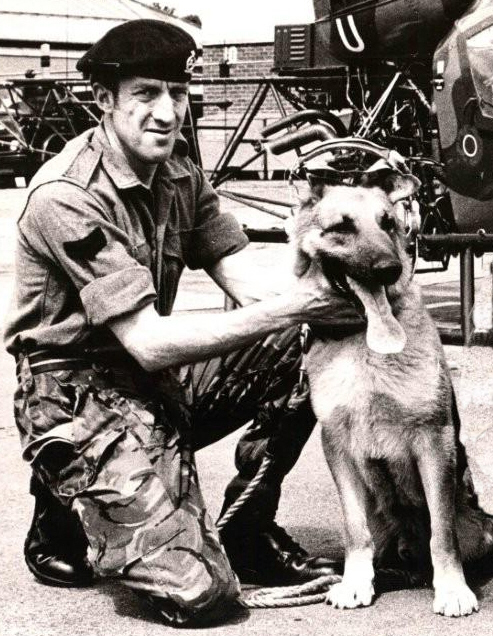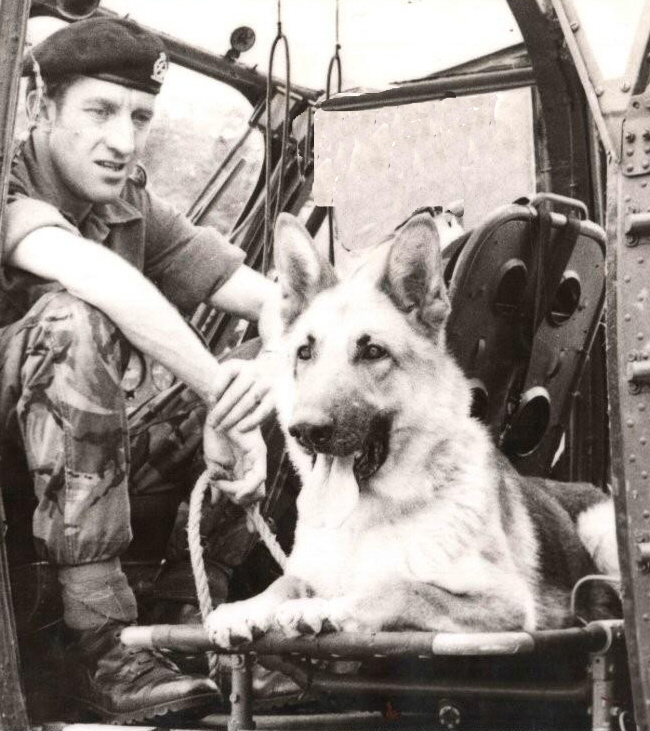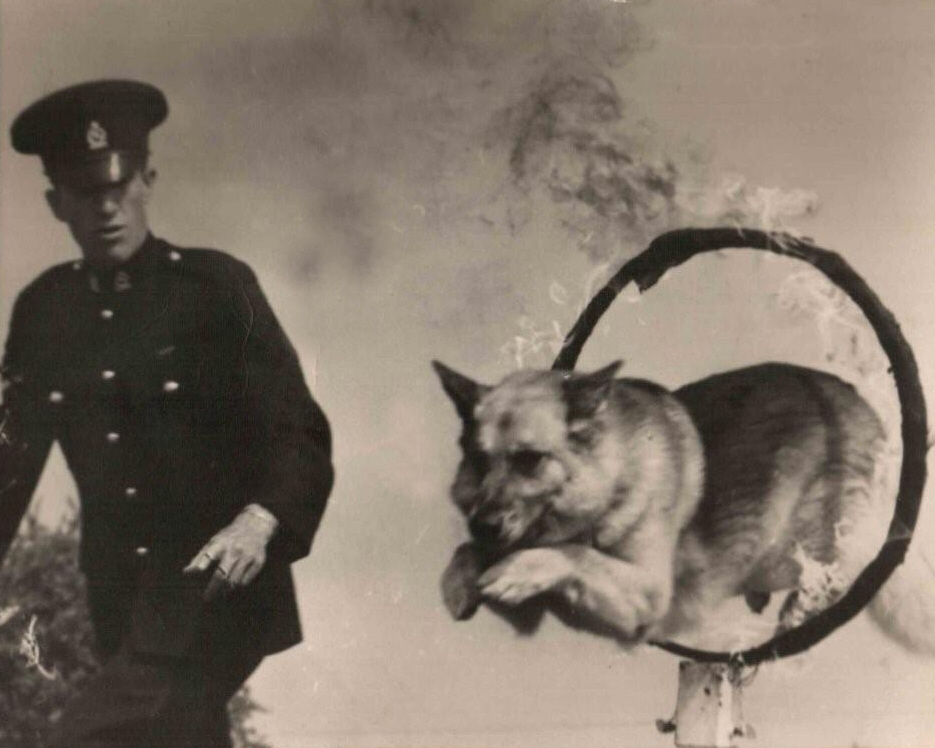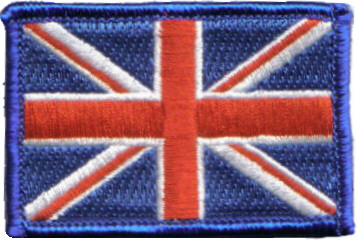 Cpl Brian Criddle, 34, and his dog Jason were critically injured when a landmine exploded near Clogher on July 18th 1973. Brian was with C Sqn doing road clearance almost on the border. He had been working his sniffer dog and had seen a milk churn in a field and on going to examine it the bomb it contained was detonated by remote control. His german shepherd dog was blown 30 feet away however Jason survived. The bomb was found to have been made up of 3 milk churns containing a total of approx 700 lbs of explosives. Only part of the bomb exploded, if the whole thing detonated it would have killed between 15 - 20 soldiers. Brian died in hospital four days later on July 22, 1973 in Belfast. He was married with 3 children. Brian had been awarded the British Empire Medal for his brave and gallant services. Cpl. Brian Criddle is survived by his wife Julia, Sarah 2, and a set of twin sons Glenn and Gary age 8 months old.

Sgt. Edwin C. Hosli Sr.
March 5, 1973 - New Orleans, Louisiana - Age 31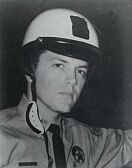 Sergeant Hosli, 31, succumbed to wounds on March 5, 1973, 58 days after he was shot by a sniper who was also responsible for the murders of Cadet Alfred Harrell on December 31, 1972, and Deputy Superintendent Louis Sirgo & Patrolman Paul Persigo, and Patrolman Philip Coleman on January 7, 1973. Minutes after the murder of Patrolman Harrell, Sergeant Hosli and his canine partner responded to nearby warehouses after an alarm went off. He was ambushed and shot in the back with a 44 magnum rifle by the sniper as he entered one of the warehouses. After Sgt Hosli was shot, police chased Mark Essex in a stolen car to a Howard Johnson's. The sniper then set diversionary fires throughout the 300 room hotel and shot at hundreds of police surrounding the burning building. Sgt. Hosli was one of nine people killed and 10 seriously wounded by self-styled black extremist Mark James Robert Essex, age 23 from Emporia Kansas, who held hundreds of cops at bay for 10 hours, paralyzing the Central Business District. Sgt. Hosli served the New Orleans Police Department in Louisiana. Other police officers killed by sniper Mark Essex. Sergeant Edwin C. Hosli Sr., age 31, was shot on January 7, 1973 and succumbed to his wound on March 5, 1973, 58 days after he was shot by a sniper. Sergeant Hosli and his canine partner responded to nearby warehouses after an alarm went off. He was ambushed and shot in the back with a 44 magnum rifle by the sniper as he entered one of the warehouses. Cadet Alfred E. Harrell, age 19, was shot and killed instantly on December 31, 1972 by a sniper at 2255 hours while working the gate at the Central Lockup. The sniper fired a .44 caliber carbine from a field 280 feet away. Cadet Harrell was scheduled to end his shift only five minutes later. Cadet Harrell had been with the agency for less then one year, He is survived by his wife and 9-month-old son. Patrolman Paul A. Persigo was shot and killed with a 44 magnum rifle on January 7, 1973 as he attempted to clear civilians from the front of the hotel. Officer Persigo had planned to celebrate his wife's birthday that night. Patrolman Philip Coleman Sr., age 26, had driven his patrol car to a location to assist another wounded policeman who had been shot and and trying to rescue him. He was shot and killed January 7, 1973 with a 44 magnum rifle as he stepped from his patrol car. Patrolman Coleman had been with the agency for five years. Deputy Superintendent Louis Joseph Sirgo was shot and killed January 7, 1973 with a 44-magnum rifle as he led a team of officers up a dark stairwell to try to rescue two other officers who were trapped in an elevator. The suspect was hiding in the stairwell and opened fire on the officers. Others killed by sniper Mark Essex. Dr. Robert & Elizabeth Steagall who were honeymooning from Virginia. Sherwood Collins & Frank Schneider, Two hotel employees.
Essex, 23, was killed during a rooftop gun battle with police sharpshooters who fired from a marine assault helicopter.


Sgt. Tjaart Riekert

March 30, 1972 - Capirivi Strip, South Africa - Age ?
Sgt.Tjaart Riekert and his K9 Leeu were killed instantly when their vehicle was blown up when they hit a guerrilla landmine in Capirivi Strip, South Africa.

Officer John P. Burke
October 1, 1970 - Atlantic City, New Jersey - Age 26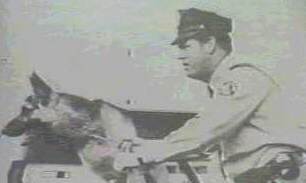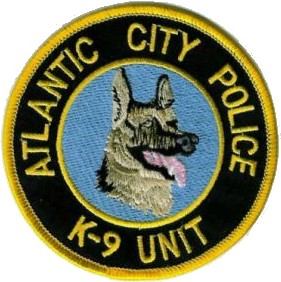 K-9 Officer John "Sonny" Burke, 26, was shot and killed October 1, 1970, just minutes away from the end of his shift, after being flagged down by a business owner regarding two suspicious males at 2345 hours. As he approached the men one of them opened fire with a sawed-off shotgun, fatally wounding him. One suspect was immediately arrested and ultimately acquitted. The second suspect was identified as James Cherry of Atlanta City who fled to Cuba. Officer Burke had been with the Atlantic City Police Department in New Jersey for 15 months. The following day after Officer Burke was killed he was scheduled to go on his honeymoon. His K-9 partner "Thor" witnessed the killing from the inside the patrol car. Officer Burke was survived by his wife Marie.
The first suspect was acquitted. The second suspect, James Cherry, was apprehended in 1990 and sentenced to 15-20 prison for the murder of Ptl. John "Sunny" Burke and four years for unlawful flight when he returned to the U.S. after twenty years in Cuba. James Cherry was up for parole in 2005.